Air Fryer Vegetarian Recipes. Introducing you to our full list of delicious & easy air fryer vegetarian recipes that are perfect for meat free air fryer beginners. Whether it is breakfast, lunch, dinner, snacks or supper, we have air fryer vegetarian recipes covered.
Air Fryer Vegetarian Recipes
Welcome to air fryer vegetarian recipes. Originally a list of just 7 magical ways to cook vegetables in the air fryer, it has now been updated to reflect 100+ delicious air fryer vegetarian recipes on Recipe This. We hope you enjoy our 2020 update!
I was once a vegetarian. It lasted a few of years and I swapped meat for vegetables and I didn't touch a piece of meat for a whole 5 years.
For a teenager this is a big deal as we often change our minds so quickly, plus when you have parents that live and dream about meat it can often be a big change in eating habits.
I always loved vegetables, so it wasn't a problem. But growing up in the 90's meant that dinner was on the table at 5pm when you got home from school and it would always come out of a can.
They normally came from Heinz and would involve macaroni cheese, spaghetti Bolognese, and these awful things that were called canned meatballs along with the odd frozen turkey strip.
Not exactly a balanced diet and as I entered vegetarianism the spaghetti Bolognese was replaced with macaroni cheese and all these years later I can't stand those cans, though I am sure there is another generation of kids that have them served each night as dinner.
But this is when the air fryer comes in as it can deliver some amazing vegetarian recipes with very little preparation time and kids will actually look forward to eating vegetables and food that is meat free.
You don't have to be a vegetarian to enjoy these vegetarian recipes. I am not a vegetarian but love vegetables over meat.
I will often cook more meals without meat than I will add meat. Whilst Dominic is the opposite and I must remind my husband that he hasn't loaded my dinner plate with enough of my favourite veggies.
Are Air Fryers Good For Vegetarians?
The air fryer is fantastic for vegetarians. I think of so many of my favourite air fryer recipes and many of them are vegetarian.
As I type this for you, I am tucking into my favourite air fryer roasted chickpeas.
They are a fantastic quick snack without any oil and make a much better healthy choice compared to grabbing a packet of crisps or a bar of chocolate.
Also, it is very easy to adapt your favourite frozen vegetarian foods and use the cooking time of the meat alternatives.
Air fryer vegetarian sausages can follow our air fryer sausage cooking times, whilst air fryer veggie egg rolls can follow our air fryer frozen egg rolls recipe and so on.

Best Air Fryer For Vegetarians?
There is no secret of the fact, that us at Recipe This are big fans of the Philips Air Fryer.
We have both the Philips Air Fryer XL and the Philips Air Fryer XXL. Both do an amazing job but if I was going to recommend the best air fryer for vegetarians, I would recommend the Philips Air Fryer XL.
This is because many people choose the larger XXL model so that it is big enough to cook a whole chicken, but as a vegetarian, this is something you are never going to cook, so why bother getting something that you don't need?
Or if Philips Air Fryer is too expensive, do have a read about how to get a cheap air fryer on eBay, as well as consider the Gowise USA air fryer or have a read of our Cosori Air Fryer review.
Top 10 Air Fryer Vegetarian Recipes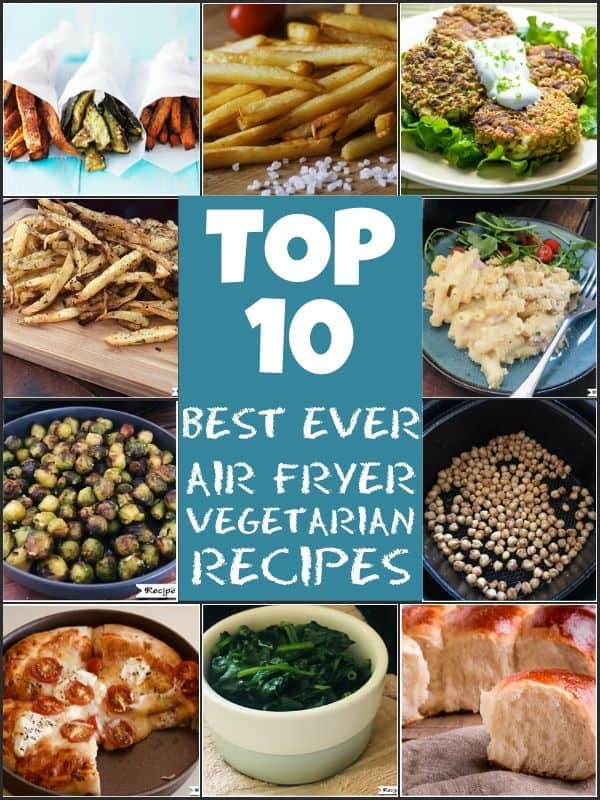 10 More Vegetarian Air Fryer Ideas
I asked my readers what their favourite air fryer vegetarian recipes and these where the ones that they chose:
Air Fryer Vegetarian Appetizers
I have so many delicious air fryer vegetarian appetizers that I felt that they deserved a special shout out.
Air Fryer Vegetarian Baking
It feels wrong to mention air fryer baking vegetarian recipes. That is because when making sweet treats there is never any meat involved and feels like cheating by mentioning them.
But these air fryer baking recipes are so good, I just to give them a small mention and say how you MUST try them in the air fryer:
Or lets not forget the delicious air fryer pie crust that you can use in all kinds of air fryer vegetarian baking.
Air Fryer Vegetarian Indian Recipes
I grew up on the Indian restaurants and I just LOVE my favourite Indian snacks cooked in the air fryer.
If you have not tried them already here are my favourites:
Healthy Air Fryer Vegetarian Recipes
If you are looking for delicious healthy air fryer vegetarian recipes, then here are a few worth a mention:
Air Fryer Frozen Vegetarian Recipes
If you love frozen vegetarian food and want to know how to cook it in the air fryer then these are for YOU. Includes all your favourites from pizza to potatoes to cheese sticks, these have the vegetarian yum factor.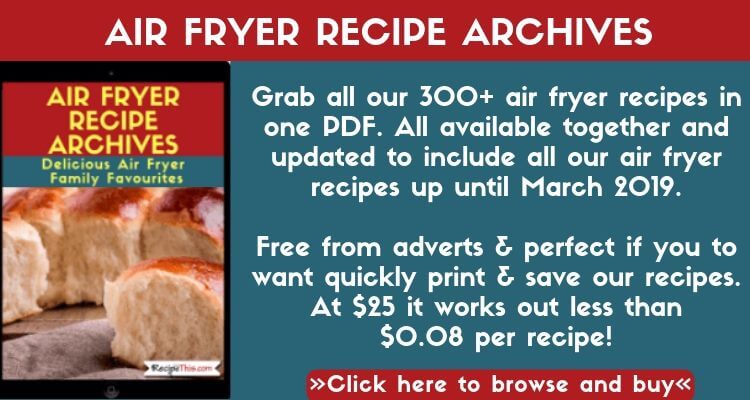 More Air Fryer Vegetarian Recipes
Here at Recipe This we have even MORE air fryer vegetarian recipes for you to try. Have a browse through these meatless air fryer recipes and bookmark for later.
Can't read it now? Then pin it for later!
Join The RecipeThis.com Community:
Facebook Group | Pinterest | Twitter | YouTube
Plus, don't forget to subscribe below to join our email newsletter with updates of our latest recipes, latest freebies, our cooking stories, plus much more: