Welcome to my first recipe on Recipe This. I must admit I gave it some thought over what would be the first and then decided it had to be something easy to make, quick and that the entire family adore.
Enter my Air Fryer potato wedges……
The first time I ever tried potato wedges I was about 10 years old. My mum had taken me out for lunch at Pizza Hut and I must admit to being rather grumpy and wishing that they served chips.
Instead we had potato wedges. I was the fussy child that always moaned and the thought of skin on my chips seemed to wrong. But I tried them and fell in love with them there and then. They tasted so crispy, had loads of spice on them and made a fantastic side for my pizza.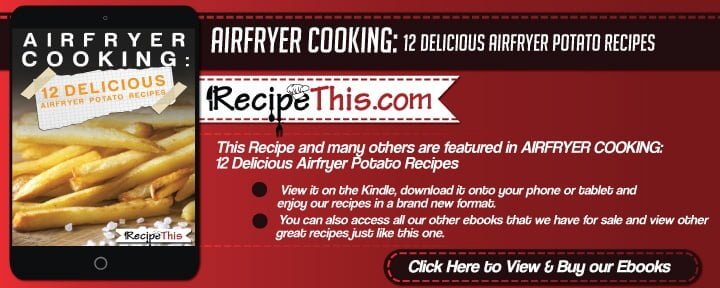 Here in Portugal they don't serve potato wedges at Pizza Hut and I must admit it's the first thing I think about when I think of favourite sides when we are out for pizza.
Nowadays, when we have potato wedges it will be at home as part of a Mexican food night. We will have potato wedges, chicken fajitas, salad and some spicy cauliflower rice. It is always delicious and there is never any left!
For my potato wedges I have hated the fact that with us not having a grill, that they don't end up as crispy as I would like in the oven so when I got my Air Fryer it seemed the perfect way to make them. That way they can be crispy and be super quick to make.
Crispy #AirFryer Potato Wedges from @recipe_this
Click To Tweet
Crispy Air Fryer Potato Wedges
Instructions
Chop of the potatoes into wedge shapes and place them in your Air Fryer.

Drizzle them with a tablespoon of olive oil and place them in your Air Fryer for 25 minutes on 190c.

Shake them three times during the cooking process so that they are all getting evenly cooked.

When cooked throw them into a bowl and add salt and pepper along with your Cajun spice. Until all the potato wedges are evenly coated.

Serve!
Recipe Notes
We find that anything more than four large potatoes will over crowd the Air Fryer and stop it from cooking them evenly. If you have a large family we suggest you cook them in batches and then leave the cooked ones in the oven to keep their heat.