This Post Contains Affiliate Links. Click Here To Read Our Full Disclosure.
Cosori Air Fryer Review. With the Cosori Air Fryer being the most talked about air fryer, lets see if it lives up to its hype and if it is worthy of the Amazon Best Seller Ranking.
Cosori Air Fryer
I have been air frying since 2011. Back then there was not much choice. You had this Philips Air Fryer and this Tefal Actifry.
The air fryers were only available in parts of Asia and Europe and was the new kitchen gadget to get excited about.
The Philips Air Fryer was amazing, and it has evolved into the best air fryer (in my opinion) that is on the market today.
We have upgraded since 2011 and now own both the Philips Air Fryer XL, the Philips Air Fryer XXL, as well as the Power Air Fryer Oven.
But not everyone has the budget to buy the Philips Air Fryer, so when Cosori approached me and offered to send a Cosori Air Fryer, I decided to jump at the chance.
It would be fun to try a different air fryer and see how the market has changed in the 10 years that I have now been air frying. And whether or not I still believe the Philips Air Fryer XL is the best air fryer on the market.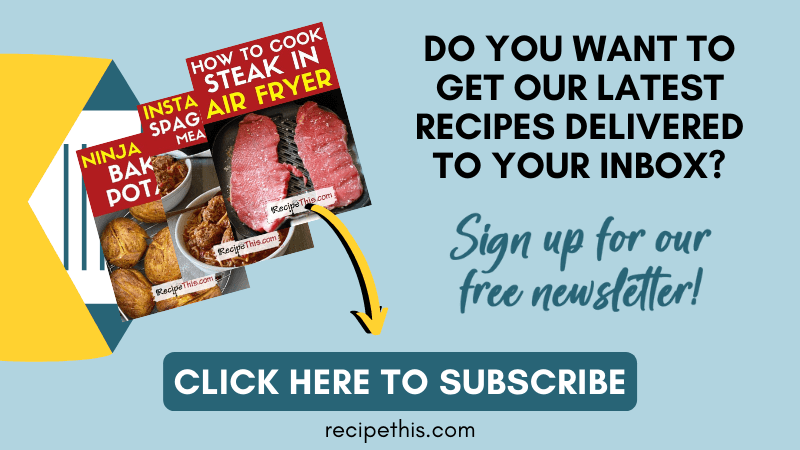 Also, before we dive into this cosori air fryer xl review, I recommend you check out our free air fryer mini course. It is ideal for air fryer beginners or those that want to get more confident with their air fryer. The free course runs for 5 days with a new lesson delivered each day to your inbox.
Or browse our site as we have 500+ air fryer recipes that are easy to recreate at home and we have been showing people how to use the air fryer since 2011.
It would be fun to try a different air fryer and see how the market has changed in the 9 years that I have now been air frying.
Why Get An Air Fryer?
Firstly, lets talk about what the Air Fryer is all about and why the Cosori brand should be sat in your kitchen.
360° Air Circulation Technology – Air fryers can cook food with 85% less fat content compared to cooking in a deep fat fryer. This is because the air circulates around the air fryer and air cooks your food instead. In many cases you can also cook air fryer food without any oil at all.
It cooks food quicker – You can use frozen food in the air fryer as a good example of this. You will often find that air fryer cooking will cut the cooking time down by half.
It is like baking food but crispier – I often find that when I am baking foods in the oven it will lack a crisp coating. But the air fryer is your crispy best friend and you will be amazed by the results.
Perfect for diets – As an air fryer blogger of many years, I find that the air fryer audience is often diet conscious. Many of our readers follow keto, paleo, Weight Watchers or Slimming World diets.
Money saver – Because the air fryer is PERFECT for fast food copycat recipes it means that you can save a small fortune on takeaways and buying rotisserie chicken at the supermarket.
Why Should You Get The Cosori Air Fryer?
You are probably thinking that is all well and good and an air fryer sounds fantastic and you have made the Philips Air Fryer sound impressive, but what about why should you get the Cosori Air Fryer?
Well here are a few reasons to get the Cosori Air Fryer above other brands.
Cosori Air Fryer Benefits
Shiny Button Syndrome – If you love the Instant Pot Pressure Cooker for all its great preset buttons, then you will love the Cosori Air Fryer. There are presets for steak, chicken, seafood, shrimp, bacon, frozen foods, fries, vegetables, bread and desserts. All you do is press the button and come back to your food!
Air Fryer Temperature – The food in the Cosori air fryer can cook from 75c/170f to 200c/400f.
Air Fryer Cooking Time – You can cook for 1 to 60 minutes at once. Then add more time later if you need to for longer cooking recipes such as roast dinners.
Air Fryer Shape – The shape of the Cosori air fryer is what I love most. Because of its shape, it can hold a lot more food, but look like a smaller air fryer. Perfect for saving space in a smaller kitchen or for those travelling in an RV.
Food Warmer – It will also keep your food warm for up to an hour. You could leave your cooked food in the Cosori Air Fryer and come back to it later, knowing that it will have stayed warm for you.
One Year Guarantee – Because Cosori have such faith in their air fryer, they are giving you a one-year buyers assurance. You can also pay extra for an extended warranty.
Non-Stick Air Fryer Basket – There is a fantastic large square basket included with your Cosori air fryer. It is dishwasher safe and easy to clean.
Price – I love the value for money in the Cosori air fryer range. When you buy an air fryer you are either going super cheap and having an air fryer that doesn't last or having to spend a considerable sum. The Cosori is your middle ground.
Cosori Air Fryer Cons
The Noise – The Cosori makes a lot more noise compared to other air fryers and is often like loud air conditioning. Not good for making breakfast on a hangover!
The Non-Stick Basket – The wonderful thing about Philips is that it is a wired basket and doesn't need non-stick coatings. I am concerned that when air fryers have a non-stick coating, that it will come off over time. Just like it has done with my Air Fryer Grill Pan.
The tray catches – By this I mean that the basket is not smooth getting in and out of the air fryer unit. At first, I thought I needed to press down to get it out, but just realised, it was just not as smooth as other air fryers.
I don't trust the recipe cookbook – I noticed that the recipe cookbook is not using real photos. They are using photos they have bought from a photo library. So, if they are not their own photos, are they really their own recipes?
The buttons stick – I noticed some of the buttons stick and it feels like you are having a temper tantrum with your finger to get it going.
Not beginner friendly – I find that compared to other air fryer brands its not as beginner friendly as I would like. The presets can make it harder not easier, in an information overload kind of way.
Will The Cosori Air Fryer Last?
Of course, we can't guarantee this as you don't know what is going to happen. But based on what we see, the answer is a big fat YES.
It is a very robust air fryer and is built with quality in mind. I would trust the Cosori above other brands of air fryers such as Power and Instant Vortex.
Also, because the basket for the air fryer comes out so easily, if that breaks at some point in the future, it would be easy to just replace the basket.
You can also buy a wonderful all in one air fryer accessories bundle from Cosori. It is perfect for getting started with your air fryer.
The Cosori Air Fryer Accessories Bundle Includes:
Egg Bites Mould
Skewer Rack
Cake Pan
Pizza Pan
Silicone Mat
There are some other things included in the accessories pack, but those are the highlights.
I would also recommend checking out our air fryer accessories guide for more air fryer accessory ideas.
Cosori Vs Philips Air Fryer
There are many air fryers on the market, though I know the two basket air fryers that get talked about the most, is either the Cosori Air Fryer 5.8qt or the Philips Air Fryer XL.
Both are ideal for 2-4 people or for smaller households if you want to cook an all in one dinner using the air fryer.
I have used the Philips Air Fryer XL for many years (since it first came out) and absolutely love it.
Then I am sat there with the Philips Air Fryer XL and the Cosori Air Fryer 5.8qt in my kitchen and its interesting to see them both sat side by side.
I find that the baskets are of a similar side, though Cosori feels a little deeper, perfect for those whole chickens.
Whilst I prefer the Philips Air Fryer XL because of the type of basket and that it doesn't need spraying with oil before cooking.
The Philips Air Fryer is also much easier to use (perfect for air fryer beginners) because it doesn't have a lot of presets. You simply set the time and temp and that is it.
The Philips air fryers are often at the higher end of your budget BUT you get exceptional value for money, and they last.
Plus, I looked today to compare prices and thanks to the Philips being on sale, there is only a £40 difference in price.
Cosori 3.7 vs 5.8
There is a smaller Cosori air fryer or there is a bigger air fryer. Just like with Philips they have their original and their big one.
The smaller one is often referred to as the Cosori 3.7qt whilst the bigger one is the Cosori 5.8qt. This is simply the size of the air fryer and for Cosori Europe customers this is measurements in quarts.
The easiest way to explain this is that one is small and one is medium.
I often meet people that got the smaller one and regret it. They assume that as it is marketed for 1-2 people it is suitable for them. But the smaller one wont hold a whole chicken and it wont be good for a meal with sides all cooked together in the air fryer.
But if you want to just use the air fryer for sides or small portions of food then go small.
What Is The Cosori Air Fryer Basket Like?
Here are some chicken wings that we made in the Cosori air fryer:
Not that this was ¾ of a pack of frozen wings and isn't that a spacious air fryer basket? I was amazed by how big it looked when we started cooking in it.
The Cosori basket is also very easy to clean too, which is a nice added bonus.
The Cosori Air Fryer Cookbook
You do get a Cosori air fryer cookbook with your Cosori air fryer, but I would avoid it and instead browse through our 500+ beginner air fryer recipes instead.
This is because the cookbook recipe photos are just bought from photo stock sites and if they have not taken their own photos, the chances are they have probably paid someone to quickly find recipes on a budget too.
Though this complaint I have about the Cosori air fryer cookbook is probably universal to most air fryer brands, as the problem is the same with Philips too.
How To Use The Cosori Air Fryer?
If you want quick Cosori air fryer instructions and to get your head around the Cosori, then you are in luck because we have made some videos for you for our You Tube channel.
Click on the pictures below and be taken over to our videos on You Tube and then you can get an even better understanding of how to use the Cosori and if it is for you.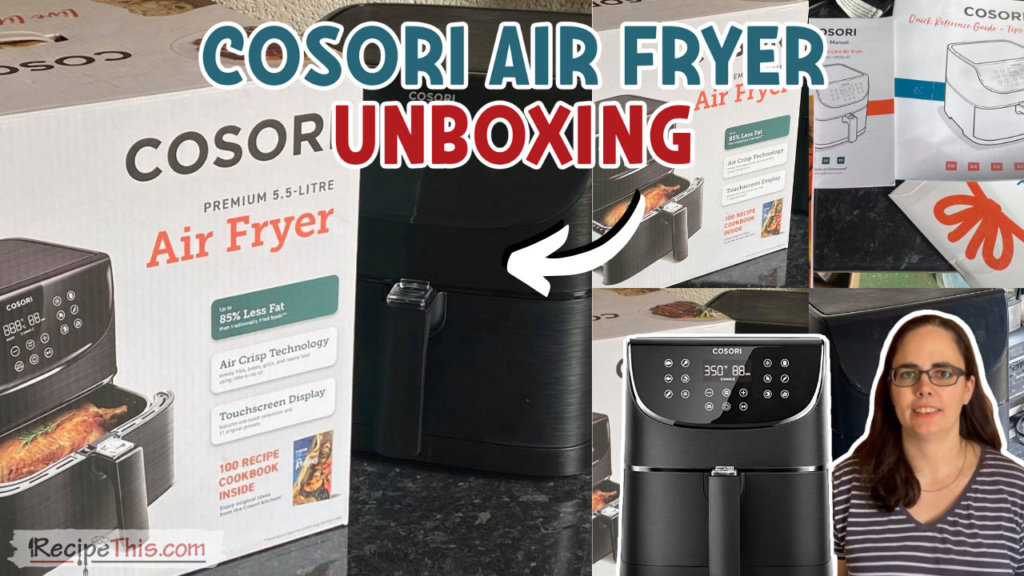 Plus, as well as in the how to use the Cosori video above we have also made a couple of Cosori recipes into videos for you and shared them on You Tube:
Though, do note, we have we have over 500 air fryer recipes on Recipe This using the Philips air fryer basket and ANY of these can be made using the Cosori XL air fryer.
Recipe This Verdict
Overall, I find that the Cosori 5.8 quart air fryer is fantastic value for money. Its much cheaper than some of the other air fryer brands and you can fit more food in it than many.
I don't think it's the best air fryer on the market (this one is) but I think it's the best cheap air fryer.
The Cosori air fryer basket is beautiful and you can tell that it is going to be long lasting and do a lot of air frying.
The big takeaway from testing out the Cosori Air Fryer is how much space it has for an air fryer basket and how many extras you get.
Many air fryers can only fit a very small whole chicken, yet with the Cosori you could bake a much bigger one.
Where To Buy Cosori Air Fryer?
I find the best place to buy the Cosori Air Fryer is on Amazon. I have noticed that they often rotate many of the air fryers in their regular sales and often have a special deal.
Also, around Black Friday and for Prime Day there is often a massive sale on them.
Click here to check out the current price of the Cosori on Amazon and see if its on sale.
Buy The Cosori Air Fryer
There are a few different models to choose from when buying a Cosori Air Fryer. Our favourite is the 5.8 Quart which you can buy here, but below you will find some other suggestions:
Or for even more suggestions check out our best air fryers to buy, which does include this Cosori Air Fryer!
Can't read it now? Then pin it for later!