Welcome to my rosemary roast potatoes Air Fryer style!
I absolutely love roast potatoes and they make the perfect side dish for any meal.
I always remember growing up and having a roast dinner among family and close friends. There would usually be myself, my parents, my dads parents, my dads brother and his wife and maybe a few other people. My mum would usually cook a beef roast with Yorkshire Puddings and lots of vegetables and roast potatoes and homemade gravy.
The one thing that everyone would always argue about was who got the last roast potato as they were so addictive and so tasty. As I recall that last roastie often went to my dad and maybe that can explain his beer belly!!!!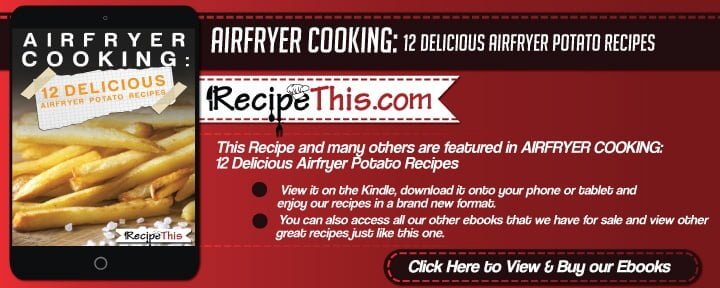 Fast forward several years and during our obesity phase Dominic would make a lovely tray of roast potatoes with beans and cheese. There would be a lot of butter and olive oil on the roasties along with a lot of salt, so they were very bad for us and thankfully we didn't have them every week otherwise we could have been on the 600lb fat show.
But now when we do have them I prefer to have a small portion of them in the Air Fryer because they can then end up a lot lower in calories and they can taste just as crispy.
Rosemary Roast Potatoes #AirFryer Style from @recipe_this
Click To Tweet
Rosemary Roast Potatoes Air Fryer Style
Instructions
Peel your potatoes and cut them into roast potato shapes.

Place them in your Air Fryer for 10 minutes on a 180c temperature with a tablespoon of olive oil.

Once cooked place them in a mixing bowl and sprinkle with the rosemary and the salt and pepper.

Mix well and then serve.
Recipe Notes
The ultimate tip for perfect Air Fryer roast potatoes is to not over crowd the potatoes. Don't fill the Air Fryer to bursting instead just do it to half full (at the most).