The number #1 resource for air fryer, instant pot, ninja foodi, slow cooker, soup maker, thermomix, and microwave recipes. If you own a kitchen gadget then this is the place to be!
Created by Sam and her chef husband Dom, it has become the ultimate resource for millions of kitchen gadget owners, around the globe, and it's our greatest pleasure to welcome you to our community.
Ps. Don't forget to subscribe below, for your weekly dose of kitchen gadget inspiration, and easy everyday recipes.
Hi! We're Dom and Sam!
We believe you can make great food exclusively with your kitchen gadgets using everyday ingredients. You just need a few easy kitchen gadget recipes to get you started!
Out of more than 1400 kitchen gadget recipes our favourites include air fryer whole chicken, air fryer homemade chips, instant pot veggie stock from veggie scraps and ninja foodi roasted potatoes.
You can also explore our BIG collection of kitchen gadget recipes and find your new cooking inspiration.
Pre-Order The Complete Air Fryer Cookbook Now!
New Air Fryer Recipes
Browse all Air Fryer Recipes >>> Get Your FREE Air Fryer Mini Course
New Instant Pot Recipes
Browse all Instant Pot recipes >>> Get Your FREE Instant Pot Mini Course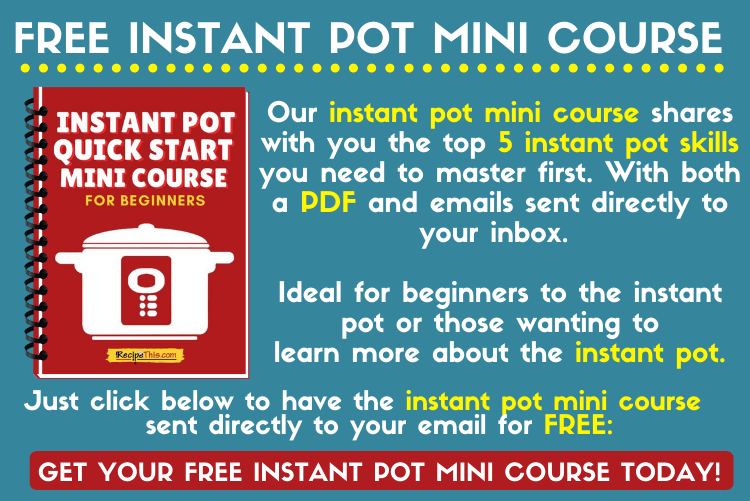 New Ninja Foodi Recipes
Browse All Ninja Foodi Recipes >>> Buy Our Ninja Foodi Cookbook
New Slow Cooker Recipes
Browse All Slow Cooker Recipes >>> Buy Our Slow Cooker Cookbook
New Soup Maker Recipes
Browse Soup Maker Recipes >>> Buy Our Soup Maker Cookbook
New Microwave Recipes
Browse All Microwave Recipes >>>
New Thermomix Recipes
Browse All Thermomix Recipes >>>
New Recipes At Recipe This
Interested in what is NEW or IMPROVED at Recipe This? Browse 1000+ recipes >>