Air Fryer Christmas Recipes. Introducing you to the best and easiest Christmas recipes for the air fryer to help you plan your Air Fryer Holiday Menu!
Including our favourite air fryer xmas turkey recipes, sides, appetizers, desserts and let's not forget about the Christmas mince pies and Christmas cookies.
Updated for Christmas 2023 with even better delicious holiday recipes.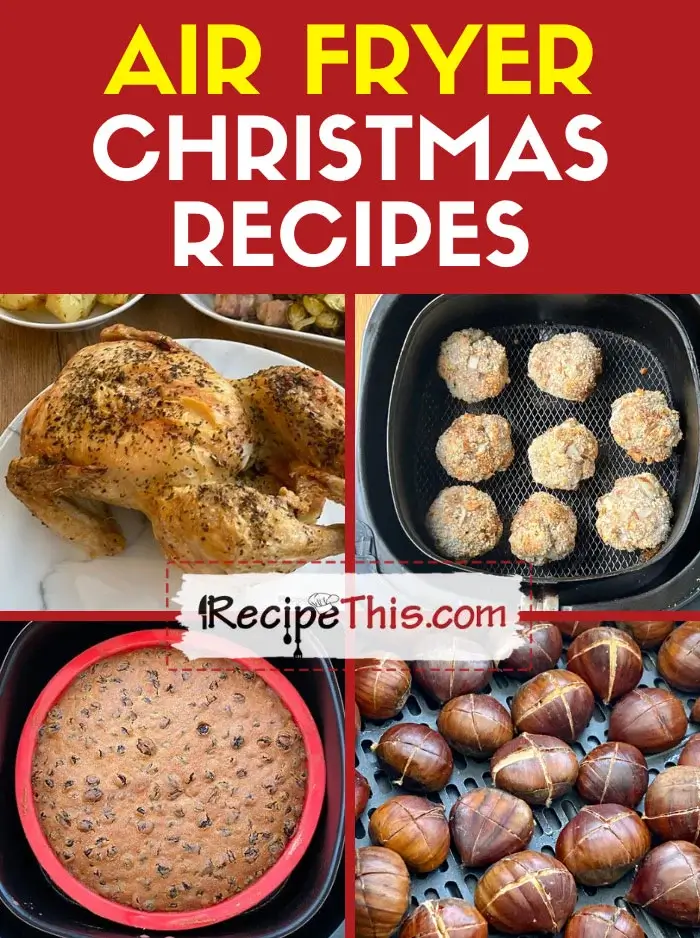 Air Fryer Recipes For Christmas
I love Christmas. I love the family time together, watching the kids unwrapping their Christmas presents, making Christmas Eve cookies, watching Christmas movies, making Christmas dinner with Dominic and just enjoying the moment.
I also love the aftermath when I get to the best bargain hunting of the year.
Christmas 2013 would have been the first Christmas where most of the Christmas food was cooked in the air fryer. Back then we had the analogue Philips Air Fryer and you look back now and it looks so basic.
But back then it was AMAZING, and I would gladly buy it again now as an extra air fryer (air fryer sales hurry up!)
I was asked last Christmas for the best Air Fryer Christmas Recipes and decided that this year I would put a huge list together for you that are rather traditional to Christmas and show you what amazing air fryer Christmas recipes you could make for you and your family.
They are also PERFECT if you are spending Christmas on your own, or as a couple, because we even have some AMAZING roast dinners to choose from too.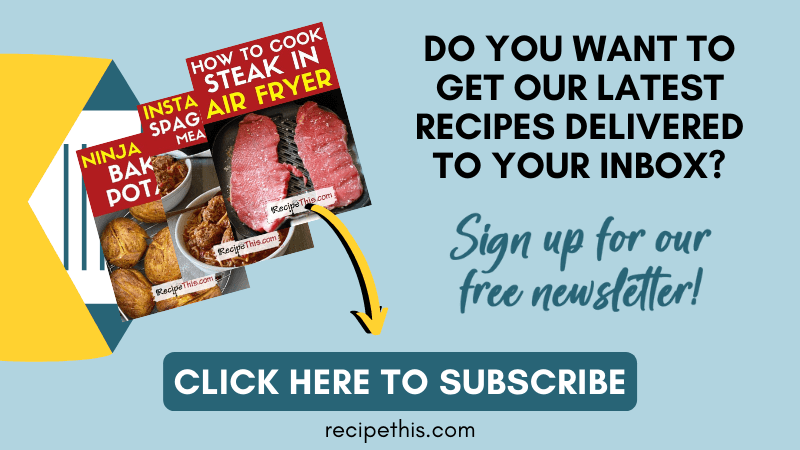 Plus, as well as our free newsletter, we also have a free air fryer mini course. It is ideal for air fryer beginners or those that want to get more confident with their air fryer. The free course runs for 5 days with a new lesson delivered each day to your inbox.
Can You Use An Air Fryer For Christmas?
Yes, you can. The air fryer is fantastic for Christmas. You can do your xmas day veggies, but of course with less oil, you can cook your Yorkshire puddings, you can do roast potatoes, you can cook your beef joint, and so much more.
Then of course there are the sweet treats and you can do everything from Christmas shortbread to Christmas mince pies to Christmas cookies, all with the air fryer!
Christmas Day Veg Prep
If you have a big Christmas dinner vegetables list, then you can do your Christmas Day veg prep the day before like we do.
We like to prepare our sprouts, peel and dice our roast potatoes, peel and slice our carrots and then it takes the pressure out of Christmas Day, and I can enjoy watching the kids with their presents.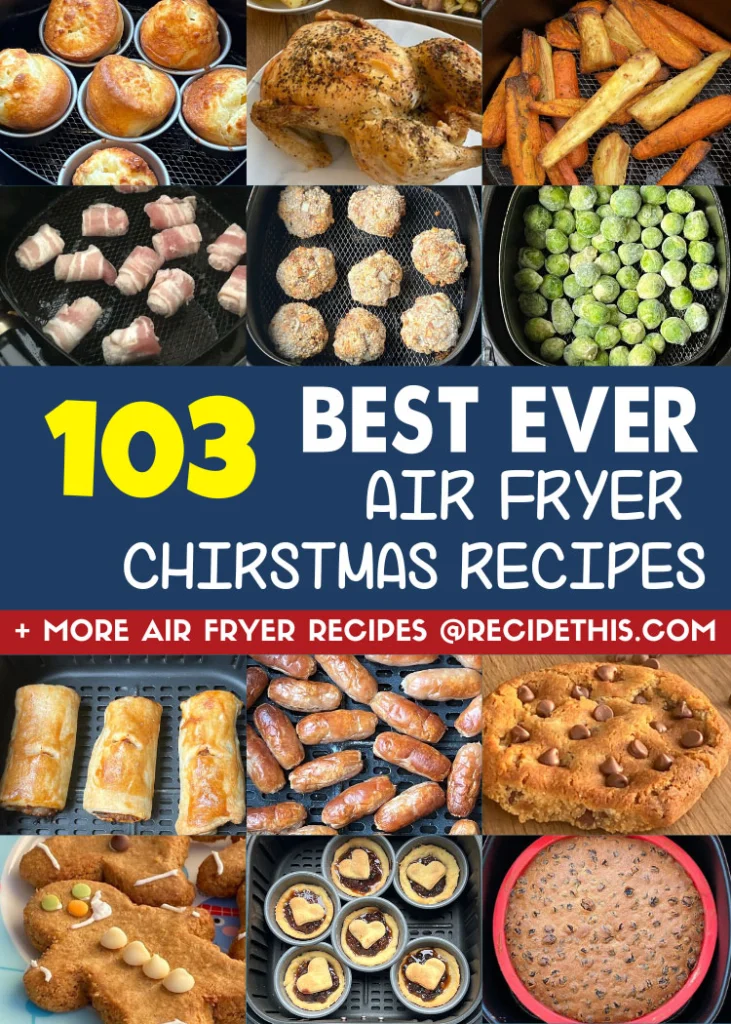 Budget Friendly Air Fryer Christmas Recipes
The worst thing about Christmas, is how much money is expected of you to spend. There are the presents, the socialising, the cooking and the list goes on and on.
What is wonderful about our air fryer Christmas recipes is that they are budget friendly.
Lots of homemade baking which is wonderful for saving money and a great way to have fun together as a family, as well as this we have some delicious roast dinners that are much cheaper than the classic turkey.
Us Milners will be having a turkey this Christmas, but we like to focus more on the air fryer turkey leftovers and the instant pot turkey leftovers and to make a huge amount of dinners from what is spare. That way, that one turkey will feed us for 2 weeks.
Why Use The Air Fryer For Christmas?
My first thought is always to save space. Use your air fryer and you don't have to worry about oven space.
BUT the REAL TRUTH is that I can make my favourite Christmas dinner treats at a fraction of the calories, yet they taste like I have gone overboard and deep fried everything, when I haven't!
Once you try some of our air fryer Christmas recipes you will understand why the air fryer has played such a big role in our Christmas food over the last few years.
Air Fryer Christmas Ideas
Firstly, I have split our air fryer Christmas recipes into what I call air fryer Christmas ideas. They have been split into sections, depending on what type of air fryer Christmas recipes that you are looking for inspiration about.
Our favourite section is the air fryer Christmas cookies, just because we love our cookies and can never get enough of them at Christmas. It is like the perfect excuse to eat the naughty stuff more often.
Air Fryer Christmas Breakfast & Brunch
Can we start with our favourite air fryer Christmas recipes that we like to have before Christmas dinner is served? The food that becomes the build up to Christmas and has us completely and utterly hooked.
I must start with an Air Fryer English Breakfast as I know many people that start Christmas Day with a full fry up.
We at RT have a smaller version of this and tend to cook air fryer sausages and bacon and serve it either in our air fryer pull apart bread rolls or the easier method of part baked bread rolls in air fryer for breakfast.
Though my parents would probably say the ideal Christmas Day brunch come comfort food, would be air fryer frozen fish sticks served in sandwiches with fried eggs.
Though I would think of it more as hangover food for the day after Christmas!
Or if you are a vegetarian how about starting the day with air fryer grilled cheese?
Or if you are feeding kids, they might prefer it if you made them some air fryer French toast. Here is a guide showing you how to make French toast in the air fryer, or try these air fryer French toast soldiers.
Or if you really want to impress the kids this Christmas make them air fryer homemade pop tarts.
Here are some more breakfast and brunch air fryer recipes to kickstart your Christmas day:
But for me I end up going crazy for air fryer sausage rolls (or our weight watchers and slimming world sausage rolls version).
There is just something about the wonderful pastry crunch with the delicious sausage meat in the centre. I will usually buy extra sausage meat and then share it out between sausage rolls and stuffing.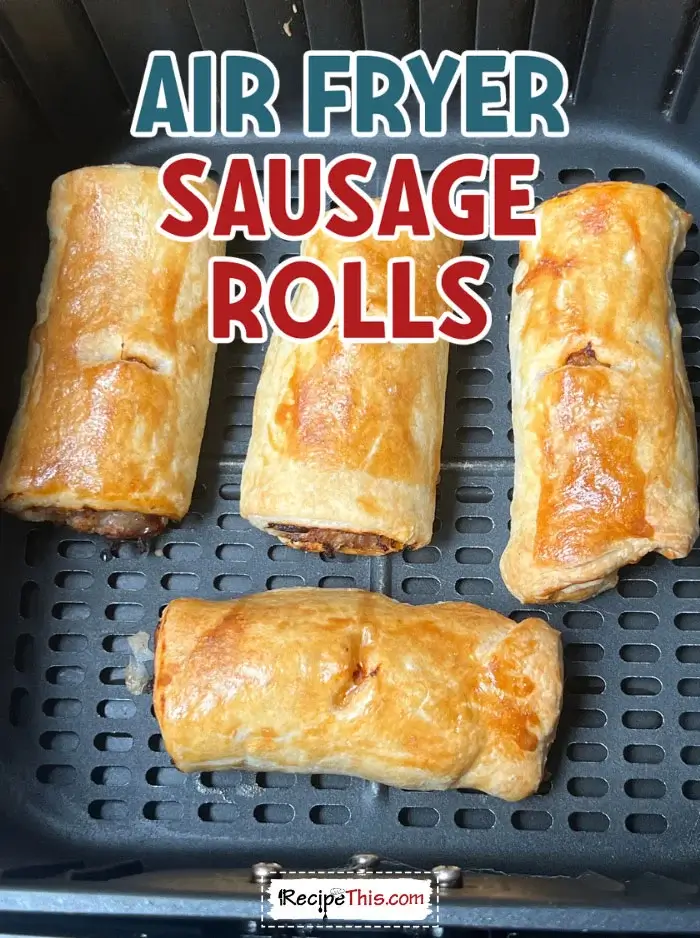 Or for a healthy and yummy brunch I can not get enough of my breakfast bundt cake. Its on the menu all the tine for me for breakfast because I can make it ahead of time and then reheat it as I want it.
You can also add in extra Christmas ingredients to make it more festive.
Air Fryer Cookies For Christmas
On Christmas Eve we will make a big batch of our air fryer chocolate chip cookies, as well as a few other variations.
They will feed us as well as being a treat for the coming days when we are sick of baking and just want to chill out with our favourite Christmas movies.
Heads up, my favourite Christmas movies are Miracle on 34th Street, Elf & Home Alone. Though I always sneak in the Only Fools & Horses Christmas specials back to back!
My favourite alternatives to the soft chocolate chip cookie in the air fryer include:
Or growing up in England it was always tradition that you had cheese and biscuits between your main dinner and dessert.
The cheese and biscuits platter would be loaded with lots of extras including air fryer rock buns and air fryer strawberry jam tarts.
Air Fryer Appetizers For Christmas
When I think of air fryer appetizers for Christmas, why is it that my first thought is let's eat lots of party food? As I think of what you serve your guests when they visit over Christmas.
Let's start with air fryer jalapeno poppers. They are so easy to prep and are a great party snack. Then if feeding children and they don't like spice you can swap for any baby pepper that you have in. Or for low carb visitors you have air fryer bacon wrapped jalapeno poppers.
Or the lazy option is to air fry frozen chicken wings. They are delicious and shops sell different flavours of them in the run up to Christmas such as air fryer salt and pepper wings.
Or for your classic Christmas from decades ago, don't forget to try air fryer cocktail sausages and why not add them to cocktail sticks with some cheese chunks and pineapple.
Or another of our favourites is to use the air fryer to make air fryer vol au vents. Talk about going back to the old school party food!
Here are some more delicious air fryer appetizers for Christmas:
Though I do love the party food Christmas range that the supermarkets have in the run up to Christmas.
My favourites include:
Air Fryer Roast Dinners For Christmas
I know that for Christmas the automatic choice is a roast turkey and that the bigger the turkey, the better. But not everyone wants a turkey, some households have smaller families and others just have an alternative favourite meat.
That is why I put together some new roast dinner recipes on Recipe This to give you some inspiration to try something different.
Firstly, I must give a shout out to my air fryer roast chicken dinner. It's made in the Philips Air Fryer XL and it cooks a small chicken, stuffing, vegetables and roast potatoes together.
I still can't believe how much I fitted in the air fryer at once when I cooked it. It makes the perfect Christmas Dinner for 1-3 people.
Here are a few air fryer Christmas dinner ideas:
Along with the roast pork and the roast ham here are a few other ones you can make using the rotisserie in the air fryer oven:
Air Fryer Christmas Turkey Recipes
If you want to cook turkey this Christmas, here are my favourite turkey recipes in the air fryer:
Air Fryer Side Dishes For Christmas
The air fryer side I want to eat at Christmas the most is my air fryer stuffing balls. I tend to use the same recipe each year and meal prep them and fridge them.
Then just before its time to sit down for Christmas dinner I can get them in the air fryer. It gives me one less thing to think about when making Christmas dinner.
Another favourite is air fryer Brussel sprouts that are cooked with bacon. Our eldest son Kyle hates sprouts but the rest of us love them, especially when bacon is involved.
Well you can't take Yorkshire out of the girl, so a round of air fryer Yorkshire puddings is essential. Though there is never enough, and I always want MORE.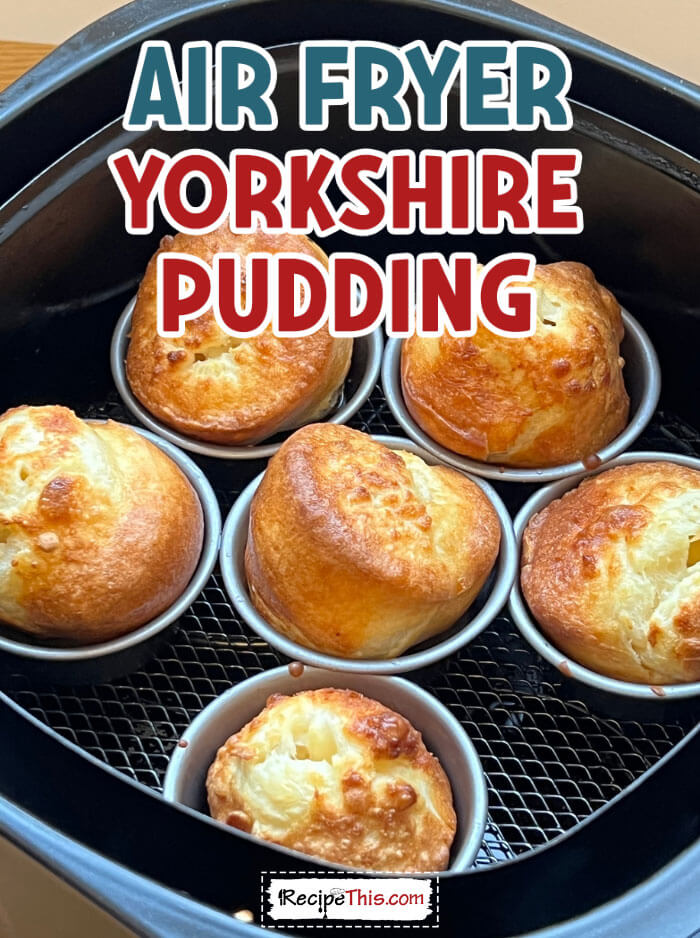 More Christmas side dishes to try in the air fryer:
Air Fryer Potatoes For Christmas
I love air fryer potatoes and have been cooking them for Christmas for many years now. My favourite is air fryer roast potatoes with bacon, or our air fryer rosemary roast potatoes if you are vegetarian.
It is like crispy roast potatoes like you have in the oven, but with hardly any fat. The only fat going in is a small amount of extra virgin olive oil and that is it!
Or the LAZY version is to cook air fryer frozen roast potatoes!
You can also make ahead your air fryer roast potatoes and then cook them just before serving. Your guests will be shocked if you tell them the air fryer roast potatoes were cooked in the air fryer.
Other air fryer potatoes for Christmas include:
Ninja Foodi Christmas Recipes
Whilst all my air fryer recipes and instant pot recipes are easy to make in a Ninja Foodi, here are a few recipes that have specifically been made in the Ninja Foodi and are perfect for Christmas.
Air Fryer Dessert Recipes For Christmas
Let's conclude with air fryer desserts, shall we? I love my dessert and at least at Christmas I have the excuse to indulge!
My favourite as a kid was trifle, though I often remember my mum making my dad a warm apple pie. My dad who is an apple pie addict has also given my air fryer apple pie the big thumbs up!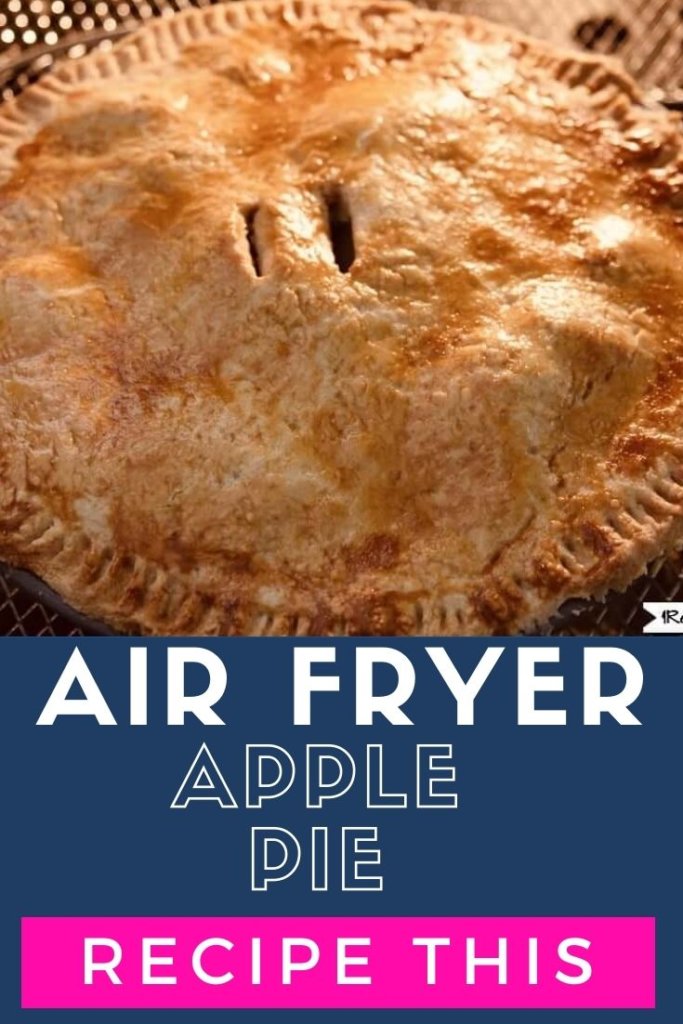 Can't read it now? Then pin it for later!