Instant Pot Christmas Recipes. Introducing you to the best Instant Pot Christmas Recipes all made in your Instant Pot or other electric pressure cooker and perfect for planning your instant pot Christmas menu.
Instant Pot Christmas Recipes
After special requests from a few of our Instant Pot readers, we have decided to scroll through our instant pot archives and bring you a delicious collection of instant pot Christmas recipes.
If you have not used your instant pot yet as part of your instant pot Christmas menu, then YOU MUST. It is a true life saver.
Think of all those times at Christmas (or at Thanksgiving) when you look down and realise that you have run out of pans, have a LOT of washing up to do and that no matter how hard you try, you never seem to get fully organised for your Christmas dinner.
Well thanks to the Instant Pot you can in fact make an AMAZING Christmas dinner. With less stress, less washing up and more time sat down relaxing.
The first Christmas we had with our Instant Pot, was Christmas 2016. Jorge was about to have his first Christmas; Sofia was about to enjoy her 3rd Christmas and we just felt a lot more organised.
Hard to believe when cooking Christmas dinner on hardly any sleep, while looking after 2 under 3's but it is TRUE.
Mashed potatoes didn't take as long, we could make a much quicker dessert and best of all we could make lots of dishes in our Instant Pot with the leftovers.
It was a dream come true.
#1 Instant Pot Christmas Accessory
There is one thing that I do recommend you buy to speed up your Instant Pot Christmas Dinner and that is an extra inner pot for your Instant Pot. Or more than two if that is your thing?
I have 3 of them that fit in my Instant Pot 6 quart and 1 for my 8 quart too. That way you don't have to wait on washing up and get your next dish cooking straight away.
Or you might have meal prepped something and can then keep one dish, still in its inner pot in your fridge.
Diet Friendly Instant Pot Christmas Menu
I know there will be someone here skimming through my instant pot Christmas recipes and wondering what I have for their diet. They might be on Keto, might love Paleo like I do, or are part of the Slimming World diet club.
Either way many of our instant pot Christmas recipes fit in with diets. We have a big for everyone so if one of the following applies to you then you are in luck:
Whole30
Paleo
Keto
Weight Watchers
Vegan
Vegetarian
Gluten Free
Fat Free
Dairy Free
There are many things we cook in the Instant Pot that we serve for Christmas dinner that are high in vegetables and low in fat.
Just avoid our Christmas desserts and Christmas puddings as they are not good for the health-conscious Christmas foodie!
Why Use The Instant Pot For Christmas?
Did you know that when you boil food it loses its nutritional value and becomes tasteless?
If you steam your potatoes in the pressure cooker to make Instant Pot Mashed Potatoes they taste 10 times better, are healthier and are done in a fraction of the regular stove time.
That is just the mashed potatoes, there is the steamed vegetables, the quick vegetable gratins and the list goes on and on.
Now when we cook Christmas dinner in the Milner house, we use the oven for the turkey and then the air fryer and instant pot does everything else. It is truly magical how these kitchen gadgets make Christmas dinner so easy.
Best Instant Pot Christmas Recipes
There are more than 150 instant pot recipes on our site (well at the time of writing this) and we have a lot of recipes that are perfect for Christmas.
But we wanted to share with you JUST the best of the best. These truly are the best instant pot Christmas recipes.
Also, we realise there are several instant pot Christmas recipes here to make up your Christmas dinner menu, so we have split them below into categories to make it easier for you.
Then if you head to the bottom of our instant pot Christmas recipes you will find quick links to everything mentioned to make it easier for you.
So that just leaves me to wish you a very HAPPY CHRISTMAS!
Instant Pot Christmas Appetizers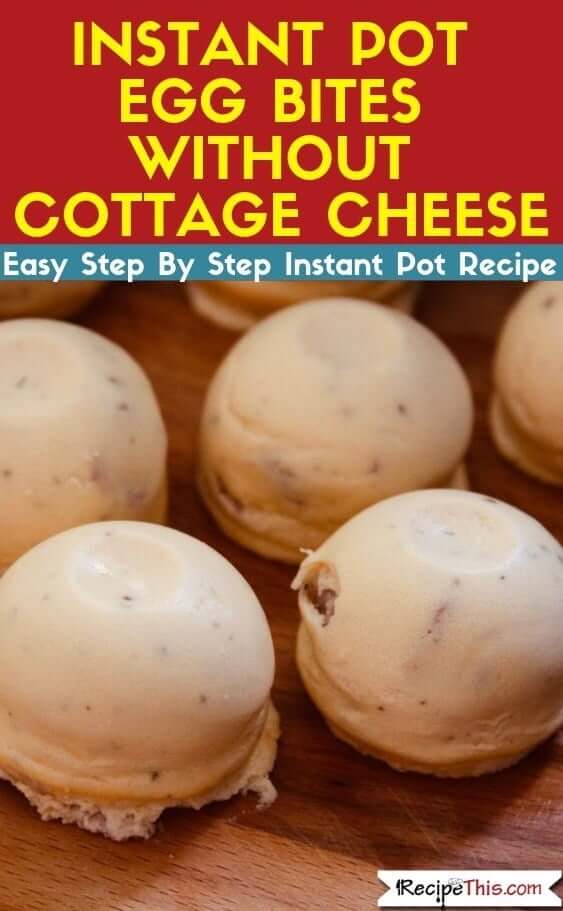 Are you looking for some delicious instant pot Christmas appetizers to impress your guests with?
Maybe they are sick of you talking about your Instant Pot and you want to tell them after they have said your food is amazing that you did it in the Instant Pot!
One to wow them with would be Instant Pot Egg Bites without cottage cheese. They are heaven and I could binge on them all day. You can make them more seasonal by loading them with seasonal veg.
Or what about some delicious Instant Pot Sweet Chili Chicken Wings? Or my other favourite wings for the instant pot is Instant Pot Mediterranean Chicken Wings that are free of washing up!
Instant Pot Christmas Soup
If you want to start your instant pot Christmas dinner menu with soup, then we have some fantastic instant pot Christmas soup recipes.
For something that will impress your guests how about Instant Pot Bean & Bacon Soup?
Or to give them a health kick and impress your healthy eating visitors, try a bowl of instant pot carrot and ginger soup. It can also help fight off colds and warm your guests up if you are in a colder part of the world.
More Instant Pot Christmas Soup Ideas Include:
Instant Pot Christmas Vegetables
At Christmas I love to have lots of vegetables. For me a Christmas dinner means meat, potato and plenty of vegetables. So, I am disappointed if I don't have several different vegetables on my dinner plate.
My favourite instant pot vegetable has to go to instant pot baby parsnips. They are super cute, and it will make your dinner table look gourmet.
Or I love to steam some whole pumpkins in the Instant Pot and you can serve them on the dinner table as they are, or make them into cute pumpkin wedges.
Here are some more instant pot Christmas vegetables to cook:
A special mention needs to go to this guide that shows you how to Instant Pot Frozen Vegetables. Perfect for the budgeter at Christmas. Or follow this guide that is specific to Instant Pot Frozen Broccoli.
Instant Pot Christmas Side Dishes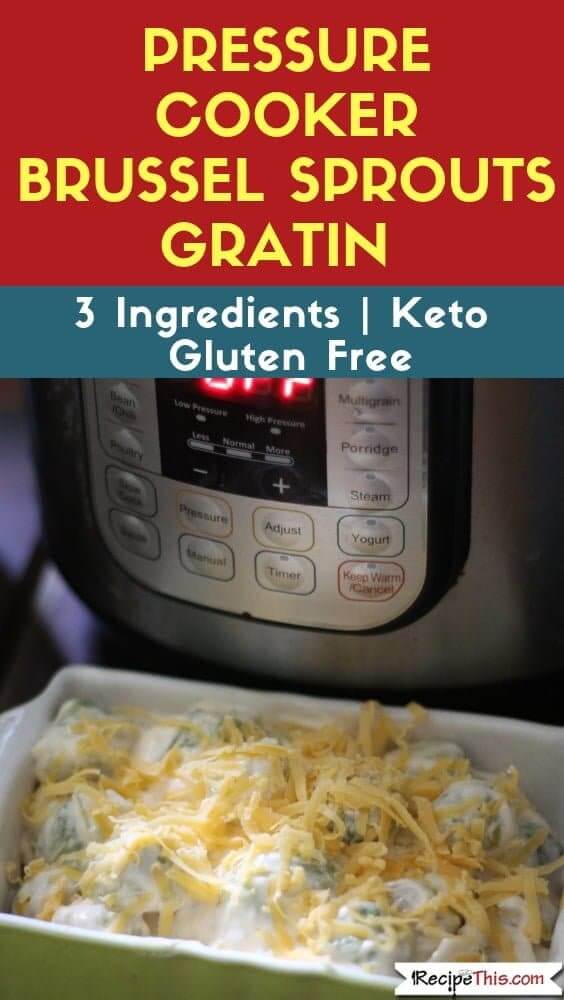 Firstly, let's start with my favourite instant pot side dish for Christmas and that is Instant Pot Brussel Sprouts Gratin. Also known as Brussel sprouts in a delicious creamy cheesy sauce.
And YES I am part of those that is addicted to sprouts and just can't get enough of them. Or if you are dairy free here is our steamed Instant Pot Brussel Sprouts.
Other versions of our popular vegetable gratins include instant pot leeks gratin and instant pot cauliflower gratin.
The lazy side dish would be some instant pot new potatoes. Steamed in the instant pot and served with butter, they are an easy Christmas dinner side dish.
Or for a healthy sauce to pour over your favourite vegetables, or to use in your own vegetarian gratin, try out our instant pot paleo sauce. It is loaded with vegetables and so easy to make.
Instant Christmas Mash
Who doesn't love mashed potatoes? My eldest son Kyle is obsessed and will eat bowl after bowl of mash and then when I have not made any for a while he will be asking when we are cooking it next.
He loves our instant pot mashed potatoes the most and its so easy to make. You can mash the potatoes directly in the instant pot inner pot and load the butter and milk or whatever ingredients directly into the pot.
This is also one of the reasons why we have extra inner pots, because the mash can be made in the Instant Pot and then served directly on the dinner table.
As well as making mashed potatoes with white potatoes we also have these other variations:
Instant Pot Christmas Turkey
Did you know that you can cook a whole turkey breast in the Instant Pot and that it is NOT dry? Perfect for those of you that complain every year that your turkey is dry and that you ruined it again.
In my Instant Pot I cooked the turkey crown (the 2 turkey breasts with the bone in) and it was delicious and now I love to put my crown in the instant pot. Here is our instant pot turkey crown recipe for you to test for yourselves.
Or if you would rather cook it on slow here is our Instant Pot Slow Cooked Turkey Breast recipe instead.
Instant Pot Christmas Meals
Don't want to eat turkey? Then here are a few turkey free instant pot Christmas meals to try instead:
Instant Pot Pineapple Ham – If you like to have an instant pot Christmas ham, then try out this version that is loaded with pineapple. I can't just stop on one slice though.
Instant Pot Rotisserie Chicken – I love cooking a rotisserie style chicken in the Instant Pot. You can cook it with potatoes and vegetables at the same time for a Christmas dinner for two. And don't forget to use the Mealthy Crisplid to crisp up your chicken skin.
Instant Pot Beef Brisket – Perfect for an instant pot Christmas eve dinner. Let's say you have family coming to stay and you just want a quick supper to share with them. Well this is it!
Instant Pot Beef Roast – Another one of those family dinner classics, it is perfect for a no fuss easy to prepare instant pot Christmas dinner.
Instant Pot Christmas Dessert Recipes
Let's conclude with my favourite part and that is instant pot desserts. The instant pot does an amazing job of making the best ever Christmas desserts and they are so easy too.
My favourite Christmas dessert was always the steamed pudding and they were always meant for the pressure cooker.
If you are hosting a Christmas party or want a dessert that will wow your family and friends, then it doesn't get any better than instant pot chocolate cake bites.
Another of my all-time favourites for impressing, is instant pot cheesecake minis, they look gorgeous and its easy to make them in the instant pot.
Here are a few other delicious instant pot Christmas desserts:
Instant Pot Christmas Quick Links
Get Our Free Instant Pot Ebook
We also have a free instant pot PDF that is filled with our top 25 BEST instant pot beginner recipes. It is loaded with our favourite recipes for the instant pot, as voted for by our electric pressure cooker readers.
It also gives you access to our exclusive instant pot newsletter that is loaded with free instant pot tips, tricks, recipes and stories and is often recommended in the instant pot communities.
You can download your copy here.
Can't read it now? Then pin it for later!
Join The RecipeThis.com Community:
Facebook Group | Pinterest | Twitter | YouTube
Plus, don't forget to subscribe below to join our email newsletter with updates of our latest recipes, latest freebies, our cooking stories, plus much more: