Air Fryer Summer Recipes. Introducing you to the best and biggest list of air fryer summer recipe ideas. From chicken dishes to vegetarian to summer squash we have it covered. Browse through our summer air fryer recipes and plan your meals for this summer and beyond.
Air Fryer Summer Recipes
Living in Portugal as a British Expat, means that you are excited every year about cooking summer food in your air fryer.
Not because you love summer food over winter food, but because you know that come June it is so hot that you want air fryer summer food that will just keep you cool.
In the summer we see temperatures in the 40's and walking to the kitchen and back brings you out in a sweat.
Therefore, our air fryer summer meal plan is about:
Fast prep
Not much effort
Light and low carb
We scrolled through every air fryer recipe we have on Recipe This to bring you the best thorough list of air fryer summer recipes and we recommend you bookmark which ones you like and then make them during the hot summer months.

Best Air Fryer For The Summer?
In the summer I use my Air Fryer XL by Philips. It is not the biggest air fryer out there, but it is big enough to cook a whole chicken in it.
I want one that is big enough for the whole chicken so that I can make chicken salads and feel like an air fryer bigger than this is not necessary.
I also want one big enough that will cook lots of my favourite salad items and other summer side dishes.
Top 10 Air Fryer Recipes For Summer
Air Fryer Roasted Chickpeas – Chickpeas in salads are delicious and I am addicted to making crispy roasted style chickpeas in the air fryer. A must try in your air fryer summer salads.
Air Fryer Italian Sausage & Peppers – For those lazy breakfasts come brunches in the summer. Add in your favourite peppers, maybe some onion and plenty of delicious Italian sausages.
Air Fryer Baked Brie – Summer evenings sat on the terrace sharing a baked brie and plenty of Ritz Crackers with friends or family. This is totally effortless and will impress any cheese addict.
Air Fryer Roasted Peppers – Delicious peppers roasted without oil in the air fryer. They taste better than on the barbecue and are perfect when peppers are in season in the summer.
Air Fryer Roasted Garlic – Nothing quite says summer like Mediterranean food, and you can roast whole garlic bulbs in the air fryer this summer. It is also a lazy alternative to peeling those garlic cloves.
Air Fryer Jerk Chicken – A taste of the Caribbean thanks to this amazing air fryer jerk chicken. Served with couscous for the ultimate summer dinner.
Air Fryer Mac & Cheese – Perfect for making the kids a batch of mac and cheese quicker and with less prep and washing up. It also makes a fantastic side dish this summer for your barbecue food.
Air Fryer Sausage Rolls – In the summer I love to make sausage rolls. They are always part of our summer picnic and are great for taking to the beach. The smell from the pastry is amazing in the kitchen as they cook.
Air Fryer Steak & Fries – But not just air fryer steak and fries, but a delicious garlic butter and grilled tomatoes too. A delicious all in one meal in the air fryer.
Air Fryer Honey Glazed Pineapple – Pineapple and honey addicts unite for this amazing air fryer recipe. Grab a fresh pineapple and make this in the air fryer this summer.
Air Fryer Summer Squash Recipes
Nothing says summer vegetables more than summer squash. I am a huge fan of zucchini (courgette) that I cook it all year around.
A lucky perk to living in Portugal is that it never goes out of season.
Here are all my favourite air fryer summer squash recipes featuring the delicious zucchini:
Air Fryer Summer Chicken Recipes
If you are looking for air fryer summer chicken recipes, then here are a few easy suggestions:
Air Fryer BBQ Chicken – How about a self saucing BBQ chicken that you can serve with your favourite summer vegetables? You can mix and match with your favourite BBQ sauce and its easy to make ahead.
Air Fryer Chicken Taquitos – Lazy lunches and dinners in the air fryer don't get any better than this. You can even make your taquitos filling in the air fryer.
Air Fryer Chicken Fajitas – YES you can make your favourite chicken fajitas in the air fryer and they are totally hassle free. The prep is so fast that blink and you will miss it. You can also swap chicken for steak or shrimp.
Air Fryer Chicken For Tacos – If you love to binge on tacos in the summer months, then don't forget to follow our recipe for making delicious taco chicken.
Air Fryer Frozen Chicken Wings – Your favourite frozen chicken wings are perfect in the air fryer. Especially, when its hot and you don't want to cook dinner and just want something quick.
Air Fryer Nando's Chicken Wings – Everyone needs to eat Nando's cuisine as it is delicious. If you have not heard of it yet, it is the best ever spicy chicken that you have ever tried. You can also get mildly spiced chicken and vegan options too.
Air Fryer Lemon Pepper Chicken Breast – A popular recipe among our air fryer readers, lemon pepper chicken is perfect for serving over a salad during the summertime when all you want is a chicken salad.
Air Fryer Summer BBQ Recipes
The air fryer makes a fantastic alternative to the barbecue and here are a few barbecue recipes you can air fry: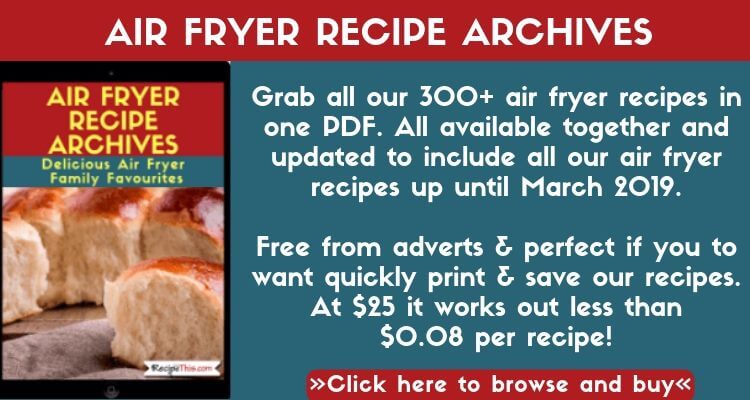 More Air Fryer Summer Recipes
Here at Recipe This we have even MORE air fryer summer recipes for you to try. Have a browse through these air fryer summertime recipes for even more inspiration and bookmark for later.
Or a special mention must go to the following that are perfect for the air fryer this summertime:
Air Fryer Pie Crust – Follow our air fryer pie crust recipe and use it in all your summer pastry recipes. We like it most for making a cheese quiche that we can take to the beach in summer picnics.
Air Fryer Fishcakes – My grandad taught me how to make fishcakes when I was little and OMG they are amazing in the air fryer. If you want a cheap fish-based air fryer recipe then you must try these fishcakes.
Air Fryer Chickpea Salad – A salad made using the air fryer to roast the chickpeas and peppers. It tastes amazing and makes a great change to a traditional green salad. Salad haters of the family will love this version.
Can't read it now? Then pin it for later!
Join The RecipeThis.com Community:
Facebook Group | Pinterest | Twitter | YouTube 
Plus, don't forget to subscribe below to join our email newsletter with updates of our latest recipes, latest freebies, our cooking stories, plus much more: