Do Air Fryers Use A Lot Of Electricity? Today on the podcast, I wanted to talk about the air fryer cost to run, how much electricity does an air fryer use and if economically you are better off with an air fryer.
This air fryer Q&A is also featured in the Magic With Gadgets Podcast. Simply search for Magic With Gadgets on your preferred podcast player, then scroll to episode 28 of season 2 to access this awesome episode.
Air Fryer Cost To Run
Anyone that knows me well, knows that I am a frugal person and that I like to save money whenever I can.
In fact, in the Milner office right now we are discussing if we should buy brand new office chairs or get some second hand ones from the Facebook Marketplace. I am sure you have guessed that it is me, that wants to go second hand! (I am slowly losing my argument by the way!)
I cook using kitchen gadgets because it can make me more economical.
I can reheat steak in air fryer, reheat fries in air fryer and reheat chicken wings in air fryer. This helps use up food and stop food waste.
We also cook instant pot popcorn, instant pot chickpeas and instant pot green beans as it is much cheaper than buying them already made. We also love to make instant pot vegetable stock using vegetable scraps.
No wonder then, that on receipt of a new kitchen gadget I am checking the electric bill and seeing how it compares.
If you are wondering the same, we recommend that whenever you buy a new kitchen gadget, you look at what you spent before and then look at now and compare.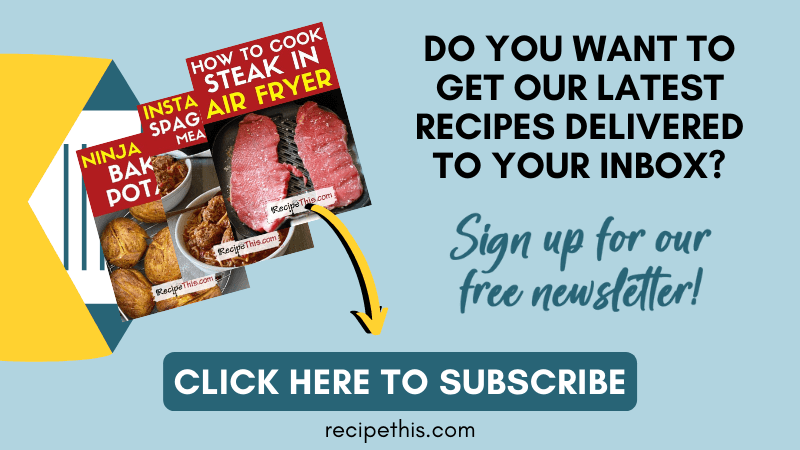 Does An Air Fryer Use More Electricity Than An Oven?
No, it doesn't the air fryer is a lot more efficient in its electric usage compared to an oven.
We first realised this when we moved house. It was early 2015 and we had just bought a house in the country in Portugal. At the time we were a family of four, with a newborn baby, teenager and me and my husband.
The gas was not connected because we were rural and we had a large gas bottle that was exchanged for a new one whenever it ran out.
As we started to cook more and more with our air fryers, we noticed that the gas bottle got emptied less and less. (note that our oven and stovetop ran on gas) and that our electric bill stayed the same even though we were cooking more with kitchen gadgets.
How Much Electricity Does An Air Fryer Use?
In a nutshell, air fryer energy consumption is a lot less than you would think and the energy use vs oven is lower because:
The air fryer is a much smaller cooking space, therefore there is less to warm up. Unlike an oven when you have this big area to warm up.
You are not wasting electricity preheating like an oven, because there are very few air fryer foods that require a preheat. Do check out our air fryer preheat podcast episode for more info.
The air fryer cook time compared to the oven is much faster, therefore your electric for the air fryer is running for a lot less. Most air fryer recipes that you see will cook the food in 20 minutes and our air fryer whole chicken recipe is done in half the time of a traditional oven. Do check out our air fryer cooking times for a quick comparison.
No air conditioning to worry about. The air fryer doesn't overheat your kitchen the way the oven does. So, if you are in a hot country you don't have a high electric bill from the air conditioning whilst cooking.
The air fryer replaces extra cooking appliances therefore you are running less electricals to cook dinner. Therefore if you were cooking chicken and potatoes, instead of two dishes or one on the stovetop, both are done together in the air fryer.
Is It Expensive To Run An Air Fryer?
No, in fact, its incredibly cheap to run an air fryer. Not only is the electric cheap with an air fryer and the time it is on, but you can make other savings with the air fryer.
For example, you can make your own air fryer fakeaway and make Air Fryer KFC chicken or an Air Fryer Zinger burger.
You can also make your own air fryer dinner rolls from scratch or use the air fryer to dehydrate bananas.
Does Ninja Foodi Use A Lot Of Electricity?
The Ninja Foodi will use more electricity than the Philips Air Fryer or the Cosori Air Fryer because it is higher wattage and has more functions.
But compared to the oven and other electric gadgets the Ninja Foodi is a fantastic energy saver and money saver.
Did You Know We Have A Podcast?
We started the Magic With Gadgets podcast in the January of 2021 as a way to offer a different way to enjoy Recipe This. It focuses on cooking with kitchen gadgets. You can find out more about our podcast here.
With twice weekly episodes through September to December. This is episode 28 of the second season and you have the choice between reading this post, listening to the podcast or both.
If you would like to stay in the loop with our podcast, I recommend you subscribe below:
How To Listen To This Podcast Episode?
You can use the player above to listen to this episode of Magic With Gadgets. Alternatively search for Magic With Gadgets on your favourite podcast platform or click the links below:
Subscribe & Review
Thank you for listening to the Magic With Gadgets Podcast. Have some feedback you would like to share? Want to be featured in a future episode? Want to help us spread the word?
Browse other episodes (access them all here)
Leave a comment below the blog post
Share with your friends on social media
Share your thoughts in our Facebook Group (you can sign up here)
Ask me a question or submit a guest request by filling out the form below
If our podcast has helped you, please leave a review on iTunes. Your reviews help spread the word and without reviews our podcast will not get seen. Plus, I love reading each and every one of them.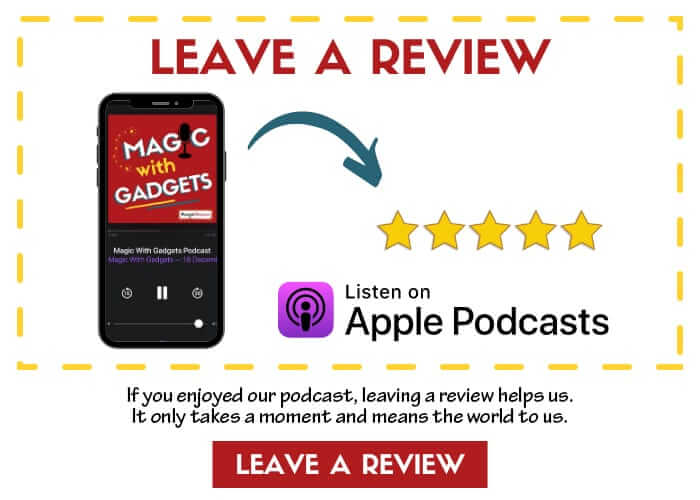 Can't listen now? Then pin it for later!