The Instant Pot Quick Start Mini Course
This Post Contains Affiliate Links. Click Here To Read Our Full Disclosure.
Five days of simple instant pot recipes and tips to get you started with your new electric pressure cooker.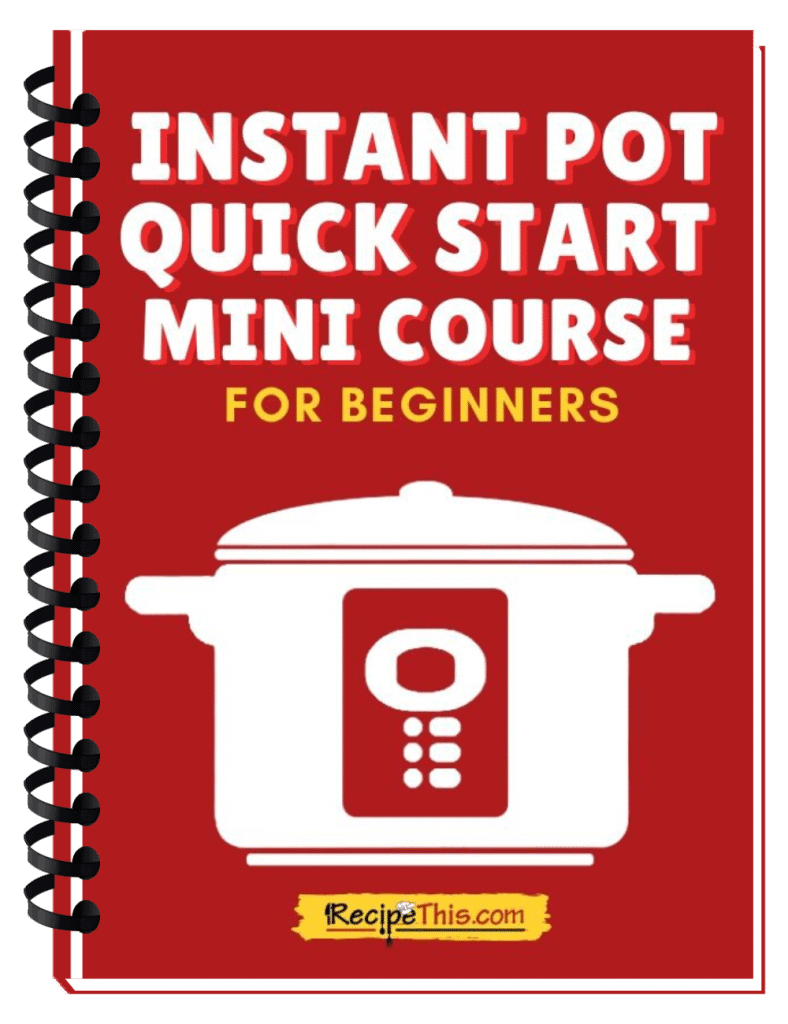 Are You New To The Instant Pot?
Packed with easy to follow practical instant pot recipes and tips, this 5 day instant pot quick start mini course is the real deal. Written by Recipe This who have owned instant pots since 2016, it will help you become confident with the instant pot and stop you feeling like an instant pot beginner.
A new instant pot email is delivered to your inbox each day for five days as well as a FREE PDF Download. You can follow the mini course at your own pace and learn practical instant pot skills that you can put to good use.
Day 1 – Getting The Instant Pot Out Of The Box. It has now become a joke and is often used in many instant pot updates, but there are many instant pot beginners that have yet to get the instant pot out of the box. Fear that it will blow up. Fear that they are doing it wrong. In this practical first lesson we will help you get your instant pot out of the box and teach you some basics. We will be also sharing with you how to do the instant pot water test and our favourite first recipe.
Day 2 – The Instant Pot Jargon. Getting to know the instant pot is like learning a new language. In this email we will be sharing with you all the instant pot jargon that you are currently clueless about. It will also help you understand the different functions of the instant pot.
Day 3 – Let's Talk Instant Pot Vegetables. Did you know the first thing I ever cooked in the instant pot was broccoli? It was yummy and impressive. It also tasted organic when it was not. Since then we have cooked endless vegetables in the instant pot, and this is your beginner guide.
Day 4 – Instant Pot Soups + Sauces. The instant pot is also fantastic for soups and sauces. In this email we will be showing you how to convert your favourite soups to the instant pot. As well as how to use what you have learnt about instant pot vegetables to make yummy sauces.
Day 5 – The Art Of Instant Pot Frozen Meat. Among my favourite ever instant pot food is frozen meat. The meat cooks from frozen making it perfect if you forgot to thaw it. Then once cooked it is incredibly tender in a similar way that slow cooker meat is.
Bonus Recipes – At the end of the free PDF download that you receive as part of the mini course you will also get 9 easy and practical instant pot recipes. You can read them, print them, and use them as your starting point for instant pot success. Plus, you will also receive the water test if you have not yet used your instant pot.
Simply enter your email address below and we get your instant pot mini course sent straight over to your email account:
You might be wondering……
Who created this instant pot mini course? Samantha and Dominic at Recipe This. They have been instant pot cooking for themselves and their family since 2016 and have published more than 200 instant pot recipes and sold many instant pot ebooks. You will have the chance to get to know them better through the mini course.
Who is this instant pot mini course for? Beginners to the instant pot. Those that lack confidence with the instant pot, or those that want to learn more about the instant pot, but do not know where to start. Many of our instant pot subscribers have just bought an instant pot and are looking for new ideas.
How long will it take to complete the mini course? The course is delivered over 5 days with a different topic in each of the emails. BUT you also receive a PDF version of the course, therefore if you want a quick start version you can binge read and follow all the information in a couple of hours if that is more your thing.
What happens after the five days are up? There is the option to upgrade to our advanced instant pot mini course and learn even more about the instant pot. You will also have access to our instant pot newsletter where we share instant pot stories, tips, and recipes.
You don't have to guess about the instant pot anymore or freak out because a bad instant pot recipe you followed didn't work. Let's work on it together.
PS: We will also email you whenever we have new and exciting instant pot recipes and add you to our instant pot newsletter. Though, you can of course unsubscribe at any time.