Air Fryer Potluck Recipes. Introducing you to the best and biggest list of air fryer potluck recipe ideas. This bumper list of 52 air fryer potluck ideas includes everything from pie to salad to chicken to desserts. Literally something for everyone and perfect for catering to special diets like keto or vegetarian.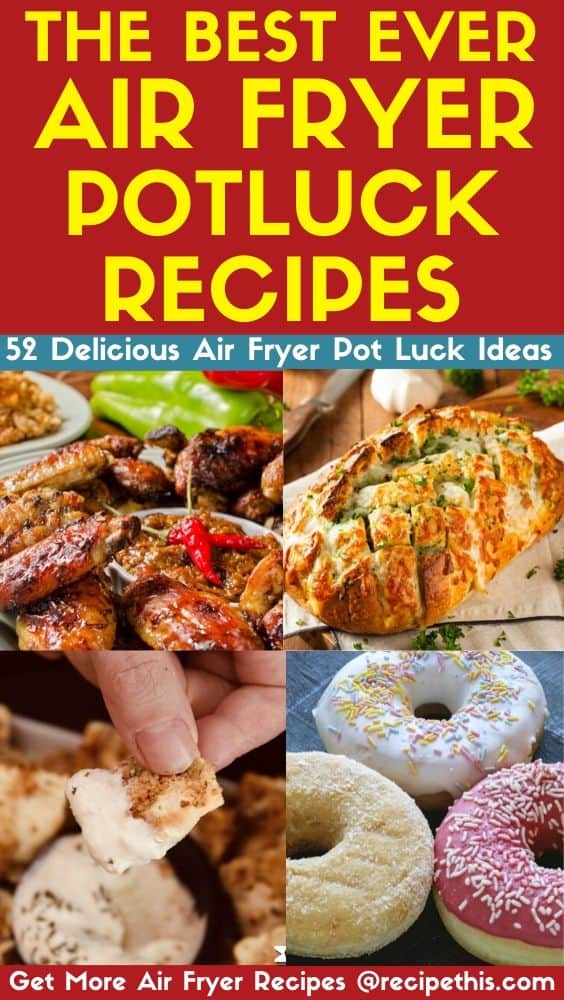 Air Fryer Potluck Recipes
The air fryer and potluck recipes go together like salt goes with pepper. I look at what I cook in the air fryer and a LOT of the air fryer recipes would be easy side dishes, which again make perfect potluck ideas.
I remember earlier in the year my mum and dad visiting. My mum will eat anything, and I always want to show her new things in the instant pot and the air fryer because she doesn't have them.
Then I want to find something that my dad likes because he is one of those fussy eaters that drives you crazy as you try and remember something other than pie and potatoes that he eats.
That is when air fryer potluck recipes are perfect because I can load the air fryer a few times with different things and then fingers crossed my dad will eat one of them!
The same applies for the instant pot and after showing you last week our instant pot potluck recipes, I wanted to show you the best air fryer potluck recipes for you to try.
Next time you have a family gathering. The next time you are at a barbecue and want to bring something, think this list of potluck recipes.
They also work well for Christmas, Thanksgiving, Easter, Halloween and other social times.

Best Air Fryer For Potluck Recipes?
I use my Air Fryer XL by Philips. It is not the biggest air fryer out there, but it is big enough to cook a whole chicken in it or make big batches of side dishes for feeding a crowd.
I want one that is big enough for the whole chicken so that I can make chicken salads and feel like an air fryer bigger than this is not necessary.
Top 10 Air Fryer Recipes For Potluck
Air Fryer Burgers For Potluck
Another great idea is to make some of our homemade burgers as your potluck.
You could cook them in advance or have them ready for the barbecue so that they just go on the barbecue pile once you arrive.
I always do this at my parents' barbecue as I prefer homemade burgers over grocery shop or frozen ones.
More Air Fryer Potluck Recipes
Here at Recipe This we have even MORE air fryer potluck recipes for you to try. Have a browse through these air fryer potluck recipes for even more inspiration and bookmark for later.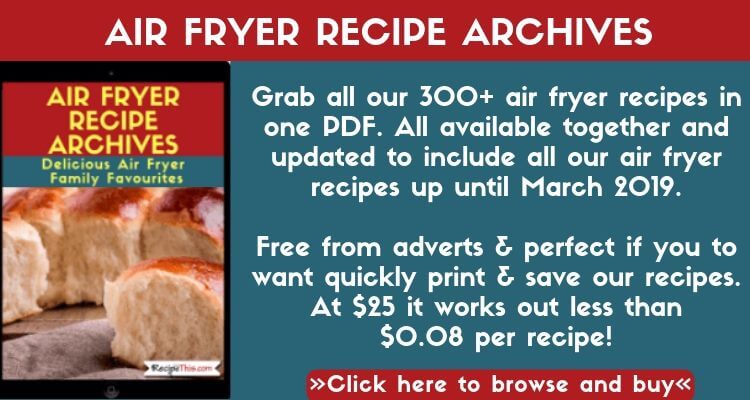 Thanksgiving + Christmas Air Fryer Potluck Ideas
But before you go and read all these delicious air fryer potluck recipes, I thought it was important that I touched on the main holiday season when potluck is part of family life.
Thanksgiving, Christmas and the party seasons around the two are a great time for bringing great potlucks and these are some of our favourites:
Or another option is to bring a meat each to the Christmas party and the air fryer is perfect for roasting your favourite meats.
Can't read it now? Then pin it for later!
Join The RecipeThis.com Community:
Facebook Group | Pinterest | Twitter | YouTube 
Plus, don't forget to subscribe below to join our email newsletter with updates of our latest recipes, latest freebies, our cooking stories, plus much more: