Air Fryer Thanksgiving Recipes. Introducing you to the best and easiest thanksgiving recipes for the air fryer to help you plan your Air Fryer Thanksgiving Menu! Includes air fryer thanksgiving appetizers, air fryer thanksgiving dinner, air fryer thanksgiving sides and so much more.
Air Fryer Thanksgiving Recipes
I think of thanksgiving and I am starving hungry. I am thinking of great big turkeys I have seen on old episodes of Friends and all the different ways you can eat potatoes.
Or watching thanksgiving movies and wishing I could buy a turkey that is that HUGE. Or that I could manage to even eat a quarter of what goes onto a thanksgiving dinner table.
If your thanksgiving is a big family affair or something low key for just YOU, then we literally have something for everyone in this air fryer thanksgiving recipe selection.
We have gone through our entire air fryer recipes collection and carefully selected air fryer recipes that are JUST PERFECT for your thanksgiving dinner.
Diet Friendly Air Fryer Thanksgiving Menu
Not many people know this but us Milners used to be super fat. We lost about 140 pounds between the 2 of us in 2013 and have followed numerous diets and hate the idea of following a diet.
We have done several rounds of the whole30, are what we call part time paleo followers and have also explored the keto diet and Weight Watchers.
But what we truly credit for our weight loss is the air fryer and much prefer to eat our favourite foods healthier in the air fryer and of course the instant pot too.
We don't want to be a diet site, but we also appreciate that many of our recipes fall under popular diets.
Therefore, as you browse through our air fryer thanksgiving menu and thanksgiving air fryer recipe ideas you will find many that are compliant with several diets including:
Whole30
Paleo
Keto
Weight Watchers
Vegan
Vegetarian
Gluten Free
Fat Free
Dairy Free
We are also a nut free blog, so if you have an allergy, you are safe here!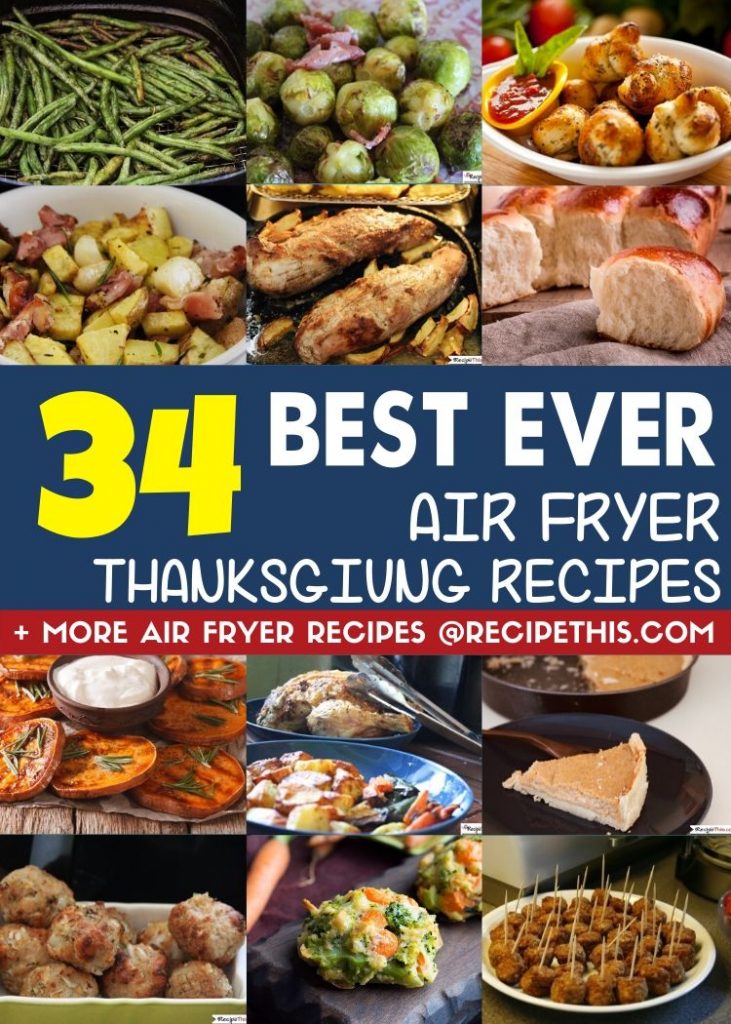 Why Use The Air Fryer For Thanksgiving?
The air fryer is this miracle kitchen gadget at thanksgiving. It can make amazing air fryer stuffing, cook perfect meat and don't get me start about how amazing the air fryer potatoes are.
Plus, it can free up your oven for other things.
Air Fryer Thanksgiving Ideas
Firstly, I have split our air fryer thanksgiving recipes into what I call air fryer thanksgiving ideas. They have been split into sections, depending on what type of air fryer thanksgiving recipes that you are looking for inspiration about.
Our favourite section is the air fryer thanksgiving sides, just because there are so many different sides you can make in the air fryer and they work perfectly with thanksgiving. Though your favourite might be our air fryer thanksgiving pies!
Air Fryer Appetizers For Thanksgiving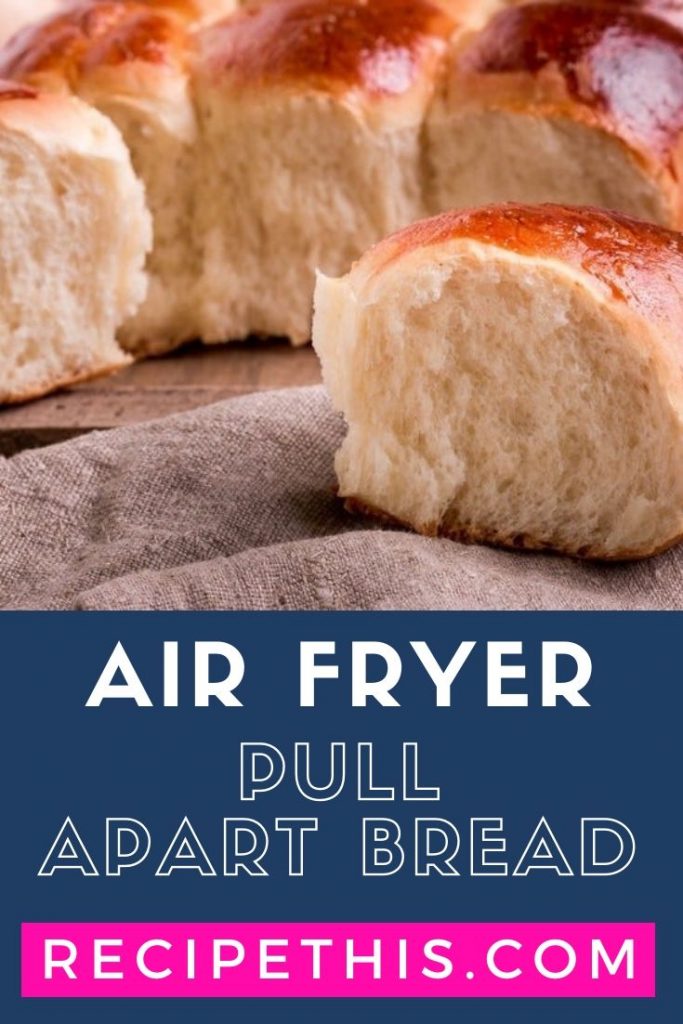 YES! We have delicious air fryer pull apart bread that your guests will love to have served at their thanksgiving dinner. Perfect for if you plan soup and want something for them to dunk into your soup.
Or get the taste buds going when they first arrive with air fryer oven pizza rolls.
Plus, because its like a pizza you can load it with your spare thanksgiving ingredients that you didn't manage to use to save on food waste. Or go with our air fryer pizza dough balls as an alternative.
Here are some more delicious air fryer appetizers for thanksgiving:
Air Fryer Side Dishes For Thanksgiving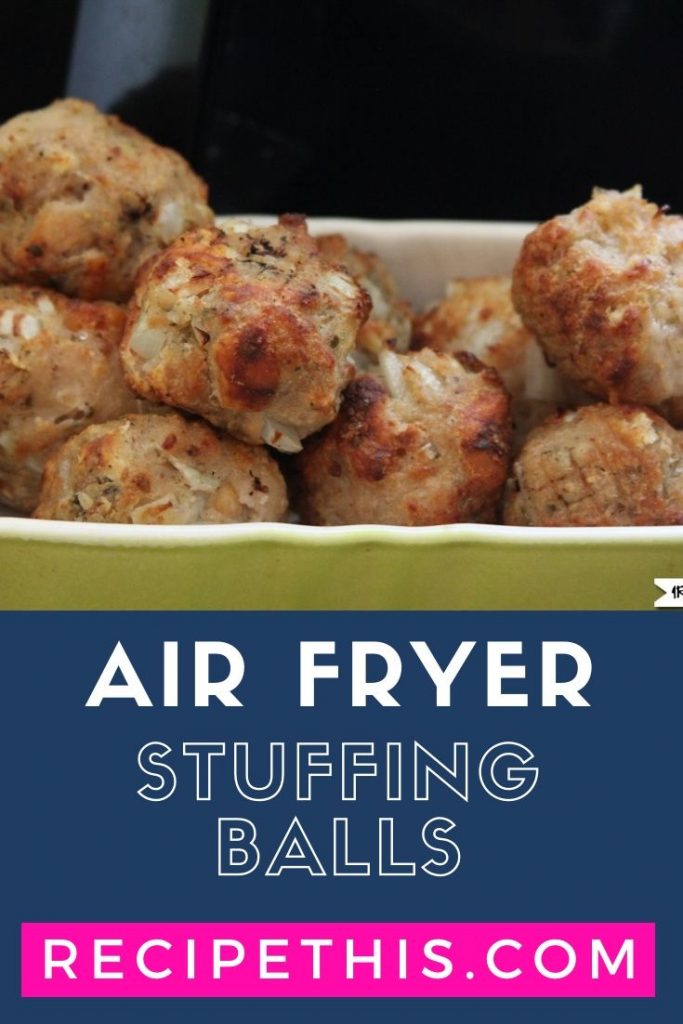 Let's start with my favourite ever air fryer side dish for thanksgiving and the award has to go to air fryer stuffing balls. If you love stuffing making air fryer stuffing is the easiest way and you can meal prep it the day before.
Or what about a delicious round of air fryer brussel sprouts that are cooked with bacon? One of those amazing side dishes and a less boring way to enjoy your sprouts.
Though, doesn't the award to the best ever air fryer dish for thanksgiving go to air fryer mac and cheese? There is something about baking macaroni cheese in the air fryer and how good it turns out!
More thanksgiving side dishes to try in the air fryer:
Air Fryer Potatoes For Thanksgiving
I love air fryer potatoes and have been obsessed with them ever since getting my first ever Philips air fryer. My favourite air fryer potatoes are the roast potatoes and OMG they are just PERFECT for thanksgiving.
I recommend either our air fryer roast potatoes with bacon, or our air fryer rosemary roast potatoes for a vegan version. Though our readers favourite is our air fryer crispy baby potatoes cooked in their skins.
Other air fryer potatoes for thanksgiving include:
Air Fryer Meats For Thanksgiving
I know we automatically think of turkey for thanksgiving, but there are so many other meats we can cook in our air fryer for thanksgiving.
Many of us don't have a crowd coming for thanksgiving and would prefer a nice chicken dinner instead.
Others might like to mix it up a bit with some ham or pork.
Here are a few air fryer thanksgiving meat ideas:
Air Fryer Pie Recipes For Thanksgiving
Let's conclude with air fryer pies, shall we? After all pie and thanksgiving go hand in hand don't, they?
Air Fryer Pie Crust – Starting with this delicious homemade pie crust that you could use to cook any pie in the air fryer. You can use this for both sweet and savoury air fryer pies.
Air Fryer Pumpkin Pie – Probably the most famous pie of them all for thanksgiving, pumpkin pie is so easy to cook in the air fryer and OMG it does an AMAZING job. This link also covers smaller pumpkin tarts too.
Air Fryer Apple Pie – Or the other big pie award has to go with the classic apple pie which cooks in the air fryer perfectly and is wonderful for serving on thanksgiving.
Air Fryer Thanksgiving Quick Links
Get Our Free Air Fryer Ebook
We also have a free air fryer PDF that is filled with our top 25 BEST air fryer beginner recipes. It is loaded with our favourite recipes for the air fryer, as voted for by our air fryer readers.
It also gives you access to our exclusive air fryer newsletter that is loaded with free air fryer tips, tricks, recipes and stories and is often recommended in the air fryer communities.
You can download your copy here.
Can't read it now? Then pin it for later!
Join The RecipeThis.com Community:
Facebook Group | Pinterest | Twitter | YouTube
Plus, don't forget to subscribe below to join our email newsletter with updates of our latest recipes, latest freebies, our cooking stories, plus much more: