The Best Air Fryer Thanksgiving Recipes
This Post Contains Affiliate Links. Click Here To Read Our Full Disclosure.
Tis the season for thanksgiving air fryer recipes. If you have an air fryer and are preparing for Thanksgiving, then you will love this list of air fryer thanksgiving recipes.
We have everything from air fryer turkey recipes, appetizers, sides, dessert and some amazing reheat guides too.
This delicious list of easy air fryer thanksgiving recipes is updated for thanksgiving 2022 and happy holidays!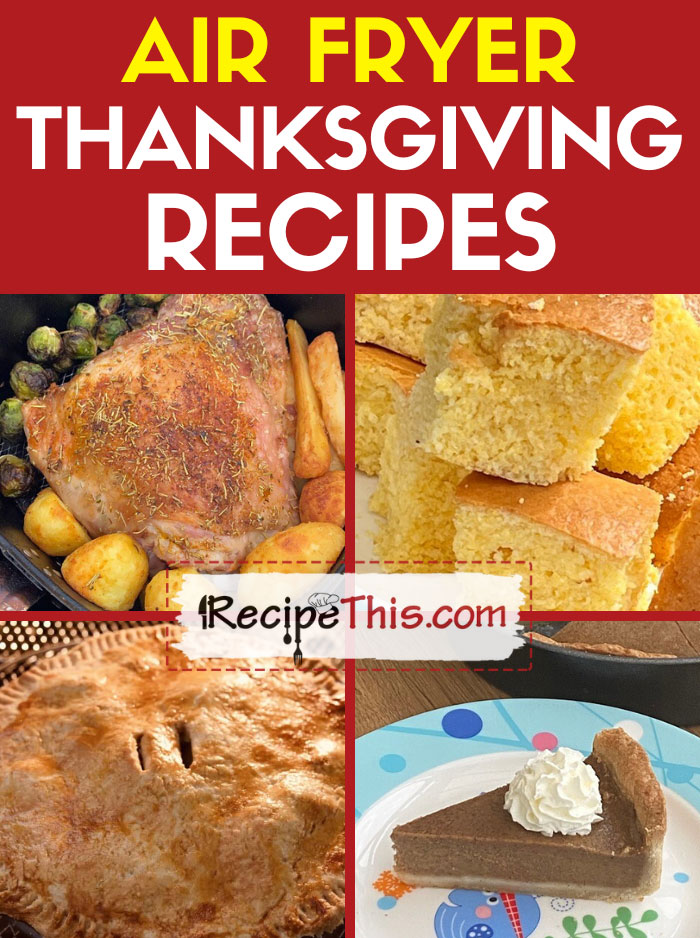 Air Fryer Recipes For Thanksgiving
I think of thanksgiving and I am starving hungry. I am thinking of great big turkeys I have seen on old episodes of Friends and all the different ways you can eat potatoes.
Or watching thanksgiving movies and wishing I could buy a turkey that is that HUGE. Or that I could manage to even eat a quarter of what goes onto a thanksgiving dinner table.
If your thanksgiving is a big family affair or something low key for just YOU, then we literally have something for everyone in this air fryer thanksgiving recipe selection.
We have gone through our entire air fryer recipes collection and carefully selected air fryer recipes that are JUST PERFECT for your thanksgiving dinner.
Plus, as well as our free newsletter, we also have a free air fryer mini course. It is ideal for air fryer beginners or those that want to get more confident with their air fryer. The free course runs for 5 days with a new lesson delivered each day to your inbox.
Can You Use An Air Fryer For Thanksgiving?
Yes, you can. The air fryer is fantastic for thanksgiving. Forget the previous thanksgivings that have involved lots of pots and pans, never enough space anywhere and feeling exhausted before you have tucked into your thanksgiving feast.
Not as easy as The Blind Side when she orders in Thanksgiving, but much better than how tired you were in previous years!
What Can You Prepare In An Air Fryer?
You can make ahead a lot of things in the air fryer and prepare it ahead of time.
You can cook your stuffing in advance and then reheat the stuffing in the air fryer. You could do the same with your turkey and again use the air fryer to reheat the turkey.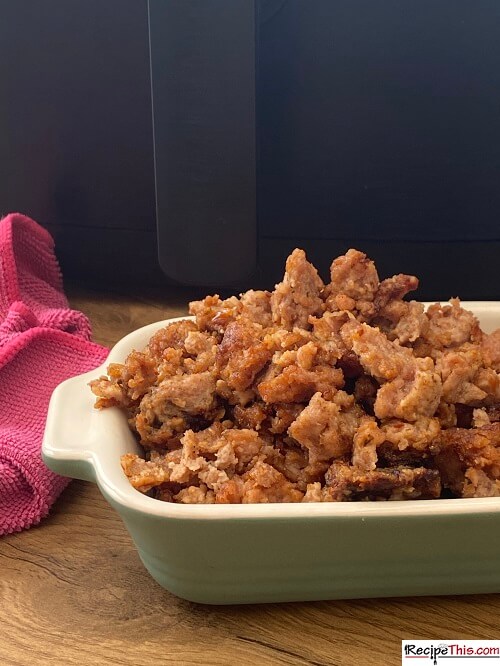 For us, we tend to cook most food the day before and then we can just cook a few things just before serving and it leads to a less stressful holiday cooking experience.
Such as prepping your roast potatoes the day before and then just throwing them into the air fryer on the day. Or making your stuffing balls and then it's a dump in the air fryer as they are needed.
Why Use The Air Fryer For Thanksgiving?
The air fryer is this miracle kitchen gadget at thanksgiving. It can make amazing air fryer stuffing, cook perfect meat and don't get me start about how amazing the air fryer potatoes are.
Plus, it can free up your oven for other things.
Best Air Fryer Thanksgiving Recipes
You know, I have so many different air fryer thanksgiving recipes and ideas for making an AMAZING Thanksgiving that I have split them into sections to make it even easier for you.
We will be covering:
Air Fryer Thanksgiving Appetizers
Air Fryer Thanksgiving Turkey
Air Fryer Thanksgiving Side Dishes
Air Fryer Thanksgiving Potatoes
Air Fryer Thanksgiving Meals
Air Fryer Thanksgiving Pies
Air Fryer Thanksgiving Reheats
As well as other meats to cook for Thanksgiving.
Air Fryer Breakfasts
Let's get a great start to thanksgiving and start the day with a yummy thanksgiving breakfast. Here are a few of my breakfast favourites in the air fryer.
Air Fryer Appetizers For Thanksgiving
YES! We have delicious air fryer pull apart bread that your guests will love to have served at their thanksgiving dinner. Perfect for if you plan soup and want something for them to dunk into your soup.
Or get the taste buds going when they first arrive with air fryer oven pizza rolls.
Plus, because its like a pizza you can load it with your spare thanksgiving ingredients that you didn't manage to use to save on food waste. Or go with our air fryer pizza dough balls as an alternative.
Here are some more delicious air fryer appetizers for thanksgiving:
Air Fryer Thanksgiving Turkey
Did you know you can cook a turkey breast in the air fryer on its own? It cooks perfectly, is juicy yet crispy and perfect for a hands free turkey for thanksgiving.
Or even better, you can cook an air fryer turkey thigh and then load the air fryer up with potatoes and veggies and cook it all together. I love this concept and perfect for when your air fryer is not big enough for a turkey breast.
Even better, if you have an air fryer oven, you can make a whole turkey dinner at once using the air fryer oven.
This is our air fryer turkey dinner, and it includes a lot of thanksgiving classics: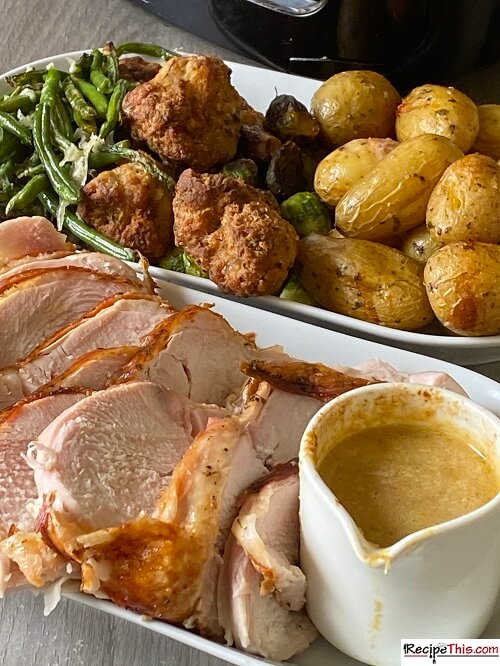 In this turkey dinner we have turkey, potatoes, green beans, sprouts, gravy and more.
Air Fryer Side Dishes For Thanksgiving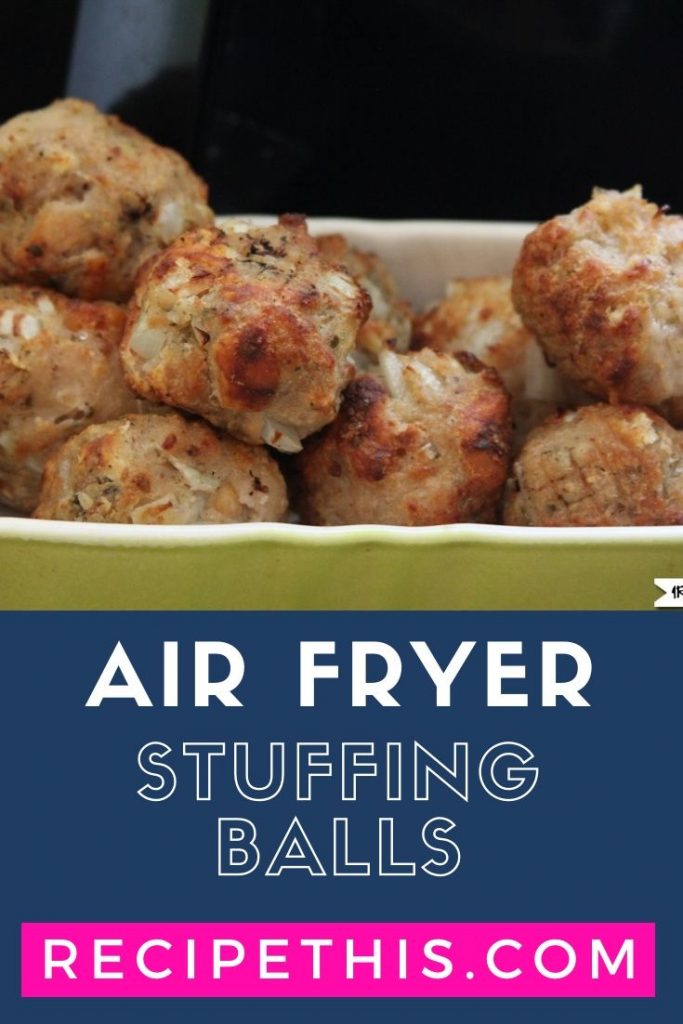 Let's start with my favourite ever air fryer side dish for thanksgiving and the award has to go to air fryer stuffing balls. If you love stuffing making air fryer stuffing is the easiest way and you can meal prep it the day before.
Or what about a delicious round of air fryer brussel sprouts that are cooked with bacon? One of those amazing side dishes and a less boring way to enjoy your sprouts.
Though, doesn't the award to the best ever air fryer dish for thanksgiving go to air fryer mac and cheese? There is something about baking macaroni cheese in the air fryer and how good it turns out!
More thanksgiving side dishes to try in the air fryer:
Air Fryer Potatoes For Thanksgiving
I love air fryer potatoes and have been obsessed with them ever since getting my first ever Philips air fryer. My favourite air fryer potatoes are the roast potatoes and OMG they are just PERFECT for thanksgiving.
I recommend either our air fryer roast potatoes with bacon, or our air fryer rosemary roast potatoes for a vegan version. Though our readers favourite is our air fryer crispy baby potatoes cooked in their skins.
Other air fryer potatoes for thanksgiving include:
Air Fryer Meats For Thanksgiving
I know we automatically think of turkey for thanksgiving, but there are so many other meats we can cook in our air fryer for thanksgiving.
Many of us don't have a crowd coming for thanksgiving and would prefer a nice chicken dinner instead.
Others might like to mix it up a bit with some ham or pork.
Here are a few air fryer thanksgiving meat ideas:
Another fun idea for thanksgiving, if you have an air fryer oven, is to use their rotisserie function to make a nice roasting meat. You can do this for:
Air Fryer Thanksgiving Meals
Something that is not talked about much, is the air fryer's ability to make an entire meal in it.
This is a tactic that I have explored a LOT in my 10 years of air frying and with a great plan of action its easy to do.
Even better, this is ideal for smaller families at Thanksgiving or the many single people or couples that are just cooking for them and want something amazing.
Air Fryer Roast Chicken Dinner – I love this cute chicken dinner for two that fits into our air fryer basket. It includes an air fryer whole chicken, 6 sides and a quick trick for reheating gravy in the air fryer.
Air Fryer Pot Roast – I also love this air fryer pot roast and its ideal for feeding a small family at Thanksgiving. You cook the beef roast, potatoes, and carrots together and it makes an excellent one pot air fryer dinner.Air Fryer Rump Roast – This uses the same concept as the pot roast but swapping the traditional meal of a pot roast for a rump roast instead.
Air Fryer Pie Recipes For Thanksgiving
Let's conclude with air fryer pies, shall we? After all pie and thanksgiving go hand in hand don't, they?
Air Fryer Pie Crust – Starting with this delicious homemade pie crust that you could use to cook any pie in the air fryer. You can use this for both sweet and savoury air fryer pies.
Air Fryer Pumpkin Pie – Probably the most famous pie of them all for thanksgiving, pumpkin pie is so easy to cook in the air fryer and OMG it does an AMAZING job. This link also covers smaller pumpkin tarts too.
Air Fryer Apple Pie – Or the other big pie award has to go with the classic apple pie which cooks in the air fryer perfectly and is wonderful for serving on thanksgiving.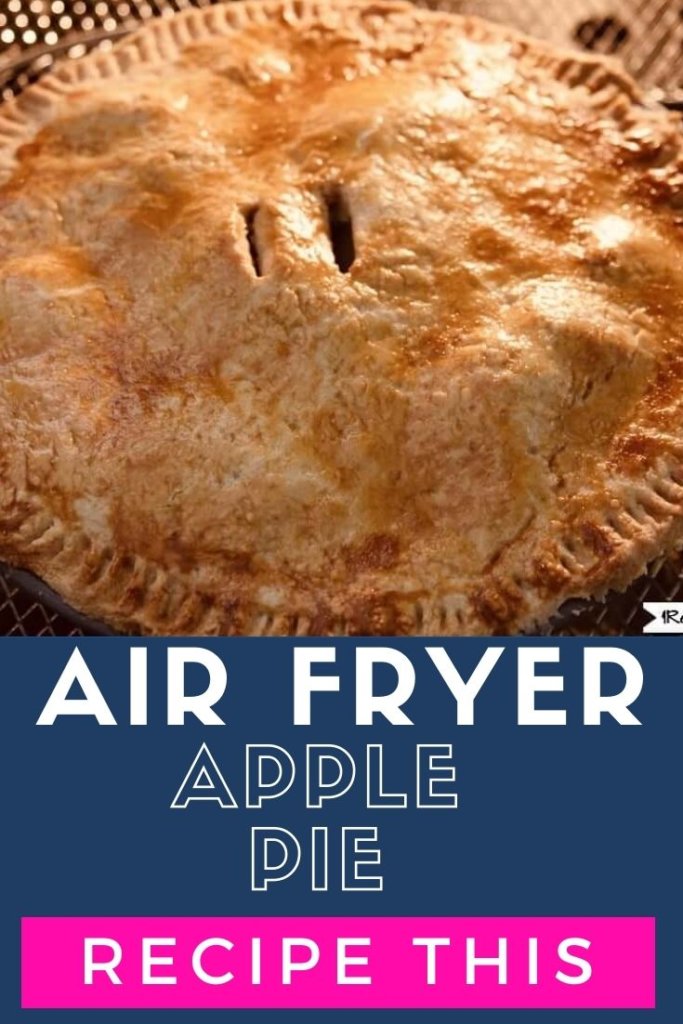 Reheating Thanksgiving Foods In The Air Fryer
PS. Don't forget to save these recipes to reheat your thanksgiving foods to save you some extra time.
Can't read it now? Then pin it for later!