Slimming World Air Fryer Recipes. Introducing you to our full list of slimming world air fryer recipes. Perfect for if you are following Slimming World and looking for lots of low syn or syn free slimming world recipes to cook in your air fryer or tefal actifry.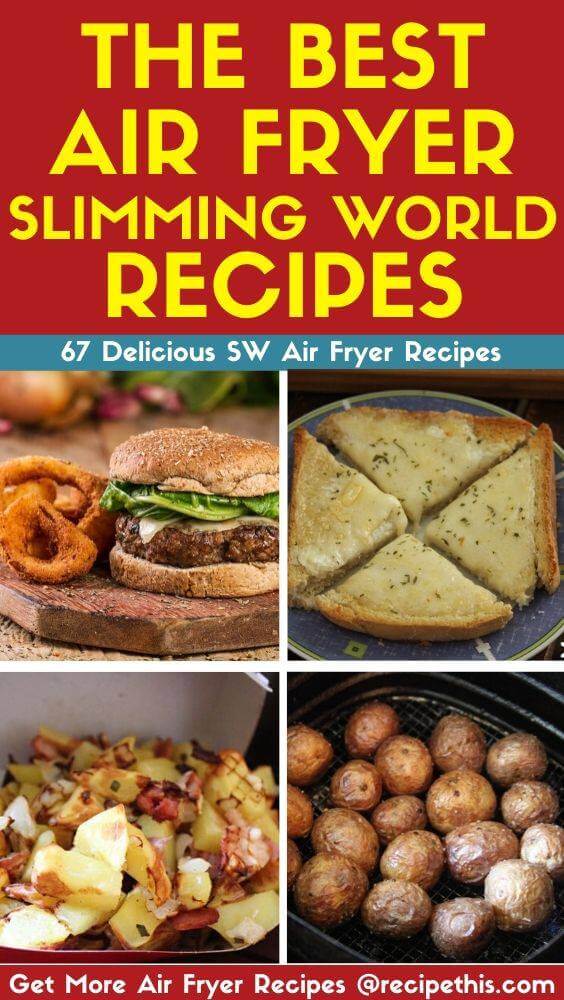 Slimming World Recipes Using An Air Fryer
I have been a slimming world member on and off from first joining in 1994 through to been a member just before I left England in 2007.
Since then I have relied on Ebay to provide me with the books when me not being able to get to a UK group anymore.
But one reflection I have made repeatedly, is that why when I was on Slimming World was the air fryer not about????
That is just totally wrong!
I had to make Slimming World Chips in the oven, give up my roast potatoes and don't get me started about how awful the egg bakes were that as a slimming world member you often had recommended.
But an air fryer is a game changer and makes you want to stay on slimming world forever. I mean how is it possible to have such delicious air fryer roast potatoes? Or oil free air fryer chips?
Those are the kind of slimming world air fryer recipes that I wanted to share with you today. Hopefully, these delicious air fryer recipes will give you some new inspiration.
But first, let me share something with you about us and our air fryer recipes:
300+ Air Fryer Recipes are currently on Recipe This. We cater for all walks of life. We have people that want to know how to cook frozen food in the air fryer, those that are vegan, those that follow the Paleo diet. We also have a Weight Watchers & Slimming World following. To make it easier for our slimming world members, we have gone through all our air fryer recipes to find recipes that are suitable for every day slimming world air fryer cooking. That way you don't have to go through all the air fryer recipes to find what you are looking for.
Low Syn or Syn Free – The air fryer recipes that we recommend for slimming world are either very low in syn or are syn free. They might use some healthy extras, but overall, they will be healthy and easy to make in your air fryer. They will also often include a small amount of extra virgin olive oil. That might be one tablespoon to feed a family of four, which is perfect for everyday cooking.
Clever substitutions – If you want to keep air fryer recipes lower on the syns, opt for alternatives. Swap coconut milk for natural yoghurt and soft cheese for quark. You can also use fry light instead of extra virgin olive oil.
Meat recipe subs – some of our meat recipes include skin, simply remove the skin to keep them Syn Free.
Disclaimer. Please note I am not a slimming world consultant and my slimming world book is a couple of years old. I can only go from my own experience on slimming world, so do check against your current book or ask your consultant.
Are Air Fryers Slimming World Friendly?
I am sure you are wondering are air fryers slimming world friendly. Well the answer is ABSOLUTELY. Most air fryer recipes are about cooking food that uses hardly any oil but still has the flavour and texture of deep fried food.
Because of this you can make a much lower calorie version of your favourite fries, your favourite roast potatoes, your favourite kebabs and the list goes on and on.
There are of course some air fryer recipes that are unhealthy and not suitable for slimming world. Such as an air fryer chocolate cake, air fryer brownies or other similar air fryer recipes that use a lot of butter and flour.
But most air fryer recipes are perfect for slimming world.
Also think, slimming world promotes a low amount of fat, so if you want your lean bacon, your favourite burgers, then bring it on and get yourself an air fryer, as you won't regret it.
My only regret is that air fryers were not available 25 years ago!
Best Air Fryer For Slimming World?
If you are on Slimming World, then chances are you will have heard of the Tefal Actifry as it seems to be the air fryer of choice.
But in my opinion after using air fryers for more than 6 years, I have to say that the Tefal Actifry and similar air fryers to the actifry are my last choice.
That is because they were built with just slimming world chips in mind and not the bigger picture of air fryer cooking.
There are so many great things you can cook that are slimming world friendly in the air fryer and if you use an actifry you are going to be limited.
There has also been numerous times when my readers have wanted to follow one of my air fryer recipes and it has just not worked in the actifry.
Many of my slimming world followers that have been air frying for a while have swapped the actifry for a better air fryer.
Plus, the slimming world chips out of the actifry type of air fryer are just not as good.
Here are some further reading for helping you choose your air fryer:
Top 5 Air Fryer Ovens – We have the Power Air Fryer Oven and got it last year and fell in love. It is wonderful for making your own roast potatoes and it makes delicious roast gammon too.
Slimming World Air Fryer Recipes
We have gone through each of our air fryer recipes on Recipe This and hunted out EXACTLY which air fryer recipe we would recommend for a slimming world diet.
I have decided to start with my top 10 of the best slimming world air fryer recipes and then move on to all our other low syn slimming world recipes. We hope you enjoy the collection and it gives you some new slimming world ideas.
Top 10 Slimming World Air Fryer Recipes
Oil Free Air Fryer French Fries – I must start with this one, after all who has bought an air fryer just for slimming world chips? Well these use zero oil and explain to you how to the soaking method.
Air Fryer Chickpeas – You can air fry chickpeas and they taste like delicious flavoured crisps. A great snack alternative and good for salads and other meals. Choose your favourite seasoning for example I like garam masala for an Indian curry version. I have cooked them both without the recommended oil and with and both ways are delicious. Keep them syn free by cooking oil free.
Air Fryer Roast Potatoes – OMG they taste amazing and are only ¼ of a tablespoon of olive oil per person. You can also add in your favourite seasonings too.
Air Fryer Grilled Cheese – Use wholemeal bread and cheese from your allowance and you have delicious cheese on toast in the air fryer.
Air Fryer Pitta Pizza – A wonderful way to make a syn free pizza in the air fryer. Use your Slimming World friendly pitta bread and load it with toppings that fall into syn free or healthy extras.
Air Fryer Homemade Pop Tarts – In this post I did 3 versions of a pop tart and one of them shows you how to use weight watchers wraps to make delicious Slimming World friendly pop tarts.
Air Fryer Crispy Baby Potatoes – Only ¼ of a teaspoon of olive oil per serving and the best potatoes you will ever try in the air fryer. I love these and its hard to believe that they are so low syn.
Air Fryer Scrambled Eggs On Toast – A quick breakfast or brunch in the air fryer. Air Fryer Scrambled Eggs On Toast is my favourite but you could use the same example for baked beans, fried eggs or other favourites.
Air Fryer Frozen Fries – Take your Slimming World bag of frozen fries and follow our recipe instructions for cooking them.
Air Fryer Syn Free Sausage Rolls – Make your favourite homemade sausage rolls in the air fryer that are Slimming World friendly. Perfect for a quick snack or for dinner.
My Favourite Slimming World Air Fryer Meals
More Slimming World Air Fryer Recipes
Here are some more delicious slimming world air fryer recipes to choose from. That can be cooked either low syn or syn free. Though it is expected that you remove visible fat where appropriate.
Slimming World Air Fryer Quick Links
Can't read it now? Then pin it for later!