Best Air Fryer Easter Recipes
This Post Contains Affiliate Links.Click Here To Read Our Full Disclosure.
If you are looking for some delicious food to cook this Easter, then it doesn't get any better than this binge worthy list of air fryer easter recipes.
Featuring easter roast dinners, plenty of lamb, easter side dishes, easter brunch and let's not forget about the amazing easter baking you can do in your air fryer.
Updated for 2022 with new Easter air fryer beginner recipes that are replacing the old!
Air Fryer Easter Recipes
If there is a kitchen gadget out there that you could use exclusively for Easter, then it is the Air Fryer.
The air fryer just shouts out EASY EASTER RECIPES. You can use the air fryer for roast dinners, Easter themed food like lamb, or making your favourite Easter baking treats.
Not to mention our love for delicious Easter side dishes such as roast potatoes or delicious air fryer vegetables.
In the Milner house at Easter time, we normally have a roast turkey dinner along with plenty of sides and it comes second to Christmas for enjoying the festive food and enjoying some family time together.
There will usually be hot cross buns for breakfast, then we will eat way too many Easter eggs and do loads of Easter baking and then late afternoon we will enjoy a roast dinner.
If you are looking for new and delicious air fryer Easter recipes, then this is for YOU!
Are You New To The Air Fryer?
Plus, as well as our extremely popular air fryer mini course which teaches you the air fryer basics in 5 days, we also have our air fryer bucket list. That is loaded with 30 FREE bucket list worthy air fryer recipes.
Click here or on the banner above and you will have access to both in an instant.
Are Air Fryers Good For Easter?
Absolutely! Just imagine all the food you would normally deep fry and how many calories it has, to air frying them instead. Or the food that just tastes much better in the air fryer compared to the oven.
I love making roast potatoes the most in the air fryer, but it also good for delicious vegetables as well. Just last night my husband Dominic made me honey glazed carrots in the air fryer and they were the business.
The air fryers, that we use at Easter and have in our kitchen are:
We also have a silicone baking pan (well we have two) and they are amazing for avoiding washing up when baking your cakes in the air fryer.
Top 10 Air Fryer Easter Recipes
Let's start with my air fryer top 10, aka the Easter recipes that you must make and add to your bucket list.
Air Fryer Hot Cross Buns – Let the bread machine do the hard work of making the dough and then use the air fryer to cook your hot cross buns.
Air Fryer Roast Pork – Another favourite of mine for a roast dinner is roast pork. You can roast a Boston Butt aka pork shoulder in the air fryer, or a loin and it comes out perfect every time.
Air Fryer Leg Of Lamb – If budget isn't an issue, splash out at Easter and make a delicious leg of lamb roast dinner in your air fryer oven. OMG I am not a big lamb eater, but I loved this!
Air Fryer Prime Rib – Or push the boat out this Easter and enjoy perfectly cooked prime rib in the air fryer. It is so good, and I love the leftovers.
Air Fryer Lamb Chops – One of the first Easter recipes that I ever made and so easy too. You can keep it simple and then serve them with a side of roast potatoes.
Air Fryer Roast Potatoes – Talking about roast potatoes, these are the ultimate ones with plenty of rosemary and just a small quantity of extra virgin olive oil.
Air Fryer Carrots – For the ultimate roast dinner side this Easter, why not roast carrots in the air fryer and then cover in honey. So good and you will have a fight for who gets the last one!
Air Fryer Carrot Cake – The best Easter dessert of all time and so easy to make in the air fryer. I couldn't imagine making it any other way now.
Air Fryer Mini Egg Cookies – Make use of the local sales on mini eggs and transform them into mini egg cookies in the air fryer. They are so good you will want to bulk buy mini eggs.
Air Fryer Mini Egg Fudge – Or keep it even more simple with some air fryer mini egg fudge. Though be warned, you can't just have one piece of Easter fudge!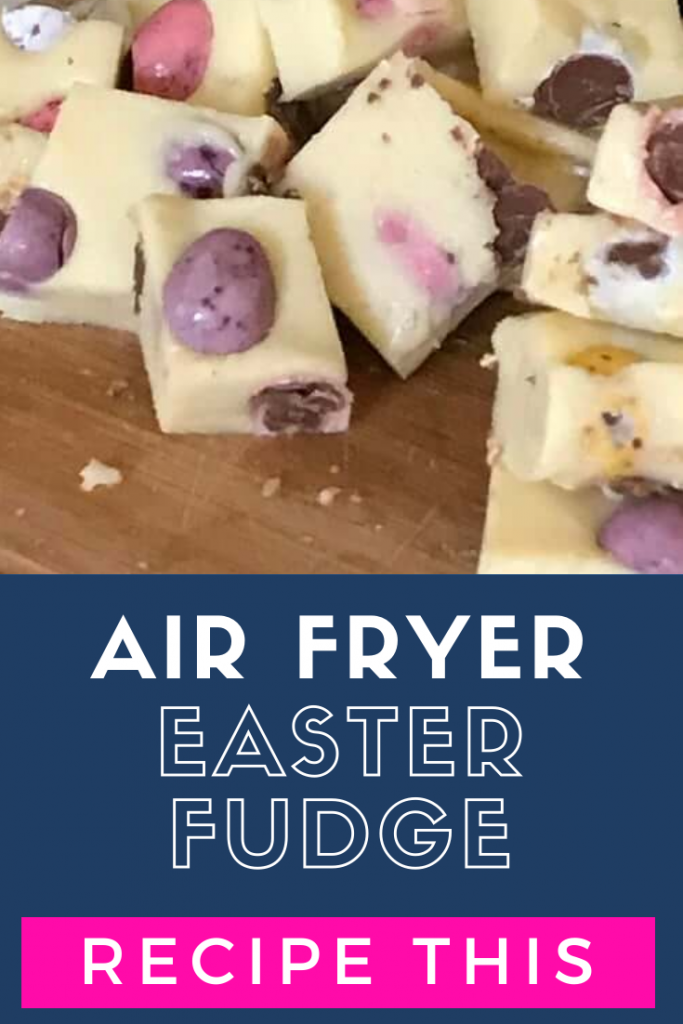 Air Fryer Lamb
As soon as the daffodils start to grow, I am getting excited over all the delicious things that I can cook with spring lamb.
If there is one food to get on your dinner plate via the air fryer it is lamb and here are some great ideas:
Air Fryer Easter Roasts
Whilst on the other side of the pond, excitement is starting for air fryer ham. As well as air fryer lamb, pork, and ham here are a few other roast ideas:
Or treat yourself to an all in one air fryer dinner such as:
Air Fryer Easter Side Dishes
Then once you have your main meat planned, what about some yummy side dishes? Here are a few that we love for our Easter feast.
Air Fryer Easter Brunch
Or if you are looking for some comfort food to start the day instead of hot cross buns here are a few favourites of mine.
Air Fryer Breakfast Casserole – So good that I make this all year around. It can also be made with your roast leftovers on Easter Monday.
Air Fryer French Toast – Yes you can make your favourite French Toast in the air fryer, and you will love it.
Air Fryer Full English Breakfast – Do it the English way with a full English breakfast in the air fryer. So good and easy to mix and match your favourite ingredients.
Air Fryer Soft Boiled Eggs – Another British classic and perfect served with some soldiers to dip into your dippy eggs. Or make it healthier and serve with veggie sticks or asparagus like I do.
Air Fryer Grilled Cheese – Also known as my favourite lazy brunch and you can load it up with leftover Easter ham.
And there you have it all our favourite tried and tested air fryer easter recipes for you to try at home.
I wish you the best for Easter and hope you have the best time, no matter where you are in the world.
We also recommend that you join our newsletter at recipethis.com too. You can do so on this link and then you will be informed whenever we have new air fryer recipes.
Can't read it now? Then pin it for later!