Air Fryer Easter Recipes. Sharing with you a delicious collection of the best air fryer Easter recipes. Featuring everything from air fryer Easter ham to air fryer lamb recipes to Easter baking to the best air fryer side dishes to get excited about this Easter.
Air Fryer Easter Recipes
If there is a kitchen gadget out there that you could use exclusively for Easter, then it is the Air Fryer.
The air fryer just shouts out EASY EASTER RECIPES. You can use the air fryer for roast dinners, Easter themed food like lamb, or making your favourite Easter baking treats.
Not to mention our love for delicious Easter side dishes such as roast potatoes or delicious air fryer vegetables.
In the Milner house at Easter time we normally have a roast turkey that is cooked in the oven.
It is way too big for any of our kitchen gadgets and then we will use the air fryer to do side dishes.
Though I do get most excited at Easter home with Easter baking with the kids.
It's the fun thing that I love doing every year and is my alternative to making them an Easter Basket or buying an Easter Egg.
If you are looking for new and delicious air fryer Easter recipes, then this is for YOU!
Are Air Fryers Good For Easter?
Absolutely! Just imagine all the food you would normally deep fry and how many calories it has, to air frying them instead. Or the food that just tastes much better in the air fryer compared to the oven.
I love making roast potatoes the most in the air fryer, but it also good for delicious vegetables as well. Just last night my husband Dominic made me honey glazed carrots in the air fryer and they were the business.
The air fryers, that we use at Easter and have in our kitchen are:
We also have an air fryer baking pan and an air fryer grilling pan. These are essential for air fryer cooking and we use them every day.
These two air fryer accessories are fantastic for Easter in the because you can use them for your side dishes and your desserts.
The baking pan for example we use to melt butter in and then use the same dish for making our air fryer brownies.

Best Air Fryer Easter Dinner Recipes
I have lots of different delicious air fryer Easter recipes and I thought I would start with my top 10 go to dinner list. Perfect for if you are in a hurry and just want some simple air fryer roast ideas.
Air Fryer Easter Seasonal Favourites
Here are a few delicious Easter ideas that remind me of Easter, and I couldn't imagine Easter without them.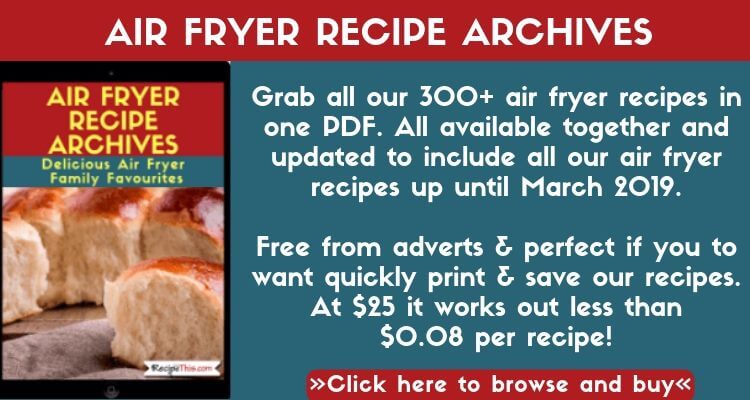 Air Fryer Easter Sides
I have so many delicious air fryer Easter side dishes that I felt we needed a separate section just dedicated to everything sides. Below are a few of my personal favourites.
Air Fryer Easter Brunch Recipes
These are my favourite go to air fryer Easter brunch recipes to add to your Easter meal plan. I have a good mixture.
This is for guests and this is for lazy days when it is just you and you want a late morning breakfast.
Along with a few healthier ideas. Though my personal favourite is the air fryer pizza toast!
More Perfect Air Fryer Easter Recipes
Here are lots more perfect air fryer Easter recipes. We have over 300 air fryer recipes on Recipe This and these are some others that are worth a mention at Easter.
Can't read it now? Then pin it for later!
Join The RecipeThis.com Community:
Facebook Group | Pinterest | Twitter | YouTube
Plus, don't forget to subscribe below to join our email newsletter with updates of our latest recipes, latest freebies, our cooking stories, plus much more: