Air Fryer Vegetable Recipes
This Post Contains Affiliate Links. Click Here To Read Our Full Disclosure.
Air Fryer Vegetable Recipes. A delicious selection of air fryer vegetable recipes to try in your air fryer at home. Once you read this air fryer veggie list you will be full of inspiration for new air fryer ideas.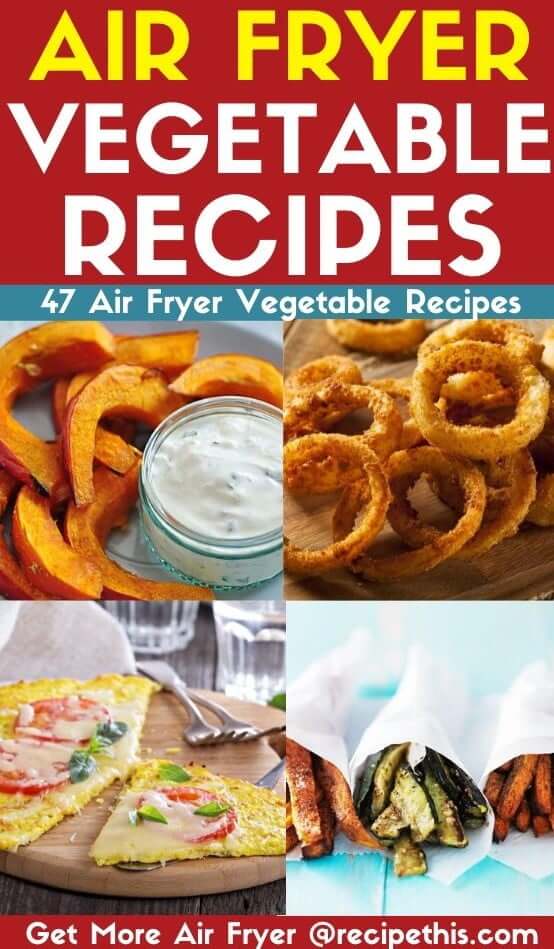 Air Fryer Vegetable Recipes
Anyone that knows me well, knows that I am a veggie junkie. As a former vegetarian, having had a grandad that grew his own vegetables, they are always part of my dinner plate.
In fact, I often eat vegetables for breakfast, lunch and dinner because I love them that much!
I always complain at my husband Dominic if he serves me up lunch or dinner without vegetables.
My favourite vegetables include mixed peppers, parsnips, rutabaga, zucchini, butternut squash and pumpkin. All of which you will find several variations on Recipe This.
I thought it was about time, that I put together a delicious must try air fryer vegetables recipe list for you, so that you can decide which of our veggie recipes to cook next.
Going through the archives and going back 2015 when we started Recipe This was like a trip down memory lane and it was great fun to see which old air fryer veggie recipes, we have done but forgotten about.
It will also remind ourselves that we have some great air fryer vegetable recipes that we don't cook as much as we used to.
Are Air Fryers Good For Vegetables?
Absolutely! Just imagine that you have this amazing kitchen gadget that is perfect for roasted food, fried food and grilled food.
Then think how wonderful it is going to be to take your roasted vegetables to the air fryer and cook them for a LOT less calories.
Are Air Fryer Vegetables Healthy?
This depends on how you prep them and what you serve them with. I would consider air fryer pumpkin fries that are cooked oil free to be a lot healthier compared to air fryer bacon wrapped jalapeno poppers.
Or you could compare how healthy air fryer vegetable fries are compared to eating air fryer frozen onion rings.
But even with an unhealthy air fryer vegetable choice like frozen onion rings, you are still making a big calorie saving compared to deep frying your onion rings.
As well as air fryer vegetables being healthy, you will be pleased to know that there are many that suit popular diets such as:
Weight Watchers Air Fryer Vegetables
Low Calorie Air Fryer Vegetables
Low Carb Air Fryer Vegetables
Keto Air Fryer Vegetables
And Many More
Can You Air Fry Vegetables Without Oil?
Yes you can. But it does vary from vegetable to vegetable. Some vegetables especially root vegetables, are rather dry when cooked without oil and taste rather bad. Such as if you are trying to roast parsnips in the air fryer.
However, summer vegetables such as zucchini, tomatoes or red peppers are okay to cook without oil.
Or even better, create your own extra virgin olive oil cooking spray at home and you will find that it will help you be more frugal with how much oil you use.
Also have a read of our air fryer oil usage guide as it will help you cut the amount of oil you are using.
Best Air Fryer For Vegetables
I am sure many people reading this will be thinking that my air fryer is the BEST. Or that their air fryer needs an upgrade before they can cook veggies in the air fryer.
All I recommend is a good quality air fryer. In my opinion, the Philips Air Fryer brand is the best and we have the Philips Air Fryer XXL. It does a fantastic job and we have ZERO complaints when it comes to cooking air fryer vegetables.
What needs a special mention is that with a larger air fryer vegetable are NOT overcrowded and cook better compared to a small one.
I would also avoid the halogen oven style air fryer as veggies take way too long in them.
Vegetables In Air Fryer Oven
You can also cook vegetables in an air fryer oven. We have the Power Air Fryer Oven and the top shelf does a fantastic job of perfectly crispy air fryer vegetables. You can also cook a lot more vegetables at once in the air fryer oven compared to a regular air fryer.
Best Air Fryer Vegetables
I have lots of different air fryer vegetables on Recipe This and it is a hard choice to pick out a single vegetable and say this is the BEST air fryer vegetable to cook.
Instead I have gone through my entire list of air fryer vegetables and picked out for you our top 10 and here it is:
Air Fryer Cauliflower Pizza Crust – Lets kick this off with using the air fryer to make a delicious cauliflower pizza crust. It is delicious and the cauliflower crust is so crispy.
Air Fryer Spinach – This reminds me of childhood when my aunt would make me spinach with butter in the microwave. Made delicious in the air fryer and perfect for my air fryer keto followers.
Air Fryer Rutabaga Fries – Whenever I see some cheap rutabaga, it is going into the air fryer to make vegetable fries. They are so delicious, and I want to eat these every day!
Air Fryer Blooming Onion – Another favourite of ours and a much lower calorie version compared to deep frying it. When you see how simple they are at home, you will want to make them!
Flourless Air Fryer Onion Rings – How to make delicious healthy onion rings in the air fryer. Healthy but delicious and worth the effort of making your own. I always make these for the kids when we have some spare onions in the pantry.
Air Fryer Zucchini Fritters – Yes you can make your favourite fritters in the air fryer. Make your favourite zucchini burgers, corn burgers or even cheesy loaded fritters.
Air Fryer Kale Chips – How to make your favourite kale chips in the air fryer. It is so easy, and you can toss your kale chips in whatever your favourite seasoning is. Whenever I get some kale this is what I make with them.
Air Fryer Roasted Garlic – If you have not yet roasted garlic in the air fryer yet, then you must add it to your to do list. Garlic bulbs are roasted whole and then you have lots of just roasted garlic cloves to use in your cooking or to eat as you need them.
Air Fryer Veggie Fries– I love to make an air fryer vegetable fries medley as a way to use up spare veggies in the bottom of the fridge. So easy to prep and makes vegetables in the air fryer so interesting for the kids.
Air Fryer Pumpkin Wedges – These pumpkin wedges got the last spot in our top 10 air fryer vegetable recipes because they cook without oil yet taste sensational. Whenever I have any spare pumpkin you can guarantee that this is what I will do with them.
More Perfect Air Fryer Vegetables
Here are lots more perfect air fryer vegetables. All these air fryer veggie recipes are delicious, but they didn't make the top 10:
Instant Pot Air Fryer Vegetables
I also recommend the following vegetables for combining both the air fryer and the instant pot. You steam the frozen vegetables in the instant pot first and then air fry for a crispy texture.
How Do You Air Fry Vegetables?
The easy way to air fry vegetables is to prep your vegetables first like you would for the oven or grill. Peel and slice them the way you want to eat them.
Then load your vegetables into a mixing bowl and toss them in your planned marinade. This might just be salt and pepper or it might be flavoured and could contain cajun seasoning.
Or if you are making air fryer chicken fajitas it would be fajitas seasoning.
You would also include your extra virgin olive oil or any other extras you wanted to add in. Then you would load your vegetables into the air fryer, ready for cooking.
How Long To Air Fry Vegetables?
The air fryer vegetable cooking time varies a lot from vegetable to vegetable. This is because summer style Mediterranean vegetables such as zucchini take a lot LESS time compared to air frying a root vegetable like carrots.
Generally, expect a cooking time for your air fryer veggies from 8 minutes to 30 minutes.
What Temperature To Air Fry Vegetables?
Most of my air fryer vegetables require a temperature of 180c/360. Or as you would call it in the industry a medium.
That way you can make sure your vegetables are fully cooked and not burnt. You can also adjust the cooking time towards the end to 200c/400f for you to crisp your vegetables.
Can't read it now? Then pin it for later!