Instant Pot Easter Recipes. Sharing with you a delicious collection of the best instant pot Easter recipes. Featuring everything from instant pot Easter brunch recipes to the best instant pot Easter ham recipe.
Instant Pot Easter Recipes
What food do you love to eat at Easter in the instant pot? For us it's a mixture of different things.
You see Easter in our house is the last of the cold weather and welcoming in the warm weather.
Tourist season officially starts in Portugal from Easter and we can't imagine Easter without at least one trip to the beach with the kids.
That will usually be Easter Saturday.
We will make a picnic and the Instant Pot will be used for picnic food.
Then on Easter Sunday we will have a delicious turkey roast dinner. I will have bought 2 turkeys at Christmas, then the second gets roasted in the oven for Easter. I would of course cook the turkey in the instant pot, but it is way too big.
But all the sides that we have with our Easter roast turkey will be cooked in either the instant pot or the air fryer.
In between this there are lots of other Easter food going on and today I wanted to share with you the BEST and EASIEST instant pot Easter recipes.

Are Instant Pots Good For Easter?
Absolutely! Just imagine that you have a family gathering and you have 8 people to feed on Easter Sunday. You can speed up the cooking process by cooking the sides in the Instant Pot.
Last time I did this I timed myself and found that I cut down my kitchen time by 25%.
Though this is me and I am obsessed with about 10 different side dishes and you may eat less food than our house does at Easter.
The Instant Pots, or electric pressure cookers that we use at Easter and have in our kitchen are:
We also have an extra inner pot for our 6 quart and we recommend you have a spare one too.
I would also suggest a silicone lid for your instant pot too.
These two instant pot accessories are fantastic for Easter in the Instant Pot because you can get your instant pot straight back on, without having to wait for it to be washed up.
Also great for storing your make ahead food in the fridge, while something else is cooking.
Best Instant Pot Easter Recipes
I have lots of different delicious instant pot Easter recipes and I thought I would start with my top 10 go to list.
Perfect for if you are in a hurry and just want some simple instant pot Easter ideas.
Instant Pot Easter Ham Recipe
Saving the best until last, here is our favourite instant pot Easter ham recipe. In the UK known as instant pot gammon and pineapple or in America known as pineapple ham.
Wherever you live put some instant pot Easter ham on and you won't be disappointed.
Then when Easter is over make our Instant Pot Ham Bone Soup or have it nice and thick like a stew.
Or try out our Instant Pot Bean & Bacon Soup and swap the bacon for your ham leftovers.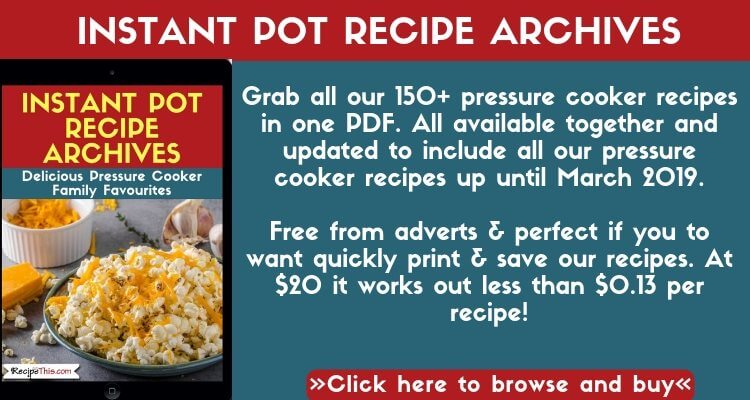 Instant Pot Easter Brunch Recipes
If you are looking for something simple, yet delicious for an Easter brunch then here are my favourites:
More Perfect Instant Pot Easter Recipes
Here are lots more perfect instant pot Easter recipes. All these instant pot Easter recipes are delicious, but they didn't quite make the top 10:
Can't read it now? Then pin it for later!
Join The RecipeThis.com Community:
Facebook Group | Pinterest | Twitter | YouTube 
Plus, don't forget to subscribe below to join our email newsletter with updates of our latest recipes, latest freebies, our cooking stories, plus much more: