Best Instant Pot Easter Recipes For Easter 2023
This Post Contains Affiliate Links. Click Here To Read Our Full Disclosure.
If you are looking for some delicious food to cook this Easter, then it doesn't get any better than this binge worthy list of instant pot easter recipes.
Featuring easter roast dinners, plenty of lamb, dump and start roasts, easter side dishes, easter brunch and let's not forget about the amazing prime rib you can do in your instant pot.
Updated for 2023 with new Easter instant pot pressure cooker beginner recipes that are replacing the old!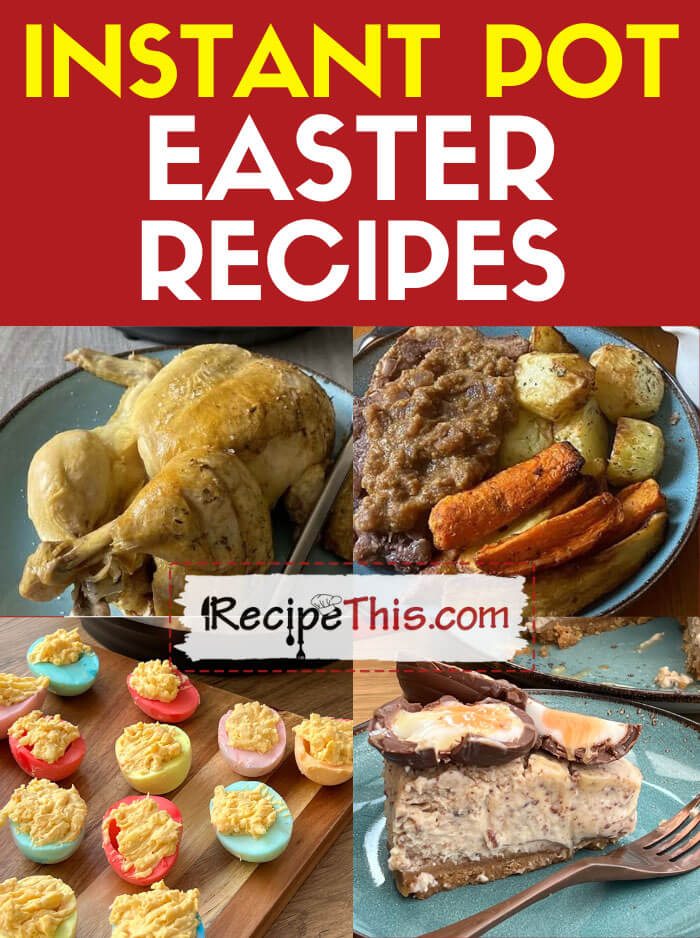 Instant Pot Easter Recipes
If there is a kitchen gadget out there that will make your life easier at Easter, then it's the instant pot.
You can cook a frozen beef pot roast, you can cook pork tenderloin, you can celebrate spring lamb with lamb chops and the list goes on and on. Plus, don't forget about the amazing Easter cakes you can make!
Or let's say you are one of the lucky few staying at a cottage over Easter, then you can take your instant pot with you.
Usually at Easter I have both my instant pot and my air fryer running, so if you have an air fryer too, do check out our air fryer easter recipes too.
In the Milner house at Easter time, we normally have a roast turkey dinner and loads of sides and something yummy for dessert.
The cooking will be an equal spread between the air fryer and the instant pot. Though for me the best bit of the instant pot for easter is the mashed potatoes, making stock from the leftovers, using our chocolate bites to use up Easter egg treats, making an easter cake, and an easter cheesecake, making prime rib because the instant pot does the best job ever at making prime rib the most tender you have ever tried. Plus, nothing is quicker than the instant pot for quickly cooking some veggies.
If you are looking for new and delicious instant pot Easter recipes, then this is for YOU!
Are You New To The Instant Pot?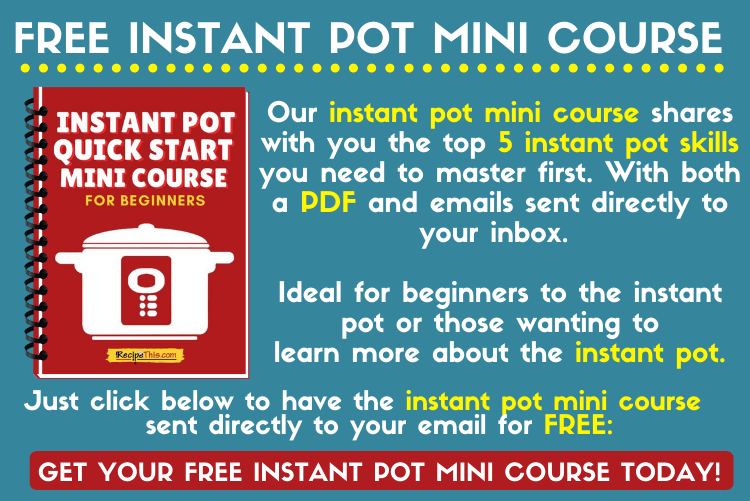 Plus, as well as our extremely popular instant pot mini course which teaches you the instant pot basics in 5 days, we also have our instant pot bucket list. That is loaded with 30 FREE bucket list worthy instant pot recipes.
Click here or on the banner above and you will have access to both in an instant.
Are Instant Pots Good For Easter?
Absolutely! Just imagine that you have a family gathering and you have 8 people to feed on Easter Sunday. You can speed up the cooking process by cooking the sides in the Instant Pot.
Last time I did this I timed myself and found that I cut down my kitchen time by 25%.
Though this is me and I am obsessed with about 10 different side dishes and you may eat less food than our house does at Easter.
The Instant Pots, or electric pressure cookers that we use at Easter and have in our kitchen are:
We also have an extra inner pot for our 6 quart and we recommend you have a spare one too.
I would also suggest a silicone lid for your instant pot too.
These two instant pot accessories are fantastic for Easter in the Instant Pot because you can get your instant pot straight back on, without having to wait for it to be washed up.
Also great for storing your make ahead food in the fridge, while something else is cooking.
Top 10 Instant Pot Easter Recipes
Let's start with my instant pot top 10, aka the Easter recipes that you must make and add to your Easter bucket list.
Instant Pot Turkey Crown – For the smaller version of what we eat on Easter Sunday how about turkey crown, otherwise known as everything turkey breast. This recipe includes an impressive homemade gravy and then just choose your sides.
Instant Pot Prime Rib – My absolute favourite roast beef in the instant pot and try it once and you will want it during every Easter lunch.
Instant Pot Lamb Chops – Yes, you can cook delicious moist and tender lamb chops in the instant pot pressure cooker. Plus, you will love our sauce that we serve with it.
Instant Pot Lamb Shanks – Or give your dinner table the wow factor, this Easter with instant pot lamb shanks. Its perfect for serving with some mashed potatoes and a favourite in the Milner house.
Instant Pot New Potatoes – My favourite Easter side dish is a round of instant pot new potatoes, or baby potatoes as you might call them. We then use the crisp lid to make them crispy and they taste so good and make the perfect potato side dish for your big Easter dinners.
Instant Pot Cheesy Leeks – Now this is so easy and perfect for a yummy Easter side. Leeks are steamed first in the instant pot and then the veggie stock is used to make a creamy cheese sauce.
Instant Pot Devilled Eggs – For a bit of fun this Easter why not make some colourful devilled eggs and then serve them at a party when you have friends over. Its so much fun and something that has become a Milner easter tradition.
Instant Pot Creme Egg Cheesecake – If you want a dessert wow factor for Easter, it doesn't get any better than a yummy cheesecake. This cheesecake is made crème eggs and is the nicest cheesecake we have ever made. So yummy!
Instant Pot Easter Cake – We decorated this delicious cake with the kids. A delicious chocolate cake covered in green buttercream to look like grass and loads of easter treats on top. This will wow your guests this Easter.
Instant Pot Ham
Ham is a favourite for many at Easter. You can reheat ham in the instant pot and it comes out perfectly every time.
Or if you live in the UK why not make our instant pot gammon with pineapple?
Instant Pot Easter Roasts
Beyond ham here are even more roast dinner ideas using the instant pot pressure cooker.
Instant Pot Easter Brunch Recipes
If you are looking for something simple, yet delicious for an Easter brunch then here are my favourites:
Instant Pot Steel Cut Oatmeal – Have a late breakfast of steel cut oats in the instant pot. You can make it more fun by creating an oatmeal breakfast bar with your favourite toppings.
Instant Pot Porridge – You will LOVE how amazing porridge is when cooked in the instant pot and its perfect for feeding a crowd over Easter. The UK alternative to oatmeal I love it for the holidays.
Instant Pot Soft Boiled Eggs – Another great late breakfast or brunch is instant pot soft boiled eggs with toast soldiers. Something I grew up with on a Saturday morning and perfect for some Easter comfort food.
Instant Pot Breakfast Potatoes – I make this whenever we go travelling with the instant pot and its perfect for a yummy brunch. You can add as much cheese as you like and it goes perfectly with chorizo.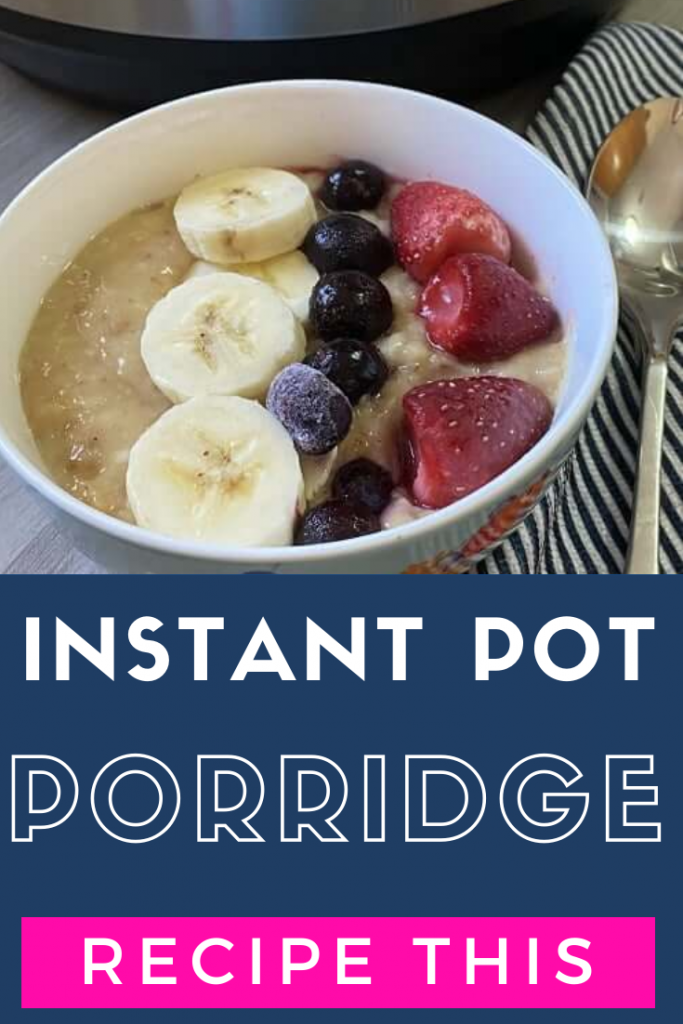 More Perfect Instant Pot Easter Recipes
And there you have it all our favourite tried and tested instant pot easter recipes for you to try at home.
I wish you the best for Easter and hope you have the best time, no matter where you are in the world.
We also recommend that you join our newsletter at recipethis.com too. You can do so on this link and then you will be informed whenever we have new instant pot recipes.
Can't read it now? Then pin it for later!