Air Fryer Chicken Recipes. Introducing you to the ultimate list of the best air fryer chicken recipes.
Perfect for planning new chicken recipes to cook in your air fryer. Includes everything from air fryer chicken breast to air fryer chicken wings to air fryer rotisserie chicken and much more.
Air Fryer Chicken Recipes
Air Fryer Chicken Recipes is our big long list of air fryer recipes that feature chicken. Here in the Milners we are obsessed with cooking chicken in the air fryer.
It is so versatile and when I can't be bothered to cook, out comes the chicken!
We often get asked by our readers what we cook the most in the air fryer and it is always a mix between air fryer chicken and of course air fryer potatoes.
After sharing with you our HUGE list of air fryer potato recipes yesterday, we felt it was the perfect time to share with you today an updated list of our air fryer chicken recipes.
This air fryer chicken recipes post was originally published back in 2016 as just 7 magical ways to cook chicken in the air fryer. Back then we had a small amount of air fryer chicken recipes and it has grown and grown since then and we felt like today was the perfect time to give you an update.
Even though we have some naughty air fryer chicken recipes, such as ones with shop bought sauce, or breaded and cooked with buttermilk, most of our air fryer chicken recipes are rather healthy.
So, if you follow a diet such as paleo, keto, weight watchers, slimming world etc, then you are going to love this list.
Why Use The Air Fryer For Chicken?
If you were to get an air fryer to cook two things, then I would say get one just for air fryer chicken breast and air fryer fries.
These are the game changers as far as air fryer cooking is concerned and are so much healthier than the alternative.
Chicken cooked in the air fryer is moist, full of flavour, tastes grilled and is truly addictive. We must eat chicken in the air fryer at least 4 times a week, sometimes a lot more.
Then there are the potatoes that cook very well in the air fryer, both on their own or served and cooked together with the chicken.
Once you read our air fryer chicken recipe suggestions below, you will understand why the air fryer is perfect for chicken and how much you are going to enjoy eating food that you have made in your air fryer.
If you don't have an air fryer yet, well we have the Philips Air Fryer XL as well as the Power Air Fryer Oven and they are both PERFECT for air fryer chicken dishes.

Cooking Chicken In The Air Fryer
Where to start? I have just finished scrolling through our air fryer chicken recipes, both live and ones that are scheduled to appear on Recipe This soon and it is hard to pick the best of the best.
There are just so many that are truly special and well worth the air fryer investment just to eat.
I decided to start by thinking about, if I could only ever eat 10 chicken recipes in the air fryer ever again what would they be? What are game changers in the air fryer and what would our readers enjoy the most.
Therefore, we are kickstarting this list with a top 10 of the best chicken recipes that are perfectly air fried and then we will include the rest further down for a quick scroll.
Top 10 Air Fryer Chicken Recipes
Air Fryer Frozen Chicken Recipes
It wouldn't be the Recipe This site if I didn't mention air fryer frozen chicken recipes. Your favourite frozen chicken can be cooked perfectly in the air fryer and tastes amazing.
From your favourite KFC leftovers that you want to reheat from frozen to your favourite bag of frozen air fryer chicken wings, we have it covered!
More Air Fryer Chicken Recipes
Here are some more air fryer chicken recipes for you to try out next time you want a different way to cook chicken in the air fryer.
There is a bit of everything, and I am sure if you have a fussy eater, that even they will be happy with dinner!
Air Fryer Chicken Quick Links
Get Our Free Air Fryer Ebook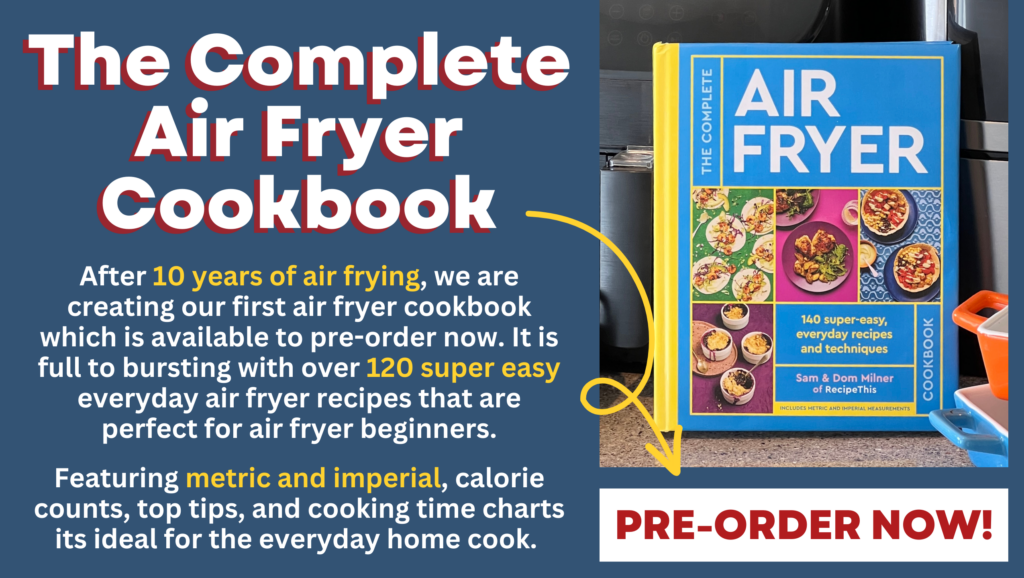 Pre-Order The Complete Air Fryer Cookbook Now!
Can't read it now? Then pin it for later!