30 Best Soup Maker Recipes
This Post Contains Affiliate Links. Click Here To Read Our Full Disclosure.
30 Best Soup Maker Recipes. A delicious collection of 30 easy to make soup maker recipes, that I recommend you make at home in your soup machine.
Featuring Morphy Richards soup maker recipes and Ninja soup recipes, these work with any brand of soup maker.
This Original list of soup recipes for soup maker was originally shared in January 2016, updated in 2019 and updated for you today.
Soup Maker Recipes
Welcome to my delicious soup maker recipes to cook in the soup machine.
As you probably know during the January of 2016, I decided to cook a different soup in my soup machine for a month just to see how many soup maker recipes I could achieve and to get some extra vegetables into my diet.
Now if you're thinking of doing something similar yourself then let me tell you that it is hard work! You start off with your favourite soups they all know and love.
Out comes the soup maker pumpkin soup, the soup maker vegetable soup, Boxing day leftovers soup, soup maker turkey soup and soup maker tomato and pepper soup.
Then after that you realise that you always eat the same soups and beyond this suddenly becomes tricky.
Not to mention other family members that want to know why they are having soup and bread for supper (yet again).
But I did it!
I actually made it to the full 30 days back then and now it feels so strange to be talking about all the soups that we have made and most importantly it was so nice to get an extra health boost from all these vegetables that we have had.
For those of you that struggle to eat your recommended five portions of fruit and vegetables a day, just think of how many you can achieve through extra soup.
Well that was back then in 2016.
Now as I type this just before we enter 2022, I have realised that since 2016 I have cooked so many more soup maker recipes and that I am addicted to and super proud of making and that is why I am here today, almost six years on to share with you an updated version of our soup maker recipes.
Soup Maker Recipes PDF
But before I jump in and share with you our amazing soup maker recipes, let me introduce you to the soup maker recipes ebook that was inspired by our readers.
They asked us for all our soup maker recipes in one big fat PDF and that is what they got. You can get it with every soup maker recipe that is in there now or include the lifetime updates.
You can find out more below: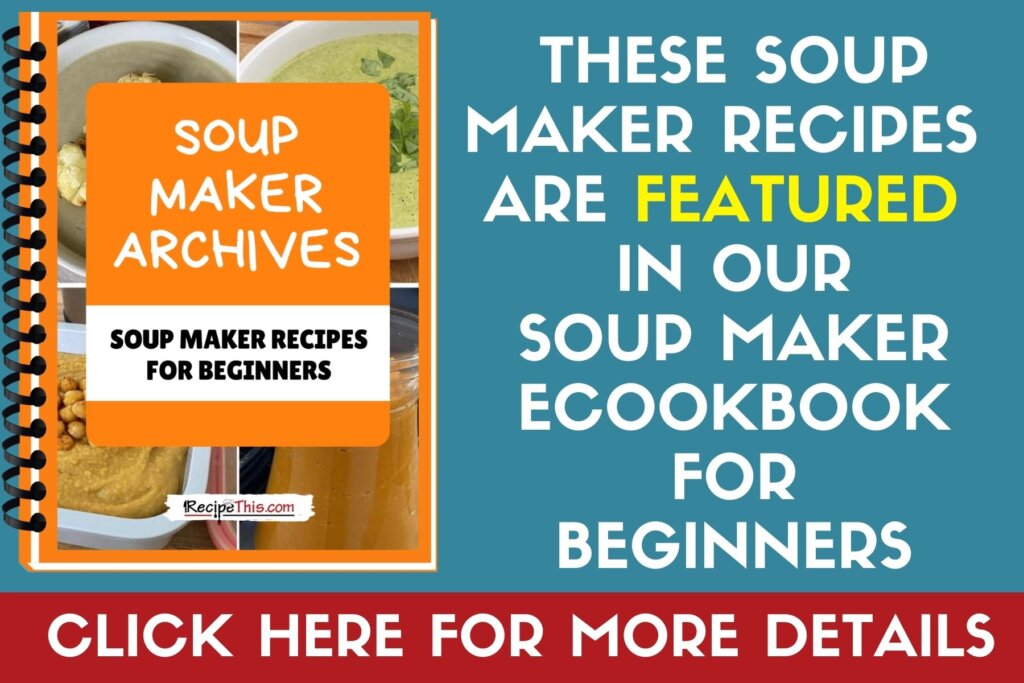 What To Make With The Ninja Soup Maker?
Below are our top soup maker recipes so that you learn new ideas of what to make in a soup maker. We hope you enjoy them.
All our soup maker recipes that we have made, were made in the Morphy Richards Soup Maker or the Cuisinart Soup Maker.
Though they are easy to convert in case you are looking for Philips Soup Maker Recipes, Tefal Soup Maker Recipes or Silvercrest Soup Maker Recipes.
Quick Soup Recipes
Many people ask me, why they should buy a soup maker or as they may call it a soup machine, and I tell them because it is ideal for making quick soup recipes.
You can dump ingredients into the soup maker, then literally leave it. Then come back when the soup maker beeps, and you have creamy soup.
Or for more in depth info do check out how does a soup maker work.
Morphy Richards Soup Maker Recipes
The most popular soup maker is the Morphy Richards Soup Maker. We have owned one several types and we don't find that it's the best soup maker. Its much smaller, the blender on it is not as good and it's broken on us twice.
But if you do have this brand then note every soup maker recipe on our site is compatible with the Morphy Richards you just have to note that it cant hold as much soup, so you might have to do a few batches of your soup.
Would you like easy & amazing soup maker recipes from soup maker experts? Click here and join the Recipe This Newsletter. We will then send you the BEST soup maker beginner recipes direct to your email inbox along with other useful kitchen gadget resources.
30 Soup Recipes For Soup Maker
Below you will find the best recipes for soup maker machines. There is a mix of healthy soup maker recipes, low fat soup recipes, vegetable soup maker recipes and so much more.
Then below it we have included what else you can make in a soup maker.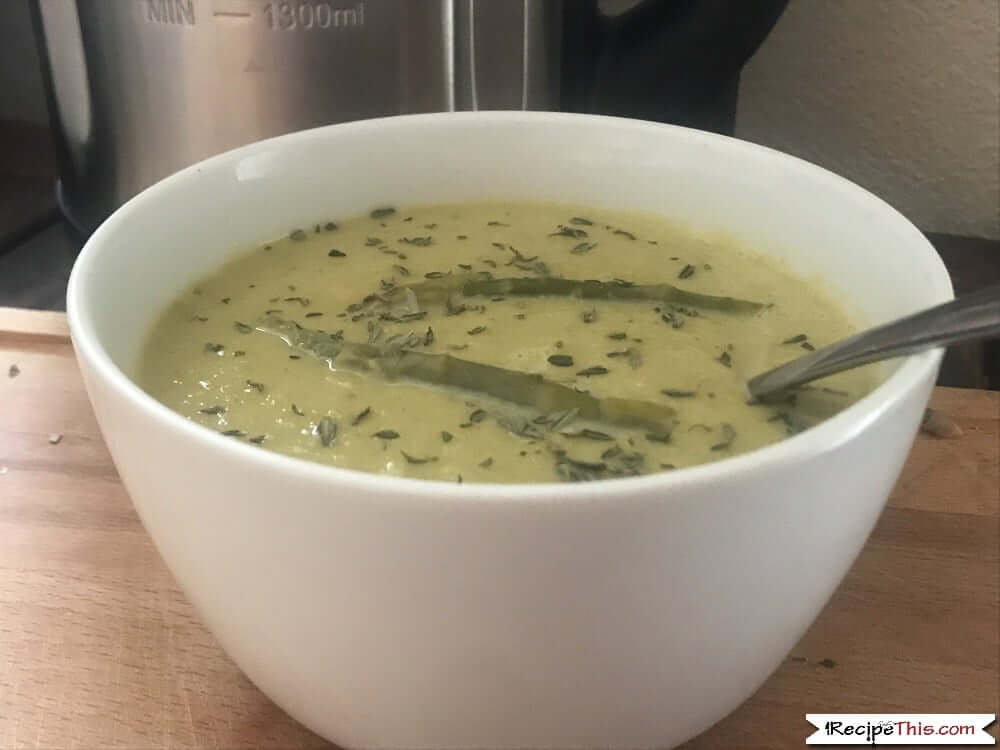 You will love how delicious asparagus soup is in the soup maker. Not only is it creamy, but it is pretty too.
You can also go the extra mile and make some air fryer asparagus and then add some crispy asparagus over the soup.
Click here for asparagus soup in the soup maker
If there is one soup that everyone loves it is a creamy broccoli soup. I can see why though, all that creaminess, how easy it is to prepare and how well it goes with some croutons and keeps you warm during those winter months.
This is our favourite version that we throw into our soup maker every Friday night for when the bread woman comes with fresh Portuguese crusty bread.
Click Here For Cream Of Broccoli Soup In The Soup Maker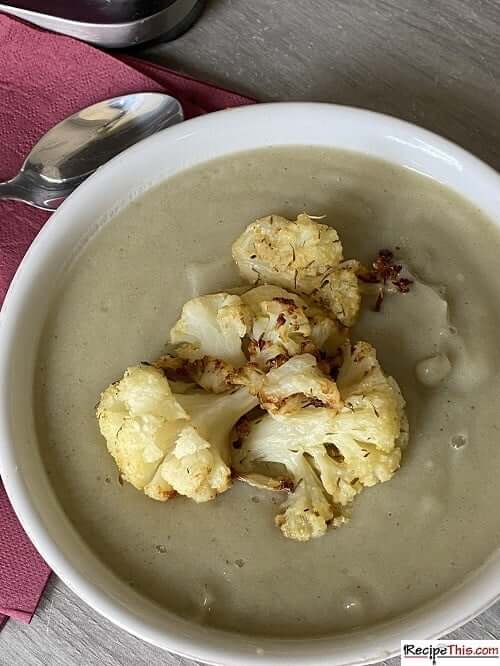 In this recipe I will be sharing with you my love for creamy cauliflower soup.
If you have not tried cauliflower soup yet then you must. It is so creamy and light it is like perfectly baked muffins.
You also don't need many ingredients to pull this off and it is a great use of your cauliflower if it is losing its colour and needs using as soon as possible.
Click Here For Creamy Cauliflower Soup In The Soup Maker
I love red pepper and red tomato soup. The taste of tomatoes mixed with sweet red peppers is amazing. Dominic hates red peppers so this means more for ME!!!!
I call this my lazy soup because out of all the different soup recipes that I have ever created this is by far the quickest.
It is like soup on speed. So if you want a really quick soup because you can't be bothered or your tired or busy then give this one a go!
Click Here For Tomato and Red Pepper Soup In The Soup Maker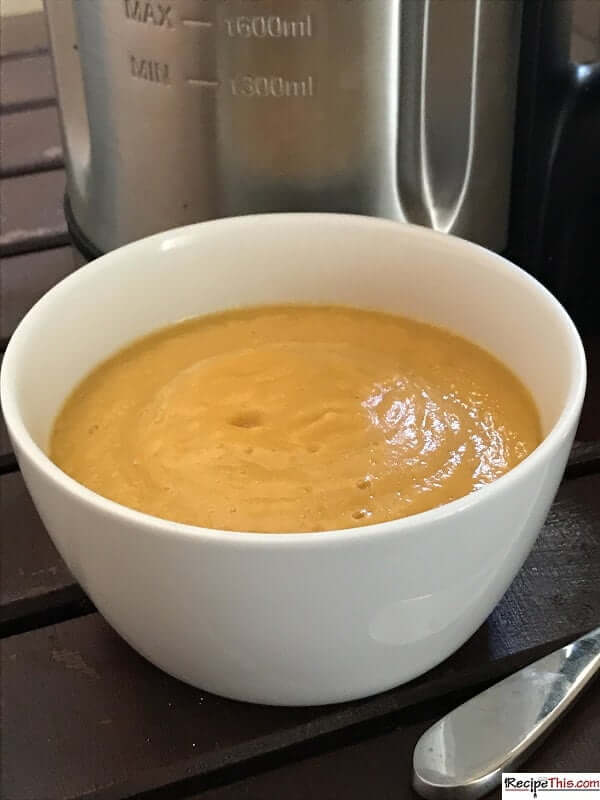 This is my favourite low carb soup ever! Butternut squash can make a genius alternative to potato and can be replaced in a lot of meals and your new low carb potato.
In this version we are swapping potato for butternut squash to make a low carb version of leek and potato soup.
We find this to be really creamy and considering it is soup we always argue over who gets the last of it.
Click Here For Butternut Squash Soup In The Soup Maker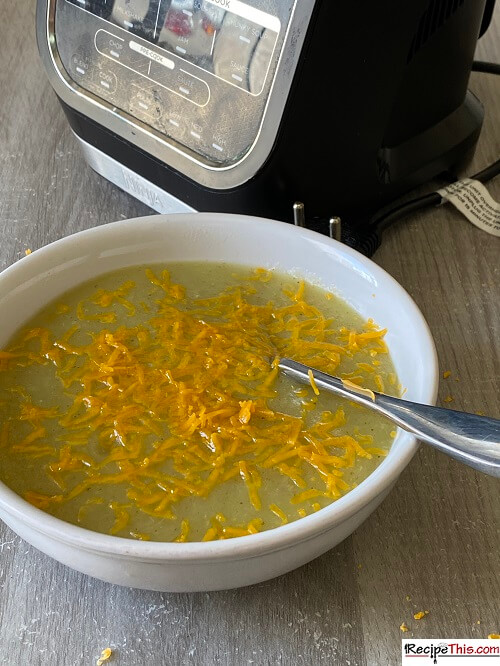 If you're on a diet and want to lose weight then this is the soup you should be eating!
Celery is known for the fact that if you chew on it that there is more effort in eating it than the calories itself making it a negative calorie food.
In this celery soup recipe this rule doesn't apply because it has been blended but even so celery is still incredibly low calorie and still tastes good – so give it a go!
Click Here For Celery Soup In The Soup Maker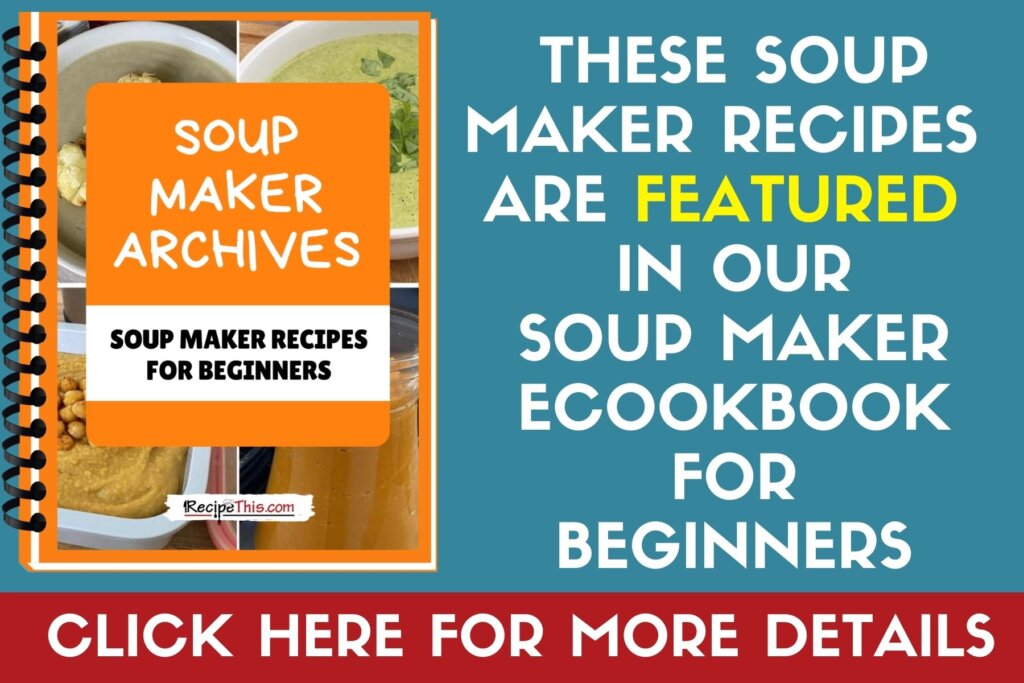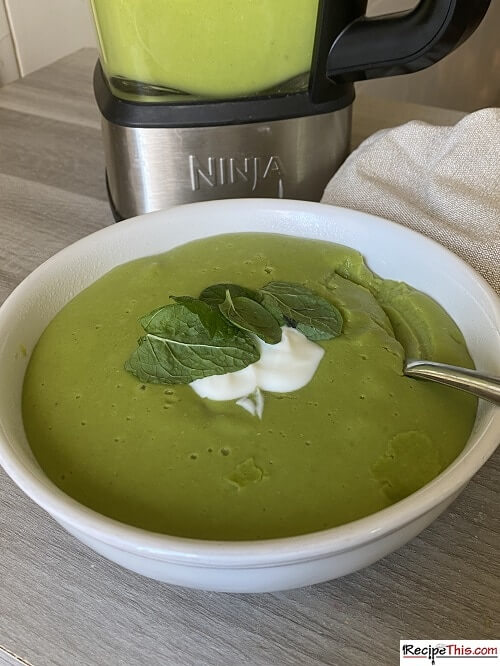 This is something that I used to have a lot, but since going Paleo it has been something that I have practically given up on.
But for the sake of trying out and going back through all my soup recipes I decided to give this one a run out.
The thing about minted pea soup is getting the balance right – you don't want too much mint in it as it can be over powering and you also want the peas to taste nice without being bland. In this recipe we have cracked it!
Click Here For Minted Pea Soup In The Soup Maker
If there is a French onion soup that you must try it has to be French Onion Soup. It is absolutely delicious and full of French flavours.
If you were serving this up I am sure you would get some gratitude from all your Julia Childs fans.
This recipe is based on my childhood holidays in France and my love for French food.
Click Here For French Onion Soup In The Soup Maker
I have to say right now that I am an addict when it comes to Mediterranean food.
Growing up with holidays in France, Spain, Portugal and Greece means that it is always right on the brain and now living in Portugal it is the food of choice.
In this recipe I will be sharing with you my favourite Mediterranean veggie soup so that you can try it at home and feel like you are on holiday in Spain.
Click Here For Mediterranean Vegetable Soup In The Soup Maker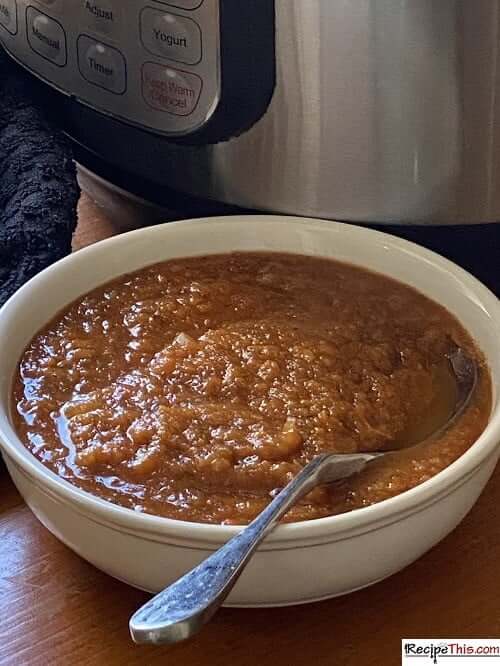 Okay so the cabbage soup is often just associated with the cabbage soup diet. But you don't have to be on a diet to enjoy it!
In this recipe I had loads of leftover cabbage that I didn't want and it was perfect for making into a soup.
This particular version is full of local Portuguese flavours and the Portuguese are addicts when it comes to soup.
Click Here For Cabbage Soup In The Soup Maker
Take the leftovers from your roast dinner, Christmas or even Thanksgiving and throw them all in the soup machine.
Heat up and blend and then you then have a delicious creamy soup that will remind you of Christmas.
This is exactly what we did over Christmas and we even made some extra batches for the freezer.
Instead of eating way more than you should on Christmas Day instead save some extras and have this soup the day after. Or if you have loads of leftovers freeze it.
Click Here For Leftover Roast Dinner Soup In The Soup Maker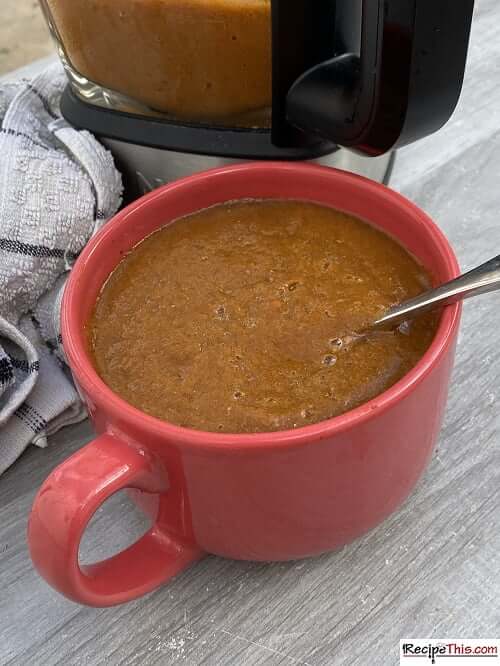 Now this came to me after the recipe that I did for #13 and it was all about what else I could deconstruct.
This time I had a go with a salad. I thought to myself how nice tomatoes, peppers, celery, onions and other salad things are in a soup.
And lets face it most of us hate a plain salad.
But put it into a soup and then all these flavours come alive. Plus if you have teenagers that hate salad then this a new way to introduce salad to them.
Click Here For Deconstructed Salad Soup In The Soup Maker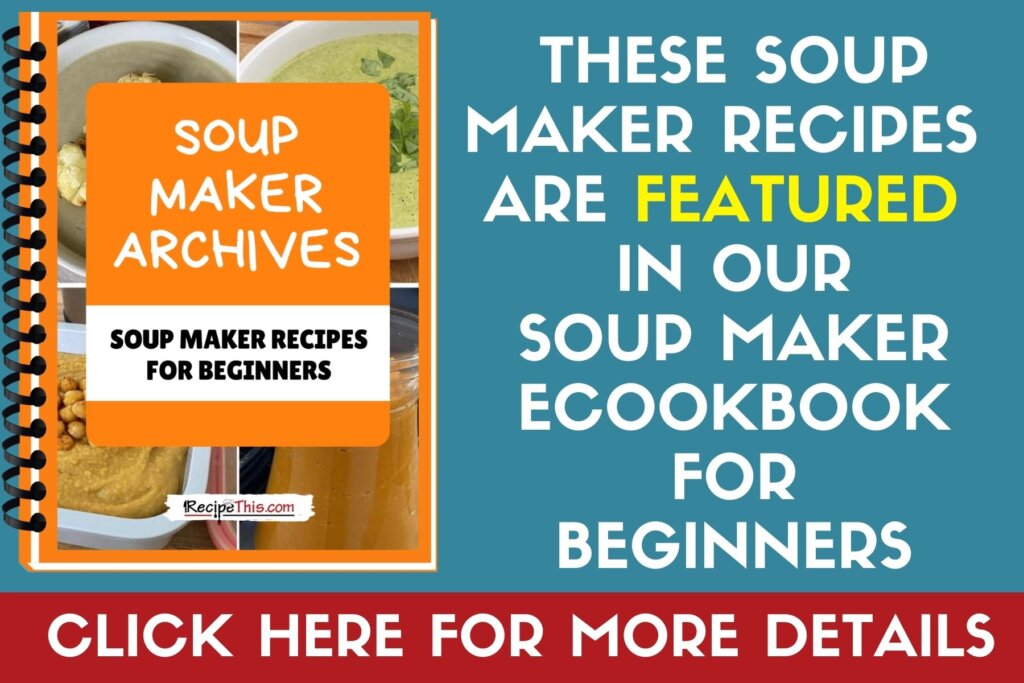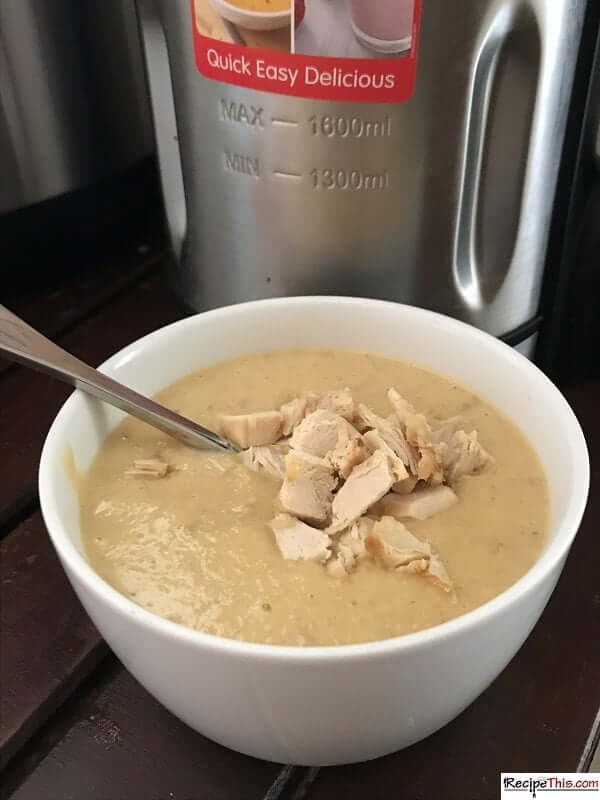 I know this is really bad, but this is the first Christmas ever that I have made soup from my turkey leftovers.
But I thought this year is the year that I am going to try something new.
So with the help of some leftover vegetables, turkey and some tasty turkey stock I have an awesome turkey soup.
I also have a secret method for making this to make it taste even better!
Click Here For Turkey Soup In The Soup Maker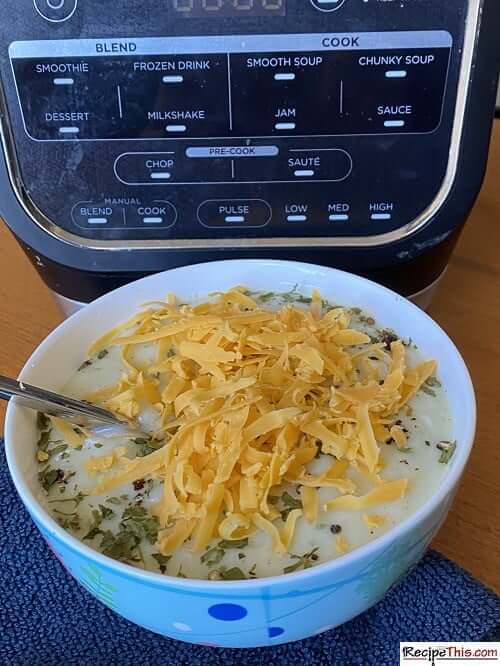 Did someone mention parsnip soup? Well if you did then I am in!!! I love parsnips and in a soup is even better.
Parsnips are hard to come by here in Portugal and are only usually available in the build up to Christmas so when I get them I always cherish them!
This parsnip soup was thanks to some leftover parsnips in the supermarket and is super tasty and so creamy.
Click Here For Parsnip Soup In The Soup Maker
#15 – Soup Maker Greek Lemon Chicken
This is like heaven from Greece. I had a lot of holidays to the Greek isles when I was growing up. We would visit Skiathios, Crete & Cyprus and have a lovely time.
But the best bit for me was the food. Lots of hearty soups and stews and the staple was always the lemon chicken.
So I put this recipe together to take myself back to Greece and enjoy some European food that should never be forgotten.
If you want a traditional soup then it doesn't get much better than minestrone soup. I grew up with it and I loved the combo of seasonal vegetables and small amounts of pasta.
In this recipe though I use a different type of pasta and it really makes it feel like a modern pasta soup.
It is also easy to change so that you can add your favourite flavours depending on your favourite foods.
Click Here For Homemade Minestrone Soup In The Soup Maker
I love a Thai vegetable curry. I will often make one in the slow cooker and leave it on from late morning and then it will be ready in the afternoon for us.
But until now I have not tried making one in the soup maker.
Well now I have and I will never look back. Preparation and cooking in half an hour and it makes a quick simple lunch for you to have and even better with some warm crusty bread!
Click Here For Thai Vegetable Curry Soup In The Soup Maker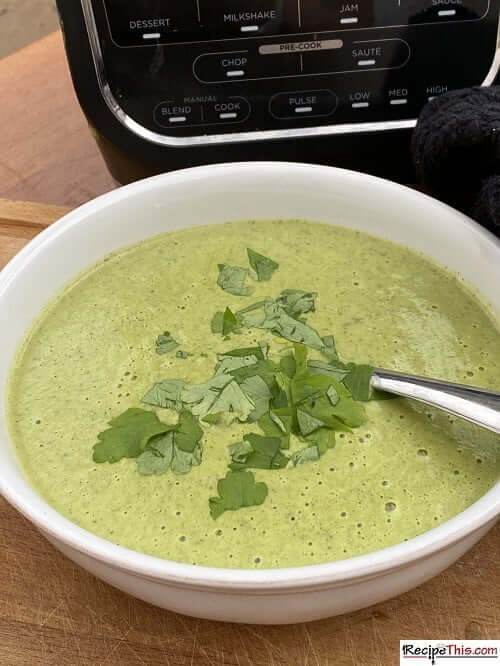 This is a very interesting soup maker vegetable soup because the soup uses no liquid in the soup maker.
That is because the liquid is the courgette and this creates a fantastic creamy soup.
Click Here For Courgette Soup In The Soup Maker
This is a favourite of mine and so easy to make. Plus, you don't just have to make it during beer season in October.
Beer and cheese in a soup with a crusty bread roll is ideal for the colder months and its so filling too.
Click Here For Soup Maker Beer Cheese Soup In The Soup Maker
I remember in my vegetarian days it was all about the lentils. I think it was because they couldn't think of anything else to give you to replace the meat.
They would always be in curries, stews and casseroles and I would have them all the time.
But since giving up being a veggie a few years ago I have hardly eaten them. But I thought for all you veggies out there (or those of you that just like lentils) that I would put together an easy recipe – so here it is!
Click Here For Vegan Lentil Soup In The Soup Maker
You mention soup to someone and you can guarantee that chicken noodle soup is never far from their minds.
In this recipe we have loads of chicken, a fantastic stock and of course the noodles.
My son is since hooked on this soup and with all the noodles we always have in the cupboard it is the easy go to soup recipe.
Click Here For Chicken Noodle Soup In The Soup Maker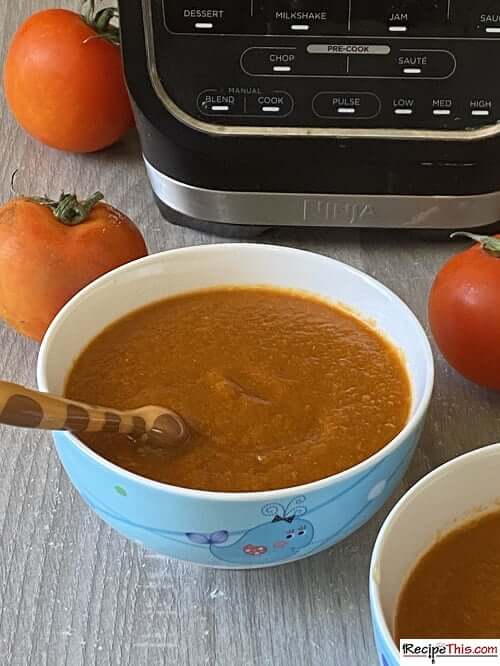 If you have not had the classic Spanish cold tomato soup, then I recommend you give it a try.
Its absolutely delicious and one of my favourite soups during the warm summer months.
I also recommend it as an alternative tomato sauce for your summer pasta salads.
Click Here For Soup Maker Cold Tomato Soup In The Soup Maker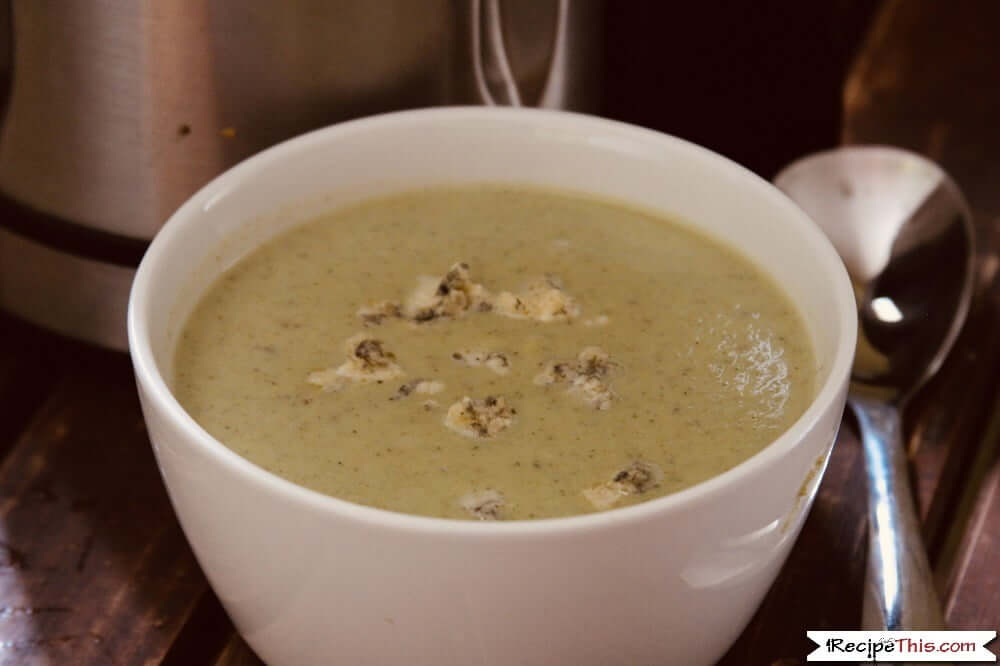 Featuring a soup maker loaded with fresh broccoli, lots of stilton and perfect for the freezer for later too.
Perfect if you love stilton in your soup. If you have not tried broccoli soup yet in your soup maker this is an excellent starting point.
Click Here For Broccoli & Stilton Soup In The Soup Maker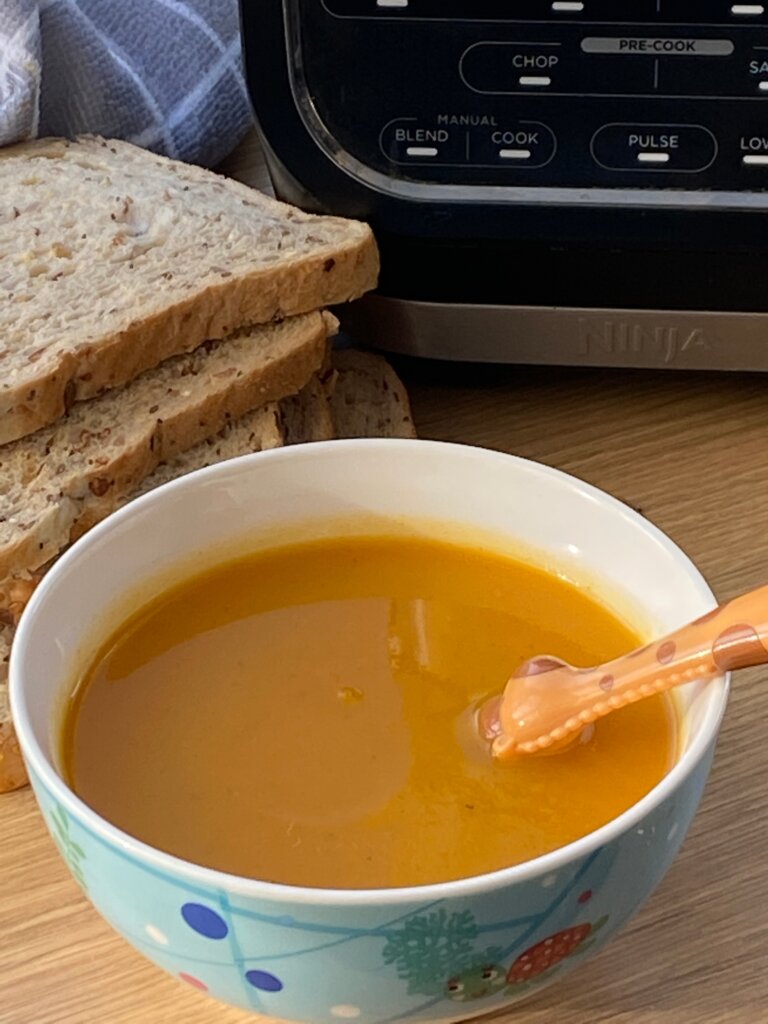 This is my first ever winter eating pumpkin so it wouldn't be right if I didn't include some pumpkin soup.
This has become my daughters favourite soup this winter and she loves the taste of fresh pumpkin mixed with garlic to give her a lovely winter boost and to warm her up at the same time from the cold weather.
Click Here For Pumpkin Soup In The Soup Maker
Did I ever mention that not only is our mushroom soup in the soup maker perfect for when you have leftover mushrooms, but it makes a great stock too.
Just replace it each time you see a recipe that calls for cream of mushroom soup.
Click Here For Mushroom Soup In The Soup Maker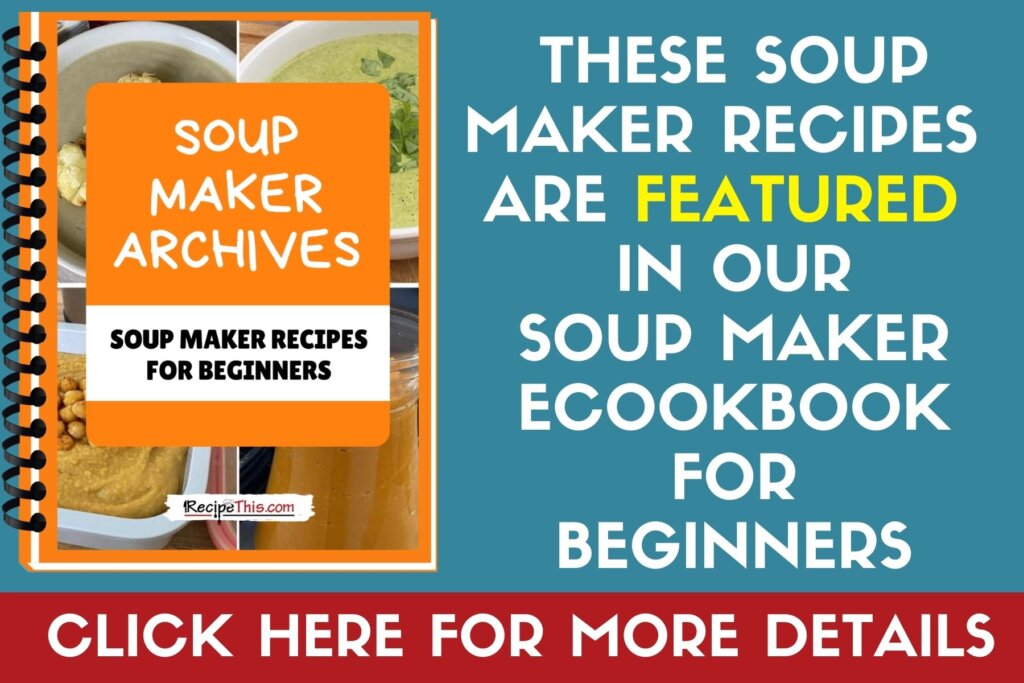 I love a creamy chicken soup in the soup maker. In this one we are using chunks of chicken and you can serve it with a few chunks of chicken over it.
You can also reheat this chicken soup later or use it as your work soup and take it to work with you.
Click here for chicken soup in the soup maker
I love sweet potato soup in the soup maker. It is so delicious and creamy, yet not too heavy where you feel like you have been overloaded with carbs.
Perfect for using up your leftover sweet potatoes.
Click Here For Sweet Potato Soup In The Soup Maker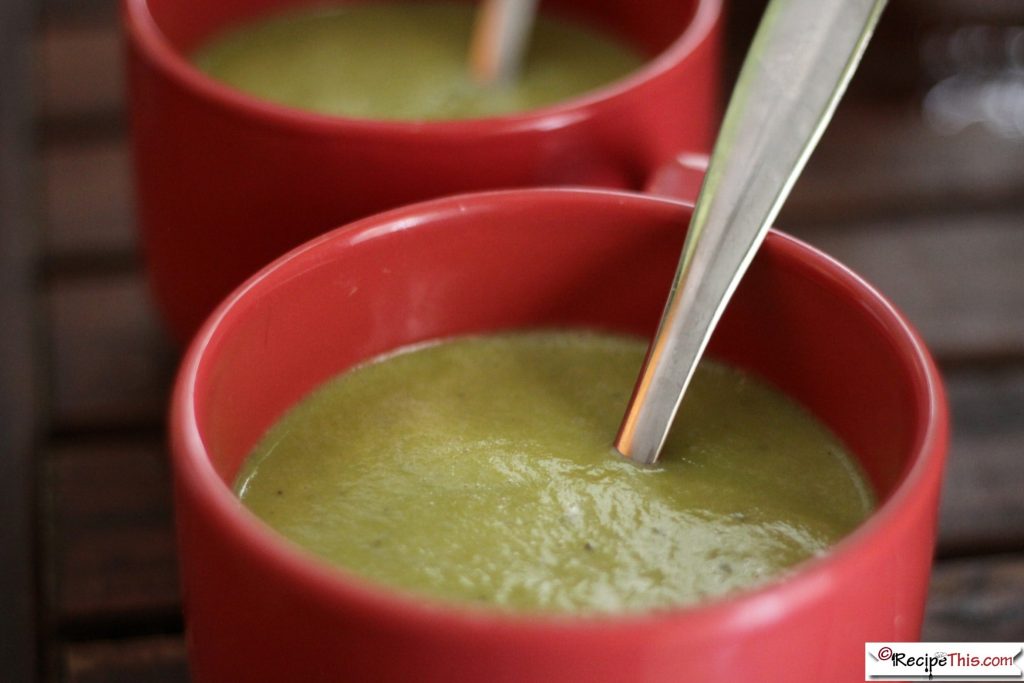 Living in Portugal this is what my neighbours eat all the time. They love to have soup daily and mop it up with some Portuguese rustic bread.
A total yummy moment and such a healthy classic soup too.
Click Here For Portuguese Grean Bean & Carrot Soup In The Soup Maker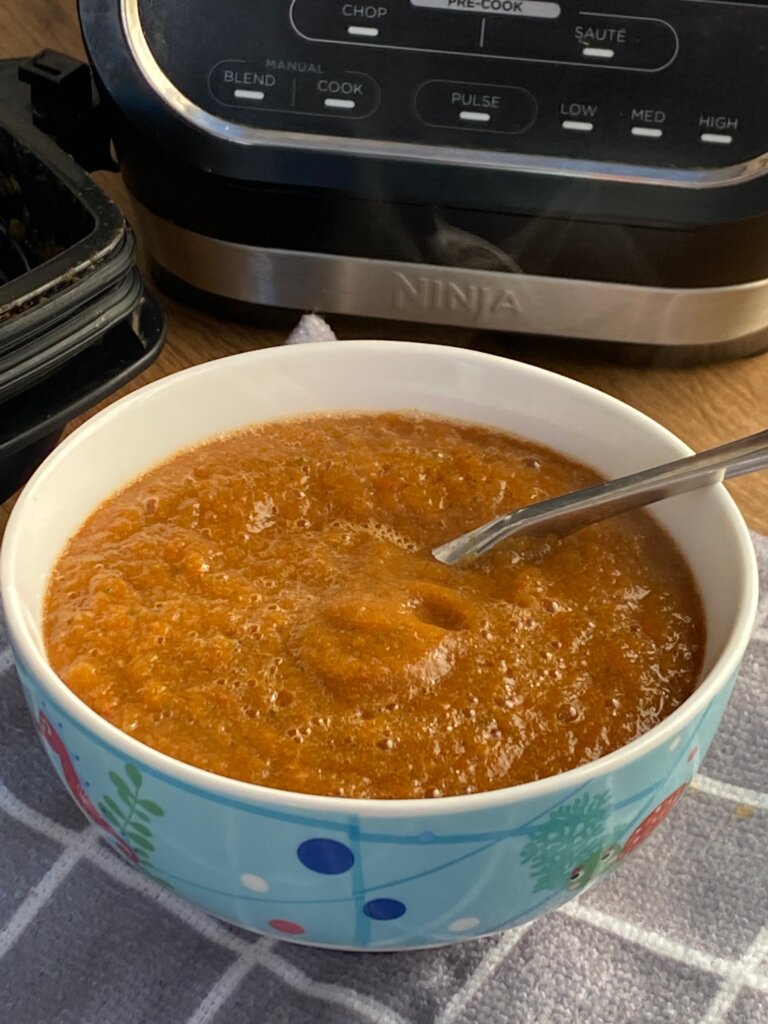 My favourite soup for weight loss this Slimming World Speed Soup is loaded with vegetables and so flavoursome.
It is also perfect for vegans, vegetarians and Paleo followers.
Click Here For Slimming World Speed Soup In The Soup Maker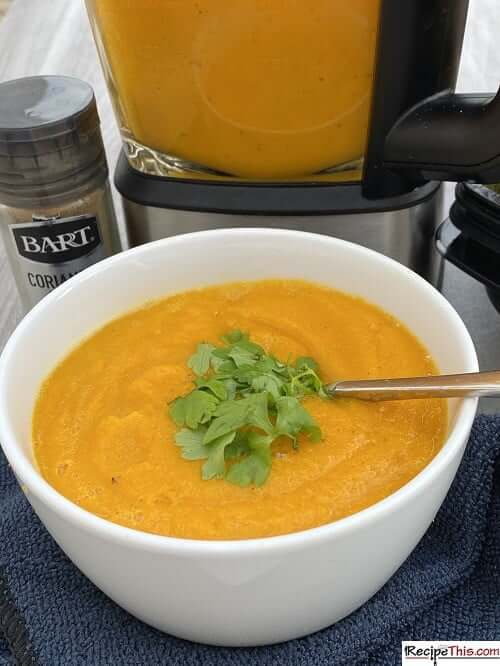 I love carrot and coriander soup in winter. To me it feels like a remedy against flu and cold bugs and it always makes me feel so good afterwards.
You can also add in some ginger, if ginger is your thing.
Click Here For Carrot & Coriander Soup In The Soup Maker
What Else Can You Make In A Soup Maker?
Soup machine recipes don't have to start and end with soup and here in the Milner house, we have many favourites that we make with a soup maker machine that is not soup.
Below you will find a few of our soup machine favourites:
Though my all time favourite in the soup maker is slimming world cheese sauce. It is made with hidden veggies, is cheesy and yummy and so creamy.
Buy The Soup Maker Archives
If you have not done so already, then I recommend you check out our soup maker archives which is loaded with a PDF version of this page, as well as each soup maker recipe in full.
It is perfect for getting to know your soup machine and will give you a lot of inspiration when it comes to cooking with your soup maker.
Click here to purchase our soup maker ecookbook in PDF.