Air Fryer Vegan Recipes. I have put together a great list of 39 magical air fryer vegan recipes for you to test out in your air fryer. With a mixture of plant based vegan recipes that are free of oil as well as traditional air fryer vegan recipes, we have it covered!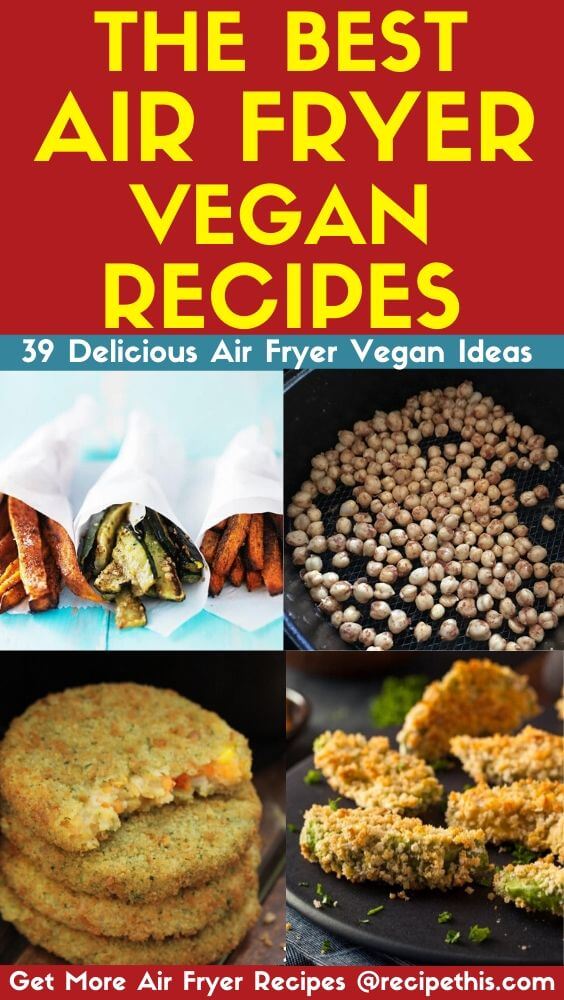 Air Fryer Vegan Recipes
Welcome to air fryer vegan recipes. Originally a list of just 21 magical ways to cook the vegan way in the air fryer, it has now been updated to reflect 39+ delicious air fryer vegan recipes on Recipe This. We hope you enjoy our 2020 update!
I have always admired the vegan and the plant-based diet. It always seems to me as the healthiest diet that you could ever be a part of.
I hate all these diets that focus too much on processed foods or eating excessive amount of meat.
If you look at our grandparent's generations and the World War 2 rations it was very close to the vegan lifestyle.
Yes, they had meat and dairy but as it was in such small portions it was like they were vegan 5 times a week.
They relied heavily on their home-grown fruit and vegetables and probably got 10 portions of fruit and veg a day rather than the recommended 5.
But even though I know it is the healthiest I could possibly be, I could never last on the vegan lifestyle.
I love my Greek Yoghurt, Cheese and Honey too much. But I could probably go vegetarian again if I wanted to.
Though with having such a meat obsessed husband he might not forgive me!
So, in the Milner house our compromise and eat a few times a week vegan and a few times a week vegetarian. I make sure the vegan and vegetarian meals have the wow factor and that you don't feel like you are missing out.
After updating our air fryer vegetarian recipes for you last week, today we are showing you that vegan air fryer recipes are AMAZING and that it is a great way to eat a little healthier.

Vegan Recipes For An Air Fryer
If you have ever wondered what to cook in an air fryer that is vegan, then this list of air fryer vegan recipes is for you.
When I cook vegan I tend to cook the main dish in my instant pot, such as my instant pot vegan split pea soup and then the sides get cooked in the air fryer. It then bulks out a meal when I am feeding a family of five.
This list of air fryer vegan recipes is made up of side dishes, snacks and some of my favourite air fryer breakfast recipes.
If you are vegan, or just love vegan recipes, then this list is a great starting point and a learning curve for what your air fryer is capable of.
Best Air Fryer For Vegetarians & Vegans?
There is no secret of the fact, that us at Recipe This are big fans of the Philips Air Fryer.
We have both the Philips Air Fryer XL and the Philips Air Fryer XXL. Both do an amazing job but if I was going to recommend the best air fryer for vegans, I would recommend the Philips Air Fryer XL.
This is because many people choose the larger XXL model so that it is big enough to cook a whole chicken, but as a vegan, this is something you are never going to cook, so why bother getting something that you don't need?
Or if Philips Air Fryer is too expensive, do have a read about how to get a cheap air fryer on eBay, as well as consider the Gowise USA air fryer or have a read of our Cosori Air Fryer review.
Top 10 Air Fryer Vegan Recipes
Plant Based Air Fryer Recipes Without Oil
If you are looking for fat free vegan air fryer recipes, or oil free vegan air fryer recipes then here are a few extra suggestions:
Air Fryer Frozen Vegan Recipes
Here is my pick of my favourite frozen vegan food in the air fryer.
Though do note, there are plenty of vegan friendly food that you can find in your grocery store and cook in the air fryer.
Also, some brands might be vegan, and some might not, so do check on the packaging before purchasing.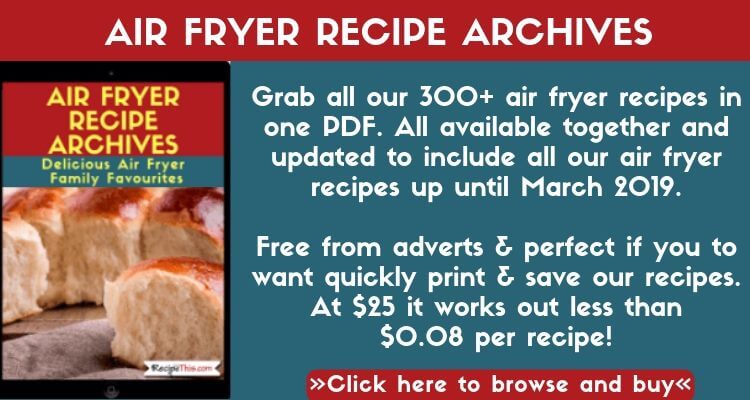 More Air Fryer Vegan Recipes
Here at Recipe This we have even MORE air fryer vegan recipes for you to try. Have a browse through these animal free air fryer recipes and bookmark for later.
Can't read it now? Then pin it for later!
Join The RecipeThis.com Community:
Facebook Group | Pinterest | Twitter | YouTube
Plus, don't forget to subscribe below to join our email newsletter with updates of our latest recipes, latest freebies, our cooking stories, plus much more: