How To Get Started With Your Air Fryer
This Post Contains Affiliate Links. Click Here To Read Our Full Disclosure.
How To Get Started With Your Air Fryer. We have owned our air fryer for more than 7 years and we are sharing with you today, everything we wish we had known when we first got our air fryer.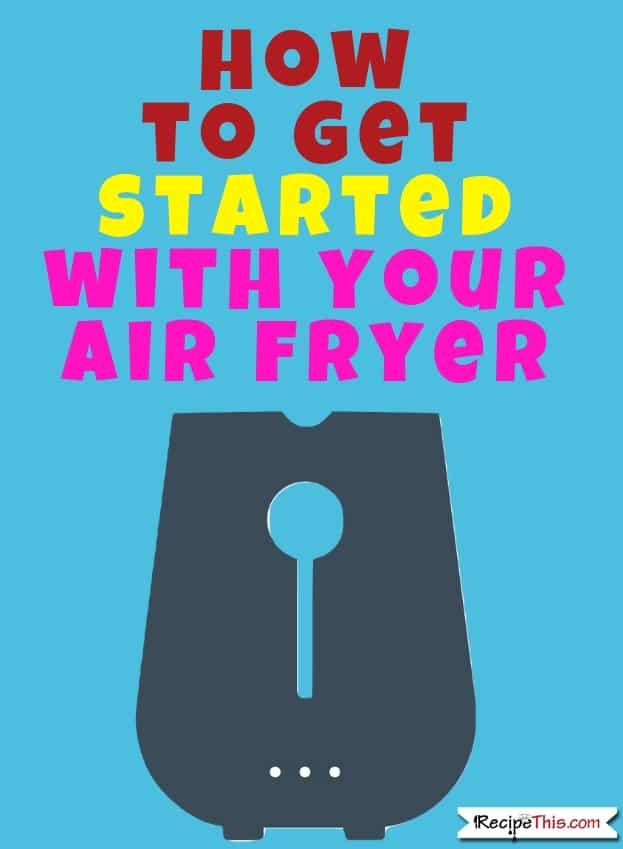 How To Get Started With Your Air Fryer
Let me guess, you're here because you have just bought yourself one of those amazing air fryers and you want to know that there is more to the air fryer than French Fries?
Well there is and I must say before you carry on reading that we are air fryer addicts and love our Philips Air Fryer.
We first got this model of Philips Air Fryers back in 2011 and since then we have upgraded to the XL digital version.
Both the models above I would recommend if you have not bought an air fryer yet, if you have then let's get started!
Air Fryer Accessories
Let's start with the air fryer accessories as they are a big part of air fryer cooking. If you wonder whether you need air fryer accessories or not, or if you wonder if it's an unnecessary expense, then think of it like this:
Do you plan to cook more than just French Fries in your air fryer?
Would you like to bake or cook full dinners in your air fryer?
Do you like baked eggs?
Do you have a sweet tooth?
If the answer is YES to those then you need air fryer accessories.
An angry reader once told me that he wasn't going to buy air fryer accessories as he had just spent a small fortune on the air fryer, but I am sure he had an oven and accessories for his oven.
Just like you need baking trays or baking dishes for your oven you need baking pans, ramekins, grill pans for your air fryer.
Here is the bundle I recommend as it's a great starter kit for the air fryer and gets things going.
As well as this we have an extensive air fryer accessories guide here for you to read.
Air Fryer eBooks
Next on the list I am sure you want some yummy air fryer ebooks that you can follow along with at home. Ones that are loaded with recipes and will help you get into the zone with your air fryer cooking.
We recommend:
With the air fryer 101 beginners' recipes, you get a taster of air fryer recipes to get you started. But the archives collection is on a much bigger scale and includes all our air fryer recipes since we started the blog until it was last updated.
We update the air fryer archives quarterly and there is the chance to upgrade so that you can have lifetime updates to all our air fryer recipes. Just imagine how cool that would be?
Air Fryer Recipes To Cook First

If I was to just cook 20 recipes in the air fryer forever and ever, it would be these 20. They are air fryer recipes that are easy to make and whether you have a Tower air fryer, Philips Air Fryer or Power Air Fryer, they are an excellent starting point.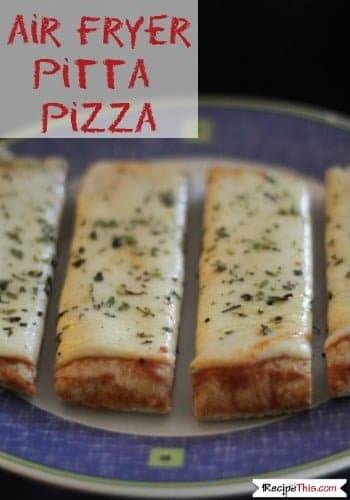 These are so tasty and so easy to make too. Just load up your favourite pitta breads with your favourite pizza toppings and cook in the air fryer. Both adults and kids alike will love them.
Frozen French Fries in the air fryer, is what most people will cook in the air fryer first. Choose the brand wisely and go for frozen French fries with a tiny bit of oil and quality potatoes. They are so good and hassle free to make.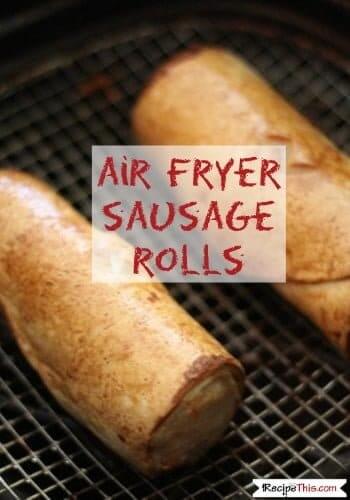 Make a healthier sausage roll in the air fryer. With the help of Weight Watchers Tortilla Wraps and a delicious filling, this is a recipe keeper.
AND did I say how easy it is to make? Plus you can adapt this method for a lot of the different things that you love that is covered in pastry.
If you love granola and are looking for something different. Then try out this healthy granola recipe in the air fryer. It is just a few simple ingredients and very addictive.
Then take the granola bars to work with you, or pack them in the kids packed lunch box.
Air Fryer Steak & French Fries
Imagine using your air fryer to make steak and fries? It's a must have recipe and OMG I wish I could afford steak every week, as if I could I would just eat this.
Though even at its cost, it is still cheaper than eating steak and frites in a French restaurant!
Or for the cheap budget alternative, how about getting a taste sensation with breaded pork chops in the air fryer? Its just so good, you can't believe it came from the air fryer.
YES you can make boiled eggs in the air fryer. Isn't that a fantastic use out of the air fryer? I often have air fryer boiled eggs for breakfast after a run with some sliced avocado and sliced banana.
I am not a big breakfast fan and boiled eggs are just the BEST.
Love American Italian Food? Then you will love air fryer chicken parmesan. Just make sure you make enough for a second helping, because our air fryer chicken parmesan makes you greedy for seconds.
If you want just a simple chicken breast that is grilled to perfection, is moist and not dry, then try out our air fryer chicken breast recipe. It is so easy to make and perfect for salads in summer and pasta dishes in winter.
Our famous air fryer rotisserie chicken is so easy to make and us Milner's have it at least twice a week.
The skin of the chicken is crispy like a rotisserie chicken and you can add your favourite seasonings to it. Or just go with a plain but delicious mix of olive oil, salt and pepper.
Air Fryer Chocolate Banana Bread
I love this Paleo approved air fryer chocolate banana bread. It's a personal favourite of mine. The only problem is that we never have any bananas left to make banana bread with.
As a family of 5 we go grocery shopping on Wednesday, and they are all gone by Saturday morning. Then we all blame each other for eating the last one.
Air Fryer Lemon Pepper Chicken
If you love lemon pepper seasoning on your meat and fish, then you'll love our Whole30 and Paleo approved lemon pepper chicken. It crisps up perfectly in the air fryer too. You could also mix and match the recipe with other cuts of chicken.
Air Fryer Fruit Crumble Mug Cakes
Just because mug cakes are amazing, and they can be cooked in the air fryer. Just make sure you have a mug that will fit and make all your favourite mug cakes whenever you like. This is my favourite fruit crumble version.
Air Fryer Cheese & Bacon Muffins
Take these air fryer cheese and bacon muffins with you to:
Work
The beach
Picnics
Hiking
School
Parties
Barbecues
If you've not tried our air fryer KFC copycat popcorn chicken in the air fryer, then it is a must. Little balls of chicken with the KFC secret blend and perfectly crispy in the air fryer. What is there not to love about that?
You can either mince fresh chicken breast or buy ready made chicken mince to make this recipe.
I love meatloaf and it is amazing in the air fryer. Just use your favourite air fryer container and its ready in no time. Perfect for a lazy family dinner when you have some spare mince that needs using up.
Though our son says he hates meatloaf for dinner – simply because I don't make enough of it! Clearly, there is no pleasing 17 year old growing lads!
I love doughnuts. Especially with pink icing and soft in the middle. These are our famous air fryer doughnuts and you will want more than one.
Take them to birthday parties, barbecues, picnics on the beach or just when you fancy making a round of doughnuts.
My American aunt introduced me to these in the 90's, but now they have an air fryer makeover and are simply delicious in the air fryer.
If you have some favourite meatball recipes, then use our timings to transform them into air fryer meatballs.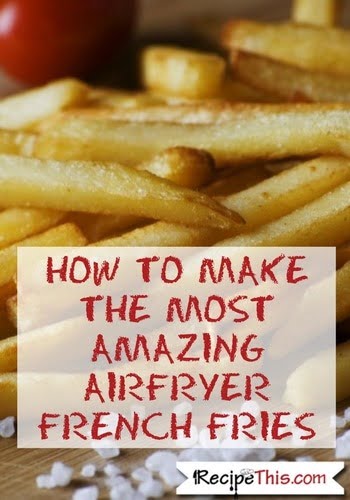 Life in the air fryer is just wrong without air fryer French Fries. We have them on a regular basis, especially when we're hungry and can't be bothered to cook.
They are also a fantastic side for while cooking your main meal in the Instant Pot.
If you have a bigger Air Fryer, you could cook chicken and fries or steak and fries at the same time.
Let's finish on our favourite 20 air fryer recipes with some strawberry cupcakes. So, so good you will want to eat them all day and forever. I just wish they were zero calories!
I could go on and its hard to name JUST 20 out of 200+ air fryer recipes. BUT these would be my starter recipes to get you going. If you do want our whole 200+ air fryer collection then click here.
As well as these we also have some more air fryer recipes featured below in our useful reads section.
Air Fryer Useful Reads
Beyond our all-time favourite beginner air fryer recipes, we also have a few other excellent reads to help you with your air fryer.
Air Fryer Hacks
I wanted to highlight some useful information, that I would want to have read at the time that we got our air fryer. Unfortunately, when we bought our first air fryer, they were very new and not many people knew what to do with them beyond making air fryer French fries.
Here are a few air fryer hacks that I wish I had known all those years ago:
#1 Smokey Food Is A Nightmare
Do you ever have a pack of cheap sausages that are ever so fatty? Cook them in the air fryer and you have a problem. Smoke will fill your kitchen and your smoke alarm will go off.
The air fryer won't catch fire, but you will be in a smoky haze. As well as this when you have eaten and gone back to clean up the air fryer a big lard layer will have developed in the bottom of the air fryer.
If cooking sausages in the air fryer, go for a leaner version not overly fatty ones.
#2 Preheating Vs Not Preheating Matters
Most people when they cook do not preheat their oven. It is generally, just chefs like my husband that do. If he was reading this he would be SHOUTING AT ME telling me that you must preheat the air fryer.
Many air fryer recipes will not include a preheat. If you automatically preheat you might find that you burn your dinner.
If a recipe doesn't mention a preheat, don't preheat as you can overcook your food. Or slash a couple of minutes off the final cooking time.
#3 Size Matters
There are many air fryer recipes for Air Fryer Rotisserie Chicken, the only problem is that it's never discussed the size of your air fryer vs the size of the chicken.
We have a Philips XL and it just fits a 1 kilo chicken into it. Don't expect if you have a small air fryer for it to hold a chicken.
#4 Over Crowding Sucks
Love French Fries in the air fryer? Well the secret to perfect French Fries is to not cook too much of them at once and not to add too much olive oil.
I adore my fries but if you make too many and try to cook them at once, they will:
Stick to one another
Become dry
Taste like bad oven chips
I recommend that you do no more than 3 portions of French Fries at once. You can always do more of them later!
#5 NEVER Cover The Air Vent
An air fryer works by blowing around lots of air and the air then leaves the air fryer via the air vent. However, cover it up and you have a fire hazard. The air fryer is safer to use than a deep fat fryer, but you still must think of safety first.
One mistake people make is leave a tea towel over it, so please remember to remove any hazards before cooking.
#6 Don't Add Too Much Oil
Because the air fryer naturally doesn't need much oil to be able to cook food, it can taste rather awful if you add too much.
Most foods in the air fryer require less than one tablespoon of oil. There are also many foods that require no oil at all.
I also recommend measuring your oil or mixing food in a mixing bowl prior to cooking in the air fryer. This prevents food being too greasy or wasting oil.
My favourite Air Fryer Five Guys French Fries taste better than a lot of air fryer fries because I follow the mixing in a bowl method.
#7 Dirty Air Fryer Food Is Horrible
If you don't clean your air fryer after you have used it, what happens is that you end up with a build-up.
Where the fat from something that you cooked goes to the bottom, then the fat goes around the air fryer next time you cook and makes everything greasy.
Plus (even worse) if you cooked something that had a strong flavour, such as garlic, onions or peppers, all food will taste like that.
I recommend keeping up with cleaning your air fryer to prevent this from happening.
#8 You'll Want To Sell Stuff
The air fryer is one of those amazing all in one gadget that can replace a lot of things that you currently have in your kitchen.
You might look at it now and think about how much room it takes up. But if you have a clear out, you'll be surprised by how roomy your kitchen will become.
We found we sold the following:
Toaster
Grill
Toastie Machine
Microwave
Deep Fat Fryer
We also found ourselves using our oven less and less. Especially when we have an Instant Pot Pressure Cooker and Slow Cooker too.
#9 The Air Fryer Can Cure Health Problems
They say to heal yourself naturally should be done through real food. Well this is so true when it comes to the air fryer.
Because you can cook your favourite takeout, fast food and deep-fried favourites in the air fryer for a lot LESS fat you can reduce or cure your:
High Blood Pressure
Cholesterol
Irritable Bowel Syndrome
Type 2 Diabetes
Obesity
That's because eating from the air fryer a LOT will rid you of your deep fat fryer and other fatty foods in your diet and even if you binge on chocolate in between or wine, you're still healthier than you have ever been.
I used to be obese and the only health complaint I had was PCOS and after a change in diet habits I went on 2 have two more children after 13 years of giving up hope.
#10 You Can Be As Healthy Or Unhealthy As You Like
Based on #9 you would probably think that its just for healthy people, but that is not always true.
It can teach you how to reduce your calories without improving your healthy diet. You can be swapping deep fried frozen food for air fried and reduce your calories by 50%.
This works for a lot of people as they can enjoy their Frozen French Fries, Frozen Mozzarella Sticks and Frozen Egg Rolls with a lot less guilt.
Plus, in my opinion these frozen foods in the air fryer taste AMAZING.
In a nutshell #9 only works and cures you if you're getting rid of processed foods in your diet, but #10 is great if you just want to drop your calories and lose weight.
#11 You Will Hate Greasy Food
We went out for fish and chips a couple of years ago and hated it. It was so, so greasy and disgusting. It wasn't the best fish and chips and they hadn't properly drained the oil, BUT we had the same general opinion for anything deep fried.
Your body, like when you go on a diet, will get used to its new food and old greasy deep-fried food will be off putting.
#12 Spill Less & Clean Less
I find that there is a lot of air fryer food that can cause a lot of mess if you don't use air fryer accessories.
Favourites for this are batter recipes such as beer battered fish or homemade chocolate chip cookies. Instead make sure you're using good air fryer accessories such as a baking mat to reduce on mess.
#13 Shake Food Sometimes
Sometimes you need to shake the food, other times you don't. It can be confusing as to how often you need to shake your food, or if you need to at all.
The general rule is that if food will stick together then shake it halfway through cooking. Think French Fries or potato wedges.
Whenever I make French Fries in the air fryer I will cook them for 12 minutes at 160c and then shake them and then crisp them up for 5 minutes at 200c.
Yet I see many other recipes that call for shaking every 3 minutes, which to me is like torture.
#14 Light Items Will Take Off
This is not talked about often, but it is TRUE. The air is circulating around the air fryer and if its not stuck down properly the food takes off. Think wafer thin food that has no weight on it.
For example, warming up a tortilla wrap on its own without any filling to weigh it down. Or melting a slice of cheese.
#15 Temperature Adjustments
Just because you would have a deep fat fryer on high, doesn't mean that you should with an air fryer. I cook mostly at 180c rather than 200c. 200c is then used mostly for crisping up food, when the cooking time is nearly over.
160c is used for cooking food in the middle and 140c for defrosting. 120c is the temperature for boiling eggs.
#16 Defrosting Works
You can also defrost your food or cook it from frozen in the air fryer. Start the cooking time at 140c and then when it is defrosted increase the temperature up to cook your food.
I recommend a 5 minute head start at 140c followed by the regular cooking time that you would use if cooking naturally from thawed.
#17 A Good Pair Of Tongs
Out of all our general kitchen accessories we use our tongs the most. They are perfect for turning meat, especially air fryer rotisserie chicken. If our air fryer is on in the kitchen, you'll find our kitchen tongs right beside it.
#18 Good Air Fryer Placement
Keep your air fryer in an area that is easily accessible and that you can keep your air fryer accessories close by. We have in on a shelf next to our Instant Pot and the cupboard directly below has our air fryer accessories in it.
As well as that we also keep it at the opposite side of the kitchen to our smoke alarm. This is because a slightly fatty food will set it off.
#19 Don't Cook Food Directly In The Bottom
You have an air fryer basket, or the air fryer grilling pan for cooking food in the air fryer. Whatever you do, don't cook food directly in the bottom of the air fryer.
The same can be said for being cautious around water. Keep your plug and your air fryer away from your sink as accidents can happen.
#20 Not All Air Fryers Do The Same Thing
I am sad to say that not all air fryers are as good as each other. We have the Philips XL and we know our readers love the Power Air Fryer or the Tower Air Fryer. But the Tefal has had a lot of complaints from our readers.
Many people quit air frying because they have a bad one.
We recommend that you read the instructions and compare notes with family and friends that also have an air fryer.
Air Fryer Beginner Infographic
If you would like even more information about the Air Fryer, then I recommend you check out our air fryer beginner's infographic.

Join The RecipeThis.com Community:
Facebook Group | Pinterest | Twitter | YouTube
Plus, don't forget to subscribe below to join our email newsletter with updates of our latest recipes, latest freebies, our cooking stories, plus much more: