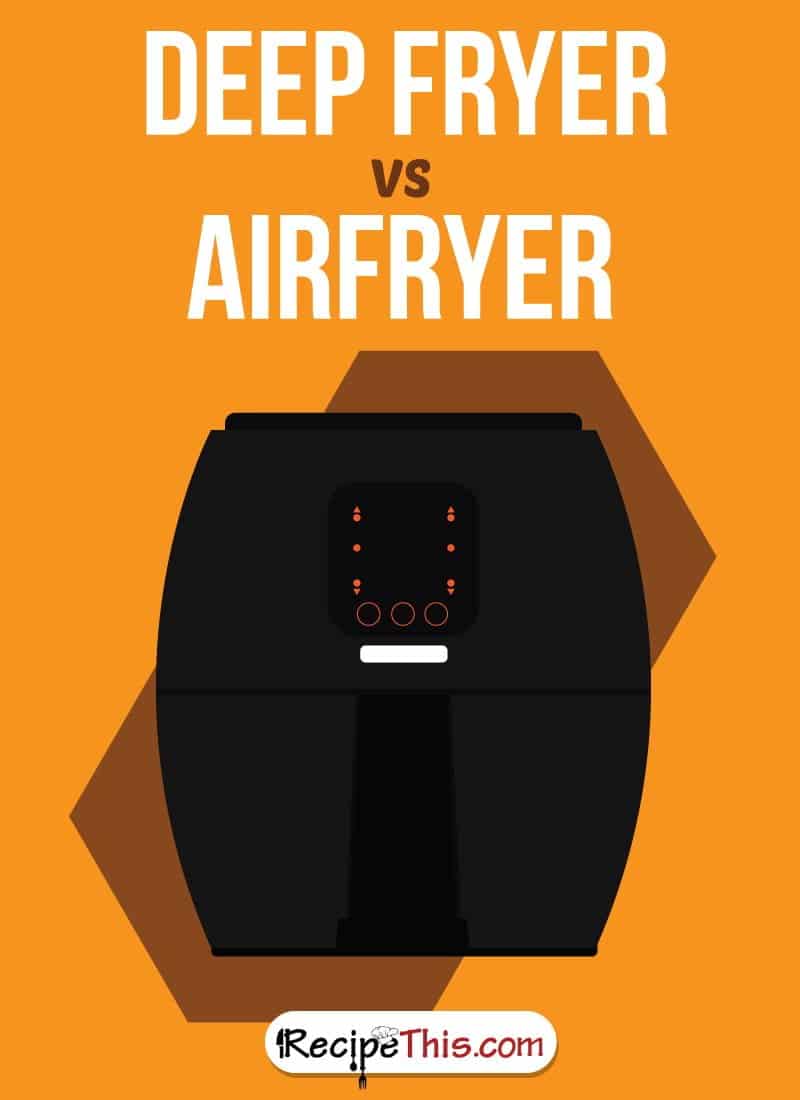 Welcome to the Deep Fryer vs Airfryer and today I wanted to talk to you about the difference it can make to have an Airfryer in your kitchen compared to a deep fat fryer.
Just like most people I have owned a deep fat fryer, in fact it was on my wedding gift list when I got married 14.5 years ago.
It was a lovely silver one (similar to this one) and it was huge so we could cook a huge portion of French Fries with it whenever we liked.
When we got married Dominic worked in a meat factory. The pay was just above the minimum wage so not great for a young family, but the great thing was the cheap meat.
We could get sirloin steak, fillet steak, topside and silverside for 30% of the going rate. It was amazing and such a great deal.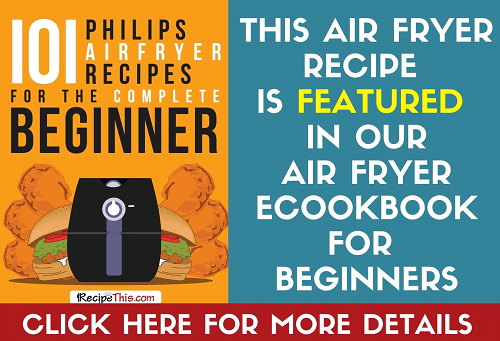 On a Friday night Dominic would come home from work with all the meat he had just bought and would set to work in the kitchen chopping it all up and putting it in the freezer for later.
Normally on a Saturday night we would have steak night. I would cook the fries in the deep fat fryer and also make a nice sauce to go with it and Dominic would cook the steak.
Kyle was about 18 months at the time so he would be snuggled up in his cot, while we hate steak and fries date night.
It was amazing and the steak was the best. And the fries were amazing too.
I grew up with my mum and dad always on a diet. So there would be a house of diet food, but they still owned a deep fat fryer so if they were out, I would find an old jacket potato in the bottom of the fridge and have some homemade fries with a big dollop of mayonnaise.
It was like so, so good.
And that is probably when my love affair started with fries that are cooked in the deep fat fryer.
This was long before the Airfryer was even invented and even though you knew the deep fat fryer was bad for you, you still ate out of it on a regular basis.
But I am sure I am not the only one with a habit for fries and other things from the deep fat fryer.
I also had a lot of friends in the 90's when you went round to their house for dinner after school, to have chicken nuggets and fries from the deep fat fryer, served with garden peas.
That was the staple diet for so many at the time and in the early 00's this was still going on.
But the Airfryer is there to change the future. To give us a way to still have our steak and fries, just with a much lower calorie option.
Deep Fryer Vs Airfryer Fries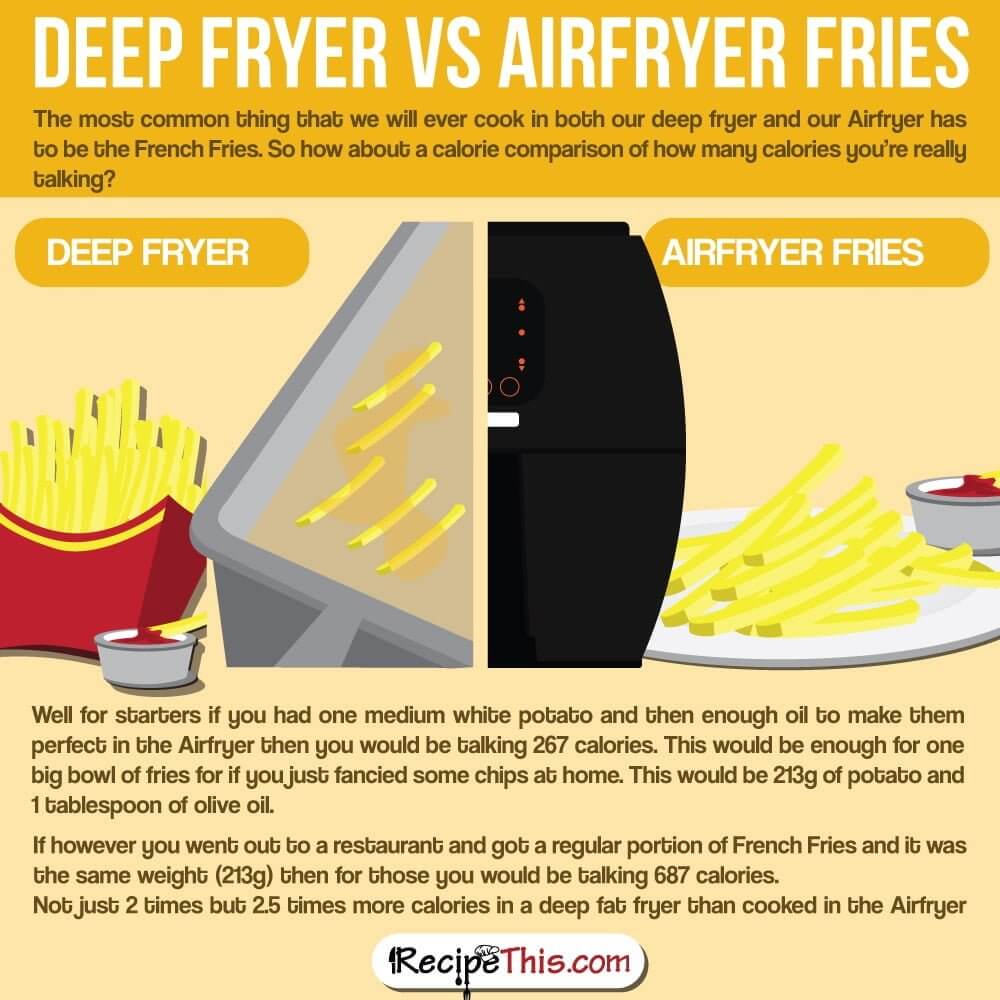 The most common thing that we will ever cook in both our deep fryer and our Airfryer has to be the French Fries.
So how about a calorie comparison of how many calories you're really talking?
Well for starters if you had one medium white potato and then enough oil to make them perfect in the Airfryer then you would be talking 267 calories.
This would be enough for one big bowl of fries for if you just fancied some chips at home. This would be 213g of potato and 1 tablespoon of olive oil.
If however you went out to a restaurant and got a regular portion of French Fries and it was the same weight (213g) then for those you would be talking 687 calories.
Not just 2 times but 2.5 times more calories in a deep fat fryer than cooked in the Airfryer with olive oil.
Plus when you get fries via a deep fat fryer then the chances are they will be cooked with cheap vegetable oil rather than quality extra virgin olive oil.
Then if you think that when people go on a diet they will often swear by the fact that eating jacket potatoes with beans got them their weight loss dreams, well if you think that a jacket potato with beans would compare to being 513 calories, then your Airfryer French Fries are still nearly 50% less calories.
From these calculations I am sure you can understand why the Airfryer has been so popular and how great it is for its comparison against the deep fat fryer.
Deep Fryer Vs Airfryer Calorie Comparison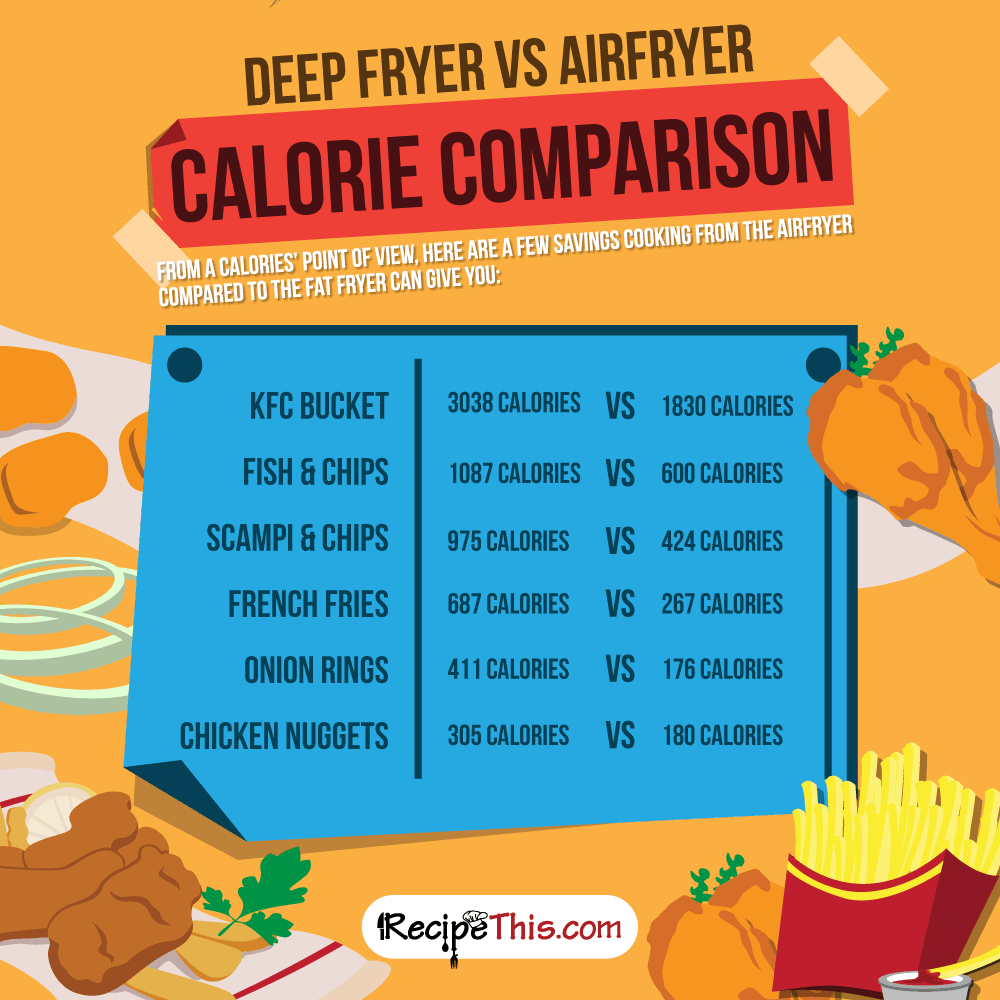 I find it really interesting to see how the calories can be saved in the Airfryer compared to traditionally cooking in the deep fryer.
You could literally go on an Airfryer Diet and use it to lose a shedload of weight.
In fact that is technically what we did. As we were obese when we bought our Airfryer back in 2012 (yes they really have been around that long) and I am not now!
And the Airfryer saves you in providing you with a low calorie alternative.
From a calories point of view here are a few savings cooking from the Airfryer compared to the Fat Fryer:
KFC Bucket = 3038 Calories Vs 1830 Calories
Fish & Chips = 1087 Calories Vs 600 Calories
Scampi & Chips = 975 Calories Vs 424 Calories
French Fries = 687 Calories Vs 267 Calories
Onion Rings = 411 Calories Vs 176 Calories
Chicken Nuggets = 305 Calories Vs 180 Calories
Plus with my KFC bucket it is a big family bucket for four people and it's a huge 40% calorie saving per person for a nice Friday night takeaway.
So next time you think about feeding your kids chicken nuggets and chips for their dinner just think it would be 992 calories.
Compare this to making homemade with the help of the Airfryer and you are dropping your calories to 447 calories.
Plus away from all these calories, seriously think of all the saturated fats, sugars and salts that are in these processed foods that we feed to our children.
Many people question it before they make a big purchase and we did the same before we bought our Philips Airfryer.
But what we have always said is that if we went on a diet we would just miss our favourites too much and this way with our Airfryer we can still have them.
7 Best Ever Airfryer Recipes That Are OIL FREE
Here are 7 of my favourite Airfryer recipes that are 100% oil free. They are perfect for you if you want to make the transition from deep fryer to the airfryer. They are low in calories and perfect for healthy foods without the high calories.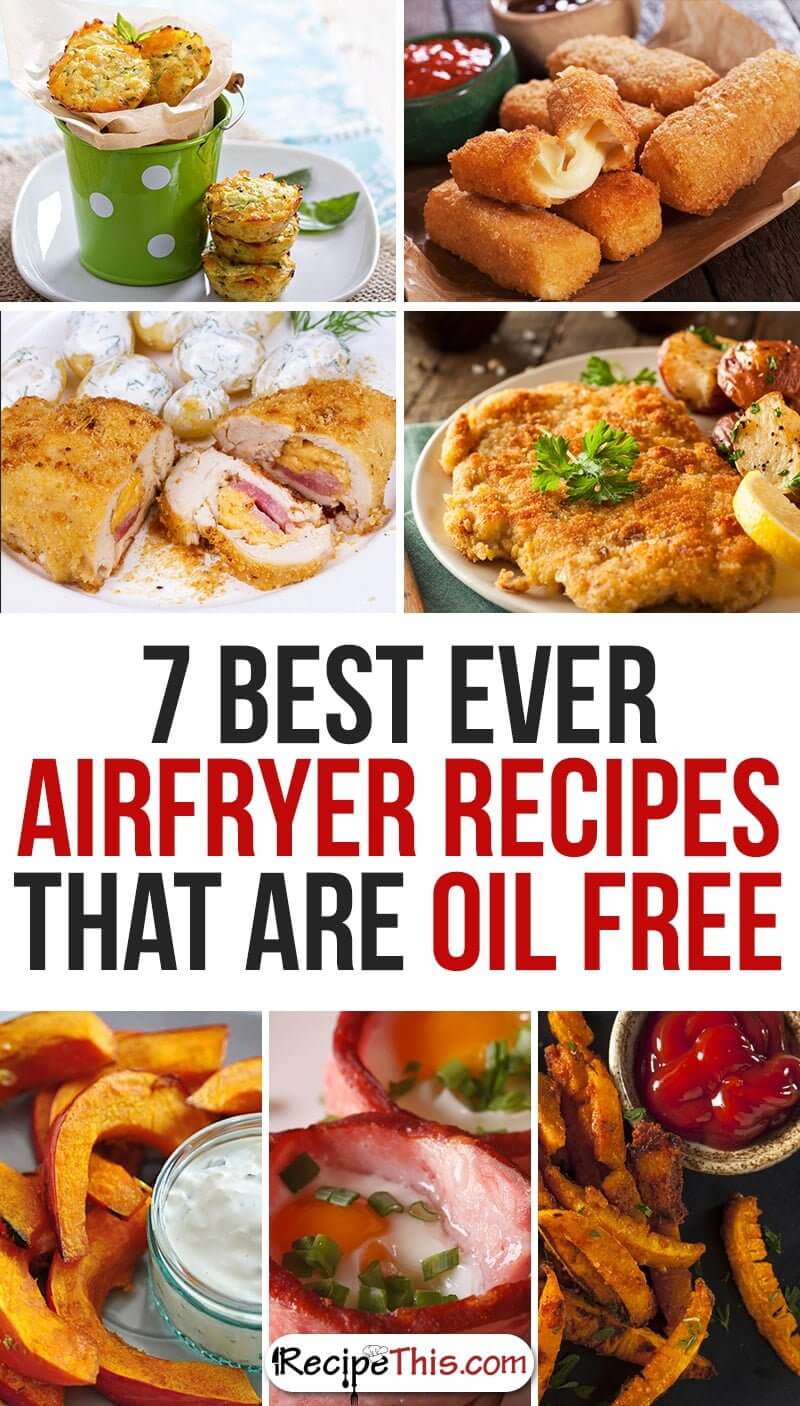 Why we LOVE this Philips Airfryer Oil Free recipe: The amazing thing about pumpkin is that it holds a lot of water. This means they are really moist so you can make fries with them without oil.
Why we LOVE this Philips Airfryer Oil Free recipe: The same goes for these wedges. Because they are cooked with the skin on, they have an amazing crispy texture and are perfect for something low in calorie in the Airfryer.
Why we LOVE this Philips Airfryer Oil Free recipe: We always associate mozzarella sticks with being deep fried and sold at Burger King. This version however is air fried instead without oil and comes in at a lot less calories.
Why we LOVE this Philips Airfryer Oil Free recipe: Often you buy breaded chicken from the supermarket that is highly processed and then deep fry it. In this recipe it is 100% oil free with quality chicken and air fried instead.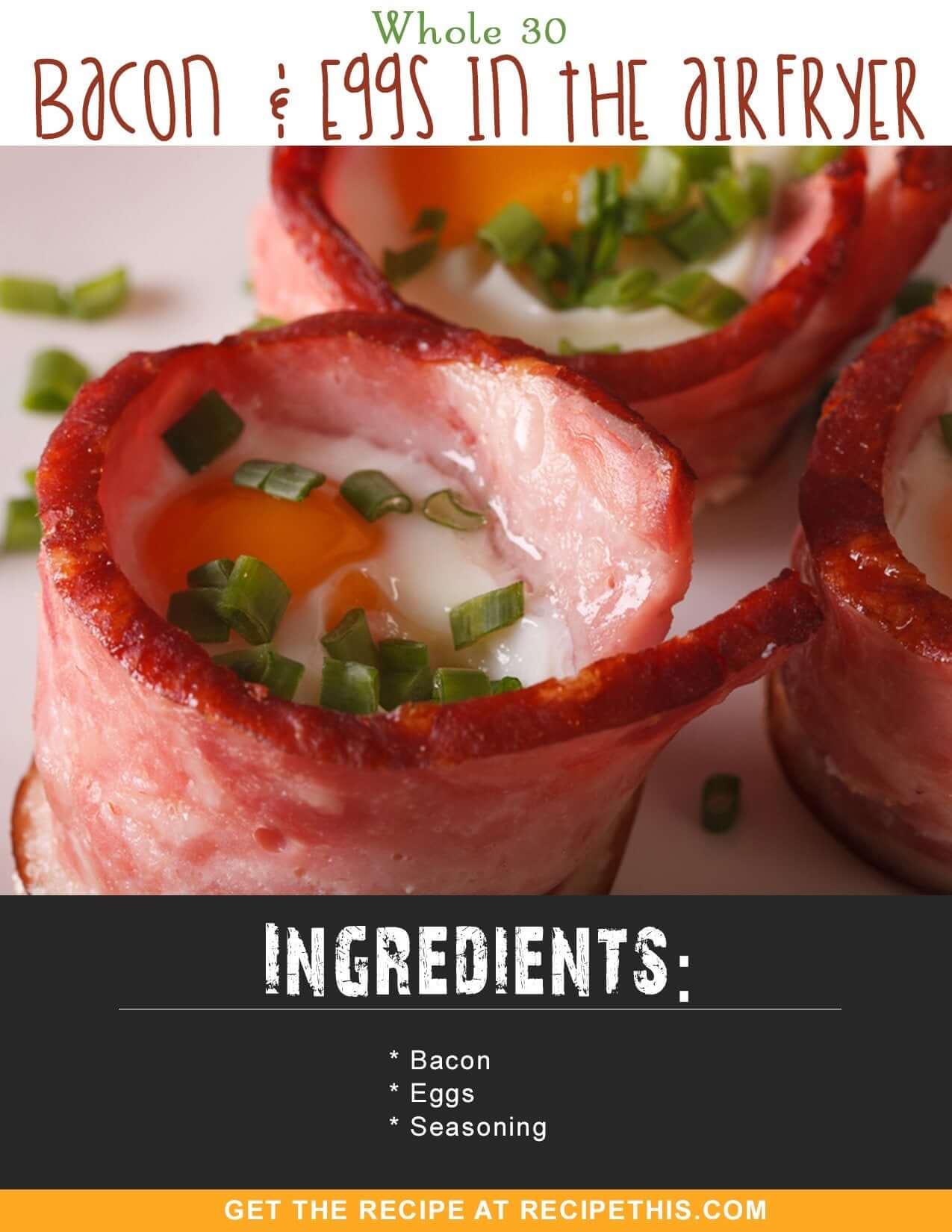 Why we LOVE this Philips Airfryer Oil Free recipe: I always think of the English breakfast as being very greasy and swimming with fat. However this recipe is different and is free of oil an doesn't have that fatty feeling.
Why we LOVE this Philips Airfryer Oil Free recipe: If you want a delicious breakfast that is healthy too then I recommend these breakfast muffins. Absolutely no oil and filled with goodness.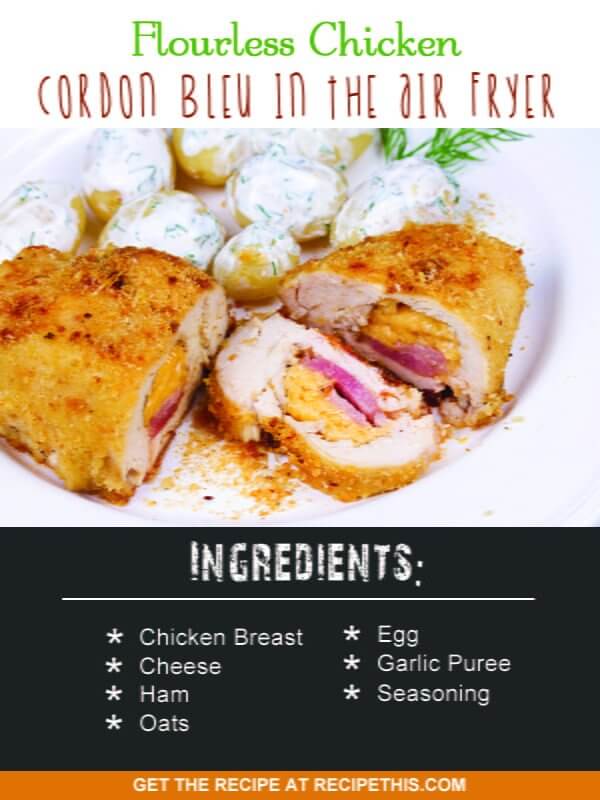 Why we LOVE this Philips Airfryer Oil Free recipe: Like with the chicken schnitzel this is another classic that is often deep fried and so good in the Airfryer.
What I love most about the Airfryer is that it crisps up food in a similar way to that of the deep fryer without the high calories.
When you look at my photos you will be shouting out that it can't possibly be air fried. But it is and it can.
So get an airfryer and see for yourself the amazing difference between the deep fryer and the airfryer.
If in doubt this is the one we have:
Airfryer For Beginners PDF Cookbook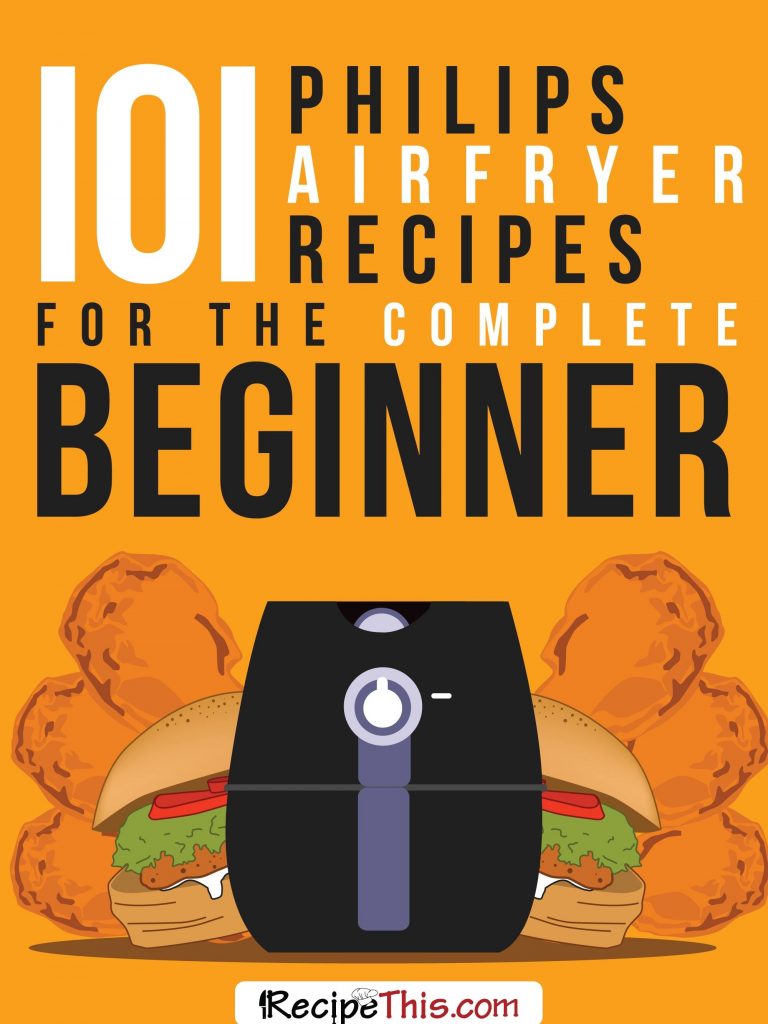 If you would like to get all the recipes mentioned above, along with all the extra tutorials, then click on the image above or click here.
We have put it together after many, many requests for a PDF version of all the recipes we have featured, that can act as your bible for getting used to your Airfryer.