Slimming World Instant Pot Recipes. Introducing you to our go to list of all our instant pot, pressure king pro and other electric pressure cooker recipes that are Slimming World friendly. Everything from instant pot chicken to instant pot vegetables and beyond is included.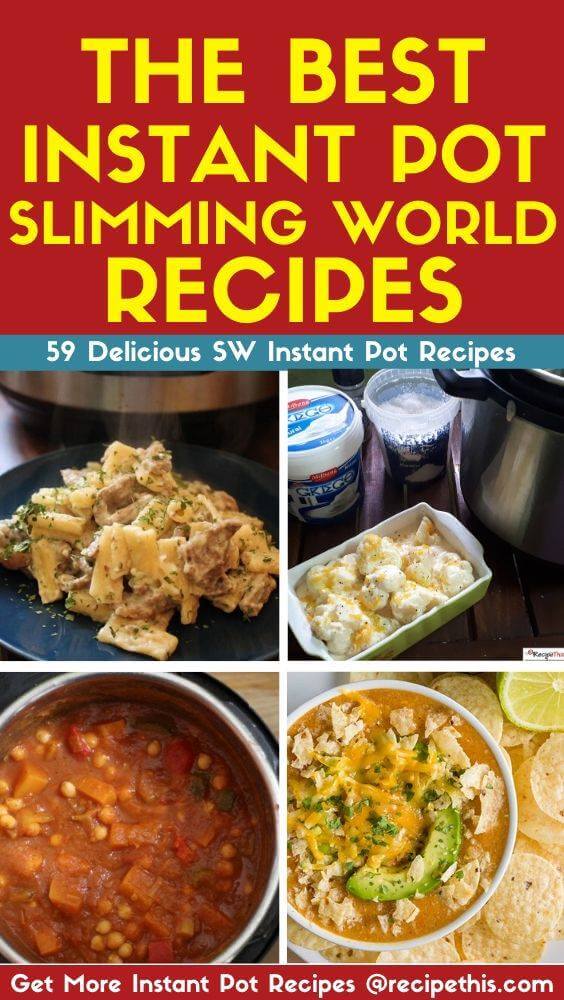 Slimming World And The Instant Pot
Did you know that I was a target member of Slimming World many, many years ago?
The year was 1994 and I lost a couple of stone on slimming world during one summer. It was during the school's summer break and when the holidays started. I was chubby and when I returned to school, I was slim.
I was 12 years old at the time and had got a bit chubby from zero exercise and too much chocolate and eating out.
But lots of awful Slimming World Recipes and I was looking like the other kids at school again.
I say awful because back then in the 1990's the Slimming World recipe suggestions were awful. There were egg bakes that were loaded with lentils, way too many cans of baked beans and the most awful dry oven chips that you had ever tried.
25 years on and you have the instant pot and other amazing kitchen gadgets like the air fryer and now slimming world recipes are exciting and you look forward to eating them.
I have many readers that find my instant pot recipes and other gadget recipes too, that follow Slimming World and I am often getting asked for a big fat list of slimming world recipes that are specific to a certain gadget and that is what I wanted to share with you today with my Slimming World Instant Pot Recipes.
I have scrolled through and checked the ingredients from more than 150 instant pot recipes to bring you a big fat list of instant pot recipes that are slimming world friendly. I have also got my Slimming World book out to double check against the syns and healthy extras.
Though do note – I am not Slimming World and have never been a rep and this list is from my personal experience with Slimming World. Therefore, do check to see if it is accurate with your consultant. If I am out on them, do let me know as syns do change and I will update this list for you. After all, my slimming world book is from 2017/2018 and they often change them.
UK Measurements – Also do note, that even though we live in Portugal in the sunny Algarve, we are British born and when we test our recipes it is done so with UK measurements. We just have a converter for those that prefer the US imperial system. I know as a British person it can be so hard looking online for recipes that include metric.
Easy to convert. All our Slimming World friendly instant pot recipes are either syn free, just use healthy extras, or use a very small amount of syns. This might just be 1 tablespoon of olive oil to feed 4 people for dinner which can be swapped for fry light or it might be a little extra cheese which you can adjust.
Instant Pot Or Pressure King Pro?
Here at Recipe This, after extensive research we have found that there is not much difference when it comes to electric pressure cookers.
We own both the medium and large Instant Pot Pressure Cooker, as well as the Mealthy Multipot. We have also tried out many other brands and got a lot of feedback from our readers.
The difference between them is so little, that if you find a recipe that uses the Instant Pot and you have the Pressure King Pro, then that is fine, and they are perfectly compatible.
We did put them to the test and the only difference we found was that the Mealthy Multipot was 20 seconds quicker at going to pressure.
So, rest assured if you have the Pressure King Pro these recipes are fine for you to use.
If you are just starting out and don't have an electric pressure cooker yet, then here are the ones we recommend:
As well as your electric pressure cooker, I would recommend getting started with an instant pot accessories bundle.
Or checking out our instant pot accessories list, as many recipes for the instant pot use these little accessories to get the job done properly.
Slimming World Instant Pot Recipes
Where to start? I have so many favourite slimming world instant pot recipes! I love them all, though some have a bigger piece of my heart than others. Then there are some that I would binge on all day if I was given the chance.
I am starting the list with my bucket list of my all time 10 favourite Slimming World friendly Instant Pot Recipes and we hope it gives you some new ideas!
Top 10 Slimming World Instant Pot Recipes
Instant Pot Broccoli – I love the instant pot for steaming your favourite vegetables and broccoli is my favourite. Load broccoli into the steamer basket inside of your instant pot and 2 minutes later you have perfect steamed broccoli.
Instant Pot Creamy Tomato Pasta – Using up leftover Bolognese and leftover vegetables you can make your own pasta dish. I made this with 50g cheese per person including a mix of soft cheese and grated cheese. Easy to adapt to make syn free.
Instant Pot Egg Bites – You can make egg bites in the instant pot for a very low amount of syns. Use cottage cheese instead of ricotta and mix and match it with your favourite seasonings and add ins. With some clever swaps you could have 6 egg bites for each healthy extra.
Instant Pot Pork Cataplana – A delicious homemade pork stew. Trim the fat from the pork and with ¼ tbsp of extra virgin olive oil per person its very low syn. You can also swap the pork for chicken or beef if you prefer.
Instant Pot Swedish Meatballs – Swap beef broth for an Oxo cube and soft cheese for quark and you have a syn free dinner. It is absolutely delicious and perfect if you miss your meatball trip to IKEA.
Instant Pot Bolognese – You can make a delicious Bolognese in the Instant Pot Pressure Cooker. The tomato juice works as an alternative to oil during sauté and its 100% syn free.
Instant Pot Curry Freezer Meals – I spent a few hours batch cooking lots of instant pot curry freezer meals. It was a fantastic experience and gave me a brand new love for everything curry. If you love curry and want some syn free curries for the freezer, then this is perfect for you.
Instant Pot Vegetable Sauce – Loaded with sweet potato and cauliflower, add your healthy extra cheese and you have a sauce. Use it on lasagne, cauliflower cheese or whatever else you miss a cheese sauce on.
Instant Pot Cauliflower Cheese – How about a delicious cauliflower cheese in the Instant Pot that just uses healthy extras? You can increase or decrease the amount of cheese used depending on how many healthy extras you have and how many people you are feeding. You can also mix and match it for different vegetables too.
More Slimming World Instant Pot Recipes
Here are some more delicious slimming world instant pot pressure cooker recipes to check out. It includes lots of vegetables, slimming world meals, slimming world sides and much more.
Slimming World Instant Pot Quick Links
Get Our Free Instant Pot Ebook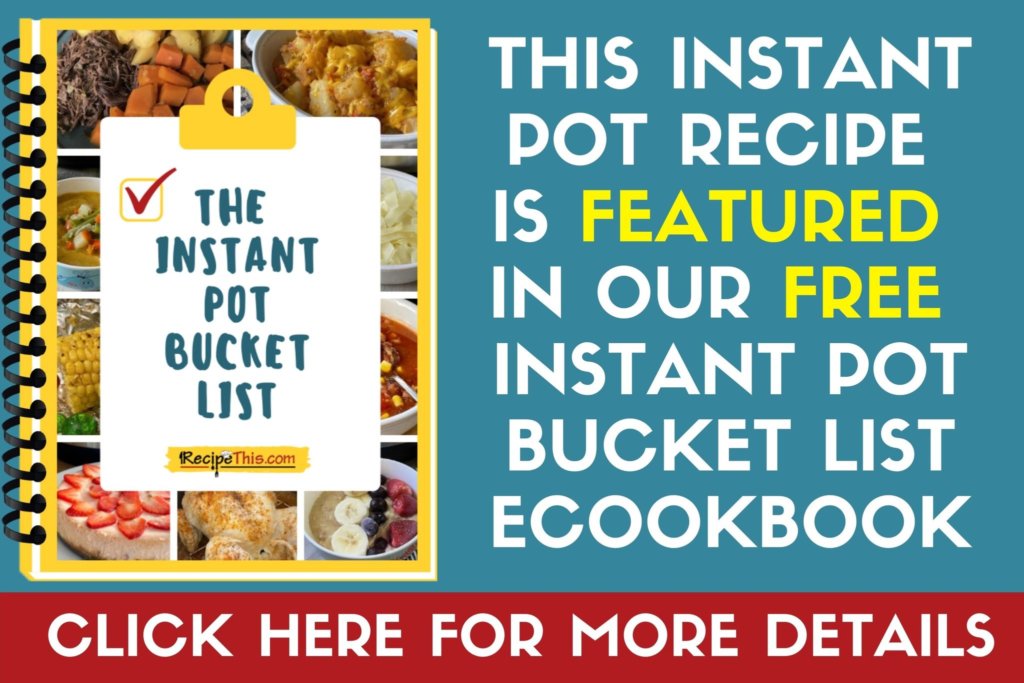 Can't read it now? Then pin it for later!