Learn The Instant Pot With The Instant Pot Mini Course
This Post Contains Affiliate Links. Click Here To Read Our Full Disclosure.
The Instant Pot Mini Course. Today on the podcast we are talking about our free instant pot mini course and how you can learn the basics of the instant pot in 5 days.
You will love how we strip down the instant pot pressure cooker and make it so simple to learn. You can listen and learn about it on the Magic With Gadgets Podcast. Simply search for Magic With Gadgets on your preferred podcast player, then scroll to episode 13 of season 4 to access this awesome episode.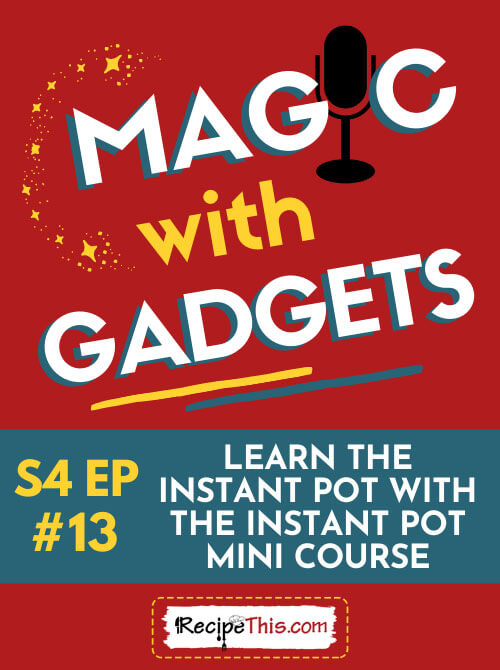 The Instant Pot Mini Course
You will often find me on an evening scrolling through Facebook Instant Pot groups, whilst watching something on Netflix.
I will often get the chance to meet amazing newcomers to the electric pressure cooker and I get to see what their problems are, and what they want to learn about first.
From all these great friendships I have made and all the help I have provided, I created the instant pot mini course.
It is delivered by email over 5 days and you get a new email each day with actionable easy instant pot beginner steps.
Then after 5 days you have confidence with the instant pot and no longer feel like you are out of your depth.
You can sign up for it below: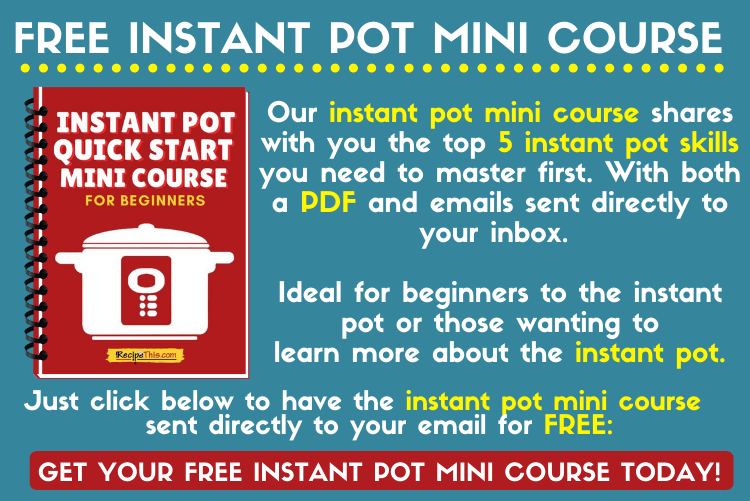 Get To Know The Instant Pot In 5 Days!
Here is what is included in the FREE 5 day email course:
Day 1 – Instant Pot Out Of Its Box. For most people the hardest bit is getting the instant pot out of its box. Especially for those that had bad experiences with manual pressure cookers. In day 1 we will get your instant pot out of the box, teach you the water test and our favourite easy recipe to follow the water test.
Day 2 – The Instant Pot Jargon. In day 2 we will run through all the main instant pot jargon that probably seems like a foreign language to you. It will help you understand the basics of the instant pot much better.
Day 3 – Let's Talk Instant Pot Vegetables. A fantastic starting point for easy instant pot recipes must be instant pot veggies. They steam fast in the instant pot and are perfect for a quick lunch or dinner.
Day 4 – Soups & Sauces. After veggies we will introduce you to transforming those veggies into hearty soups as well as the perfect instant pot sauces.
Day 5 – Cooking With Frozen Meat In The Air Fryer. Then for the final day we will run through frozen meat. How easy frozen meat is to cook in the instant pot, which are the best and some recipes to get you started.
Bonus Recipes – As well as the free mini course you will receive a PDF download that will also include 9 easy and practical instant pot recipes. You can read them, print them, and use them as your starting point for instant pot success.
Did You Know We Have A Podcast?
We started the Magic With Gadgets podcast in the January of 2021 as a way to offer a different way to enjoy Recipe This. It focuses on cooking with kitchen gadgets. You can find out more about our podcast here.
With weekly episodes that will help you cook smart with kitchen gadgets. This is episode 13 of the fourth season and you have the choice between reading this post, listening to the podcast or both.
If you would like to stay in the loop with our podcast, I recommend you subscribe below:
How To Listen To This Podcast Episode?
You can use the player above to listen to this episode of Magic With Gadgets. Alternatively search for Magic With Gadgets on your favourite podcast platform or click the links below:
Subscribe & Review
Thank you for listening to the Magic With Gadgets Podcast. Have some feedback you would like to share? Want to be featured in a future episode? Want to help us spread the word?
Browse other episodes (access them all here)
Leave a comment below the blog post
Share with your friends on social media
Share your thoughts in our Facebook Group (you can sign up here)
Ask me a question or submit a guest request by filling out the form below
If our podcast has helped you, please leave a review on iTunes. Your reviews help spread the word and without reviews our podcast will not get seen. Plus, I love reading each and every one of them.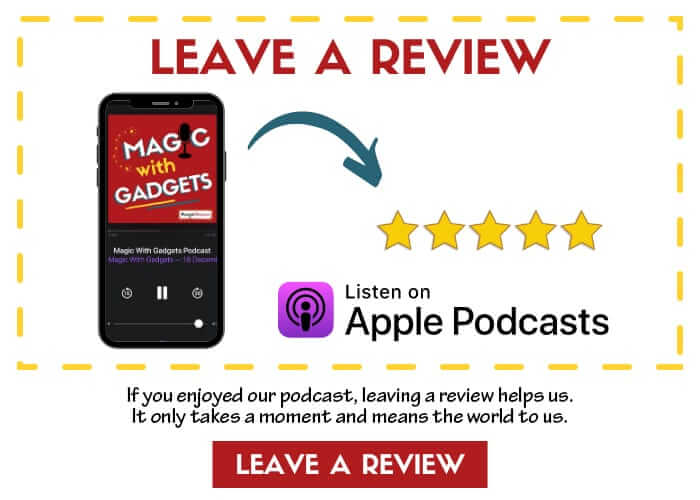 Can't listen now? Then pin it for later!