Slow Cooker Recipes for beginners. The Slow Cooker Cookbook for those of you that want to own, or already own, a slow cooker and want lots of new slow cooker beginner recipes.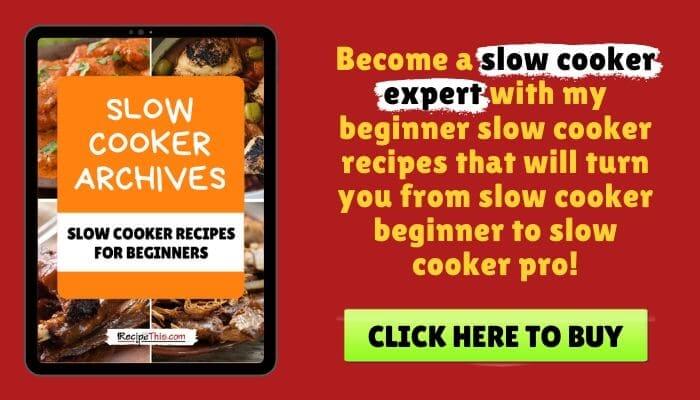 Want to cook your favourite meals in the slow cooker?
Don't know where to start with the slow cooker?
Looking for new slow cooker recipe inspiration?
On a diet and looking for healthy slow cooker recipes?
Looking for slow cooker guidance from an expert?
If you answered YES to any of these questions, then the slow cooker cookbook is PERFECT for you!
We're the Milner's.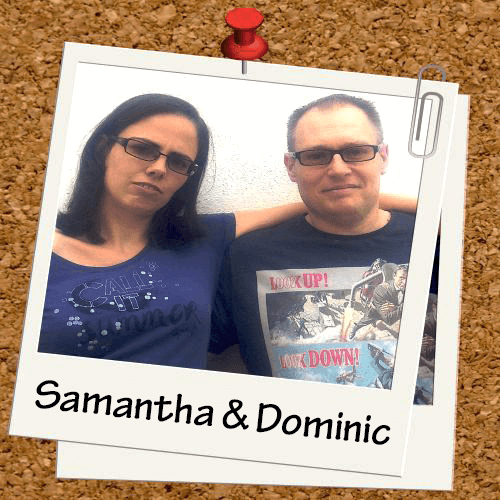 I am Samantha and along with my husband Dominic and son Kyle, we run RecipeThis.com. Our 2 youngest children Sofia & Jorge are our chief recipe testers.
We blog about the slow cooker (as well as other kitchen gadgets) from our home in Portugal and wanted to share with you today our fantastic ebook that shows you how to cook all your favourite meals in the slow cooker.
Why A Slow Cooker Cookbook?
Dominic and I got married back in 2003 and moved in together 3 years before that. When we moved in together, I was just 18 and knew very little about cooking. I could cook some delicious pasta dishes in a cheese sauce or make homemade shortcrust pastry but that was about my limit.
It really wasn't good especially when you have your man to look after!
When we bought our own home 18 months later, I still wasn't great in the kitchen and the worst think happened, as we were left with no cooker. So, all I had was my mum's electric wok (which I broke) and an old slow cooker.
The slow cooker was broken, and I thought I was just having a thick moment as it just didn't cook in 8 hours and I was later informed it was broken and didn't heat up properly.
Maybe me and kitchen gadgets were just not meant to be?
Well a lovely pensioner gave me her old one a year later (back in 2004), and I fell in love. I still have this same slow cooker to this day. Its old and isn't as powerful as my newer one, but it still makes the most amazing stuffing for Sunday dinner.
Since then cooking in our slow cooker has been one of the BEST EVER things we have done. We have learnt a whole new meaning to low prep meals. We love to cook in the slow cooker. Put dinner on at lunch time and then know it is ready for us in the evening.
We have even taken our slow cooker on holidays with us.
I better stop ranting about how much I love my slow cookers and talk more about our slow cooker recipe ebook. We have made hundreds and hundreds of slow cooker recipes and its one of those kitchen gadgets that you know when fads are over people will still be using in 30 years from now.
Best Slow Cooker Recipes
It was not until I started looking that I realised what an incredible choice of recipes we have for cooking in the slow cooker. You can make your favourite pulled pork sandwiches, healthy and homemade tomato sauce, enjoy Mediterranean casseroles, or get excited over warming stews.
Here are examples of 25 of the Slow Cooker recipes that are included:
Pulled Pork Sandwiches
Chinese Spare Ribs
Doner Kebabs
Shredded Chicken
French Onion Dip
Homemade Tomato Sauce
Mediterranean Chicken Casserole
Greek Chicken Thighs
Hunters Chicken Stew
Brazilian Chicken Casserole
Rabbit Stew
Venison Stew
Homemade Stuffing
Gammon In Fanta
Gammon In Coke
Butter Chicken
Chicken Tikka Masala
Lamb Rogan Josh
Chicken Korma
Vegetable Korma
Chicken Balti
Chicken Salad
Slow Cooker Turkey Legs
Slow Cooker Bombay Potatoes
Peach Cobbler
Slow Cooker Recipe CookBook Highlights
Introduction
Imperial & Metric – We have worldwide customers at Recipe This and we like to help you all and that is why all recipes feature both imperial and metric.
Speed Curry – A popular slow cooker curry that is loaded with low calorie vegetables and spices. Perfect for speeding up your metabolism and perfect for weight loss.
Slow Cooker Recipes – This latest addition of our slow cooker ebook goes beyond just 25 recipes and there is a total of 60+ slow cooker recipes included.
Recipe Photos – Every recipe featured in this ebook includes the recipe photo, so you know exactly what you are going to get!
This Slow Cooker Ebook focuses on a lot of popular slow cooker recipes. Do not expect to find recipes you cannot source or weird ingredients.
Only regular ingredients for the lady or gent next door.
All our slow cooker recipes work with any slow cooker. We have experienced many different slow cookers over the years and these recipes mainly use our old Morphy Richards soup maker or our Crockpot.
Our slow cooker archives cookbook is only available in ebook format.
This is great for you because you can download the ebook to your computer, laptop, tablet, or phone. Then print off a recipe as and when you need them. I also love to have my phone in the kitchen when I am cooking, and I can quickly glance at cooking times as I make dinner.
But even better it saves you waiting for a book to arrive and you can literally start reading our Slow Cooker Archives in a couple of minutes from now.
It is also priced at JUST $15.00. Simply click on the banner below for instant access to our slow cooker ecookbook:
Yes count me in. I would love the slow cooker archives in PDF:
This slow cooker ebook is downloaded in PDF format. It downloads instantly after payment. You will also receive an email with your download details.