Instant Pot Potluck Recipes
This Post Contains Affiliate Links. Click Here To Read Our Full Disclosure.
Instant Pot Potluck Recipes. Introducing you to the best instant pot potluck recipes. These 32 potluck recipes are easy, perfect for the pressure cooker and fantastic for transporting.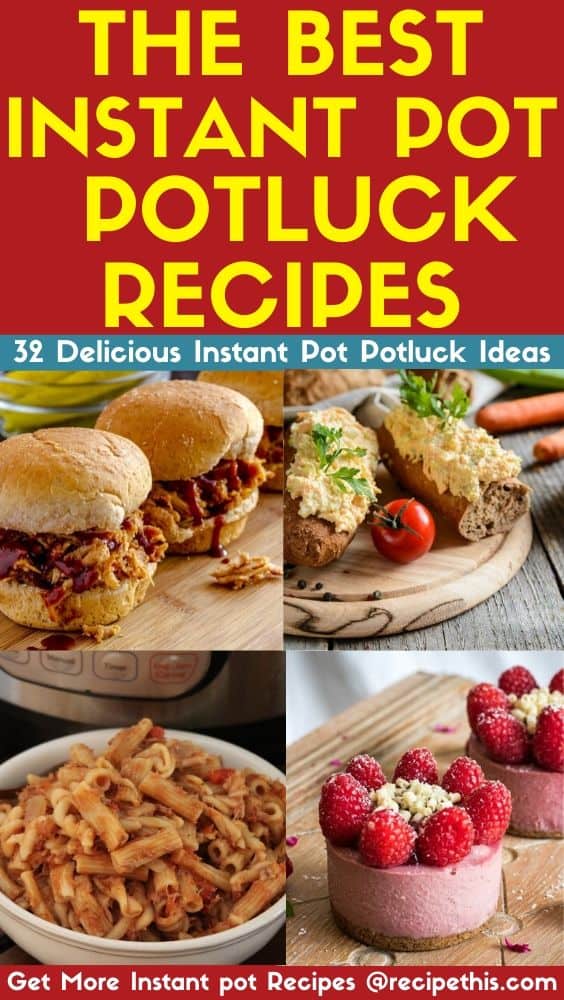 Instant Pot Potluck Recipes
My first memory of potluck was when my parents would attend a family barbecue, and everyone would contribute a tasty side dish.
They would always talk about which one was the most delicious and you knew that you had to impress with the potluck dish that you chose.
When I started dating Dominic, he provided a salad. Everybody talked about it even though it was just a summer green salad that was loaded with lettuce, tomatoes and cucumber.
The reason they talked about it, is because he had made the tomatoes look amazing and turned the cucumbers into cute flowers.
After that, every time there was a potluck, Dominic's salad would be requested.
By providing you with a list of instant pot potluck recipes, it is perfect for you to create your new signature potluck recipe that people will be talking about for years to come and will request each time there is a gathering.
Instant Pot For Potluck
You're probably wondering why the instant pot for your next potluck dish? Well the truth is that the instant pot speeds everything up and you can run two instant pots at once if you want to, or even three or four.
When I am batch cooking such as making sides for Christmas dinner I find that I spend 60% less time in the kitchen now thanks to the instant pot.
Thanksgiving is another great example of potluck cooking. You've planned to make a potato dish and a vegetable dish.
You can cook one in each instant pot and 20 minutes later you have two amazing thanksgiving potluck dishes.

Then do the same for summer barbecues, work events, dinner parties, or even a birthday party that you are helping out at.
You can use the instant pot 8 quart duo to make bigger portions of pot luck dishes, or have the 8 quart and the 6 quart working together to bring you much bigger portions or enough to feed a crowd.
Or if you are new to the instant pot, I recommend the instant pot 8 quart the most as it is perfect for bulk cooking.
The instant pot potluck recipes that I wanted to share with you today, are all easy recipes that I have selected out of hundreds of instant pot recipes so that you can impress next time you attend a potluck event.
Top 10 Best Instant Pot Potluck Recipes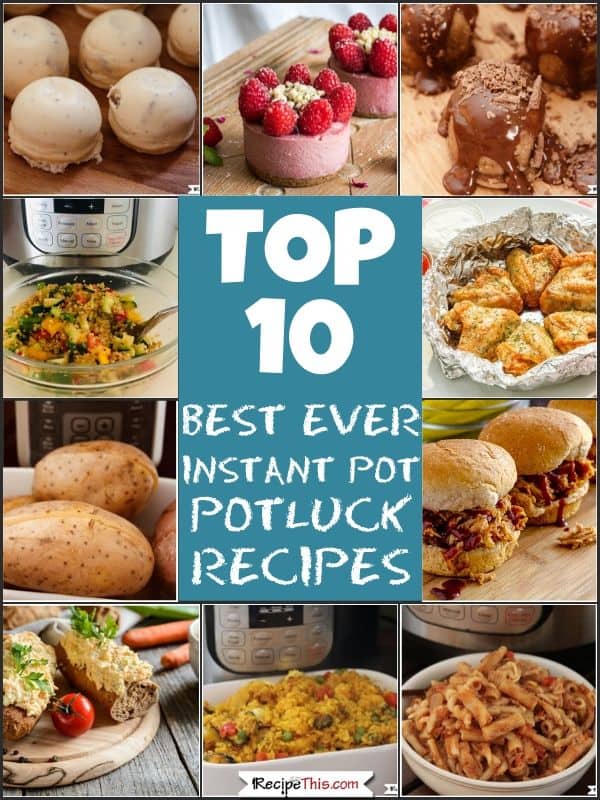 Let's start with my top 10 best instant pot potluck recipes. These are great if you are looking for instant pot ideas for potluck that are easy to prepare and will impress a crowd.
Instant Pot Egg Bites – I love egg bites in the instant pot, and you can mix and match with your favourite fillings to match the seasoning. Add bacon and red pepper in the summer, or leftover ham at Christmas. Or how about making them red, white and blue for the 4th of July.
Instant Pot Baked Potatoes When I think of a summer barbecue and an ideal potluck side, I am thinking about eating baked potatoes. You can make them fast in the instant pot, then cover in silver foil and take them to your event.
Instant Pot Egg Salad – Another favourite, which I love the most at summer potluck events is an egg salad or us Brits call it "egg mayonnaise". I love it for picnics or a side dish for the barbecue or it works great as a devilled eggs topping at parties.
Instant Pot Paella – The best event at a summer barbecue is the person making a paella on a large pan in the garden. But instead of the big pan, make a batch of instant pot paella. Then serve it as a side dish. People will love it and it will make a change from the typical barbecue seafood rice dishes.
Instant Pot Tuna Pasta Casserole – This instant pot tuna pasta casserole is what we wowed the guests of a barbecue we went to just after we got our instant pot. It was so delicious and stood out among the other potluck dishes that people had brought.
Instant Pot Quinoa Summer Salad – I have become addicted to cooking quinoa in the instant pot and using it in delicious salads. This salad is my favourite and perfect for summer barbecues. It also works well as a light salad to go with other types of potlucks.
Instant Pot Pulled Pork Sliders – I love pulled pork and you can cook pulled pork in the instant pot, load it into sandwiches and load onto a tray. You could also make them a couple of days prior to the event if you prefer a make ahead option.
Instant Pot No Washing Up Chicken Wings – No matter what the season is, chicken wings are the perfect potluck to bring and who doesn't love chicken wings? These are cooked in silver foil making them perfect for transporting to an event. I also love these the most for taking to a work event.
Instant Pot Chocolate Cake Bites – Want something to wow your guests when you throw a summer barbecue? Then make these. You can use cake mix, or your own homemade cake batter and they are even better when served with chocolate sauce.
Instant Pot Raspberry Cheesecake Minis – I love these cute little cheesecakes. For a potluck event they would work perfectly for a dinner party, summer barbecues or as a great dessert at Christmas.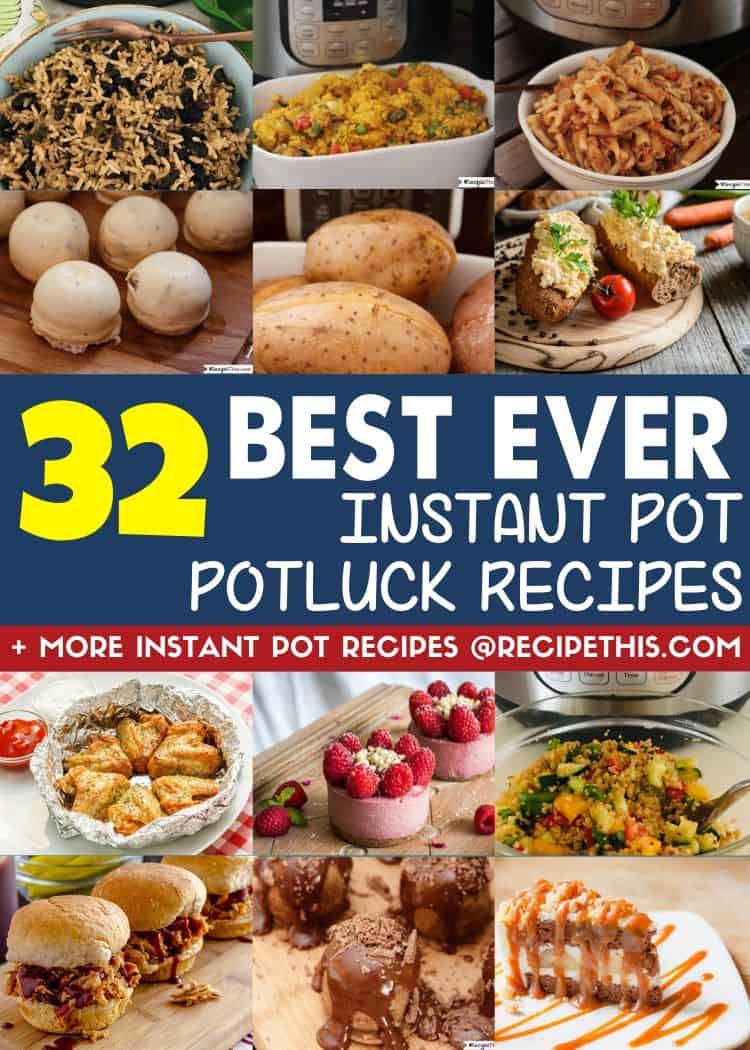 Easy Instant Pot Potluck Recipes
We all have different events when it comes to potluck recipes and here is what I suggest for the different seasons and for different dietary requirements.
Instant Pot Potluck Soup – This Instant Pot Paella Soup is perfect for potluck and you can use your own leftover rice as the base of the soup. Or even better if you have more than one potluck to provide make paella and also make this soup.
Instant Pot Office Potluck – I have a favourite lazy 2 ingredient frozen smokies recipe that is perfect if you hate cooking. Follow our Instant Pot Frozen Smokies recipe and then load the smokies onto sticks and take to your work potluck.
Instant Pot Breakfast Potluck – I love this Instant Pot Chorizo & Potato Hash and I make it all year around. It is perfect for a potato based side dish for those breakfast events and I love it most during the holidays.
Instant Pot Vegan Potluck – For that healthy vegan side dish for your next potluck try Instant Pot Mexican Brown Rice + Black Beans. It can be served for any season and is one of my favourite side dishes. Though if I was at an event I would just want to eat this.
Instant Pot Vegetarian Potluck – how about some Instant Pot Creamed Corn? Very easy to prepare with the instant pot and who doesn't love corn in a creamy cheesy sauce? It is also my favourite for being easy to transport.
Keto Instant Pot Potluck – I love how cute these Instant Pot No Peel Hard Boiled Eggs are. They can be served as they are, over a salad or chopped up and used in various egg salads.
Instant Pot Sides – Not tried them yet? Then you must try instant pot crispy baby potatoes. They are quick to prep and can be served warm or cold. I love them for a Thanksgiving or Christmas side served warm or served cold at a summer barbecue.
Instant Pot Potluck Meatballs – These Instant Pot Frozen Meatballs are perfect if you know you have some potluck events coming up. Bulk buy some meatballs and freeze them until it is time to meal prep. Then load the frozen meatballs into the instant pot, place them in a food warmer and take them to your potluck event.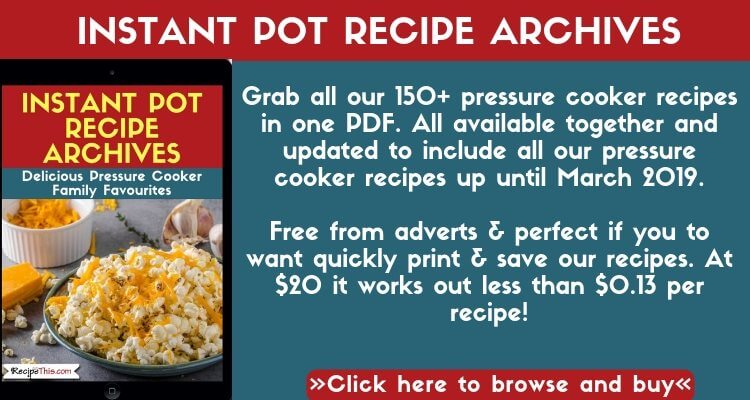 More Instant Pot Potluck Recipes
Here at Recipe This we have even MORE instant pot potluck recipes for you to try. Have a browse through these instant pot potluck ideas for even more inspiration and bookmark for later.
Can't read it now? Then pin it for later!
Join The RecipeThis.com Community:
Facebook Group | Pinterest | Twitter | YouTube
Plus, don't forget to subscribe below to join our email newsletter with updates of our latest recipes, latest freebies, our cooking stories, plus much more: