I went shopping at Aldi (with the hubby) and picked out the Aldi foods you must cook at home with your air fryer. The air fryer and Aldi are the perfect double act and I struggled to limit it to 21 Aldi foods.
If you are looking for the best things to buy at Aldi and have an air fryer, then this is perfect for YOU.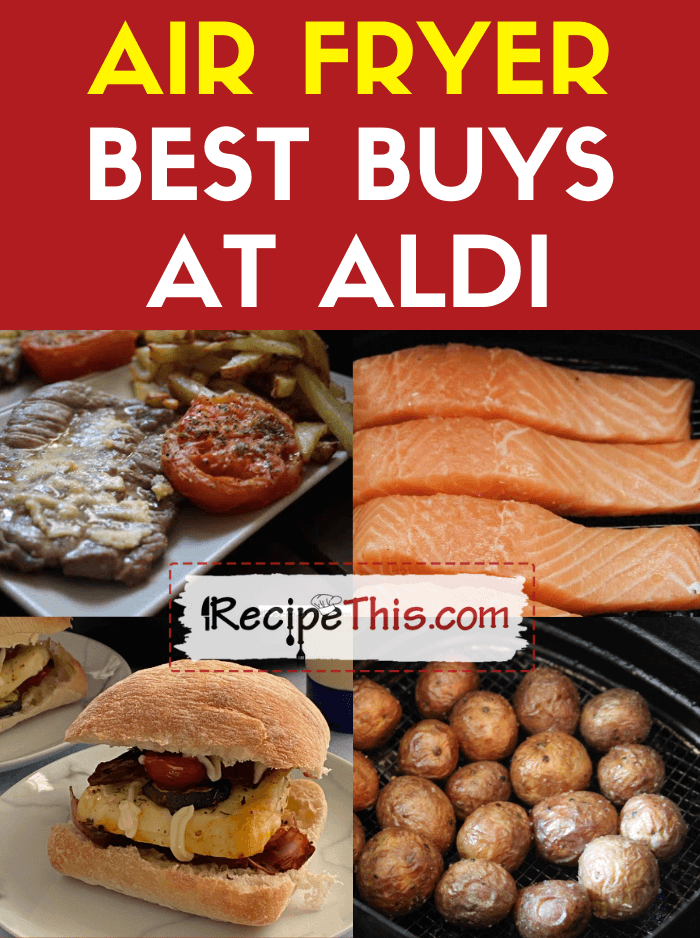 Best Things To Buy At Aldi
I remember the first time I ever walked into Aldi. It was the early 2000's and as a young couple with a low income it was this amazing place for cheap food.
Back then I remember cheap cordon bleu, buying way too much Aldi chocolate and crisps and biscuits and how fast they operated the tills and how I could never keep up.
Then in late 2004 I left the area where I had grown up and didn't have access to an Aldi for a long time. Then I was using the Portuguese Aldi (which was a 20min drive) and getting angry at the lack of choice compared to the UK.
But here I am. Back living in the UK and with an Aldi less than 5 minutes drive away. The staff are amazing the Aldi food is amazing and as an avid air fryer user I find myself using their products a LOT.
In fact, I was enjoying Aldi so much that I wanted to go beyond the best aldi products, so this week is a series of the best of Aldi.
We also have done for you a 28 Day Aldi Meal Plan and an Aldi Recipes UK list (mix of instant pot, slow cooker, and air fryer) and several new air fryer recipes using Aldi own produce such as:
But back to the best things to buy at Aldi. I wanted to go shopping in Aldi, do you a video as well and show you the Aldi foods I regularly buy and are perfect for the air fryer.
It doesn't matter what air fryer brand you have, these will work with all and you will also find my air fryer recipe suggestions using these Aldi products below.
Aldi Recipes UK
Note that we currently live in Yorkshire, Northern England. So, we are basing our Aldi food shop on the ingredients we can easily source.
When comparing notes with my US readers, I have found that they both carry very similar ingredients, and you may well be able to find them in both.
My Air Fryer Aldi Must Haves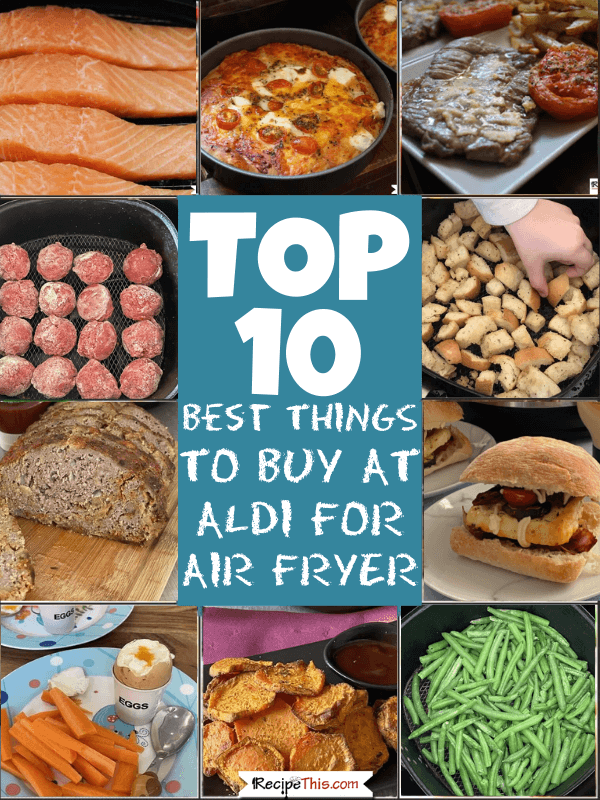 It was hard not to overfill a trolley with Aldi must haves, but I was good and made sure I didn't overwhelm you with different items. So these are the best of the best of Aldi finds.
#1 Aldi Meatballs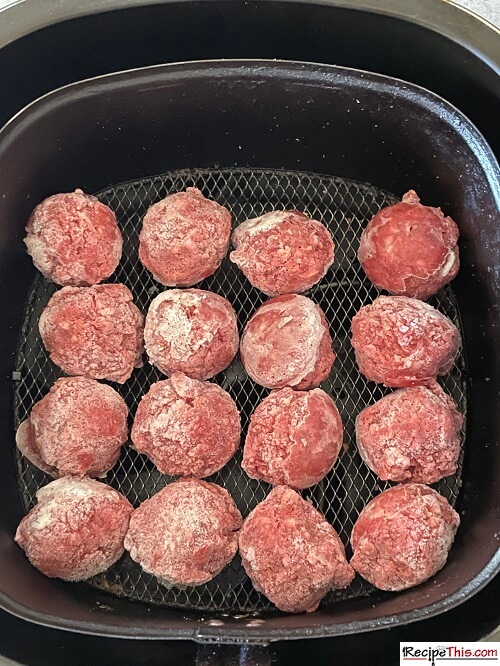 I love cooking air fryer frozen meatballs and you can get the Aldi skinny meatballs and then cook them either thawed or frozen in the air fryer.
Or my air fryer trick is to use the air fryer to warm up my spaghetti and then I have spaghetti and meatballs the air fryer way.
#2 Aldi Burgers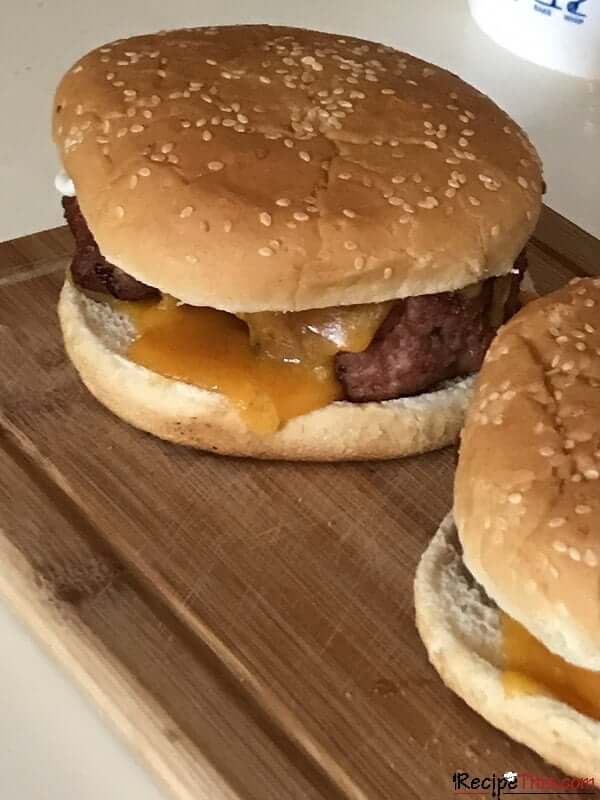 You must try Aldi burgers they are delicious. I have tried a few different ones now and I am yet to be disappointed.
My favourite are the reduced fat ones, and they are perfect for making air fryer cheeseburgers with.
#3 Aldi Sausages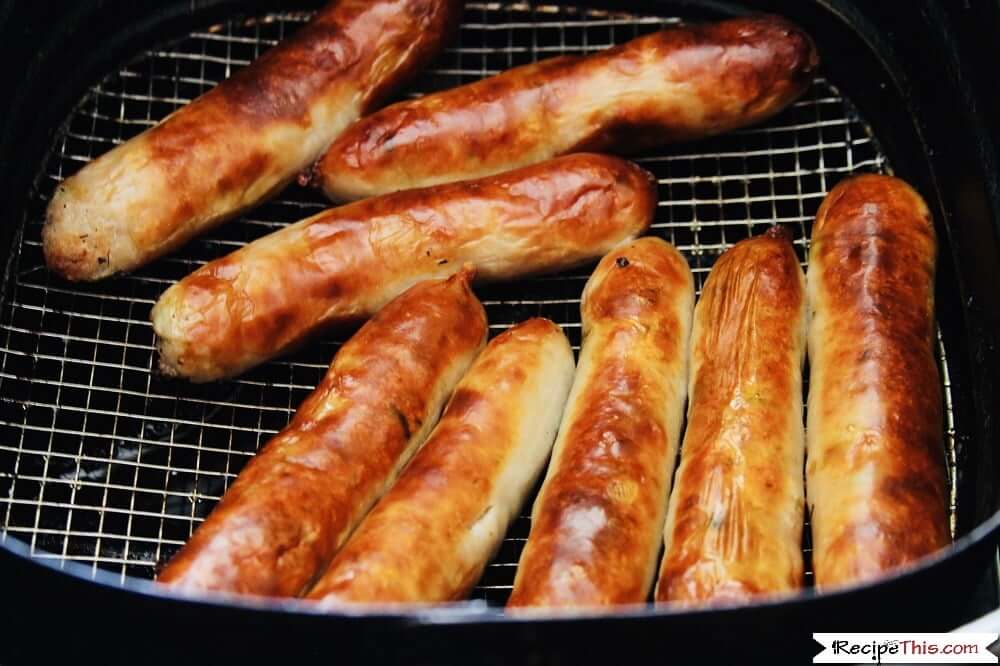 Another great Aldi find is the Aldi sausages. They don't make your air fryer smoke compared to some high fat brands.
Also, when I shared how to cook slimming world sausages in the air fryer, I had the Aldi sausages recommended as a much better alternative.
Well, I tried Aldi sausages and they were amazing and if you want to cook them check out our air fryer sausages post.
#4 Aldi Steak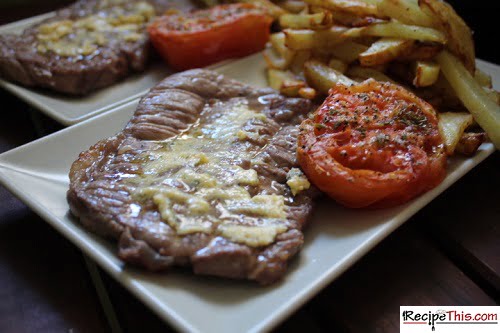 Another shout out to Aldi comfort foods goes to Aldi steak. I have tried many and much prefer the Aldi sirloin steak. You can then serve it with some Aldi chips for a quick dinner in the air fryer. Check out our air fryer steak and chips for step by step instructions.
#5 Aldi Chicken Breast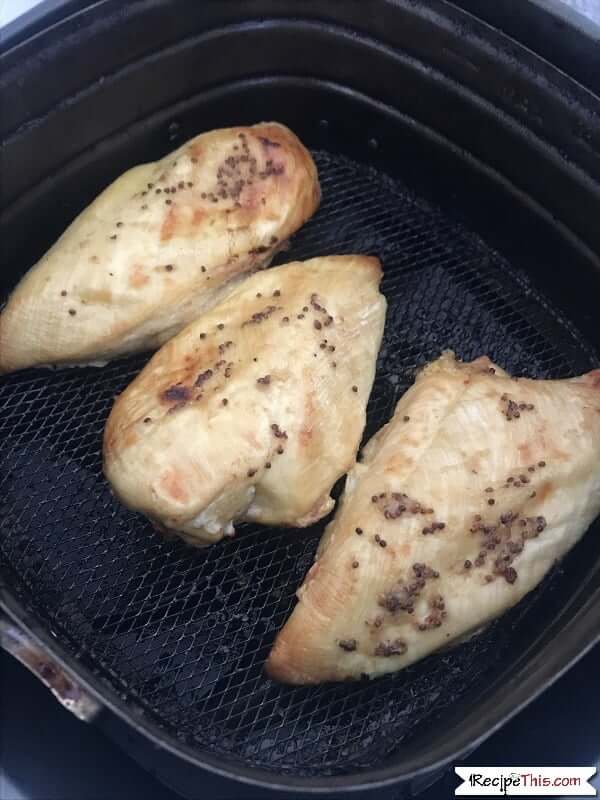 For best foods to save money at Aldi the award must go to Aldi chicken breast. You can buy it in a huge pack and then sort it into zip loc bags for the freezer and then cook air fryer frozen chicken breast. You can also use these for several meals making it great for being on a budget.
#6 Aldi Salmon
Have you tried Aldi salmon yet? Its amazing and my new go to place for my air fryer salmon. I will bulk buy Aldi salmon fillets, freeze them and then me and Dominic can have air fryer salmon for lunch with some air fryer frozen broccoli.
#7 Aldi Halloumi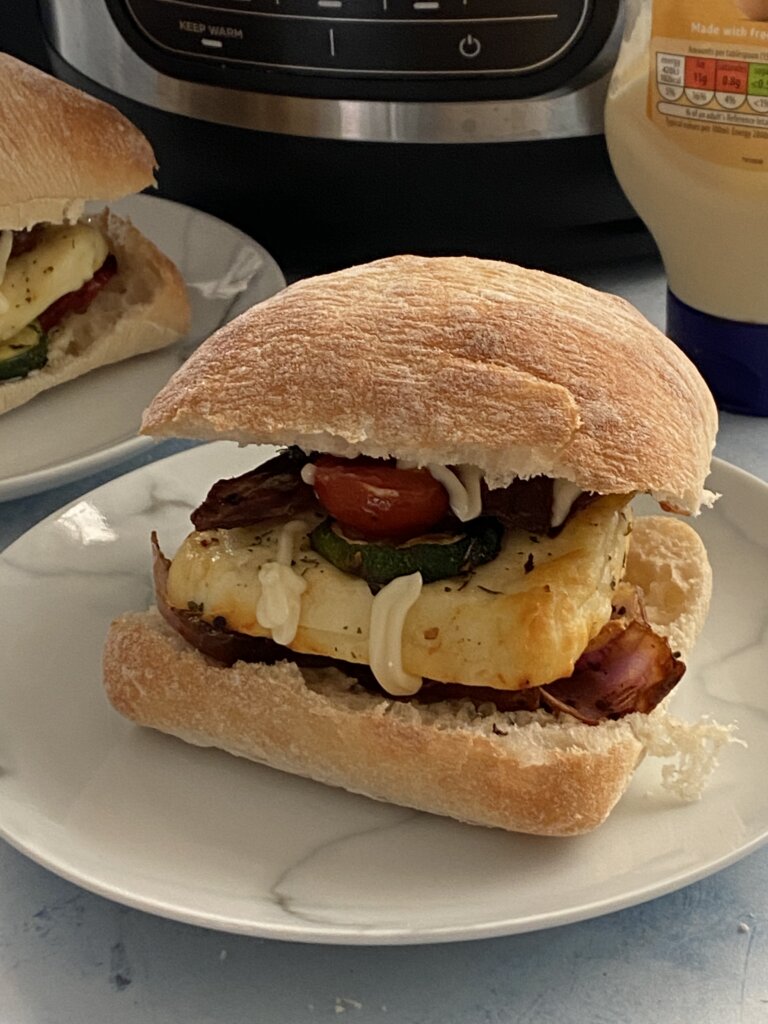 If you have not tried the Aldi halloumi yet, then I thoroughly recommend you give it a go. Its amazing and so cheap. Plus, you can use Aldi halloumi to make air fryer halloumi burgers and we paired out burgers with Aldi Mediterranean vegetables that have been prepared ahead to make your cooking job even easier.
#8 Aldi Potatoes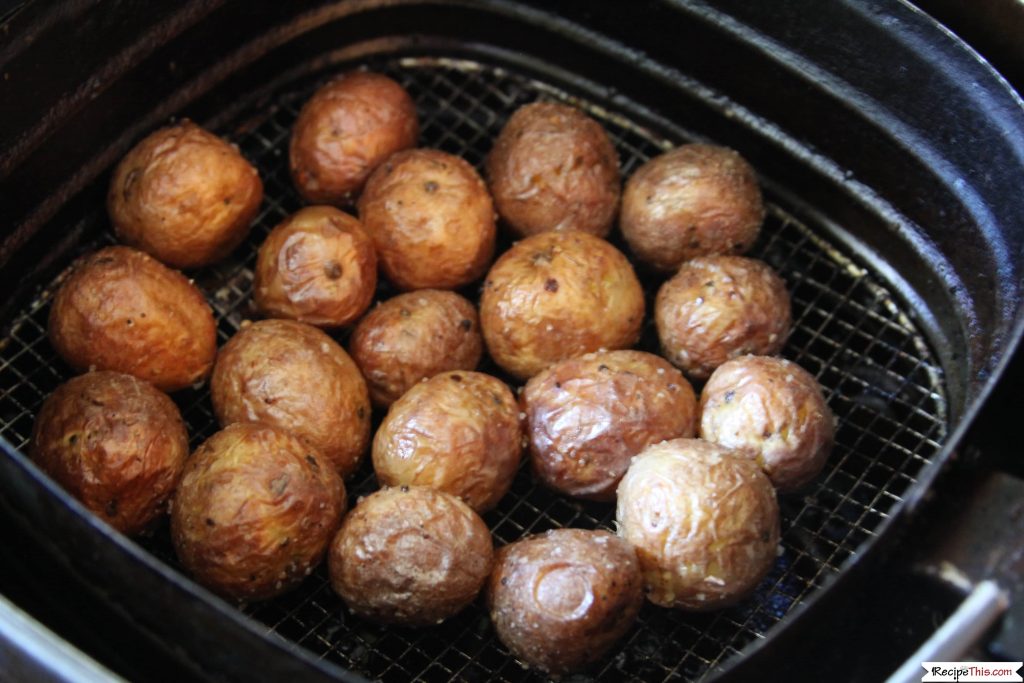 Aldi potatoes are cheap, last ages and can be used in many air fryer recipes. I have bought Aldi baked potatoes and then cooked them in the air fryer, but my favourite is their baby potatoes.
You can cook our air fryer baby potatoes and just load the Aldi potatoes in a bowl, toss in oil and seasonings and then air fry.
Or if you prefer the Aldi sweet potatoes then try air fryer sweet potato slices or our air fryer sweet potato cubes.
#9 Aldi Eggs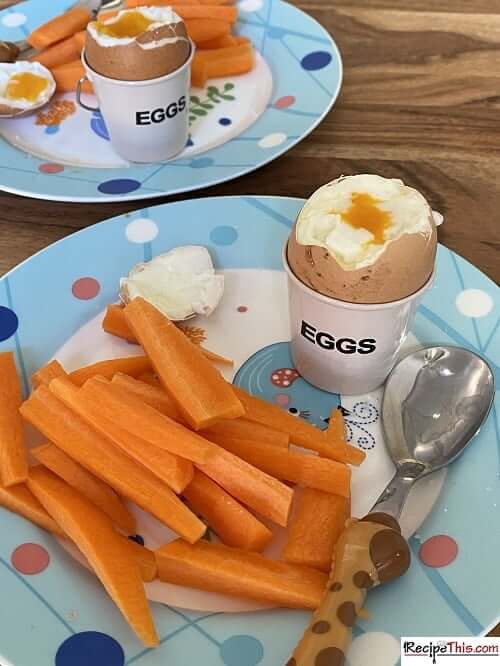 I love that you can get a big pack of 15 Aldi eggs. I love to cook with eggs in the air fryer and then can buy two packs, giving us 30 eggs each time we head to Aldi.
I can then make air fryer hard boiled eggs, air fryer soft boiled eggs, air fryer egg cups and best of all an air fryer breakfast casserole that will do breakfast for a few days.
#10 Aldi Gammon Joint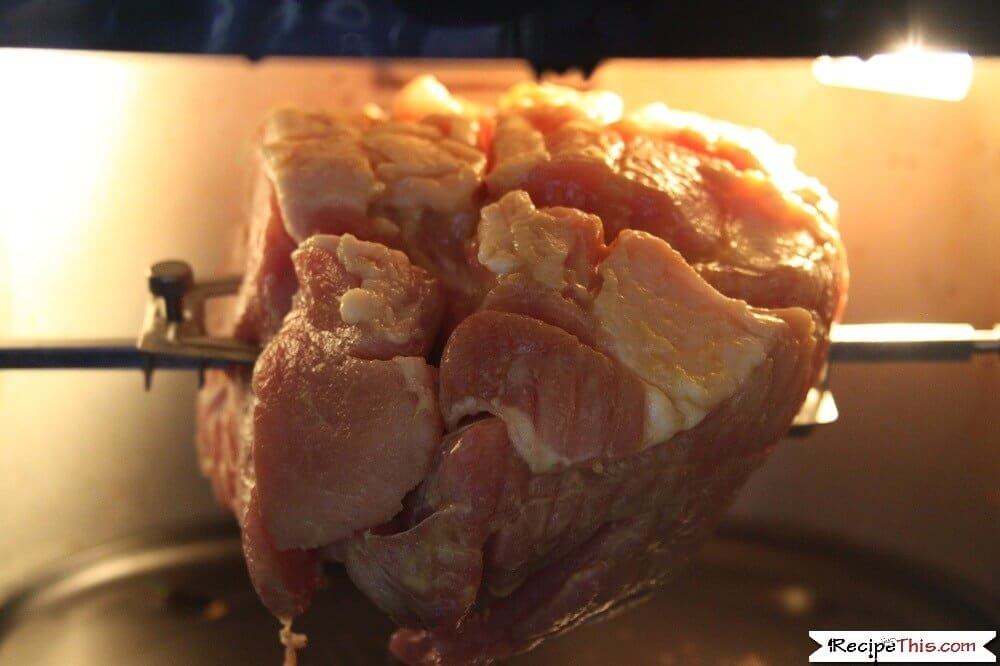 I love the Aldi gammon joint so much, I can't stop buying them. I will get them from Aldi and then make lots of different recipes with them and then use the leftover gammon for sandwiches, leftover pasta dishes and even homemade air fryer pasties.
Though my favourite for simplicity is slow cooker gammon in water or air fryer ham which is made with a large Aldi gammon that is rotated on the rotisserie.
#11 Aldi Bacon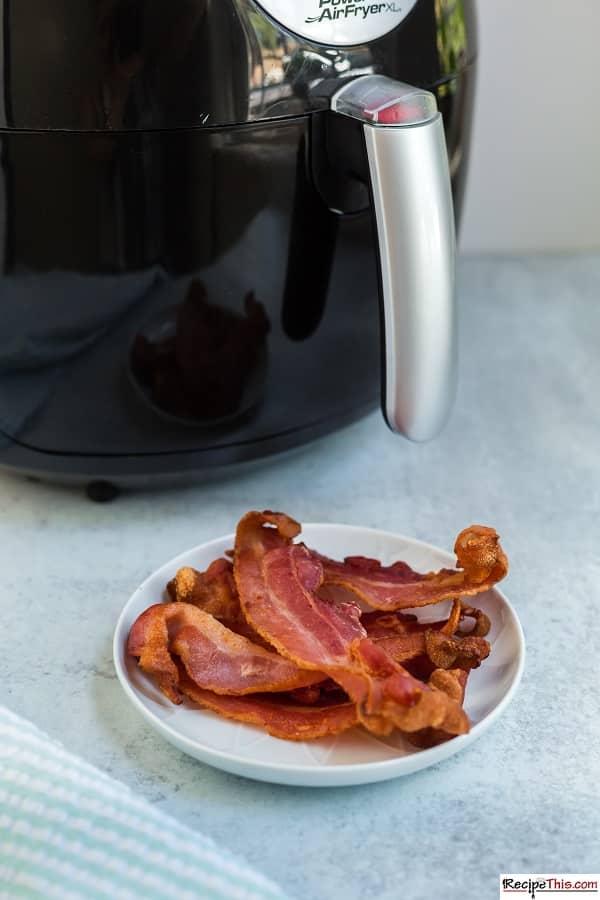 Have you tried Aldi bacon yet? Its delicious and perfect for making your air fryer meals more flavoursome. I love it in an air fryer frittata, on its own in bacon sandwiches and best of all Aldi bacon freezes well.
You can simply grab a full pack of Aldi bacon and load it into the freezer for later.
#12 Aldi Beef Mince
I love how versatile Aldi beef mince is and it tastes good too. I first tried it on a yellow sticker deal some time ago now and since then I always add some to my Aldi trolley.
I also love that it can sit in the fridge (I have some now) and can use it for whatever I am craving for dinner. And if you have not done so yet, I recommend you try Aldi beef mince in an air fryer meatloaf.
#13 Aldi Pizza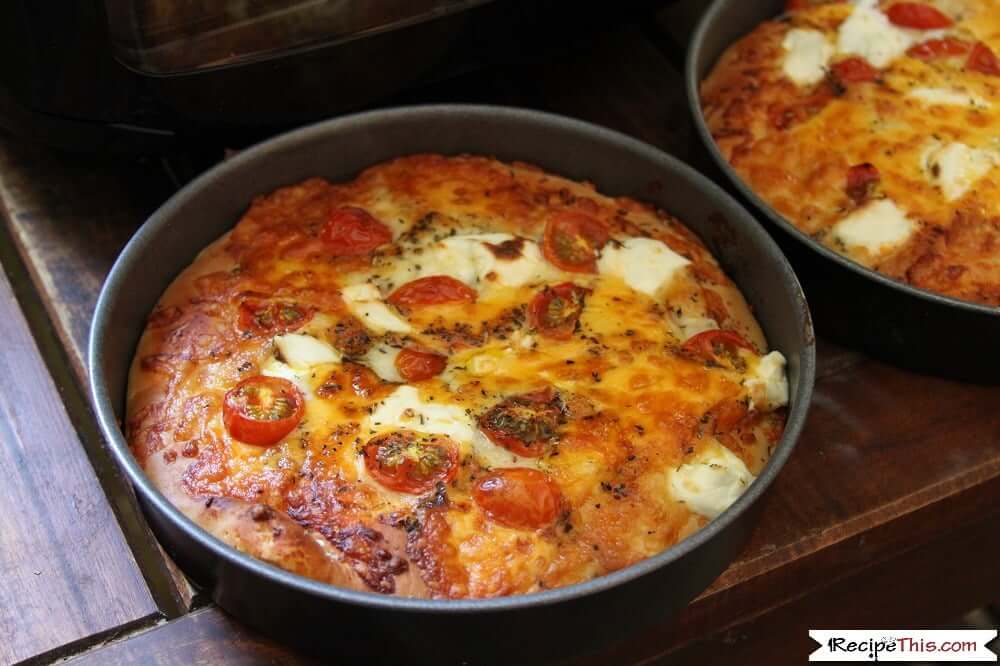 During our Aldi 30 day meal plan and Aldi recipes challenge this week, we have found a lot of 75% discount pizzas and eaten a lot of them and cooked a lot of them in the air fryer.
I must mention that I am yet to find a bad Aldi pizza.
Though its also fantastic to buy Aldi pizza dough because its already rolled and you can cut it to fit in your air fryer for making our air fryer homemade pizza.
#14 Aldi Bread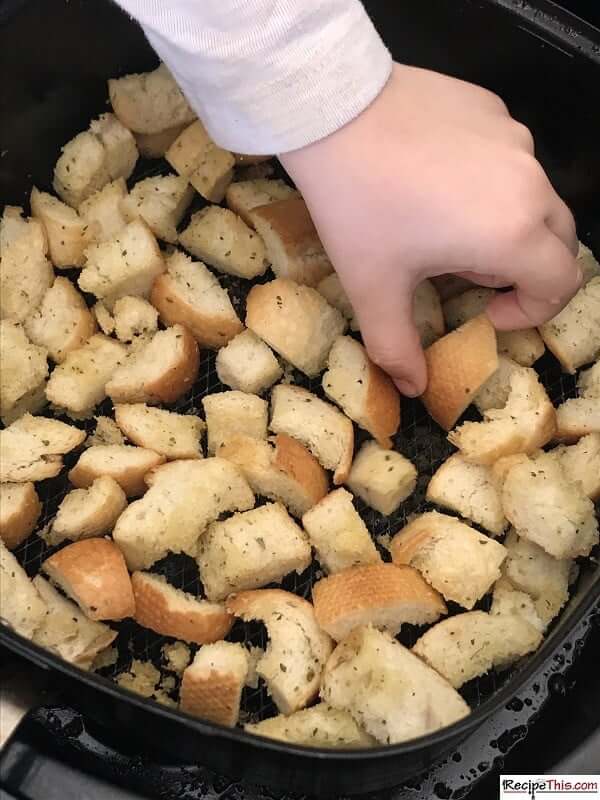 I am yet to walk into Aldi on an evening and not see 75% off Aldi bread. Its always available and you can use Aldi bread rolls for making air fryer burgers with and I will use the sliced bread for air fryer croutons.
Aldi bread is also fantastic for air fryer toast and if you have not bought any yet, you must try Aldi crumpets.
Another shout out must go to the Aldi part baked bread which again makes the best air fryer part baked bread!
#15 Aldi Wraps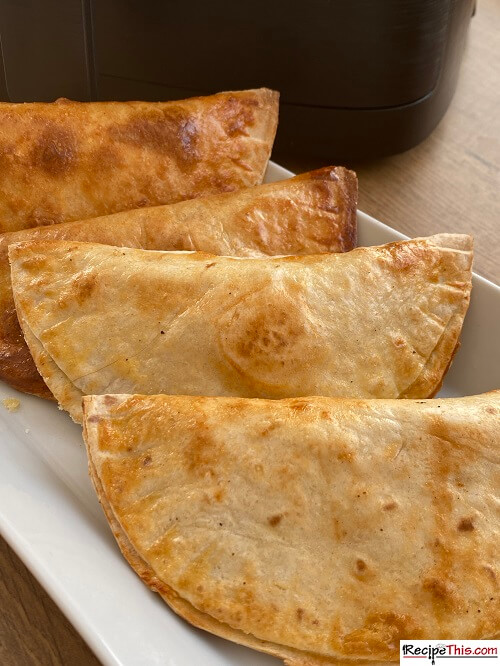 The Aldi wraps are even better than the Aldi bread. You can also use Aldi wraps to make delicious air fryer pasties, such as our air fryer slimming world pasties. They use wraps instead of pastry and are AMAZING..
More Aldi Must Haves To Check Out
As well as these best Aldi products I have a few others I recommend for using to make air fryer recipes with.
I buy Aldi peppers, Aldi cherry tomatoes and Aldi Greek yoghurt to make my air fryer breakfast frittata with.
The Aldi Greek yoghurt (the fat free option) is very creamy and doesn't have an after taste like most low fat yoghurts do. You can also add a teaspoon of ketchup to it to make a yummy burger sauce for your Aldi burgers.
Talking about Aldi burgers, I also love to make an air fryer burger in a bowl. And will cook air fryer burgers, make my burger sauce, and use the Aldi iceberg lettuce that has already been shredded.
Another Aldi best buy is the Aldi green beans. They are already prepped and you can air fry them for the same cook time as our air fryer frozen green beans.
Then for a healthy snack, we bought yellow sticker Aldi apples and used them to make air fryer apple chips.
Aldi Best Buys Video
Also, check out our You Tube video where we share with you a behind the scenes video of all the best buys at Aldi.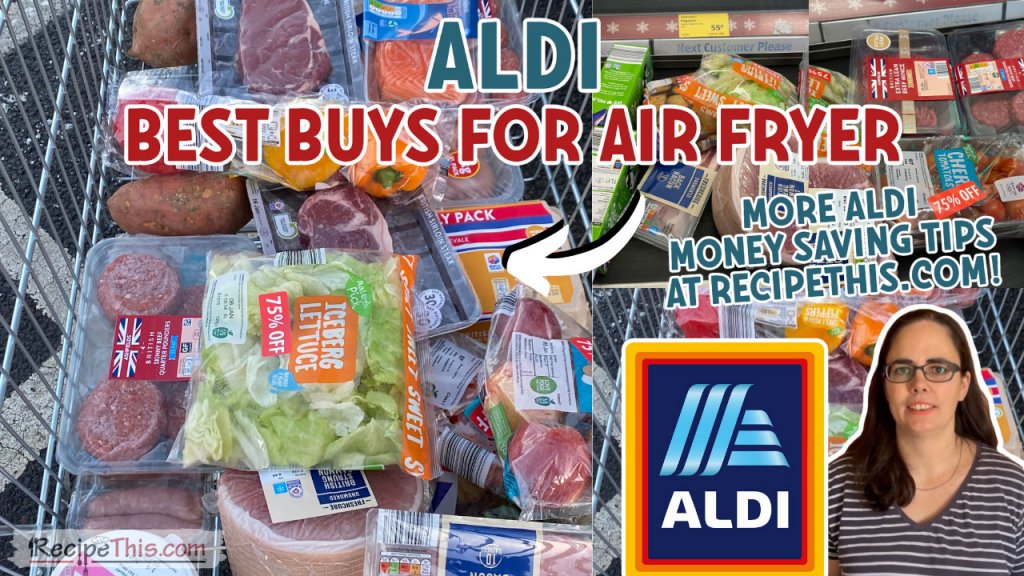 I wish you the greatest success with your Aldi shopping and that it helps you save money on your groceries and find new things to air fry.
Many of our recipes on Recipe This can be made with Aldi UK or US ingredients and I recommend you experiment and find Aldi recipes that work for you. Plus, don't forget to check out our Aldi recipes.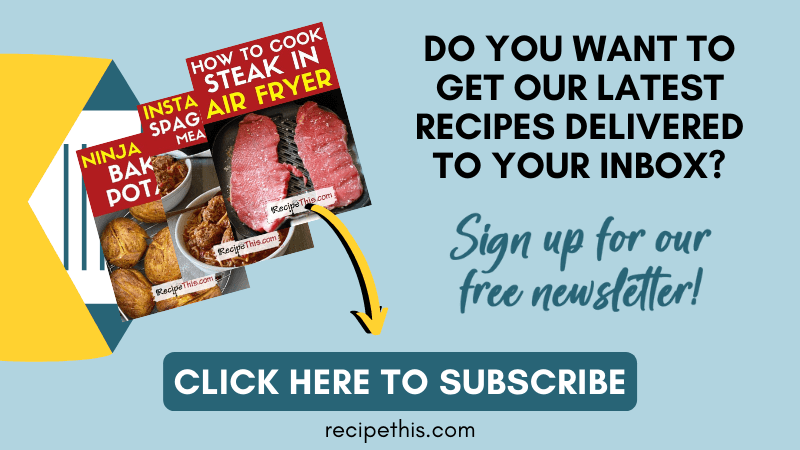 We also recommend that you join our newsletter at recipethis.com too. You can do so on this link and then you will be informed whenever we have new kitchen gadget recipes.
Did You Know We Have A Podcast?
We created an awesome podcast episode about the best things to buy at Aldi for the air fryer. You can listen to it below and you can find out more about our podcast here.
You can use the player above to listen to this episode of Magic With Gadgets. Alternatively search for Magic With Gadgets on your favourite podcast platform or click the links below: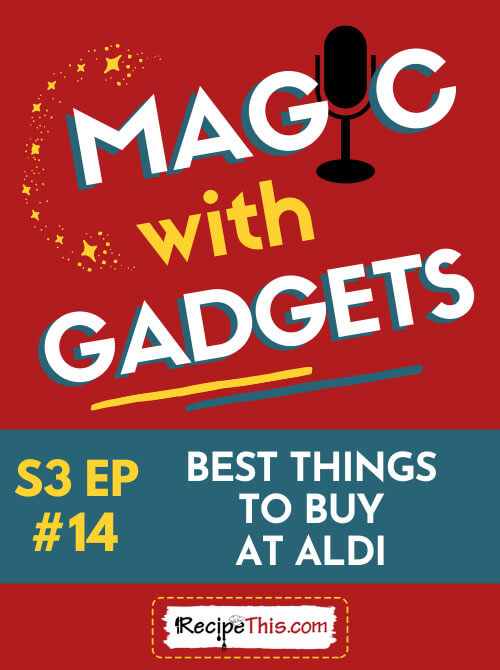 More Aldi Grocery Tips & Tricks
Can't read it now? Then pin it for later!