This Post Contains Affiliate Links. Click Here To Read Our Full Disclosure.
28 Day Aldi Meal Plan. We created our own 28 day meal plan, cooked exclusively with Aldi products on a budget and these are the results.
Featuring many Aldi recipes in the instant pot, slow cooker, air fryer, and ninja foodi, this is a fantastic read for getting started with saving money on meals at Aldi.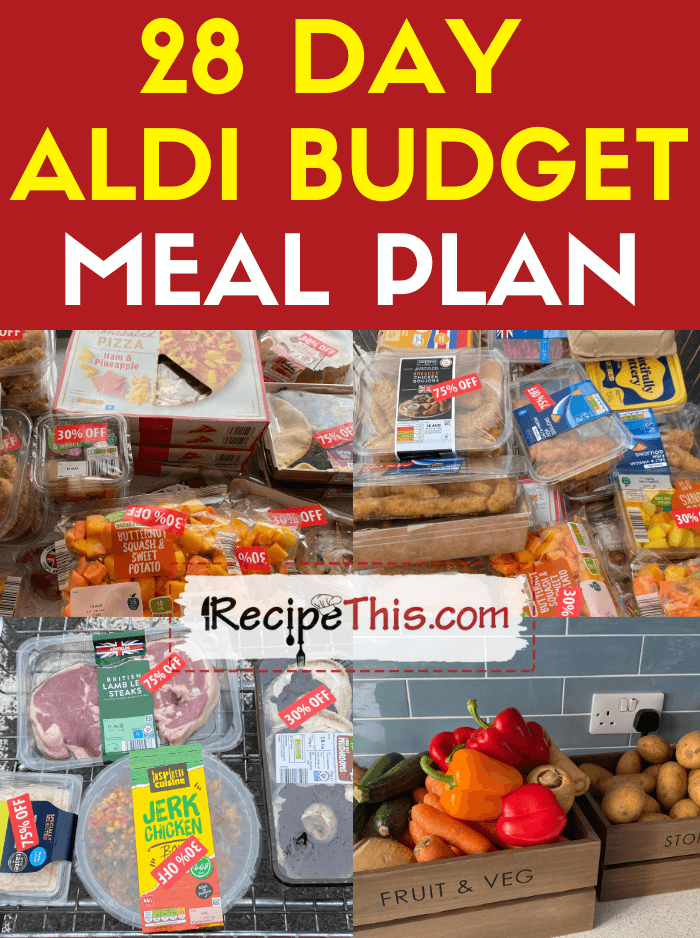 Aldi Meal Plan
Before we dive into this delicious and super simple 28 day meal plan using our favourite kitchen gadgets, I wanted to give you the backstory of it first.
Back at the beginning of the 00's I moved in with my boyfriend Dominic. I had just turned 18 and we were so poor the only way we could afford meat was if it came out of a can.
In fact, the only things we could afford for groceries came out of a can. There was canned braising steak, canned potatoes, canned carrots, and the list went on.
I think our household income back then was about £624 a month, maybe a little more. Which was pathetic considering Dominic was a sous chef and feeding 100's of people every day that they valued him so low. And all we had left for food after bills was about £8 a week for the two of us if not less.
I was very proud of what I could buy for us at Aldi and because it had recently opened, I was head over heels in love with Aldi, a brand at the time that was relatively new.
Fast forward to 2004 and we moved house and we never had an Aldi on our doorstep again.
I was gutted. Even when our income went up, I truly missed Aldi.
Fast forward to 2021, I am living back in England, and I have an Aldi in my hometown. I am so excited over shopping at Aldi again and I am straight in there, planning meals with Aldi produce.
But because I had not shopped at Aldi for 17 years, I want to get to know Aldi again. I want to see what foods they do that amaze me, what their produce is like compared to other shops and see how much I can feed our family of five on, with Aldi products only.
How Much I Spent At Aldi
I am sure before I dive in, you want to know exactly how much I spent at Aldi for our family of five. Note we are 3 adults, a 5 year old and a 6 year old (at the time of shopping).
I am not including herbs and spices and other similar things we all have in our kitchen cupboard. And I assume you already have tea and coffee in, but you will need milk and lots of other staples.
I also recommend a big first shop to fill up your kitchen cupboard, fridge, freezer etc like we did.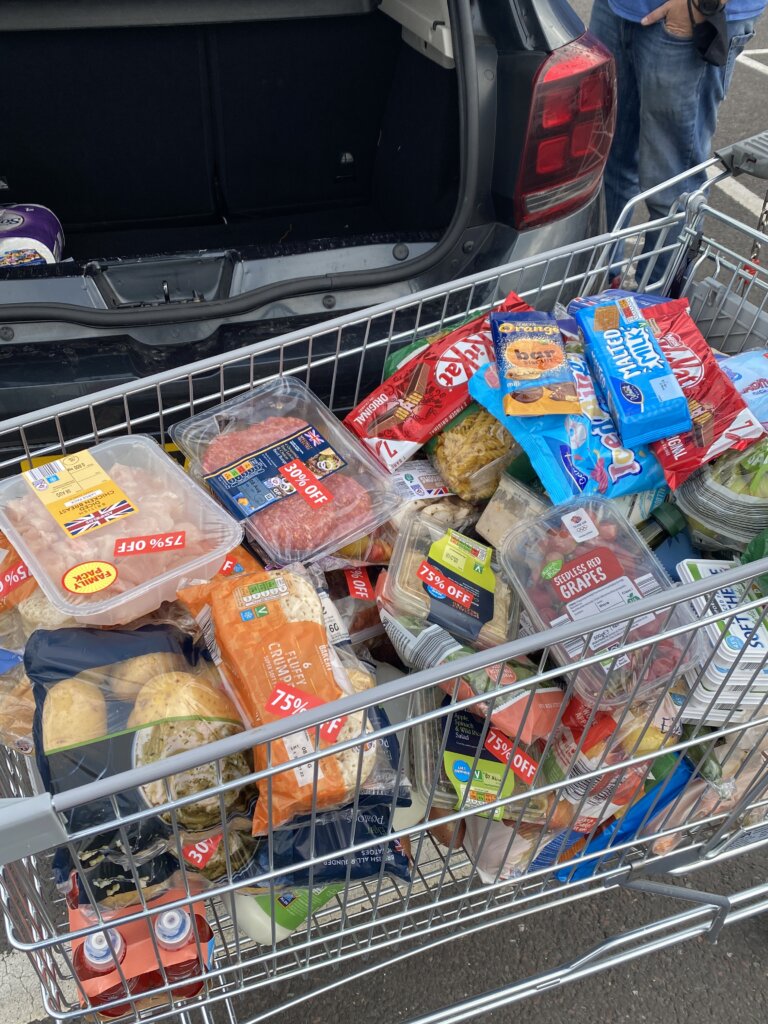 I have got my calculator out and I spent a total of £259.94 which is broken down over 10 shops as you see below:
1st Shop = £82.41
2nd Shop = £16.63
3rd Shop = £11.24
4th Shop = £6.75
5th Shop = £13.25
6th Shop = £9.24
7th Shop = £26.14
8th Shop = £25.80
9th Shop = £39.76
10th Shop = £28.72
You might think that 10 shops in 28 days is extreme. But note, we were shopping for the stickers and seeing how far we could stretch the grocery spend.
If you are in the US at today's exchange rate that is $345.72.
Also, what will become clear when you read everything below this spend would easily cover 6 weeks with everything we have left.
That means that we spent £259.94 in six weeks which is £43.32 per week, or £8.66 per week per household member.
Aldi Grocery Hauls
Now you know how much we spent I am sure you want to check out the food that we bought.
We have made some videos for you, showing you our different grocery hauls as well as what we cooked and a few other gems. I recommend you watch them, as it goes into much more detail about what I bought and the savings we made.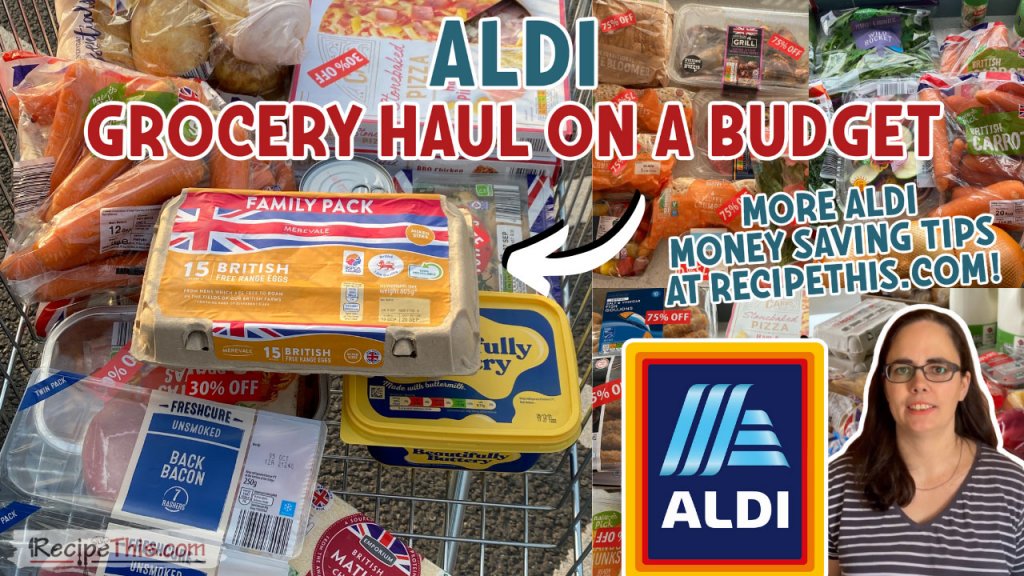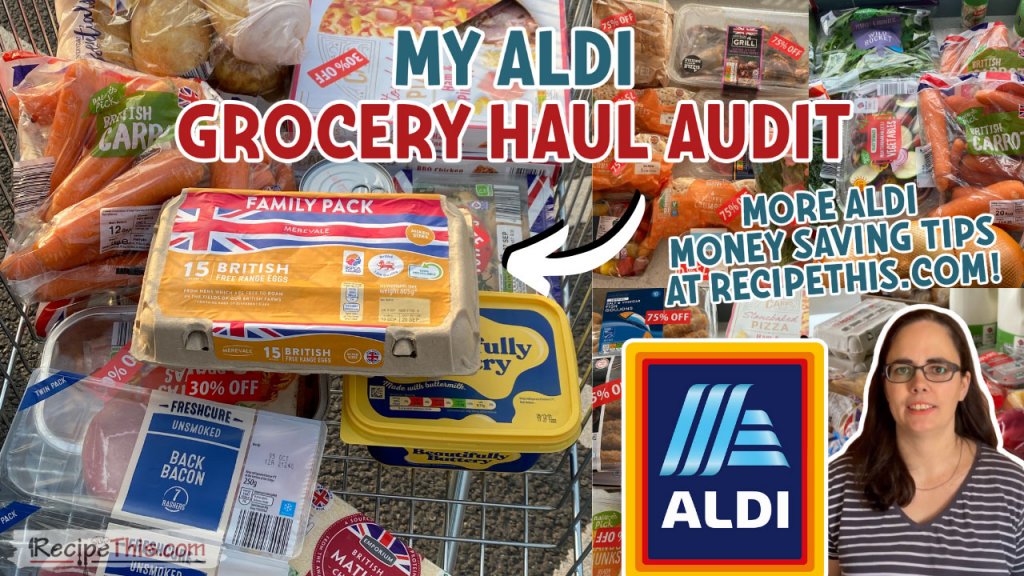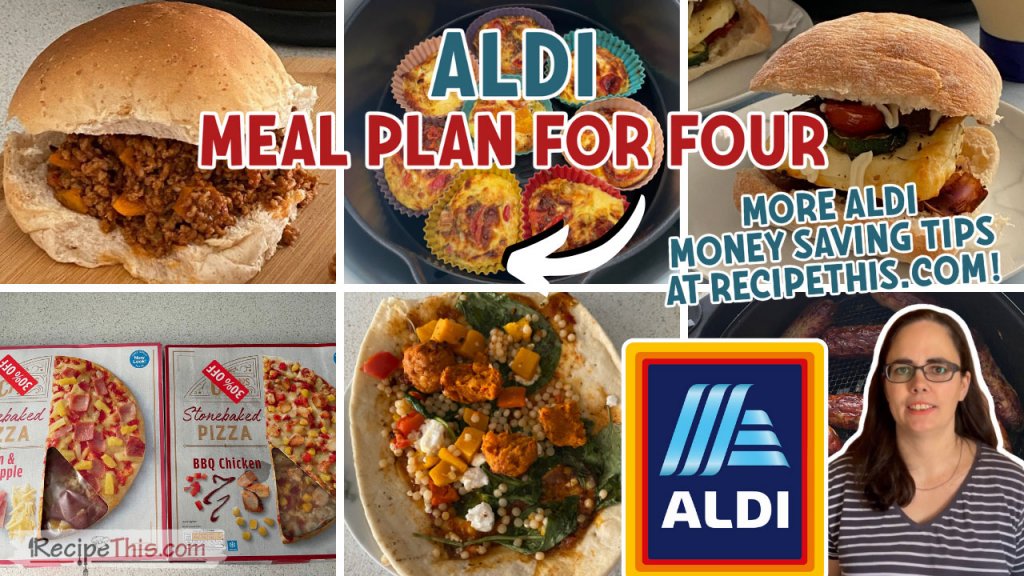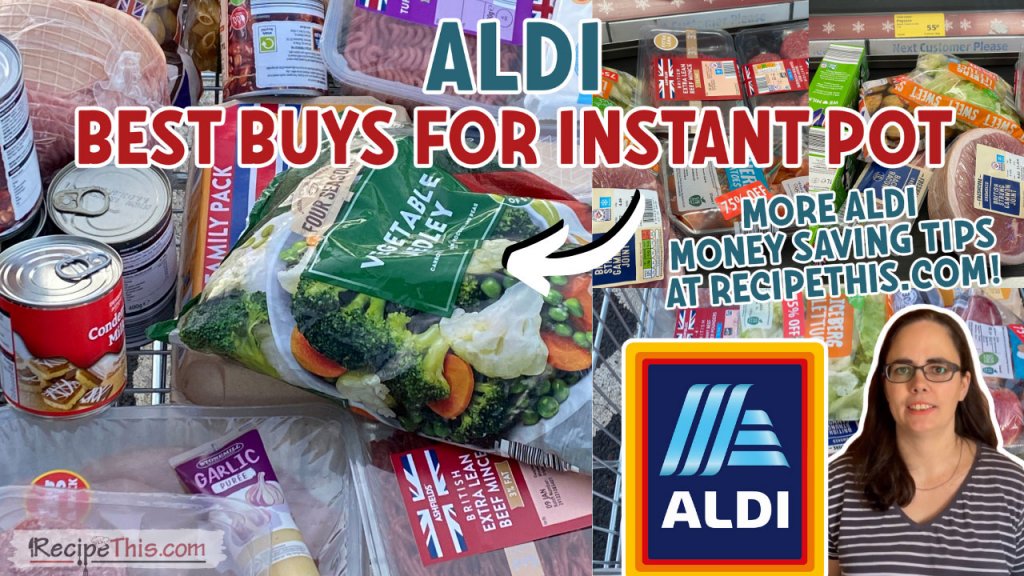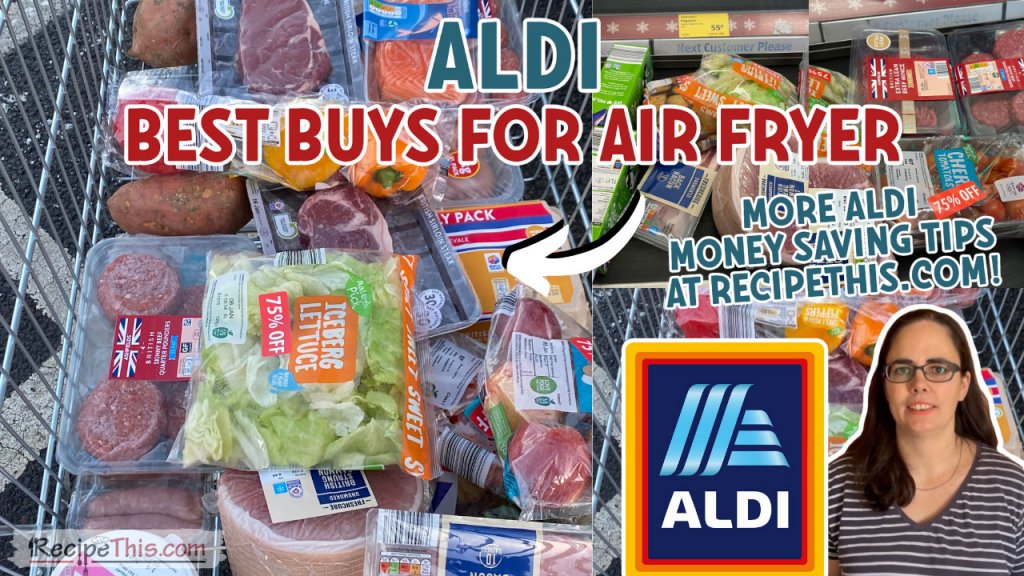 Simply click on the images above and it will take you to the various Aldi grocery videos on You Tube.
But for us the highlight will always be the stickers and what stickers we were not expecting but got super excited over.
Crumpets – which I could have for breakfast. Then freeze them and just cook one at a time in the air fryer.
Coleslaw – I notice it is on 75% off a lot in Aldi and its fantastic for a quick side to serve with dinner that everyone loves.
Meat – Now this is the best reduction to get and you can freeze it and use it when you want. My favourite was 75% off a lamb steak that I could transform into a lamb stew.
Pizza – The same rule applies with pizza. If shopping when hungry its perfect to put in the air fryer as soon as you get home. Or freeze for another day.
Aldi Meals Tips & Tricks
Before you do your own Aldi meal plan note the following:
Leftovers – Cook smart and do recipes that you can cook once and then eat twice. You will notice I make a few pasta dishes and then reheat the leftovers and more leftovers go into the freezer for another meal.
Stocktake – Do regular stocktakes of what you have in, what you didn't eat, what needs using first, or those hidden gems in your pantry or freezer that you forgot about.
Stickers – The stickers are your BFF, and you must buy these first and then meal plan second. You have no idea until you walk into Aldi what discounts are there. Then take your food home and make something delicious from it.
Evenings – With that said, shop at 5.30pm to 6pm as then you have the sticker reductions, and you can really save on your groceries.
Unwanted – You will notice the fresh stuff is what people don't want on the stickers. Grab those dips and coleslaws as they are fantastic over a baked potato or as a dinner side.
Pantry – I recommend that each week you buy 1 item that you can add to your pantry supply and build it up gradually. Such as a large bag of flour or some rice or pasta.
More Aldi Grocery Tips & Tricks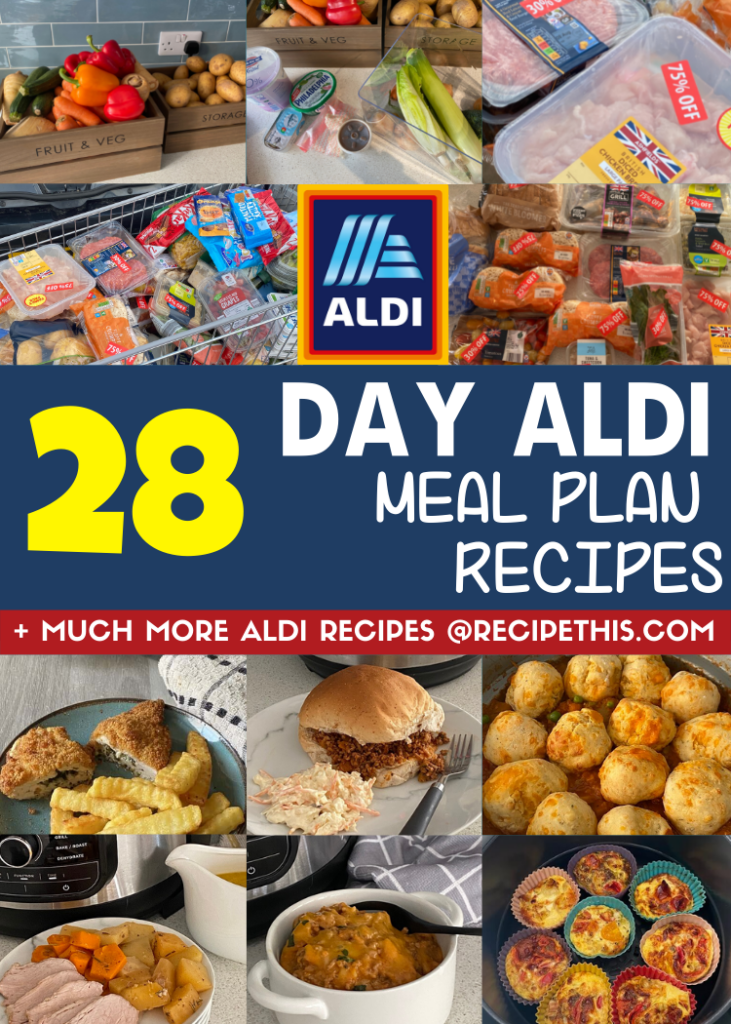 Aldi Meal Plan Day #1
I started with an evening grocery shop at Aldi. One thing I want to focus on is getting as many sticker foods as I can that have been discounted. Therefore, I will shop mainly in the evening when there are more likely to be some.
We also do a bigger grocery shop and then we can just top up our shopping over the next 28 days.
For the first evening I made a baked potato bar. I made Ninja Foodi Baked Potatoes and then we had coleslaw, wild rice and tuna mayonnaise on stickers. Then all I had to do was put the potatoes on because the stickers were all ready to go.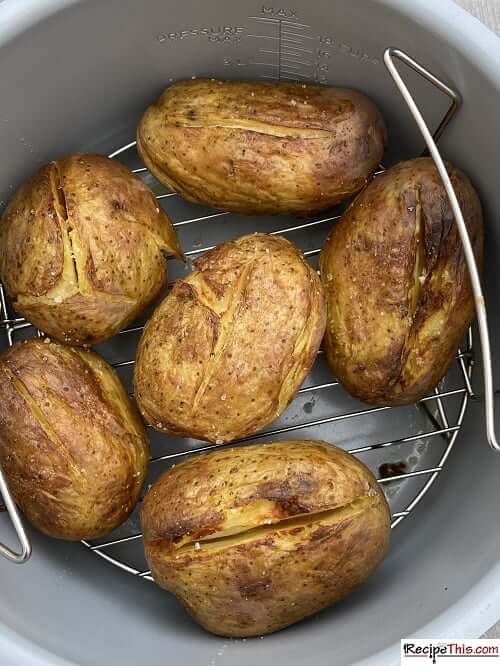 Aldi Meal Plan Day #2
Onto day two with air fryer egg cups for breakfast which is one of my favourite breakfasts. I made them with sticker cherry tomatoes, onion, and wonky pepper (how is this wonky????) and the kids and hubby had scrambled eggs with mushrooms and cheese.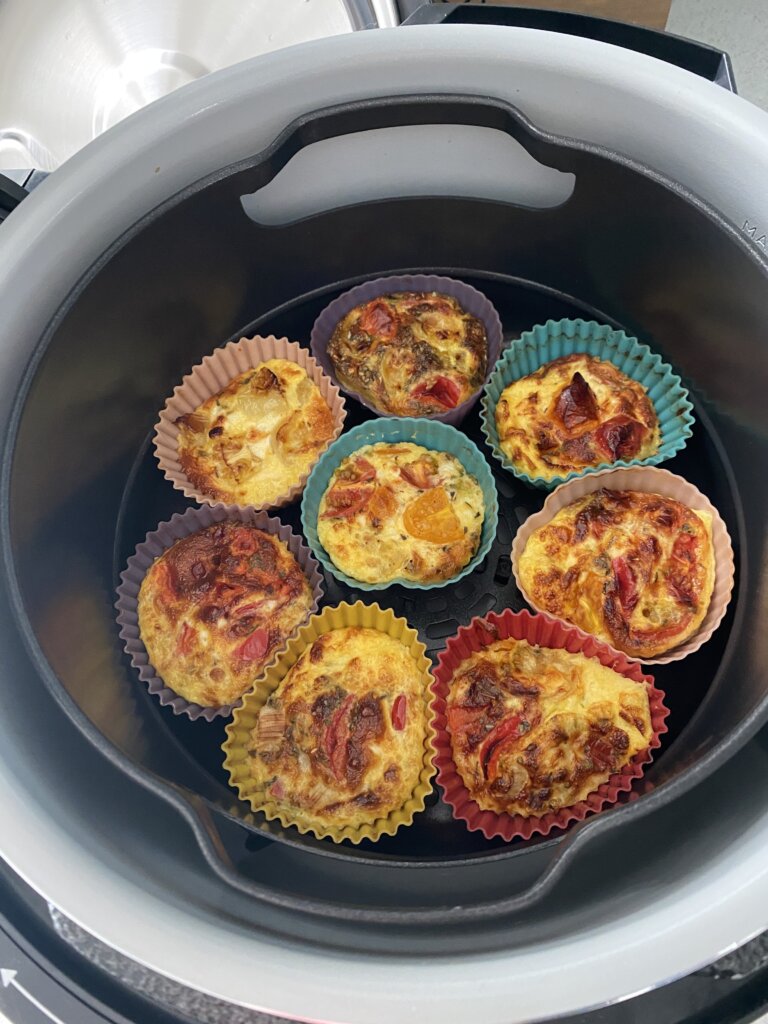 Then for lunch it was leftover baked potatoes from last night, coleslaw, pasta etc and made it into a little potato bar again.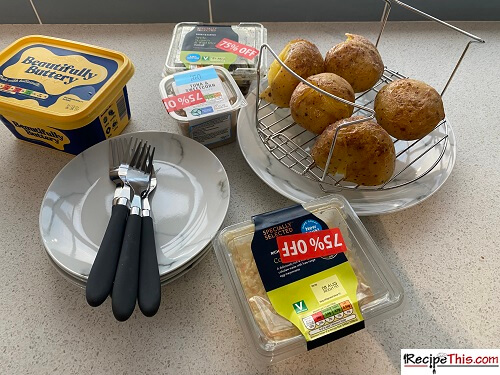 Then for dinner I made a big batch of my favourite soup maker tomato sauce and then used it to make a delicious slow cooker mince pasta bake.
What I like about this and my meal plans in general is that we often cook once and eat twice.
I made a massive batch with the plan of it making several meals and that I could freeze some for another day.
This is the mince pasta bake that I made: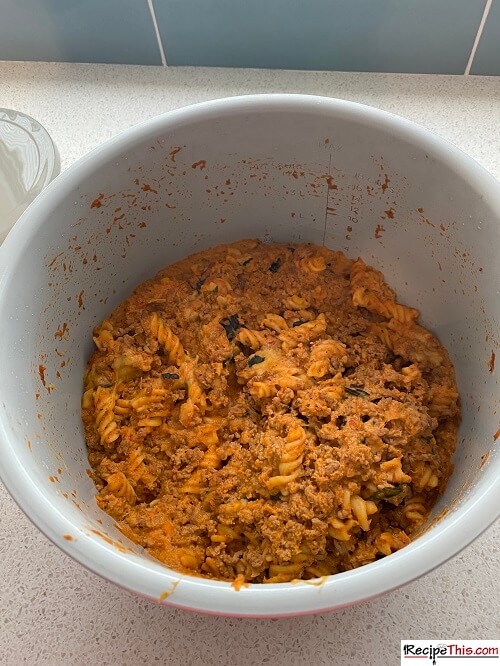 And these are the leftovers portioned up for the freezer: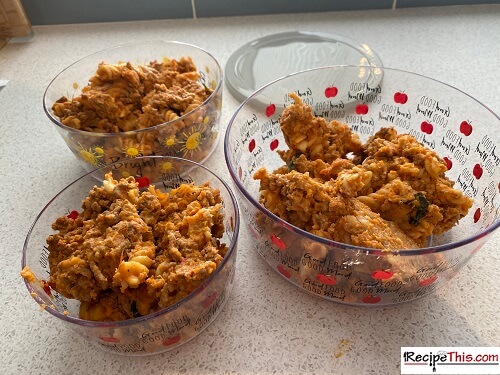 Aldi Meal Plan Day #3
One of my favourite foods that I missed a lot when I lived in Portugal was crumpets. I was over the moon to get crumpets on sticker and had some for myself for breakfast.
Then for lunch it was leftover bolognese with salad and last baked potato. Can you believe that big batch of baked potatoes have fed us over three different mealtimes?
Then for dinner I made a yummy Friday night fakeaway and I was really pleased at the price. For £7.18 I got a XXL garlic bread and added extra soft cheese, cherry tomatoes etc. Then I bought a box of Celebrations and some cans of Mojitos. This was for the three adults, and I think a takeaway for three for £2.39 each is amazing.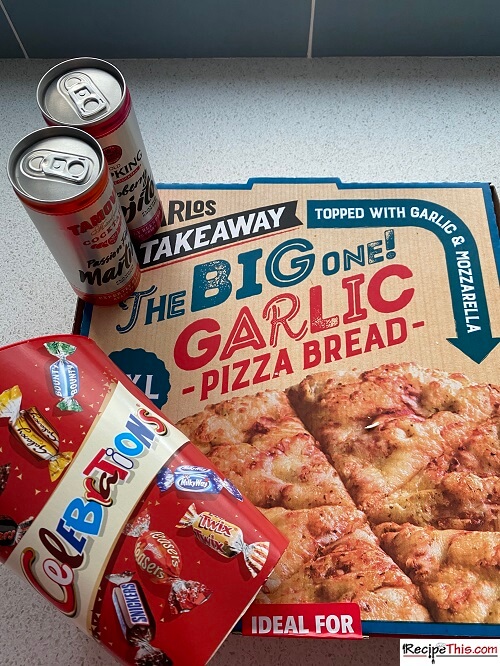 Aldi Meal Plan Day #4
But that takeaway for three price gets even better, because we didn't finish the garlic bread and had leftovers for breakfast.
Then for lunch we used some of our chicken breasts wrapped in bacon and cooked in the air fryer with our leftover pasta and some spinach on the side.
Notice a trend here – most of these meals are feeding us for leftovers too, so we are not using up that much of our Aldi groceries.
Then for dinner we made slow cooker pork leg joint with veggies, potatoes a hidden veggie gravy. Then of course, yes you guessed it, we have leftovers!
A thing I learnt from my best friend that works at Tesco's is that Aldi is wonderfully cheap, but their fresh food doesn't last as long.
This is so true and here I am on day 4, prepping the food that is looking bad to prevent food waste.
Here is our OMG how did they get so bad carrots: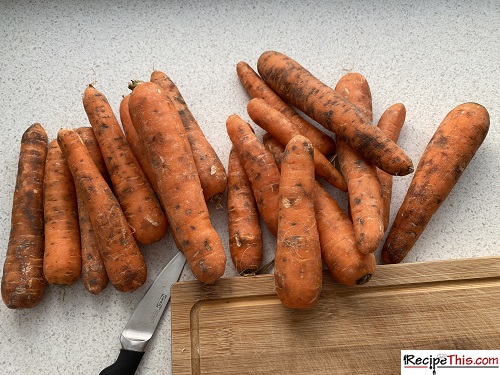 So, what I have done is prepped them for slow cooker honey carrots that we will eat tomorrow.
Aldi Meal Plan Day #5
Hello day five and because I am feeling ill today, I didn't want to cook and treated ourselves to dinner.
I had air fryer crumpets for brunch and then in the evening Dominic went to the chippy. But hey, we are on a budget here so no fish and chips.
Instead, we have chips, gravy, sausages, scraps, fishcakes etc. I also know that I never finish them as there are always too many, so we have leftovers.
Aldi Meal Plan Day #6
Today is what I call a leftover day. I hate it when it feels like I have no order in the fridge and its full of things that need eating up.
For breakfast I had strawberries and yoghurt, and the rest of the Milner household had mushroom omelettes. Mushroom hater here!
Then for lunch I did leftover chips, scraps and gravy all reheated in the Ninja Foodi. I have to say chip shop scraps are AMAZING reheated in the Ninja.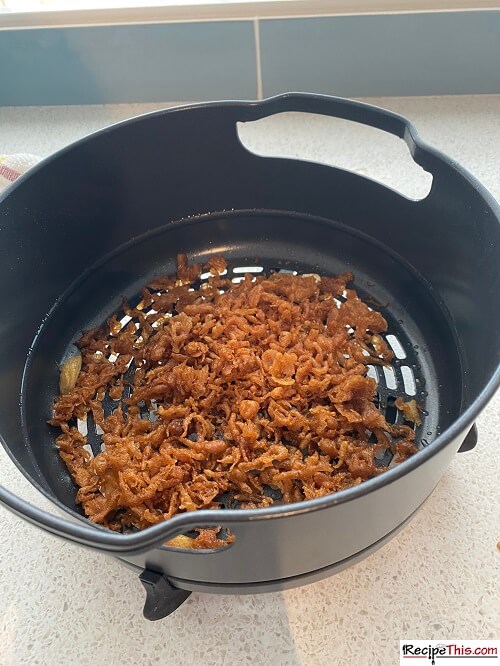 Then for dinner it was a gathering of fridge leftovers. Leftover sweet potatoes and carrots were air fried, we had honey carrots in the slow cooker, leftover veggies from the pork leg meal, plus grated cheese, salad, and our 75% off sticker spinach was transformed into buttered spinach.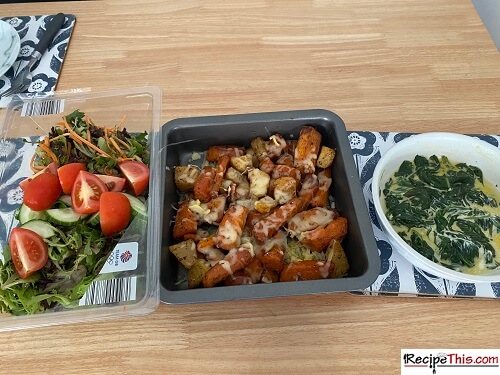 Aldi Meal Plan Day #7
For breakfast I made myself another batch of egg cups in the Ninja Foodi. This is one food I am obsessed with, so no surprise I have had it twice this week. Whilst everyone else has mushroom omelettes with a bit of cheese.
Then for lunch I am meal prepping and making two different meals with the veggies that I have that need using up.
One batch is going to be making slow cooker vegetable stew and the other batch is going to be making slow cooker veggie bake.
This is veggie batch 1 for the veggie stew: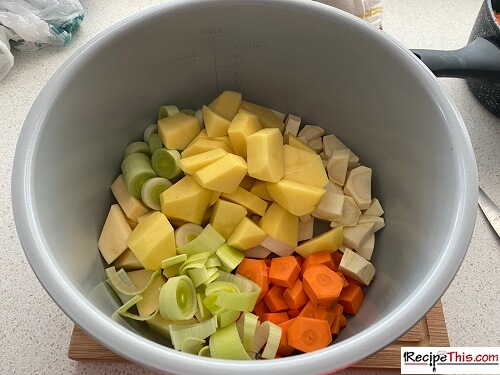 And then this is veggie batch 2 for the veggie bake: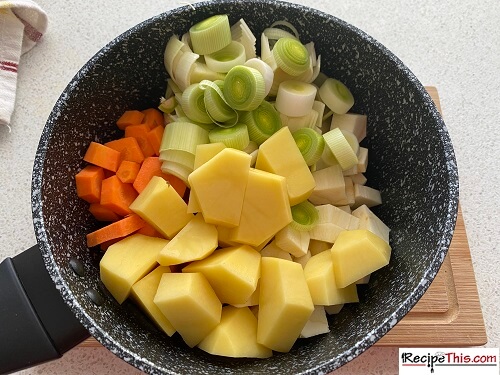 Then we have slow cooker veggie bake for lunch and leftovers for dinner.
Aldi Meal Plan Day #8
Then for breakfast on day 8 we have omelettes and scrambled eggs for breakfast. If you have not done air fryer scrambled eggs yet then they are a must!
Then for lunch we have leftover veggie bake and for dinner it is chicken wrapped in bacon along with Ninja Foodi French fries.
Aldi Meal Plan Day #9
Then for breakfast on day 9 we had omelettes and scrambled eggs again.
Then for lunch (I haven't had them for years) we had air fryer chicken kievs with some chips.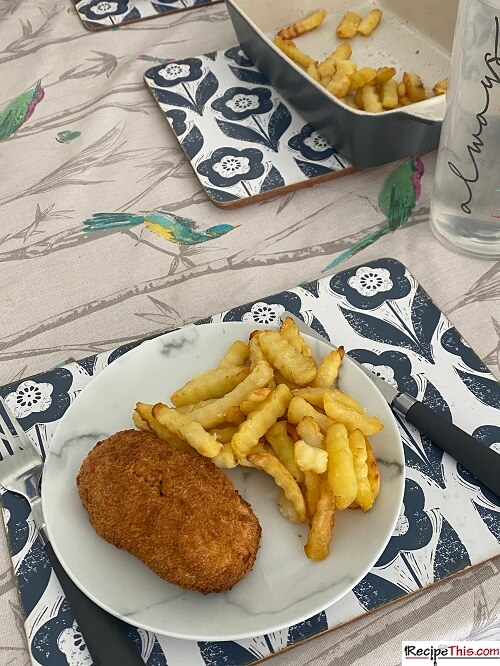 Then from the prep I mentioned on day 7 we had slow cooker vegetable stew with dumplings.
We had leftover veggie stew and the plan is to combine it with our 75% sticker for lamb steak to make lamb stew and dumplings.
Aldi Meal Plan Day #10
Hello day 10, the dumplings without suet that I made yesterday were so yummy I had some for breakfast. Is that weird?
Then for lunch it was instant pot sloppy joes. Which were amazing and perfect for filling us all up.
Then for dinner we had slow cooker leek and potato soup with 75% off sticker bread.
Then the leftovers from the soup was saved and will be stock towards another recipe + we had extra leek and potato soup for a freezer portion.
Aldi Meal Plan Day #11
We started day 11 with some fruit salad for breakfast. I highly recommend a big tub of plain yoghurt from Aldi along with their reduced sticker fruit.
Then for lunch we had bought some pizzas from Aldi that were on 75% off sticker. It put their price down to 36p each. So, two pizzas for 5 of us its 72p or 14p per person.
Then for dinner it was 75 percent off chicken tikka flatbread with 75 percent off coleslaw and 30 percent off fruit salad.
Aldi Meal Plan Day #12
Then for breakfast for day 12 it is some of the flatbreads that I bought with chicken tikka that were 75% off.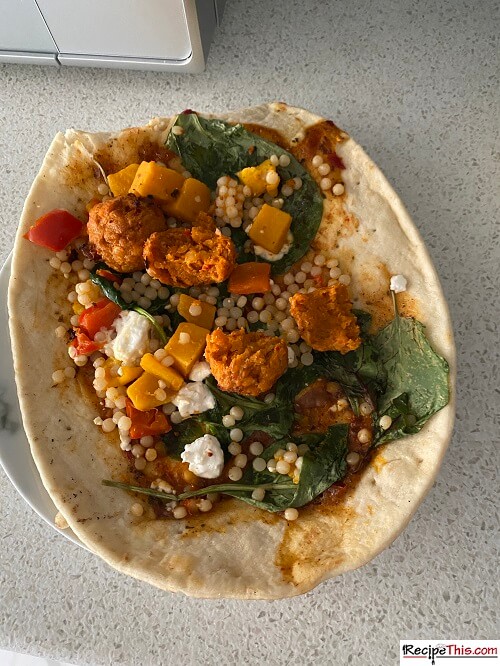 Then for lunch it was leftover vegetable stew + leftover potato leek soup stock + 75% off pack of lamb steaks + 2 slices of bacon into slow cooker lamb stew and dumplings with homemade dumplings that are super cheap to make and just have flour, butter, and milk in them.
Then for dinner it was a Friday night fish supper of chips and scraps with gravy. Much cheaper than fish and what I always had from the chippy in my teens and still a favourite of mine.
Aldi Meal Plan Day #13
Then for breakfast for day 13 I had some kale that needed using up so made a batch of air fryer kale chips. Not exactly my usual breakfast, but I love using up food and don't really mind if I have something different for breakfast.
Then for lunch I made air fryer halloumi burgers and have to say I am totally in love with Aldi halloumi. If you have not tried it yet, it's a fantastic budget food.
Then for dinner we reheated some of the halloumi burgers and served it with some leftovers from last nights chippy tea.
Aldi Meal Plan Day #14
For breakfast (well Sunday brunch) I had made some breakfast hash in the slow cooker, cooked it on low overnight and had it for breakfast.
Then for lunch we had air fryer pork and apple burgers, served with some chips.
Then for dinner, kind of weird one, but still tasty. We had leftover brunch hash with goujon sandwiches. We had got some 75% off fish and chicken goujons and they were yummy and plenty in the freezer for another day.
Aldi Meal Plan Day #15
Then for breakfast today it was air fryer breakfast hash. Its fantastic because you can chop up potatoes, sausages, or whatever you have in and then air fry.
Then for lunch it was my ultimate money saving favourite or air fryer courgette fritters. They are amazing, you can make them stretch further with corn, add in grated cheese and kids love them.
Then for dinner we had some carrots that needed using up so cooked one of our 75% Aldi pizzas and served it with soup maker carrot soup.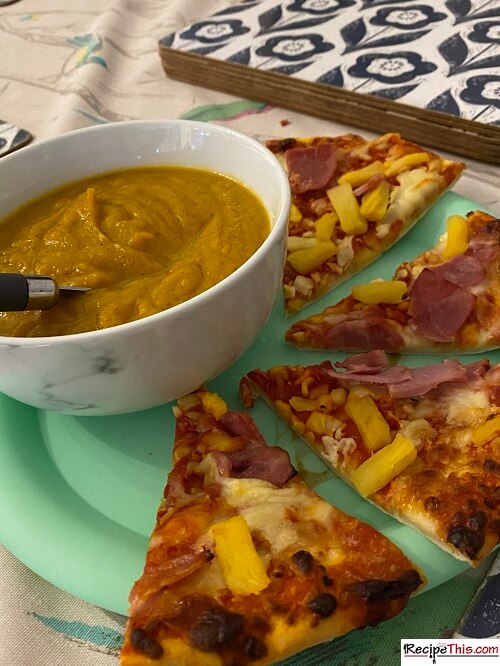 Aldi Meal Plan Day #16
For breakfast on day 16 it was the last of the breakfast hash. I recommend you also make it in bulk and then you can air fry it for when you need it.
Then for lunch I had some teriyaki chicken that was from a deal we had bought and then served it with air fryer fries.
Then for dinner I got some sticker premium burgers and served it with some air fryer sweet potato cubes.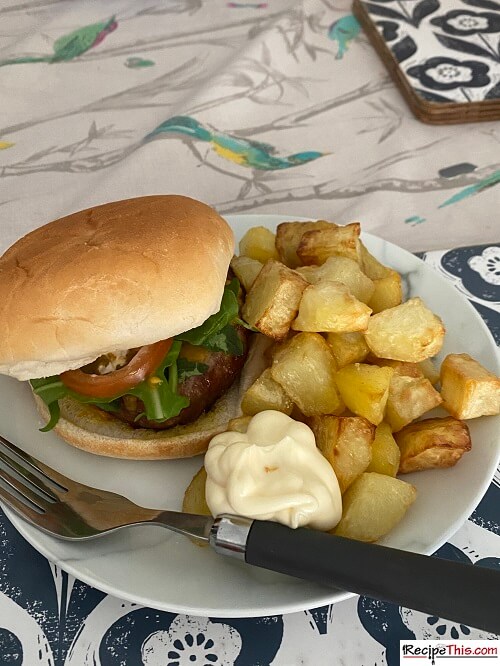 Aldi Meal Plan Day #17
Breakfast on day 17 is some of the crumpets I forgot about that I had loaded into the freezer for later.
For lunch it was air fryer unbreaded chicken tenders with air fryer crinkle cut fries. What is amazing about this is that you can mix your own KFC spice blend and load it onto chicken breasts, chicken thighs etc.
Then for dinner we had a real yummy feast. Aldi sausages with homemade bread maker flatbreads. They are so amazing; you never want to stop at one.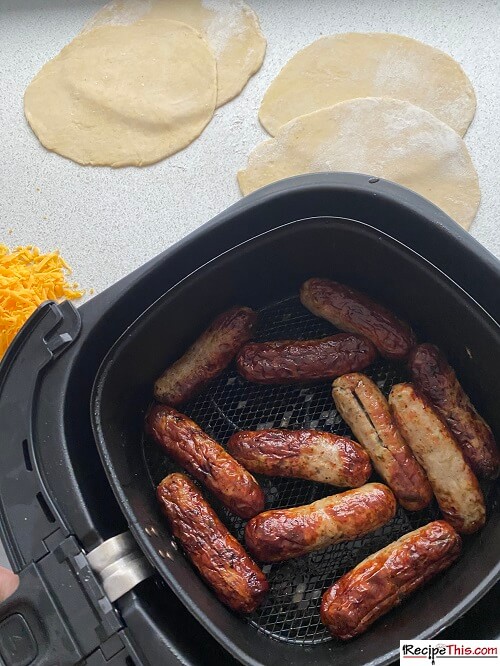 Aldi Meal Plan Day #18
For breakfast in the Milner house, it is crumpets and omelettes.
Then for lunch it is back to our halloumi pasta that we made in the instant pot as it made loads.
Then for dinner it is leftover pasta with sliced gammon.
Aldi Meal Plan Day #19
For day 19 of our meal plan its egg cups in the air fryer for breakfast, lunch is slow cooker pulled gammon and dinner is more leftover pasta with gammon.
I just can't believe how much pasta we still have left and have loaded some into the freezer for later.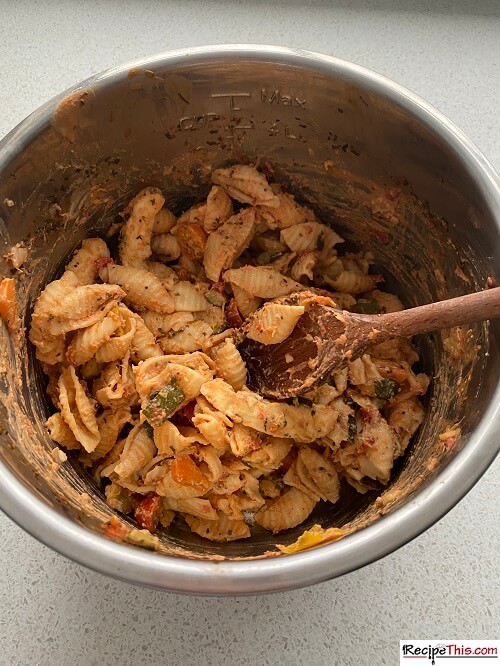 Aldi Meal Plan Day #20
I can't believe we are on day 20 already!!! Its flown by and I still have loads of food in and have made great use out of the sticker deals that Aldi has to offer.
For breakfast today I had some more crumpets as I just LOVE them.
Then for lunch we had leftover pulled gammon sandwiches, then for dinner it was baked potatoes with leftover Bolognese.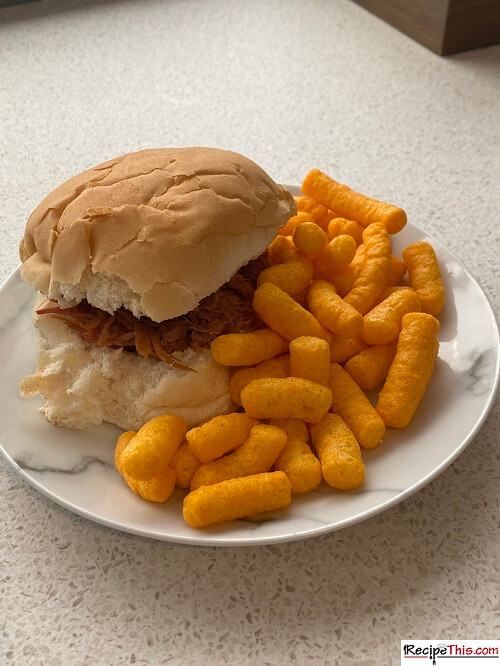 If you have followed us closely, you will realise it's the mince pasta bake we made early on in this aldi dinner plan and we have taken it from the freezer to serve over potatoes.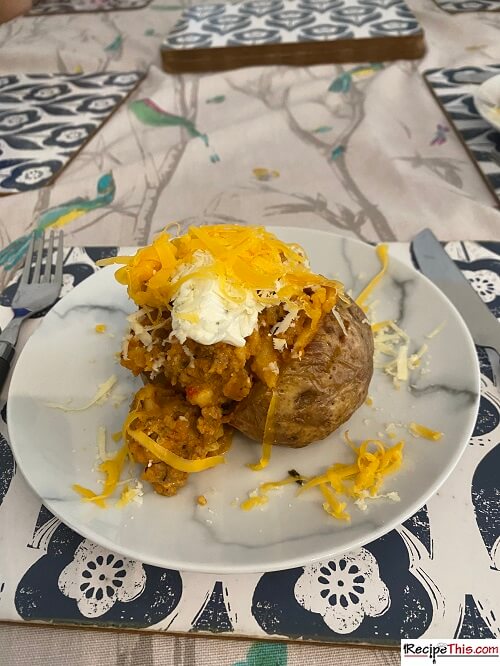 But before we dive into day 21, I want you to do something important. You have JUST 8 days left, and I recommend an audit of the foods you have in, what you can make with them and go through your kitchen cupboards, fridge, and freezer.
It is also a great way to avoid food waste!
Aldi Meal Plan Day #21
Now I have assessed what I have left I can make sure what needs eating first, gets used and that we don't have food waste.
Which leads to another breakfast of kale chips as I always seem to have too much kale.
Then for lunch it was an air fryer whole chicken with leftover pasta.
Then for dinner another batch of courgette fritters in the air fryer.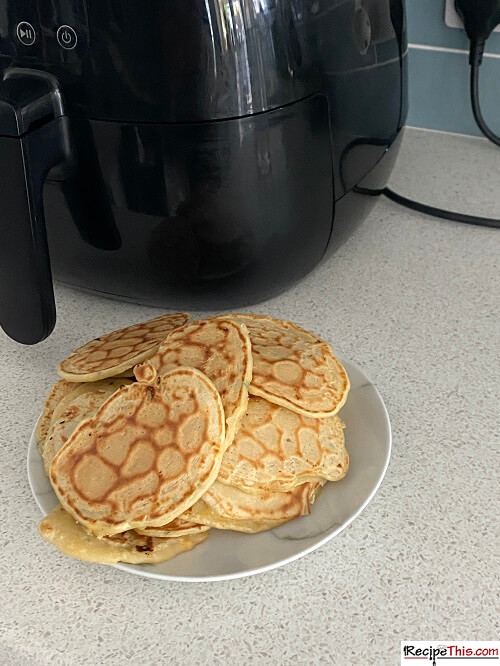 Aldi Meal Plan Day #22
Then you guessed it, leftover courgette fritters for breakfast. They are the kids favourite are a great savoury alternative to pancakes and perfect for a quick reheat in the air fryer.
Then for lunch we had Ninja foodi bacon into sandwiches, served in air fryer part baked bread. If you have not tried Aldi part baked bread yet, then I highly recommend you do.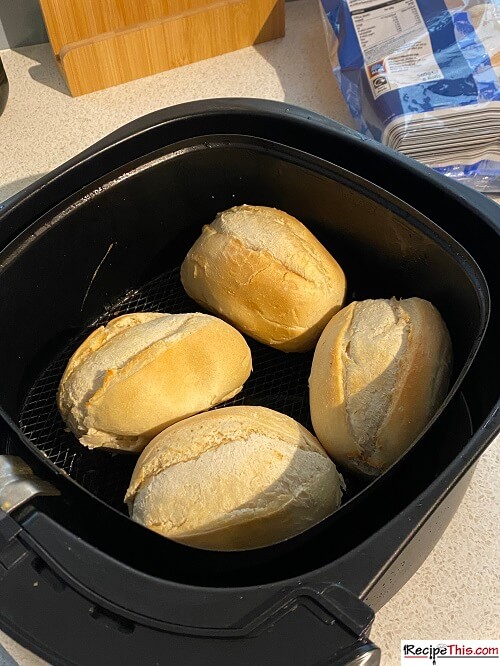 Then for dinner we had another Aldi whole chicken in the air fryer served with leftover salad bits that need using up.
But before we dive into day 23, we are heading to Dalby Forest tomorrow and are taking a picnic with us and wanted to prepare an Aldi picnic tonight we made:
Air Fryer Sausage Rolls
Tuna & Sweetcorn Sandwiches (with 75% off bread)
Crisps
Chocolate Cake Bars
Air Fryer Egg Cups (perfect for picnics)
Bananas
Aldi Meal Plan Day #23
Then on the day of the picnic we had air fryer omelette for breakfast to fill us up as we were planning a 3 mile walk.
Then for lunch we had a delicious picnic, followed by leftover sausage rolls for supper.
Aldi Meal Plan Day #24
Then for day 24 we had another air fryer omelette. Lunch was slow cooker corned beef hash and then dinner was lunch leftovers into air fryer corned beef pasties.
I recommend whenever you make corned beef hash, that you make leftovers into pasties, then another leftover after that into a soup.
Aldi Meal Plan Day #25
With day 25 it was another batch of air fryer omelettes for us all for breakfast. Then for lunch I had a fun clearout of things I had bought from Aldi but not had chance to use.
We had:
Grated cheese
Salad bits
Chicken wings
Chicken drumsticks
Part baked bread
Then for dinner we had air fryer grilled cheese and dunked it in some mayonnaise.
Aldi Meal Plan Day #26
Breakfast was the Tiktok crumpets trend. Check out our air fryer crumpets recipe to see it in action.
Then for lunch it was chicken in a leek and potato sauce with honey carrots. This was made by combining leftover chicken with leek and potato soup from the freezer. Another great use of some leftovers.
Then for dinner we had sticker pizza with some potatoes. I mean who doesn't love pizza and chips for dinner.
And do check out our air fryer frozen pizza recipe for how to do this and our reheat pizza in air fryer.
Aldi Meal Plan Day #27
For breakfast it was air fryer toast with some of Aldi soft cheese.
Then for lunch it was some of the leftover halloumi pasta that I found in the freezer.
Dinner was some more baked potatoes with melted cheese.
Aldi Meal Plan Day #28
For our final day of our 28 day Aldi meal plan I had egg cups for breakfast.
Then for lunch I mixed a small pasta portion with potato hash for a yummy family meal.
Then we finished with an instant pot baked potato with tuna mayo.
More Aldi Food
As I finish my 28 day Aldi meal plan, I am amazed by how much food I still have in. I realise that if income was late, I could easily stretch this for another 10 days, if not 14 days.
My advice to you, is see what is available at your Aldi, grab as many relevant discounted foods and make use of everything. Turn those leftovers into another meal and enjoy Aldi's amazing food and amazing customer service.