Why Is My Air Fryer Smoking? Today I wanted to help you out with one of the biggest air fryer problems and that is air fryer smoking. Most importantly why it happens and how to stop it happening in future air fryer recipes.
My air fryer is smoking guide is also featured in the Magic With Gadgets Podcast. Simply search for Magic With Gadgets on your preferred podcast player, then scroll to episode 7 of season 2 to access this awesome episode.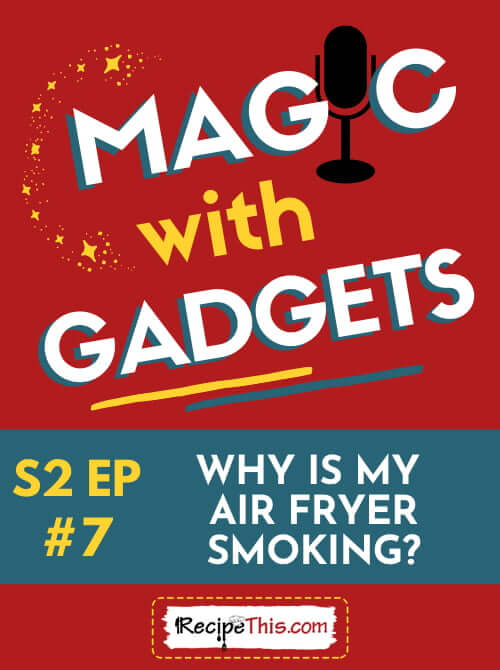 Air Fryer Smoking
Do you ever have a favourite brand of food and because you have eaten it for so long and enjoyed it, never considered there was anything better?
I admit I have used the same shampoo since I was 11 years old. There are probably better ones, but I love the smell and I always go for my favourite.
The same would apply with sausages. I always bought Richmond sausages. They were cheap and they would often be reduced in price and I would feel like a real bargain hunter when I bought them home and used them in a sausage casserole.
I had probably been cooking them in the oven or deep fryer for about 10 years when I first cooked Richmond sausages in the air fryer.
We had only been air frying for about a month then and it was our first time trying air fryer sausages.
Well, the air fryer smoke was so bad, that it set off our smoke alarm and our apartment was full of smoke. It took us ages to get the kitchen normal again.
It was my first experience of my air fryer is smoking (that was back in 2011) and was not my last.
Over the last 10 years I have learnt a lot about air fryer smoking, and I wanted to share with you today:
Why do air fryers smoke so much?
How do I stop my air fryer from smoking?
Tips to stop your air fryer from smoking in the future.
Foods to avoid in the air fryer.
And so much more.
Plus, as well as our free newsletter, we also have a free air fryer mini course. It is ideal for air fryer beginners or those that want to get more confident with their air fryer. The free course runs for 5 days with a new lesson delivered each day to your inbox.
Why Does My Air Fryer Smoke?
The reason why air fryers smoke so much is because as the food circulates any greasy fatty foods create smoke and that smoke leaves the air fryer via the air fryer vent.
This then leads to your kitchen filled with smoke from the air fryer and your smoke alarm going off and driving you crazy!
But back to the example above about my Richmond sausages in the air fryer and why they were such a problem and why they made my air fryer smoke so much.
They were cheap, incredibly fatty sausages.
Of course, I never paid much attention to the fat content in them as I had always eaten them. But further investigation made me realise that I shouldn't be eating them.
What I did instead, to stop my air fryer from smoking as much, was buy sausages from the butchers.
They were of a better quality, lower fat sausage and didn't cause any smoke at all. In fact, check out our air fryer sausage video on You Tube and then you can see that there is no air fryer smoke at all.
Why Does My Air Fryer Smoke So Much?
Back to the sausages, if the food that you place in the air fryer is high fat, then it is likely to smoke a lot more than sausages that are lower fat.
Then add to this the way an air fryer works compared to an oven. It has its own vent and the grease from the fat is heading out through the vent and then creating a smoke filled kitchen.
Do Air Fryers Smoke A Lot?
No, air fryers don't smoke a lot. Only when you upset the air fryer by adding high fat foods.
I can name on one hand all the times that we have had a smoke problem with the air fryer.
Each time I have looked through the nutrition on the food and it's been because the food was high fat or food that was very greasy.
This is also a reminder, that the air fryer is not meant for high fat food and was created as a way to cook with 95% less oil.
Next time you want to shout HELP ME as your air fryer is smoking. Take a closer look at what you are cooking as some foods that you don't expect to be high in fat and grease, might be a real shocker.
For example, cheap frozen burgers is often the biggest cause, but when I bought the more expensive beyond beef burgers and did our air fryer beyond burgers, I really didn't expect so much smoke.
How Do I Stop My Air Fryer From Smoking?
On a final note, to stop your air fryer from smoking these two things can make a huge difference:
Avoid overly fatty food – Go with a better quality burger, bacon or sausage. Just by upgrading slightly can seriously improve the level of smoke you receive during cooking.
Clean your air fryer regularly – If you cooked something medium fat the day before and didn't clean in between, you can have a fat build up. For example, if you cooked a whole chicken or air fryer frozen French fries. Then the next day you cook something else. It will be full of fat in the bottom of the air fryer and as the air fryer warms up this will create smoke. I recommend you check out our clean your air fryer guide for this.
Did You Know We Have A Podcast?
We started the Magic With Gadgets podcast in the January of 2021 as a way to offer a different way to enjoy Recipe This. It focuses on cooking with kitchen gadgets. You can find out more about our podcast here.
With twice weekly episodes through September to December. This is episode 7 of the second season and you have the choice between reading this post, listening to the podcast or both.
If you would like to stay in the loop with our podcast, I recommend you subscribe below:
How To Listen To This Podcast Episode?
You can use the player above to listen to this episode of Magic With Gadgets. Alternatively search for Magic With Gadgets on your favourite podcast platform or click the links below:
Subscribe & Review
Thank you for listening to the Magic With Gadgets Podcast. Have some feedback you would like to share? Want to be featured in a future episode? Want to help us spread the word?
Browse other episodes (access them all here)
Leave a comment below the blog post
Share with your friends on social media
Share your thoughts in our Facebook Group (you can sign up here)
Ask me a question or submit a guest request by filling out the form below
If our podcast has helped you, please leave a review on iTunes. Your reviews help spread the word and without reviews our podcast will not get seen. Plus, I love reading each and every one of them.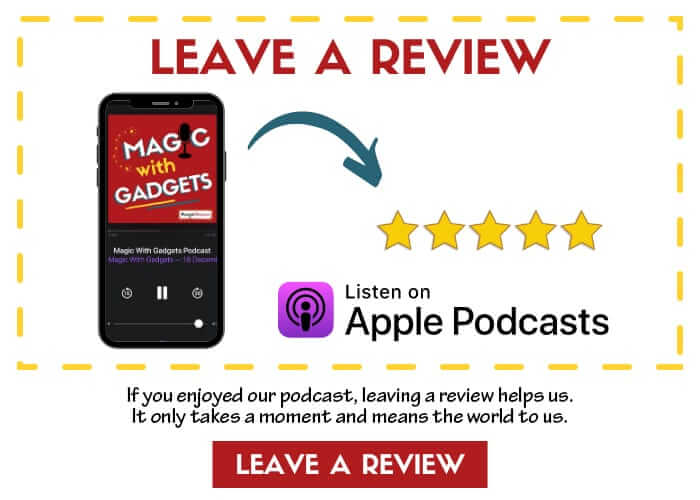 Can't listen now? Then pin it for later!