A big kitchen gadget welcome to Recipe This.
My name is Samantha and along with my Chef hubby Dominic, our sons Kyle and Jorge and our daughter Sofia, we just wanted to say how amazing it is that you trusted us with your email address, and we can't wait to get to know you better and teach you what we know. You can of course read more about us here.
Sadly, I must start with a disclaimer, but let's get the boring stuff sorted first:
BY OPTING IN FOR THIS SUBSCRIPTION, WE WILL ALSO USE YOUR EMAIL ADDRESS FOR TARGETED ADVERTISING. YOU CAN OPT-OUT OF EMAIL-BASED TARGETED ADVERTISING HERE.​
Now that the legal jargon is over and done with, let me take you on a tour of our kitchen gadgets resource library.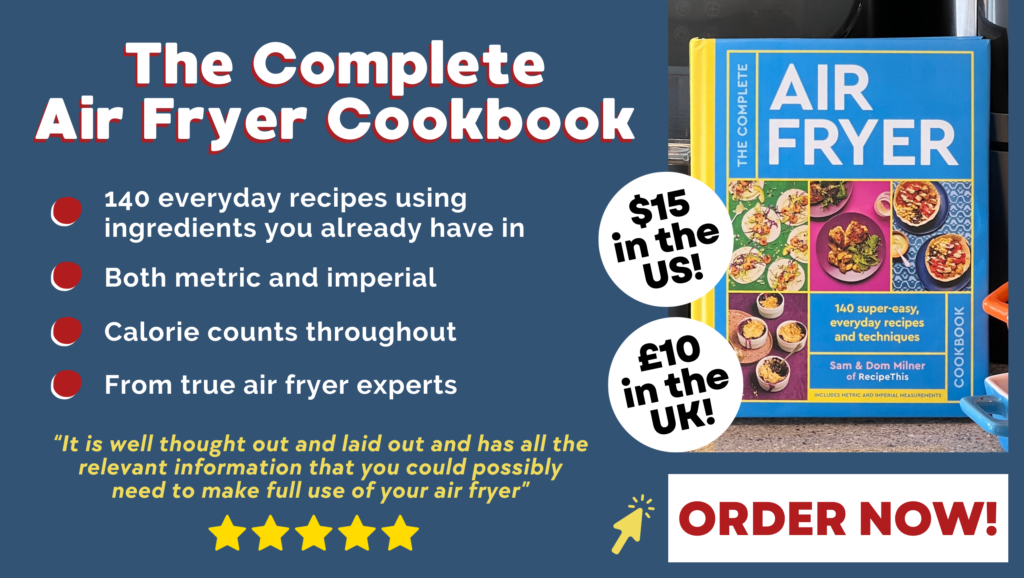 Order The Complete Air Fryer Cookbook Now!
Please Note Before Downloading
If we bring out a new printable, it will be added here and we will mention it in the weekly newsletter (comes out every Friday morning) and because you have already joined you don't need to join again.
Therefore, if you are browsing our site and see a printable you really want and it asks for your email, don't enter it, instead come back here and download it.
Your Free Resources Library
We created a free resources library because we found ourselves creating more and more different free PDFs and wanted to create an all in one place for you to download them from.
We have everything from meal plans, printable recipes to our very popular bucket lists for you to choose from. Just pick and choose whatever you want, 1000000000% FREE of charge.
Below we have loads of free downloads, split into kitchen gadgets to make it easier for you, plus we have a big download link to grab everything for the ai fryer or everything for the instant pot and then you can keep what you need and then ditch what is not important to you.
Popular Downloads
Free Air Fryer Downloads
Click here to download all the above air fryer PDFs in one quick Zip file.
Free Instant Pot Downloads
Click here to download all the above instant pot PDFs in one quick Zip file.
Do You Have A Ninja Foodi?
The greatest thing about a Ninja Foodi is its ability to be a slow cooker, instant pot, air fryer, dehydrator, and yoghurt maker in one. Therefore, if you have a Ninja Foodi, we recommend you:
Then you will have a lot of different ideas to put into practice.
More Exclusive Free Downloads
More About Emails You Will Receive From Us
If you joined our email address and opted to receive our free mini course or free bucket list, then you will receive emails about those.
If you didn't, we have a series of emails we will be sending to you about us, how we can help you and loads of tips and tricks to get you started.
Then alongside this we have the weekly newsletter which goes out every Friday morning. Though if you are on our mini courses, we will suspend this for the first week to give you time to digest our emails and not feel like email overload is happening to your inbox.
What Should You Do Now?
Now that you have joined our email newsletter and are part of the Recipe This family, we recommend that you also:
Subscribe to our You Tube Channel – Get access to 100's of new kitchen gadget recipes and then be notified when new ones happen.
Join our Facebook Group – A great place to hang out with us and our other newsletter subscribers as well as somewhere to ask questions about your kitchen gadgets or just somewhere for a bit of company.
Listen to our Podcast – We have the Magic With Gadgets podcast which gives you a way to listen to us and where we share a lot of our tips and tricks for cooking with kitchen gadgets, along with plenty of hacks and loads of recipes.
Check Out Our Ebooks
We also have several ebooks that you can buy and are a lot more in depth that our free ebooks.
Below are our ebooks that we recommend if you are just starting out with your kitchen gadgets and want something you can download now and get stuck into:
Instant Pot Ebooks
Air Fryer Ebooks
More Ebooks
Sam's Top 10 Kitchen Gadget Recipes
I often get asked by my readers, what my top kitchen gadget recipes are and which ones I turn to time and time again and that I would recommend to new readers.
Well, this is a really hard decision because I have more than 1000 recipes and to take it down to 10 is some doing.
But I did it and here are my top 10 kitchen gadget recipes for all time that I cook time and time again.
Air Fryer Frittata – If you are part of our weekly newsletter you will know I make this every Sunday for the week ahead and then reheat it in the microwave for quick breakfast for me and Dominic.
Air Fryer Baby Potatoes – OMG these are my hero. You can literally toss some prepped baby potatoes in some seasoning and oil and they become the best potatoes you have ever eaten.
Instant Pot Frozen Broccoli – I have lost count of the amount of times we have this for lunch when the kids are at school. We will pair it with some air fryer frozen salmon and it's the best lunch ever and so quick too.
Instant Pot Brown Rice – I love cooking brown rice in the instant pot. It's the easiest of all of them for the instant pot and then its perfect for a quick side dish for dinner.
Ninja Foodi Spag Bol – This is truly genius the way you can lay the spaghetti over the Bolognese meat and then pressure cook. It then just needs a stir, and you have the easiest spaghetti Bolognese ever.
Ninja Foodi Roast Potatoes – This is brilliant because the Ninja doubles up as both a pressure cooker and an air fryer. You can quickly partly cook the potatoes, then season and oil and the roasties are the best.
Slow Cooker Doner Kebabs – I love a doner kebab and it tastes much better when you make your own in the slow cooker. Then just grab some pita bread and you are ready to go!
Soup Maker Tomato Sauce – This is one of those recipes I made all the time before getting a soup maker and now its 90% quicker to make and freezes perfectly.
Pie Maker Quiche – I love to take my little pie maker with me on holiday as it doesn't take up much room and makes delicious simple quiches. You can also use it for little pies from your leftovers too.
Thermomix Playdough – Not the classic recipe you are used to seeing on a food blog, but its so easy and great for some fun with the kids. We often divide it into different coloured balls and have loads of fun.
Dom's Top 10 Kitchen Gadget Recipes
I also asked the lovely hubby what he would choose out of 1000 recipes on Recipe This and this was his go to list.
Air Fryer Whole Chicken – This has to be the reason to buy an air fryer. If you just do one thing, then make it be this. The chicken is so juicy and the skin is so crispy yet the cook time is half that of an oven and no preheat.
Air Fryer Chicken Thighs & Potatoes – This tastes amazing. Delicious crispy skin on chicken thighs with potatoes and loads of honey and great flavours. We fight over who gets the last potato.
Air Fryer Ham – This is made using the rotisserie of the air fryer oven and made with some gammon and is delicious. Our favourite out of all the meats we have cooked on the rotisserie.
Instant Pot Caramel – This has to be the best ever hack of the instant pot. Load in cans of sweetened condensed milk and they turn into caramel in 40 mins. Much quicker than the 4 hours in the pan.
Instant Pot Rice Pudding – Tastes so good its hard to have just one bowl of it.
Instant Pot Sloppy Joes – These sloppy joes sandwiches are amazing and perfect for those lazy weeknights when you can't be bothered to cook and need a comfort food fix.
Bread Machine Bread – This is truly amazing and comes out perfect every time. Pretty special for a dump and start recipe. You can also use the same ingredients into a dough and then use it for bread rolls.
Slow Cooker Mince & Dumplings – This old fashioned recipe is perfect for the slow cooker and its best when you make too much and you have loads of leftovers.
Soup Maker Cheese Sauce – Given the chance I am sure Dominic would have this everyday forever. It also freezes very well and is perfect for pouring over your pasta dishes.
Ice Cream Maker Vanilla Ice Cream – This is the go to recipe that we were given by Italians and is true Italian style ice cream and can be the base for many ice cream recipes using an ice cream maker.
I also asked the kids for their top picks, and they chose:
And on a final note, I just wanted to say a huge THANK YOU for subscribing to Recipe This and we are just an email away, if you need any help at all with your kitchen gadgets.
PS: Don't Forget Your Cookbook!
You can pre-order the complete air fryer cookbook here and then have it in your kitchen with you, the day it is published.