Instant Pot Cheap Freezer Meals
This Post Contains Affiliate Links. Click Here To Read Our Full Disclosure.
Instant Pot Cheap Freezer Meals. This Instant Pot Freezer Meals Ebook shows you not only how to create the BEST EVER cheap freezer meals, but also how to do it in a couple of hours for less than $30.
A lot of people do Instant Pot Freezer Meals to save money. They feel the pinch of trying to put real food on the table for their family every night and need a solution. They need to be able to make something that tastes amazing, hence why the Instant Pot and other pressure cookers, have been so successful among of families.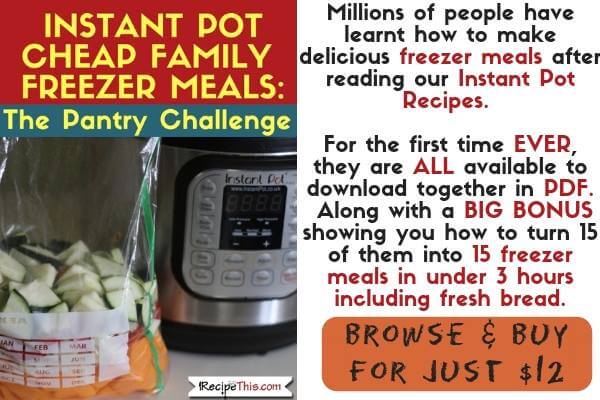 You've probably seen many articles on the internet showing you how to feed your family for $300 a month, we have also written about this and shown that $300 a month is easily doable.
But today, I want to go a step further and help you save even more with the help of our Instant Pot Cheap Freezer Meals.
I am going to show you how to clear out your pantry, get your groceries cheaper and then pair them up to make the most delicious ever cheap freezer meals.
Forget the idea that eating cheap in the Instant Pot involves just eating pasta or rice, because it doesn't.
But first let me tell you more about us. We're the Milners. We live in the Portuguese Algarve with our 3 kids and have a teenage boy that never stops eating yet looks thinner than a skeleton. We are also mum and dad to a pair of under 5s that love their real food. We have a busy life as food bloggers and love saving money on our groceries.
Our Cheap Instant Pot Freezer Meals Ebook will start by showing you how to clear out your pantry and shop smart, so that you can make some delicious family dinners in the Instant Pot for as little as $30.
We will show you exactly what foods we found in our pantry, what to look for in yours, what grocery shopping we did, the Instant Pot Freezer Meals we made, as well as lots of recipes and ideas that will get you started.
Here are just a few of the highlights:
Freezer labels for every meal
Thorough grocery shopping list
15 Delicious and uncomplicated Instant Pot Freezer Meals
Instructions showing you how to quickly reheat your freezer meals
Easy food swaps to bring your price down even lower
Healthy yet hearty soup recipes that are precooked with homemade bread rolls
Lots of printables to help you organise your cheap freezer meals

Our Cheap Freezer Meals are ALL:
Easy to prepare – Lots of dump and go recipes where the ingredients are thrown into the bag, ready for freezing for later.
Real Food – I hate using cans of mushroom soup in recipes and I have devised the recipes so that they are just real food!
Perfect for diets – Our recipes that we have used can easily be adapted. If you are on Paleo, the Whole30, Keto, Slimming World or Weight Watchers they can easily be adapted.
Low in fat – Because they are prepared with the Instant Pot in mind, they are naturally lower in fat than traditional recipes.
Family focused – We have 3 children and our focus was on feeding our family and making meals that we all liked. They are no weird ingredients to source just food that your family will love.
Comforting meals – Forget food that you hate and that your family will not like. We have the favourite comfort foods. Sausage casseroles, wings, soup with homemade bread, stews and so forth.
My Cheap Instant Pot Freezer Meals was created with the idea of getting a warm, comforting, family dinner on the table, when you are tired and can't be bothered to cook.
But our recipes can easily be used for lunch too. Or if you are a smaller family you could split the meal to do lunch and dinner.
Plus, with 15 freezer meals to go at, you could double up and have a month's family freezer meals for less than $60 a month. If you think about it, you spend more money cooking dinner than any other meal, so imagine what we can drive down your grocery shopping bill to.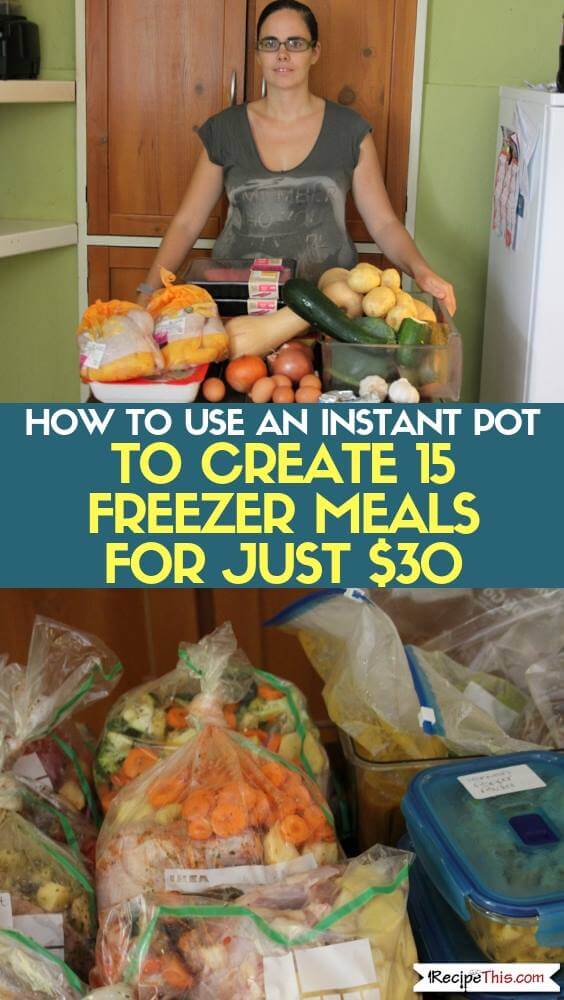 Our Cheap Instant Pot Freezer Meals Recipes is the second part of our cookbook. It shows you how to cook lots of our freezer meals, in case you don't want to bulk prepare and you just want to do one or two of our freezer meals. It also shows you what Instant Pot Recipes our Freezer Meals was inspired by.
Here are a few of the recipes it includes:
Sausage Casserole
Rotisserie Chicken
Vegetable Ragu
Spanish Traybake
Coconut Chicken & Potatoes
Breakfast Hash
Sticky Turkey Wings
Butternut Squash Soup
Broccoli Cheese Soup
For each of the 15 cheap Instant Pot Freezer Meals, we will show you how prep each freezer meal, so that you can set it up and forget about it. You will not have to worry about cooking dinner for your family for the next 15 days. Or you can use our freezer meals for weeknights and have it last you 3 weeks.
What you do with our Instant Pot Freezer Meals is your choice. We are just here to make suggestions and make it easier for YOU.
Our FAVOURITE SECTION:
Is when I have audited my chest freezer, my fridge, my pantry and my kitchen cupboards. I have proven that you don't need to spend a lot on groceries to deliver delicious Instant Pot Freezer Meals. I have focused on reducing food waste and getting the best value for money from the food you have already bought.
In our Cheap Instant Pot Freezer Meals, we have included printables that you can use to audit your pantry and plan what meals you can make for food you already have. A lot of us could just buy a small amount of vegetables and meat and make an incredible amount of freezer meals.
The Chapters:
Introduction
How To Use This Freezer Meals Ebook
Auditing
Grocery Shopping
Planning Your Freezer Meals
Preparation Guide
Bonus Recipes
Printables
Freezer Meal Top Tips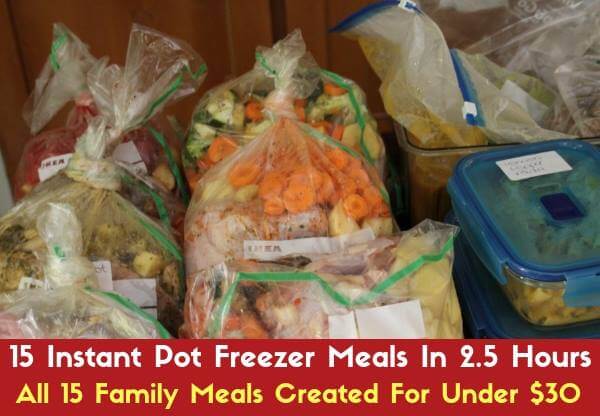 It Is SO Easy:
Special Mentions:
Catered towards BEGINNERS with a lot of newbie friendly Instant Pot electric pressure cooker recipes included
ADAPTED so that you can preheat from frozen or from thawed
Start slowly by learning the art of AMAZING cheap freezer meals in the Instant Pot
My FAMOUS slow cooker sausage casserole altered to suit the Instant Pot Pressure Cooker
The BEST ways to save money on groceries
LEARN how easy it is to batch freeze for later
DISCOVER the appeal of freezer cooking
DEDICATE just a couple of hours of your time to freezer cooking and reap the benefits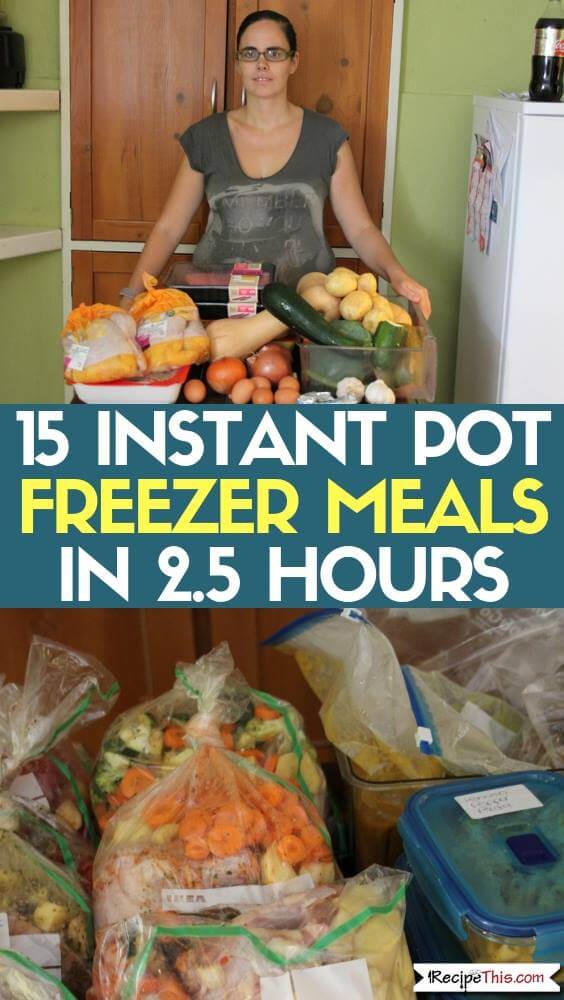 Special Diet Mentions
Many PALEO Recipes
Many WHOLE 30 Recipes
Many DAIRY FREE Recipes
Many GLUTEN FREE Recipes
All FAT FREE Recipes
All Recipes Are NUT FREE
This Ebook concentrates on a lot of classic family recipes that have been revamped for making freezer meals in the Instant Pot Pressure Cooker. Don't expect to find any weird trends in our Cookbook or ingredients you can't source. Just real food for the average family.
You will come out of our Cheap Instant Pot Freezer Meals Cookbook with an amazing knowledge of the pressure cooker as well as how easy making freezer meals can be and how much time they can free up.
Right now, our Cheap Instant Pot Freezer Meals Cookbook is only available in ebook format. This is great for you because you can download the ebook to your computer, laptop or phone.
Then print off the sections you need as and when you want to cook. It saves you waiting for a book to arrive and you can literally start reading our Instant Pot Freezer Meals Cookbook in a couple of minutes from now.
It is also priced at JUST $12.00 for everything you could possibly need to make a go off freezer meals in the Instant Pot.