The Instant Pot Advanced Quick Start Mini Course
This Post Contains Affiliate Links. Click Here To Read Our Full Disclosure.
The Instant Pot Advanced Quick Start Mini Course. The perfect ebook beginner guide to get you started with your instant pot and feel confident in instant pot cooking.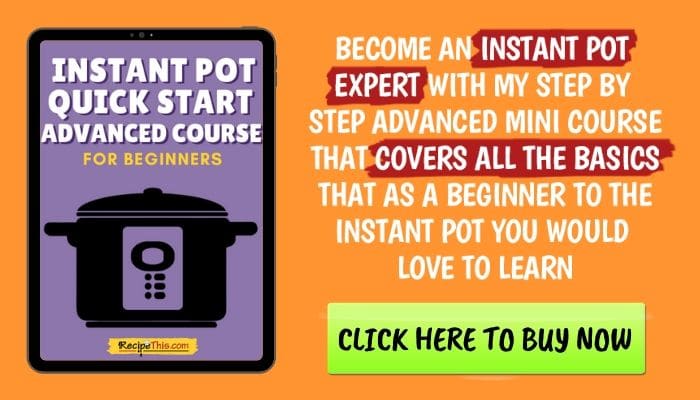 Not sure where to start with your instant pot?
New to the instant pot?
Looking for instant pot beginner recipes?
Your instant pot is still sat in its box?
Looking for instant pot guidance from an expert?
Want to understand all the instant pot jargon?
If you answered YES to any of these questions, then the instant pot advanced quick start course is PERFECT for you!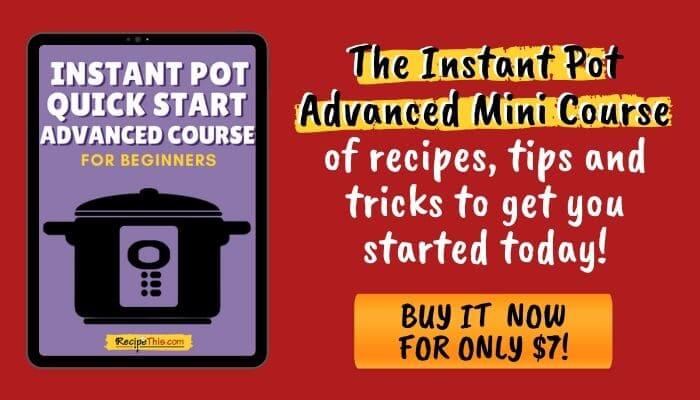 We're the Milner's.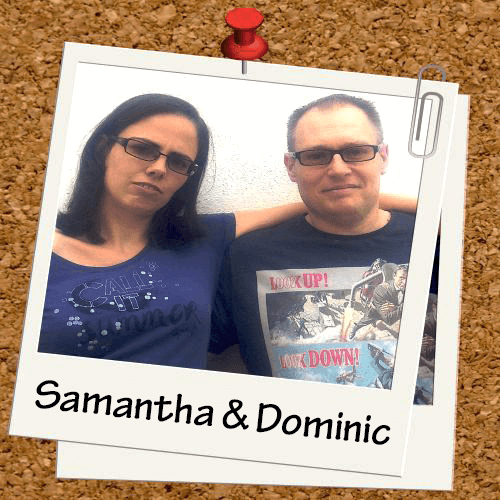 I am Samantha and along with my husband Dominic we started RecipeThis.com in the November of 2015. We wanted to have an outlet to share our obsession with the air fryer. But a year later we discovered the instant pot and slowly it increased to many different kitchen gadgets.
Many of our readers know us best for the instant pot and air fryer, but we also love to talk bread makers, soup makers, ice cream makers, blenders, and slow cookers.
Our Instant Pot recipes over the years has expanded to over 200 instant pot recipes, many instant pot ebooks and is growing every day.
Just as I write this my husband Dominic is loading up vegetables in the instant pot for us to have for lunch.
Last night we enjoyed instant pot baked potatoes and used the instant pot for no peel boiled eggs for our egg mayonnaise.
What our readers love about us and Recipe This is that we practice what we preach.
We use our instant pot every day, often several times and have used instant pots since 2016.
We even took our instant pot tent camping for 8 weeks and have become obsessed with the instant pot way of cooking.
We are also parents to three amazing kids and will use our instant pot to feed our family of five and we also do so on a budget.
You Asked, So We Delivered!
All our instant pot ebooks were created based on reader requests. Readers like yourself that is struggling with a certain element when it comes to instant pot cooking and wants to learn more.
The instant pot advanced mini course came about after several readers complained to me about a lack of quality instant pot mini courses.
They had signed up for many, but they lacked true knowledge of the instant pot and just covered incredibly simple basics that they already knew.
After a few busy months we have had the opportunity to sit down, put pen to paper, type up our notes and create that dream instant pot mini course for you.
But we felt that there was only so much you could say by email and that what was most important was an advanced mini course.
A mini course that you could digest the information in a day or two, or over a longer period, if you preferred and print off and put into practice what you have learnt.
The Instant Pot Advanced Mini Course
It goes beyond a quick 5 day email mini course and includes:
Printables – for planning recipes and planning grocery lists.
Cooking Times – Quick cooking times for your beginner instant pot recipes. Perfect for quickly printing out and adding to your fridge for quick reference later.
Instant Pot Beginner Recipes – Instead of the 9 recipes that you receive in the 5 day mini course you get 25 super easy beginner instant pot recipes that you must try.
No Fail – Featuring instant pot jargon. Don't get confused anymore when people talk to you in instant pot language.
PDF Download – Everything comes together in one quick to download PDF ebook. You can save it to your laptop, your tablet or even your phone for quick reference.
All for the AMAZING PRICE of JUST $7.00: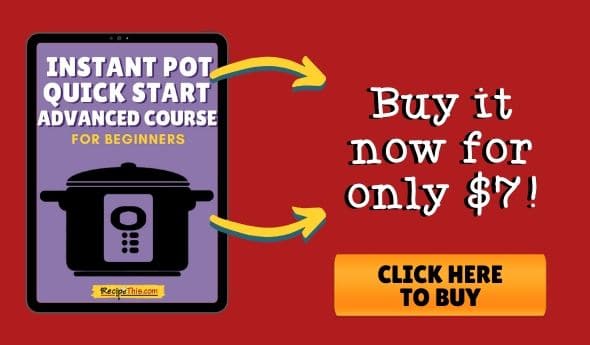 25 Best Instant Pot Beginner Recipes
My favourite section of the instant pot advanced mini course is the carefully picked instant pot beginner recipes. Perfect for those that have a new instant pot and want an easy starting point.
Here are examples of 10 of the instant pot beginner recipes that are included:
Instant Pot Caramel – I recommend everyone makes instant pot caramel from condensed milk as their first ever instant pot recipe. It is easy and perfect for transforming your stovetop caramel to the pressure cooker.
Instant Pot Frozen Steak – My all time favourite frozen food in the instant pot. Frozen steak is seasoned, cooked simply and then served with potatoes and steak sauce.
Instant Pot Frozen Hamburgers – A similar rule applies when making instant pot frozen hamburgers. But even better, you can fry the onions at the same time, use the instant pot to melt the cheese and avoid lots of washing up.
Instant Pot Broccoli – The first thing us Milner's ever cooked in the instant pot. So yummy and easy. One you pressure cook broccoli there is no going back to boiling it.
Instant Pot Frozen Vegetables – A thorough guide showing you how to cook your favourite frozen vegetables from frozen in the instant pot. Including our own experience as well as top tips and advice for doing the same.
Instant Pot Mushroom Soup – What I love about this instant pot mushroom soup is that it is not just a soup it is a sauce too. Ideal for replacing in recipes that call for a can of mushroom soup and fantastic as instant pot stock for vegetarian and vegan recipes.
Instant Pot Paella Soup – My method for reheating leftover rice dishes and turning them into rice soup. Ideal for if you have spare rice and want to turn it into a meal.
Instant Pot Healthy Cheese Sauce – Made from frozen cauliflower in the instant pot, this is one of the best sauces ever. Loaded up with cheese, it is the best instant pot sauce you will ever try.
Instant Pot Vegetable Curry – This is how to make a creamy, vegetable curry in the instant pot. A simple method to follow and perfect for new instant pot users.
Instant Pot Frozen Shredded Beef – One of the easiest ever instant pot recipes and teaches you how to cook beef from frozen and shred it for tacos, sandwiches, and salads.
Instant Pot Advanced Mini Course Chapters
The instant pot advanced mini course is split into the following chapters:
Introduction
Lesson 1 – Getting the instant pot out of the box + much more
Lesson 2 – The instant pot jargon explained
Lesson 3 – Let's talk instant pot vegetables
Lesson 4 – Instant pot soups and sauces
Lesson 5 – Cooking with frozen meat in the instant pot
Bonus Lesson 6 – Instant pot tips and tricks
Instant Pot Recipes – Featuring 25 of the best instant pot beginner recipes to start with first
Instant Pot Cooking Times – Quick reference for cooking with the instant pot
Instant Pot Printables – Perfect for planning recipes, grocery lists and reference
This Instant Pot Mini Course focuses on a lot of popular instant pot recipes and instant pot issues people have. Do not expect to find recipes with ingredients you cannot source such as potato starch or things for weird diets. Only regular ingredients for the lady or gent next door.
All our Instant Pot recipes are based around using the Instant Pot Duo. We are experienced with other brands of electric pressure cookers too and this course is perfect for all.
Our instant pot advanced mini course is only available in ebook format.
This is great for you because you can download the ebook to your computer, laptop, tablet, or phone. Then print off a recipe as and when you need them. I also love to have my phone in the kitchen when I am cooking, and I can quickly glance at cooking times as I pressure cook.
But even better it saves you waiting for a book to arrive and you can literally start reading our Instant Pot Mini Course in a couple of minutes from now.
It is also priced at JUST $7.00 Simply click on the banner below for instant access to our instant pot advanced quick start mini course: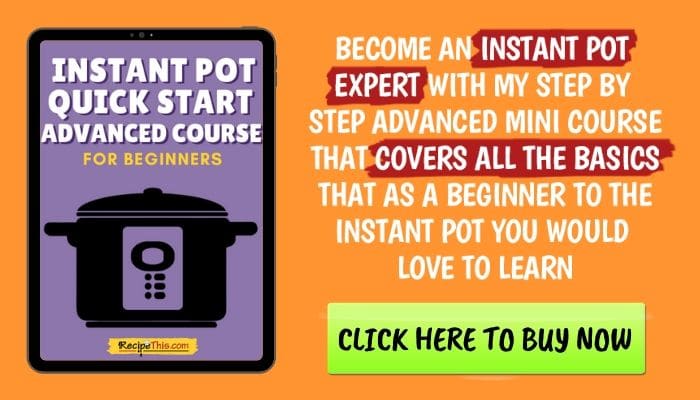 This instant pot ebook is downloaded in PDF format. It downloads instantly after payment. You will also receive an email with your download details.