Easy Air Fryer Meals. Introducing you to our full list of air fryer meals that you must cook in your air fryer, that are so easy they are ideal for air fryer beginners.
But before we dive into this air fryer dinner recipes list, I have something even better than our easy air fryer meals for you to check out first.
It is our Learn Your Air Fryer online course and our free air fryer mini course. They are ideal for air fryer beginners. The free course runs for 5 days and is in the format of an email miniseries. While the learn your air fryer course runs every week with a new PDF and ecookbook for a whole year.
Or browse our site as we have 400+ air fryer recipes that are easy to recreate at home and we have been showing people how to use the air fryer since 2011.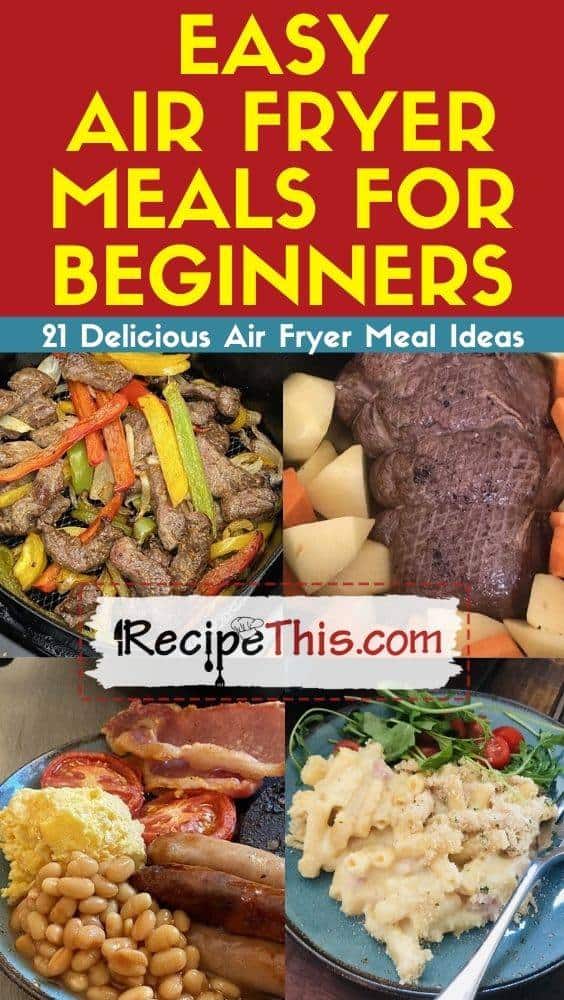 Easy Air Fryer Meals
I have a big HATE when it comes to slow cooker, instant pot and air fryer meals or dinners that you scroll through on the internet.
You will see it somewhere in the instructions…..microwave an ingredient first, finish it off in the oven, or cook the meat in the slow cooker, but to make the meal you will need the stovetop.
Or even worse when you see a recipe for a slow cooker macaroni cheese, it will say add cooked pasta, in which case its not a slow cooker meal, because you must cook the ingredients first before they went in the slow cooker.
Well, isn't that the point of the kitchen gadgets, that it can produce the whole meal in one place? That you throw it all in and then can forget about it, or maybe you might turn the meat once a bit like when you make a sheet pan dinner.
That is what I was thinking about when I came across a post for air fryer dinners. Not one of the recipes was cooked together in the air fryer. I found myself scrolling through the Recipe This archives to see what actual air fryer meals I have and this is how this list became a thing.
So if you are looking for a complete meal in the air fryer without relying on something else, then this is it!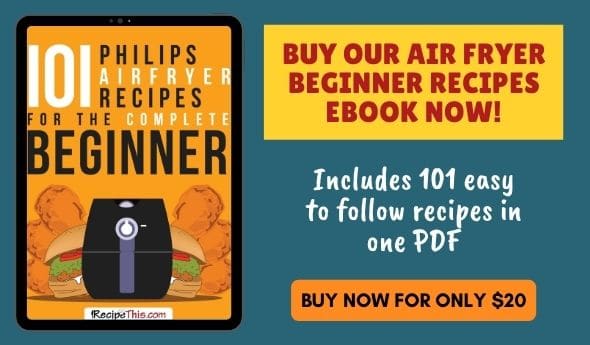 Can You Cook A Whole Meal In An Air Fryer?
Absolutely! The air fryer was created for air fryer fries, but the truth is that there are so many different uses for the air fryer and cooking a whole meal is one of its amazing capabilities.
The art of the best air fryer meal is to:
Have cooking times that work well together – After all, you can't have the meat underdone while the potatoes are dry and overcooked. Making sure your cook times flow is the biggest battle and once you have figured this out, you have won the war.
Understand the size of your air fryer – Quite often we want to make the same meal we made in the oven, but with less calories and a better texture in the air fryer. With air fryers often been rather small, you have to figure out what will fit in your air fryer.
Remember your favourite recipes – Think of all your favourite stir frys, favourite sheet pan dinners and favourite roast dinners and each of these can be transformed to the air fryer.
Of course, in the air fryer meals that we have featured below, we have solved these problems for you. Its just a case of choosing which of these air fryer meals to cook next and then you can expand on them by converting your favourite recipes.
Easy Air Fryer Meals
Here we are with all our easy air fryer meals. I call them easy, because they are so easy you could teach a kid to make them. Each time I have made the recipes below you can guarantee that my four year old has been doing most of the cooking, as he thinks he is the chef and loves the air fryer.
Top 10 Air Fryer Meals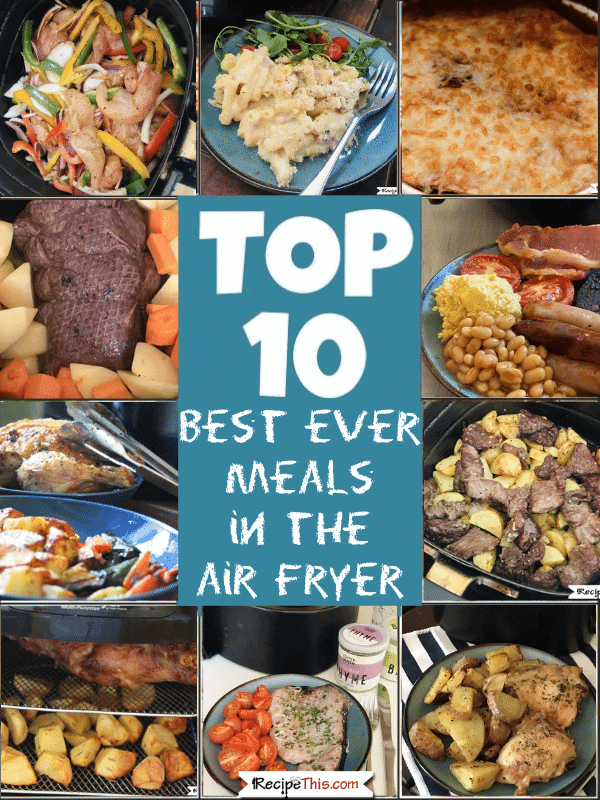 These are what I would consider to be the best ever air fryer meals that you can recreate at home in your air fryer. There are of course many others you could do, but these each tell a story about how amazing the air fryer is.
Air Fryer Chicken Fajitas – One of those dump it all into the air fryer methods and perfect for a light lunch or dinner. This is also using the air fryer stir fry technique and you can mix and match it for other stir frys you like.
Air Fryer Pot Roast – Probably the best example ever of an air fryer dinner and so yummy too. You cook your pot roast beef, roast potatoes and carrots altogether in the air fryer basket.
Air Fryer Roast Chicken Dinner – My favourite roast dinner in the air fryer and its amazing what can be achieved in a small air fryer basket. We stuff the whole chicken; we scatter in roast potatoes and we add vegetables too. Giving you a quick meal of roast chicken, stuffing, roast potatoes and vegetables.
Air Fryer Leg Of Lamb – Loved by our Australian readers the most, this is ideal for users of the air fryer oven and shows you how to cook a leg of lamb along with roast potatoes.
Air Fryer Tuna Steak – Ideal for the Keto/low carb air fryer user and shows you how to cook beautiful tuna steaks in the air fryer with cherry tomatoes. Ideal for a light lunch and be warned the tuna is addictive.
Air Fryer Steak & Fries – Yes you can cook your air fryer steak together with your steak fries. So good and the juices from the steak drip onto your fries making them the best fries you have ever tasted.
Air Fryer Chicken Thighs & Potatoes – Another favourite of mine and this is like the steak and fries but instead chunks of potatoes are cooked at the same time as skin on, bone in chicken thighs.
Air Fryer Taco Pie – Yes really, a taco pie in the air fryer. The taco meat cooks in the air fryer and then it is stacked to make a yummy taco pie.
Air Fryer Mac & Cheese – Another true air fryer dinner favourite is mac and cheese. You use one air fryer baking pan for the whole thing. No worrying about loads of washing up and no time consuming cheese sauce to make.
Air Fryer English Breakfast – If there was an example of how to cook a meal together in the air fryer, then this is it. You see in this recipe we are cooking scrambled eggs, bacon, sausages, beans, and black pudding all at the same time. Even if you don't do an English breakfast read through it and you can understand how to do the same with one of your favourite meals.
More Air Fryer Meals
But we have more than those 10 mentioned above and here are a few more for you to choose from next:
Can't read it now? Then pin it for later!