Welcome to our air fryer recipes. We have put together this air fryer recipes resource page for you so that you have a quick access to the best air fryer info.
Here at Recipe This we have been using air fryers since 2011 and we remember what it was like to be new to the air fryer. It was this version of the Philips Air Fryer brand that we had back then, and we are amazed since then how air fryers have got better and better.
Best of all, we have made the air fryer mistakes along the way, so that you don't have to. Or as they say in the movies we have got your back!
Or to save time on clicking through to all the air fryer recipes, you can also purchase our air fryer recipe archives, which includes EVERY SINGLE AIR FRYER RECIPE up until the time of writing this for you.
It is advert free. It is easy to print and most importantly our readers love it.
Learn Your Air Fryer Course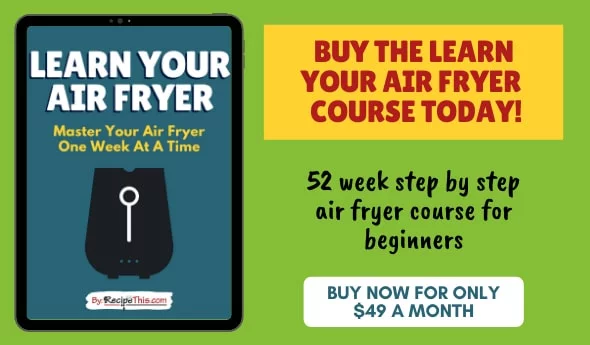 We also have a 52 week air fryer beginner course that teaches you how to use your air fryer. Each week you receive a new PDF with easy recipes and tips that will help you be air fryer confident.
You can find out more about it by clicking here.
Or for quick reference in the Milner house our air fryer favourites are:
Air Fryer Fries, Air Fryer Chicken Breast, Air Fryer Hamburgers, Air Fryer Frozen French Fries, Air Fryer Frozen Chicken Wings, Air Fryer Potato Wedges, Air Fryer Blooming Onion, Air Fryer Pork Ribs, Air Fryer Onion Rings & Air Fryer Frozen Fish Sticks.
Or if you are looking for new air fryer recipes, we have a category on Recipe This JUST dedicated to everything air fryer. You can head over to the category and see everything in order of most recent air fryer recipe first. Click here to access our air fryer category or click on the banner below:

Air Fryer Guides
We have put together some air fryer recipe guides to help you further. I imagined that if I were new to the air fryer and wanted to learn the basics, that these are the guides I would want to have access to:
What Is An Air Fryer?
Maybe you haven't got an air fryer yet or don't really understand what the big deal is with air fryers.
An air fryer is an all in one kitchen gadget that can replace a lot of kitchen appliances that you already have. It can be your microwave, your grill, your food warmer, your deep fat fryer, your oven, and your sheet pan dinner.
It is also fantastic for cutting down on the calories thanks to its air technology.
You use a lot less oil and a little oil is sprayed or tossed in the food prior to cooking.
For example, instead of fries swimming in a litre of oil they are tossed in a tablespoon of extra virgin olive oil. You get crispy fries but without the excess fat.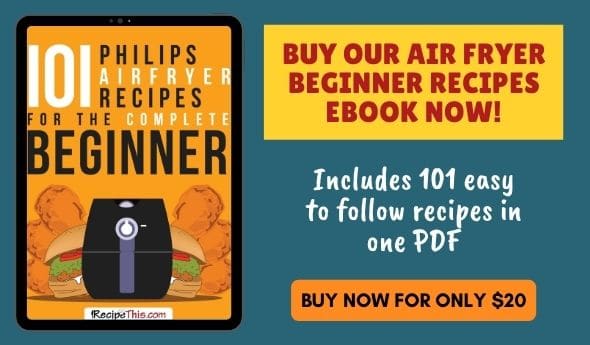 Or even better than baked breaded chicken has a crispy coating and is juicy, moist and crispy at the same time.
There are of course different air fryer brands, but none beat the quality of the Philips Air Fryer XL. Though if your budget can't do Philips, I also recommend you read our Cosori Air Fryer Review.
Thanks for reading and I hope these resources help you further with getting to know your air fryer.
Please do bookmark this page, pin it, or share it on Facebook, so that you can refer it later.
Plus, don't forget to subscribe below and then we can be email friends and I can email you with air fryer recipes along with other kitchen gadgets I own.
[optin-monster slug="eydy6nsbvvzwjnmx8dmr"]