0042: What To Eat In August With Your Kitchen Gadgets?
This Post Contains Affiliate Links. Click Here To Read Our Full Disclosure.
August Foods In Season. In episode 042 of the Magic With Gadgets Podcast we are talking about what we are cooking in August, what's in season and which kitchen gadget recipes to get excited about this month.
These foods in season for August are also featured in the Magic With Gadgets Podcast. Simply search for Magic With Gadgets on your preferred podcast player, then scroll to episode 42 of season 1 to access this awesome episode.
Hello August!
Yeah, August is here!!!!
For me August is the month of our eldest son Kyle's birthday and when we lived in Portugal the month when we felt like we totally melted from the heat.
It also meant a lot of waterpark days and got to enjoy family days out with lots of picnics and burgers.
My favourite picnic food was always air fryer sausage rolls, air fryer egg cups and usually some nice sweet treats too.
For foods in season we often find that August is an extension of July with a lot of similar summer foods in season that you can cook with and snack on.
What Should I Stockpile In August?
In August my favourite thing to do is to take the kids strawberry picking. We will pick lots of strawberries as well as some raspberries. Then we have way too many that this then becomes our stockpile of the summer.
I keep some strawberries in the fridge and eat these as a quick snack, then we dehydrate some of the strawberries and then freeze the rest for later, grabbing them when they are at their best.
Top 10 August Foods In Season
August is summer food heaven and it's hard to limit it to just 10 foods to enjoy in August.
Let's continue talking about strawberries. We were on a recent caravan holiday and the snack I took with me was some strawberry muffins made in the Ninja Foodi. They tasted so good and I made what I thought was a big batch, but of course, they were soon gone.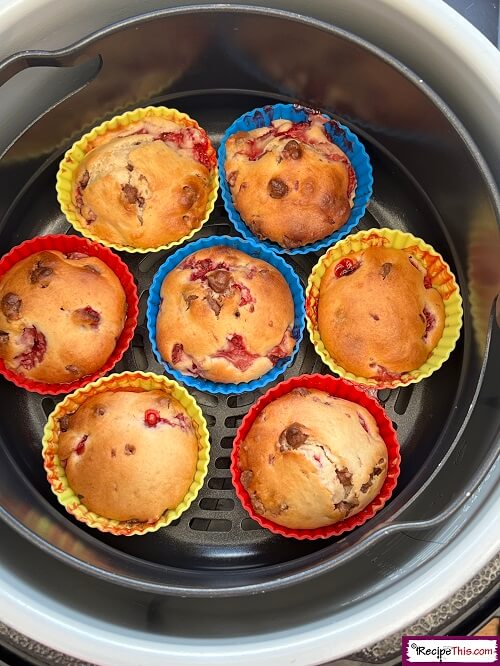 Then my next favourite August food is peaches. I love them in the summer and always buy more than I need because you can guarantee that you end up with some bruised ones.
Then I will buy too many and have some to use up and that is when I make air fryer grilled peaches.
They are delicious and perfect for using up the peaches that didn't make it into a crumble or a cobbler.
Peppers are in season in August and look so beautiful. I love the red bell peppers the most but also love yellow, orange and green too. Sometimes I will cut a bit from each to make a rainbow of colours and then air fry them with some halloumi to make halloumi fajitas.
Our halloumi fajitas is also in our air fryer cookbook and we just love how good they look.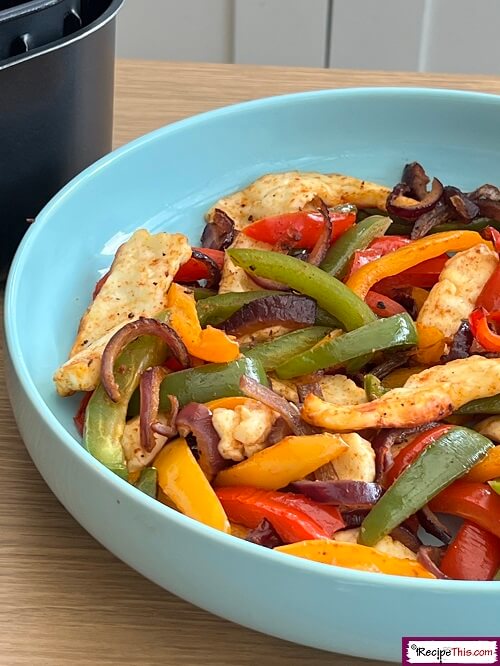 Cucumber has its best month in August and is perfect for having in lots of salads. We love to make spaghetti with cucumber in a similar way to how you prepare zoodles. Then instead of air frying zoodles we will serve cucumber noodles with air fryer thai chicken breast instead.
Courgette is also still in season. Or as we are talking about courgette, August is a brilliant month to enjoy it.
Why not make some of our summer soup maker courgette soup and batch it for the freezer? It's a great way to enjoy courgette when it is out of season.
Or your plan B can be some zucchini veggie burgers for those hot summer days, or some air fryer zucchini boats.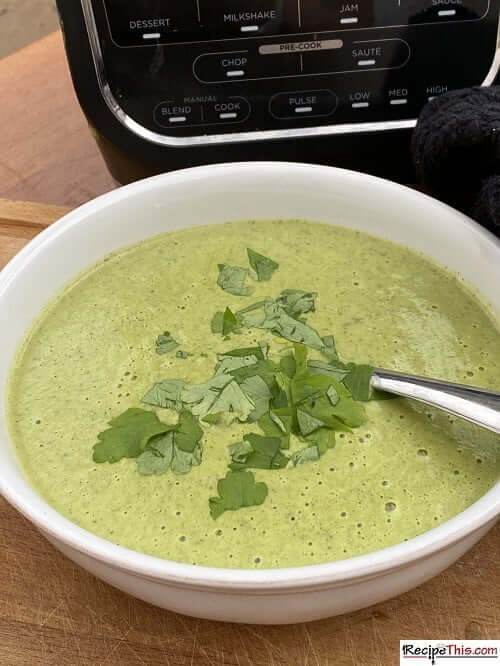 Beetroot is still in season. Like many I absolutely hate pickled beets, its just not my kind of food.
But what I love is air fryer roasted beets. They are delicious and you can mix and match seasonings and it can be the light veggie in the summer paired with your favourite chicken or beef recipes.
Corn is in season too. I normally cook with frozen corn on the cob and will do air fryer frozen corn, or microwave frozen corn. But thinking outside the box you can blanch in season corn for the winter months when it is out of season.
In the summer we will do instant pot creamed corn, air fryer frozen corn on the cob, and microwave corn.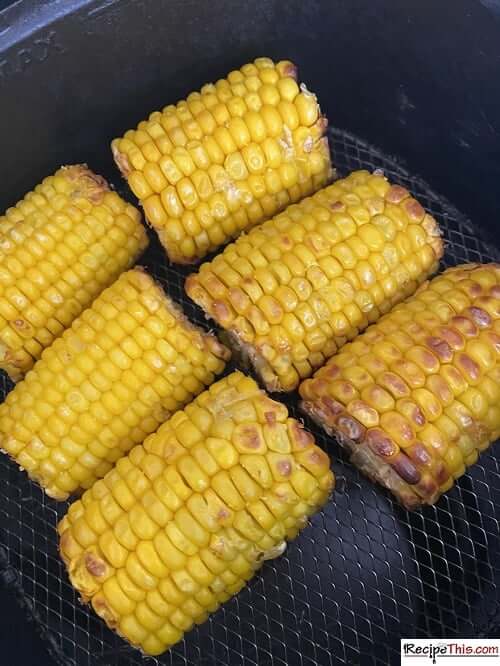 New potatoes are still in season! Whether you call them new potatoes or baby potatoes they work very well in your gadgets in the summer.
We have taken the instant pot travelling with us and then cooked new potatoes in the instant pot and then served them with some butter and fresh parsley.
You can also make some air fryer baby potatoes too – which is our favourite potato recipe in the air fryer.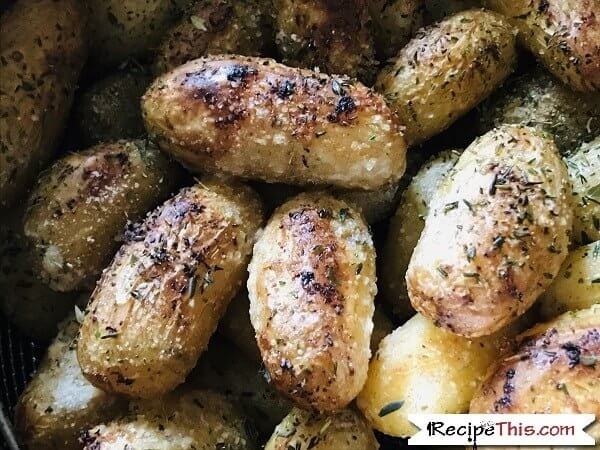 Avocados are still in season! They are mine and Sofia's favourite food and we will have avocados whenever they are in season. In Portugal we would buy them from a local farmer and then waited for them to soften.
If you don't like cooking with avocados and prefer them cool like we do. Then add them to our air fryer cobb salad or why not serve them with some air fryer chicken breast.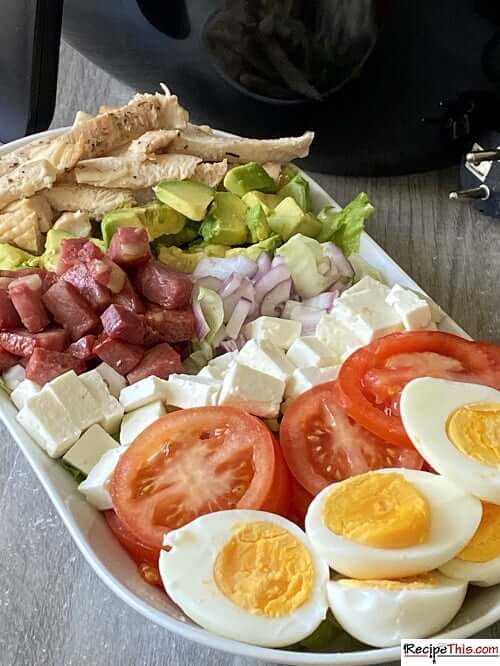 For the best meat in August, chicken is in season and perfect timing for chicken in the air fryer or instant pot or for making those summer chicken salads with.
We love to air fry whole chicken and then serve it for dinner with some instant pot frozen broccoli. Though I am not big on chicken skin so you can guarantee Sofia has my skin!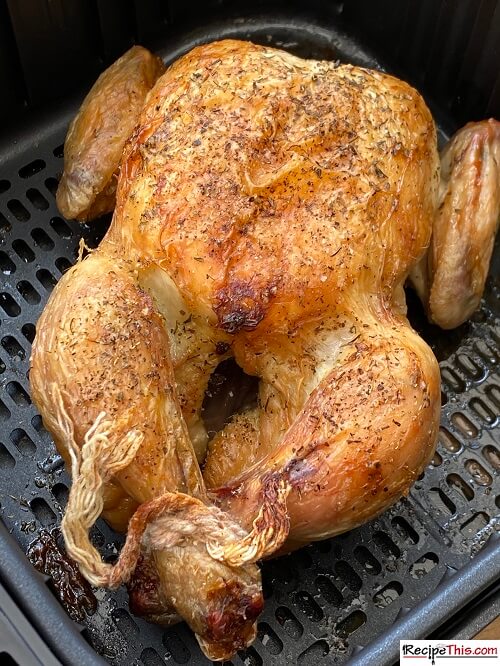 What To Dehydrate In August?
The options for dehydrating this month, just don't stop. You have dried herbs, berries, beetroot, and let's not forget about dehydrated cucumber chips. Though my favourite is the dehydrated raspberries.
Did You Know We Have A Podcast?
We started the Magic With Gadgets podcast in the January of 2021 as a way to offer a different way to enjoy Recipe This. It focuses on cooking with kitchen gadgets. You can find out more about our podcast here.
With regular episodes that will help you cook smart with kitchen gadgets. This is episode 42 of the first season and you have the choice between reading this post, listening to the podcast or both.
If you would like to stay in the loop with our podcast, I recommend you subscribe below:
How To Listen To This Episode?
You can use the player above to listen to this episode of Magic With Gadgets. Alternatively search for Magic With Gadgets on your favourite podcast platform or click the links below:
Subscribe & Review
Thank you for listening to the Magic With Gadgets Podcast. Have some feedback you would like to share? Want to be featured in a future episode? Want to help us spread the word?
Browse other episodes (access them all here)
Leave a comment below the blog post
Share with your friends on social media
Share your thoughts in our Facebook Group (you can sign up here)
Ask me a question or submit a guest request by filling out the form below
If our podcast has helped you, please leave a review on iTunes. Your reviews help spread the word and without reviews our podcast will not get seen. Plus, I love reading each and every one of them.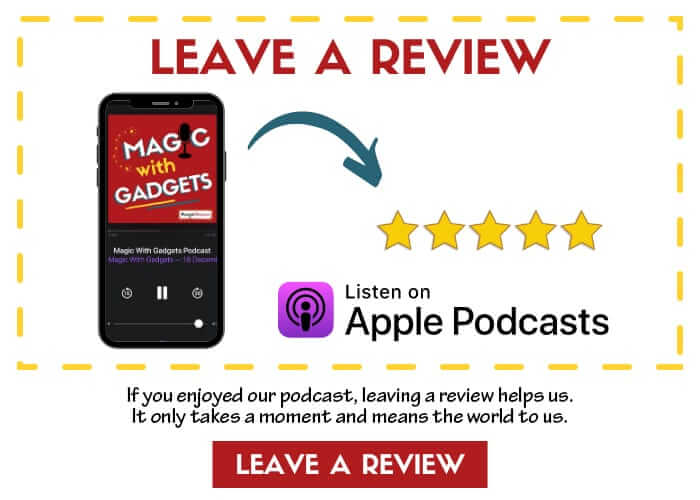 Can't listen now? Then pin it for later!