This Post Contains Affiliate Links. Click Here To Read Our Full Disclosure.
Today on Recipe This we wanted to talk about our first air fryer and also the world's first air fryer, the Philips HD9220/20.
This is where is all started with air frying and also, I will be sharing with you all these years later, which is the best air fryer on the market.
Philips Airfryer HD9220/20
We were lucky enough to start our air fryer journey with the Philips Airfryer. I remember originally seeing the air fryer advertised in a copy of a slimming magazine as the magical machine that would reduce your fat consumption by, I think it said about 80%.
Or it was advertised as make homemade chips with 80% less oil.
And I soon said to Dominic that we MUST get one of those, they are going to be our hero in the kitchen.
He thought I was a little crazy, and I eventually convinced him to give it a go. We then queued up for our first air fryer at our local electronics store in Portugal and took it home.
We made air fryer chicken strips first, then we did air fryer fish and chips (homemade of course), then it was just air fryer chips, out came air fryer frozen spring rolls and we slowly tried more and more things and just couldn't believe how easy it was to use.
That was way back in 2012, 3 years before we created Recipe This and since then we have tried many different air fryer brands, but none have ever compared to Philips.
We get asked everyday which air fryer we recommend people buy, and wanted to update you on our first air fryer and the air fryer we now use today.
Are You New To The Air Fryer?
Plus, as well as our extremely popular air fryer mini course which teaches you the air fryer basics in 5 days, we also have our air fryer bucket list. That is loaded with 30 FREE bucket list worthy air fryer recipes.
Click here or on the banner above and you will have access to both in an instant.
Why The Philips Airfryer?
The Philips air fryer has better air technology and the air flows better, that is why with a Philips air fryer you are likely to have better air fried food compared to its competition.
Because Philips was first, they have had time to make their air fryers better and better over the years.
Whenever I use another air fryer, I always say it's okay, but it would have been better if we had cooked it in the Philips air fryer.
Or if I am unsure an air fryer recipe will work, then I will always test it on the Philips air fryer first.
The Philips air fryer (like many other products under their brand) lasts. My first air fryer lasted 7 years before a part needed replacing, whilst my Power Air Fryer Oven lasted 30 days.
Whilst the Philips airfryer costs more you get that longevity that doesn't come with the cheaper alternatives. But I notice there is always a Philips on sale somewhere if you shop around.
Or on an interesting note, Philips had the air fryer first it was always spelt airfryer until many other air fryers came on the market and it became common to use the words air fryer.
The Uncomplicated Air Fryer
Now with air fryers, I am getting asked what the difference is between grill, bake and air fryer, if I need to preheat the air fryer or not and loads of other things. I never wondered these things when I started and the reason why, is because the original air fryer was so ridiculously easy to use, you just didn't need to know.
You didn't have a preheat so there was no thought in your head about a preheat and there was just start or stop and up and down arrows. You set the time and temp and pressed start and that was it.
And I blame all the overly complicated air fryers now on the market, that are trying to compete for how many presets you can fit on the front of an air fryer.
For me the attraction with the Philips air fryer, isn't just how good it is, but also how easy it is to use as the air fryer is all about easy everyday food.
Which Philips Air Fryer Should You Buy?
I often get asked, not just which brand of air fryer should you buy, but also what size. And I recommend over all others the Philips Air Fryer XL (this is the one we have). Its also the size I would recommend for 1 person as well as for 4 people.
That is BECAUSE its perfect for an air fryer whole chicken, its perfect to cook a breaded pork chop for one at the same time as duck fat roast potatoes, or to combine some air fryer frozen salmon at the same time as air fryer frozen green beans. Yet it is also perfect for your Sunday roast such as our air fryer lamb roast.
This is also the air fryer we use in a lot of our recipes, so if you want the same as ours then this is it.
The only difference between our air frying days in 2012 and NOW is that this one is bigger than the original and we wouldn't have been able to cook a whole chicken in the old one and that was the main reason we changed our air fryers.
Which Philips Air Fryer Should I Upgrade To?
However, the Philips Air Fryer XL is not the BEST in our opinion, the Philips Air Fryer XXL is. You can see it here.
The reason we don't have it in our kitchen is it cooks much faster than all other air fryers and our cook times would be wrong. And of course, we are catering for people on different air fryer brands.
But if you have owned an air fryer before, and are ready to step it up and understand adjusting cook times then this one might be a better option, plus it's a little bigger.
Top 10 Philips Air Fryer Recipes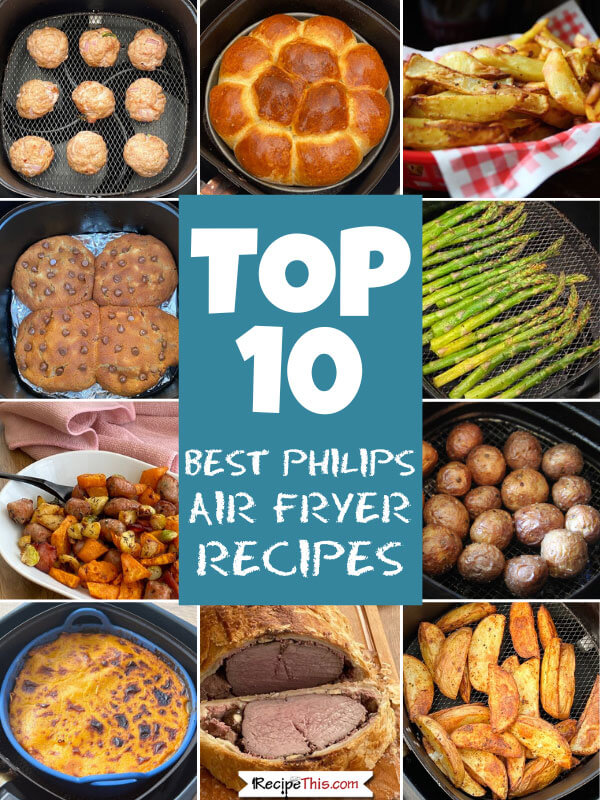 I must have made about 700 different recipes in the Philips Air Fryer and I find that when someone is first thinking about getting an air fryer, that they want to see what its capable of.
So firstly, if you click here it will take you to all our air fryer recipes and below are a few personal favourites of ours.
Air Fryer Asparagus – This is what I call the easiest fresh vegetable to cook in the air fryer and it tastes amazing too.
Air Fryer Harvest Casserole – This is fantastic as an all in one brunch, a late supper or for a filling for an air fryer frittata. I love it and normally use it as a way to have a clear out of various bits and bobs.
Air Fryer Potato Wedges – The first recipe we ever shared on Recipe This and OMG my ultimate go to on a Saturday night to serve with a Saturday night fakeaway.
Air Fryer Baby Potatoes – These are the best, hardly any prep, potatoes that you can make when you are tired. They are like mini baked potatoes and so crispy.
Air Fryer Cajun Fries – The best of the air fryer fries to cook from scratch in the air fryer and uses the method of seasoning first, not after.
Air Fryer Pull Apart Bread – This is a true favourite and you can just roll up some bread dough and make this amazing pull apart bread.
Air Fryer Lasagna – Yes you really can make a lasagne in the air fryer, well everything but the cheese sauce. Have spare cheese sauce then use it in this amazing dish. We even cook the mince in the air fryer.
Air Fryer Thai Meatballs – If you want something easy with a pack of mince, then it doesn't get any more simple than throwing some meatballs in your air fryer. Of course, its easy to mix and match different flavours.
Air Fryer Beef Wellington – For the ultimate meal in the air fryer, you can make a beef wellington. It was something we tried early on in our air fryer journey and so good and perfect for Christmas in the air fryer.
Air Fryer Chocolate Chip Cookies – OMG up there with one of the first things we started cooking in the air fryer and often our go to when we are craving something sweet. Even all these years later, these cookies never get boring.
If these air fryer recipes appeal to you and you want to try our favourite air fryer, then you can find out more about it here.
Air Fryer Free Resources
And most of all, we are looking forward to helping you cook smarter with your kitchen gadgets, and we can't wait to see how you get on with the air fryer.
Can't read it now? Then save it for later!