Do You Have To Preheat An Air Fryer?
This Post Contains Affiliate Links. Click Here To Read Our Full Disclosure.
Do You Have To Preheat An Air Fryer? Today we wanted to answer your essential questions about whether or not you should do a preheat on your air fryer.
This air fryer preheat guide is also featured in the Magic With Gadgets Podcast. Simply search for Magic With Gadgets on your preferred podcast player, then scroll to episode 3 of season 2 to access this awesome episode.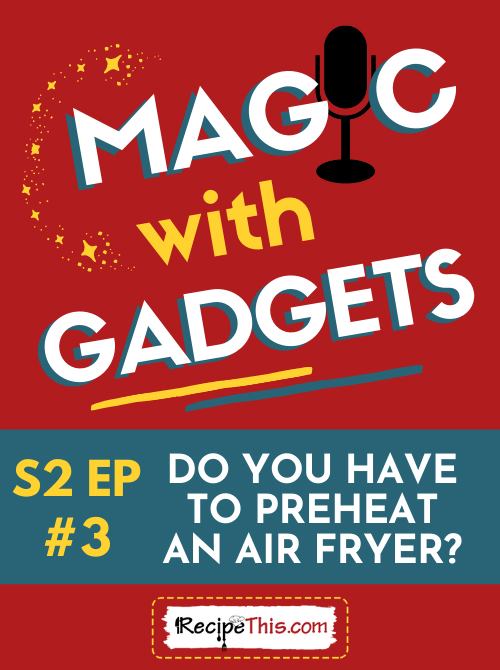 Preheat Air Fryer
Once upon a time, I didn't have an air fryer. Instead, I would be loading my roast chicken into the oven and preheating it before I started prepping.
You see, my oven was big and needed an eternity to warm up before I would cook roast chicken in it.
However, the air fryer is different to the oven and they operate in a totally different way.
The air circulates instead of the heat just coming from one place, an air fryer max temperature is not as hot as an oven and an air fryer also cooks food quicker.
This makes it confusing to the new air fryer user and has them questioning "do you have to preheat an air fryer?" or do you just turn on an air fryer and let it work its magic.
Today, I wanted to show you the pros and cons of preheating the air fryer, then you can decide if you need to preheat your air fryer, how to preheat the air fryer and for how long.
Plus, as well as our free newsletter, we also have a free air fryer mini course. It is ideal for air fryer beginners or those that want to get more confident with their air fryer. The free course runs for 5 days with a new lesson delivered each day to your inbox.
Do You Preheat An Air Fryer?
Sometimes. It depends on what you are cooking to whether or not there is a need to preheat the air fryer. Not every food needs preheating in the air fryer and in the Milner house we preheat the air fryer about 10% of the time.
Foods that need preheating generally are foods that you would cook in the oven at its highest temperature, batters that need to be red hot at the start of the cooking process such as air fryer Yorkshire puddings. Or foods like air fryer popcorn that if you do not preheat, they will not pop in the desired time.
Are You Supposed To Preheat An Air Fryer?
Others will tell you that you should preheat the air fryer and you are like getting different advice from different people.
I also feel that what adds to the confusion is that some air fryers have a preheat setting on them and will preheat your food for you, whether you want it to or not.
But what also needs mentioning, is that not all air fryers are equal. The chef hubby just shouted over my shoulder then that SOME AIR FRYERS ARE AWFFUL.
He is right.
The temperature on the air fryer like my Philips Air Fryer XL is fantastic (we have this one) and goes to the correct heat very fast. But others can be really slow and not match the temperature you need.
If you have a slow air fryer and when you follow air fryer recipes and yours are not done in the time period, then that would be a good time to consider a regular preheat.
But if you have a normal air fryer that cooks food well and in good time, then only preheat if a recipe needs the air fryer preheated for it to work.
Recipes With An Air Fryer Preheat Vs Those Without!
This is another big problem when it comes to air fryer recipes. Many, many air fryer recipes don't call for a preheat and if you then do a preheat, you have overcooked your food.
I have done this myself by accident. We have been in the process of creating lots of new air fryer recipes. I have been cooking with the air fryer for a few hours. Then I realise the reason my air fryer recipes are overcooked is because I didn't adjust the cook time for the fact that my air fryer was already preheated.
If this is YOU then reduce the cook time by 3 minutes when cooking your next air fryer recipe.
How Do You Preheat An Air Fryer?
The process of preheating the air fryer is simply giving it a head start. A bit like being in a race and you getting a 3 minute head start on everyone else.
It then ensures the air fryer is already hot at the ideal temperature before you add the food.
How To Preheat An Air Fryer?
While prepping the food you are cooking in the air fryer, put the air fryer on at the same temperature you plan to cook your food for.
Let's say this is for air fryer potatoes and you would normally cook for 12 minutes at 160c/320f you would start with a 3 minute preheat.
Then because you have done a preheat your cook time will then be reduced to about 9-10 minutes.
Then keep the air fryer closed and don't open it, until you have your food ready to go in.
Otherwise, it will let the heat out and the air fryer (depending on brand) will stay warm for about 30 minutes.
This is fantastic if you are slow with your prep as then you don't have to panic that you didn't get your food in the air fryer quick enough.
How Long Does It Take To Preheat An Air Fryer?
Generally, a preheat will take 3 minutes at the same temperature that you are cooking your food at.
BUT
If it is a food with a long cook time, I would recommend taking the preheat of the air fryer up to 8 minutes. Such as when you are cooking a roast dinner in your air fryer.
Did You Know We Have A Podcast?
We started the Magic With Gadgets podcast in the January of 2021 as a way to offer a different way to enjoy Recipe This. It focuses on cooking with kitchen gadgets. You can find out more about our podcast here.
With twice weekly episodes through September to December. This is episode 3 of the second season and you have the choice between reading this post, listening to the podcast or both.
If you would like to stay in the loop with our podcast, I recommend you subscribe below:
How To Listen To This Podcast Episode?
You can use the player above to listen to this episode of Magic With Gadgets. Alternatively search for Magic With Gadgets on your favourite podcast platform or click the links below:
Subscribe & Review
Thank you for listening to the Magic With Gadgets Podcast. Have some feedback you would like to share? Want to be featured in a future episode? Want to help us spread the word?
Browse other episodes (access them all here)
Leave a comment below the blog post
Share with your friends on social media
Share your thoughts in our Facebook Group (you can sign up here)
Ask me a question or submit a guest request by filling out the form below
Form that we need setting up – we need to get persons first name, plus their question and email as well so that we can say we have got them
If our podcast has helped you, please leave a review on iTunes. Your reviews help spread the word and without reviews our podcast will not get seen. Plus, I love reading each and every one of them.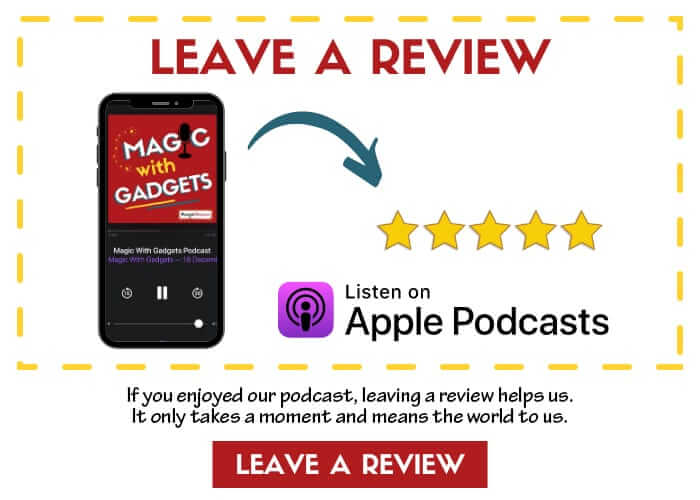 Can't listen now? Then pin it for later!