Quit The Oven Part 2. In episode 032 of the Magic With Gadgets Podcast we are talking about quitting the oven and reducing your energy bills by cooking from just essentials ingredients and using just your kitchen gadgets.
This 2nd instalment of Quit The Oven is also featured in the Magic With Gadgets Podcast. Simply search for Magic With Gadgets on your preferred podcast player, then scroll to episode 32 of season 1 to access this awesome episode.
Just Essentials At Asda
If you spend any time on Tiktok then you will see many mentions of the Just Essentials range at Asda.
It is Asda items that carry a Just Essentials label and are bright yellow i.e. easy to spot and perfect value for money.
At first I was wondering what quality the products would be and I have to tell you, after trying them, I have fallen in love with Just Essentials.
And because they are super cheap, they are perfect for saving money on groceries.
I have experimented for a while now with them and today on the podcast I want to run through what we bought and what we cooked to give you loads of ideas.
Though first, below you can download your free PDF showing you how to quit the oven along with loads of recipes and a cheap grocery list.
Part 1 – Placing An Online Asda Order
Firstly, our local town only has a small Asda, so by ordering online it gets delivered by the nearest city which means more choice.
But it does mean a delivery charge but order it for after 8pm and it's a much cheaper delivery charge.
Plus, if you have kids, they are not annoying you asking what's for them!
Then if you go on Asda and search "just essentials" only the Asda Just essentials products will come up.
Then you can choose from there what to buy or add to your list and remember, you can search by cheapest price first.
Also have a good browse and you can see what is the cheapest meats store cupboard favourites and so forth.
For example, I noticed a big difference in the sauces and would recommend going with the cheaper options.
And we did four shops at different times and the most we ever spent was £40 and we could fill a full dining table with products. Dominic even looked at me after a £35 shop and couldn't believe how much food was in our kitchen.
Part 2 – Asda Just Essentials Grocery Haul
The products from the Just Essentials range may differ for you as we all like different foods, but this is one example of a grocery haul that I did as I experimented with the products.
2 Packs Kitchen Towels
10kg White Potatoes
30 Eggs
1kg Grated Cheddar
4 Cans Tinned Tomatoes
4 Cartons Skimmed Long Life Milk
Low Fat Yoghurt
Soft Cheese
Mixed Peppers
2 Round Lettuces
1 Pack Frozen Yorkshire Puddings
750g Cherry Tomatoes
12 Salad Tomatoes
1 Pack Raspberries
1 Pack Plums
Total £24.57
Yes, really change from £25 and we made all sorts with this including an air fryer frittata, loads of air fryer chips, air fryer soft boiled eggs, tinned tomatoes were used in pasta dishes, and best of all we made some instant pot Greek yoghurt which was the BEST!
Note these were just some random items to see how the Just Essentials food tasted, before planning a proper 7 day meal plan. And this was my first shop of their range and the 7 day meal plan I am giving you is not the same ingredients.
Or another example is this HUGE table of products I bought to donate to charity for Harvest festival and our local food bank and this batch was JUST £37.
Part 3 – Top 10 Just Essentials Products
After loads of testing and using in lots of recipes, I wanted to share with you my favourite Asda Just Essential products.
Whole Chicken – They are fantastic for a quick air fryer whole chicken and you can roast them for a quick meal or even shred them for sandwiches or salads.
Grated Cheese Bags – These are a life saver and are 500g of grated cheese in a bag. Then just load them into frittatas or even sprinkle them over our ninja foodi spag bol.
Red Leicester Cheese – What I love about this cheese is the large quantity for your money. Will easily last 2 weeks in our house. And perfect for a quick batch of air fryer grilled cheese.
Yoghurt – This yoghurt tastes really good. We used it as our live cultures for a batch of yoghurt and then you can mix with some Rolos and have a yummy rolo yoghurt.
Bolognese Jar – This was used in a batch of our instant pot spaghetti and frozen meatballs. So tasty and saves on a few ingredients. You could also use it in our slow cooker Bolognese, or for slow cooker cottage pie.
Round Lettuce – I know we are not supposed to get excited over lettuce. But this round lettuce tastes so good. Just had it in a cob salad and seriously nice.
2.5kg Potatoes Bag – I love these big bags of potatoes that have a million uses. You can use them for a batch of no drain mashed potatoes in the instant pot and serve them with your pies. They are also fantastic for roasties, wedges etc and for something just to fill you up.
Tinned Tomatoes – I love tinned tomatoes and its always my go to product in the kitchen cupboard. They can be used in a lot of kitchen gadget recipes especially our popular speed soup which is perfect for dieting.
Porridge Oats – I love the huge bags of porridge oats and they are amazing in instant pot porridge, or even slow cooker porridge. Or the best of the best in air fryer baked oats.
Sausages – The sausages (at the time of recording) are 99p and that is a big bargain for some yummy sausages for dinner time. You can then use them for air fryer sausages or even towards our air fryer sausage and chips.
And those are our top 10 good to foods from the Asda range. Then in part 3 I am going to show you exactly what I bought for a 7 day meal plan + leftovers and how you can use these just essentials alongside your gadgets to cook great food.
Did You Know We Have A Podcast?
We started the Magic With Gadgets podcast in the January of 2021 as a way to offer a different way to enjoy Recipe This. It focuses on cooking with kitchen gadgets. You can find out more about our podcast here.
With weekly episodes that will help you cook smart with kitchen gadgets. This is episode 32 of the first season and you have the choice between reading this post, listening to the podcast or both.
How To Listen To This Episode?
You can use the player above to listen to this episode of Magic With Gadgets. Alternatively search for Magic With Gadgets on your favourite podcast platform or click the links below:
What You'll Learn In This Episode?
Our grocery hauls
What to buy to stay on budget
A run through of my just bought grocery haul
Top 10 essential ingredients
And much more
Subscribe & Review
Thank you for listening to the Magic With Gadgets Podcast. Have some feedback you would like to share? Want to be featured in a future episode? Want to help us spread the word?
Browse other episodes (access them all here)
Leave a comment below the blog post
Share with your friends on social media
Share your thoughts in our Facebook Group (you can sign up here)
Ask me a question or submit a guest request by filling out the form below
If our podcast has helped you, please leave a review on iTunes. Your reviews help spread the word and without reviews our podcast will not get seen. Plus, I love reading each and every one of them.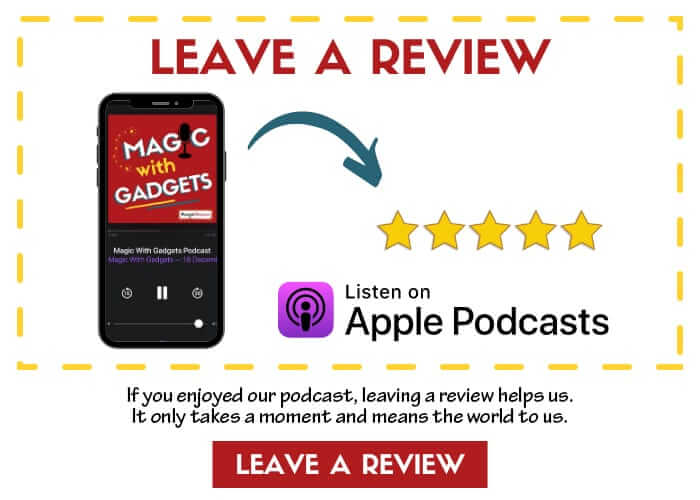 Can't listen now? Then pin it for later!