Quit The Oven. In episode 031 of the Magic With Gadgets Podcast we are talking about quitting the oven and reducing your energy bills by cooking from your cheap to run kitchen gadgets instead.
This quit the oven challenge is also featured in the Magic With Gadgets Podcast. Simply search for Magic With Gadgets on your preferred podcast player, then scroll to episode 31 of season 1 to access this awesome episode.
I Quit The Oven Years Ago!
That moment when something suddenly becomes popular and you have done it for years, without giving it much thought.
This is me and cooking exclusively with kitchen gadgets. Our meals and snacks are made using the air fryer, instant pot, ninja foodi, slow cooker, microwave etc and our oven rarely gets a look in.
A pizza that is too big for the air fryer or the HUGE Christmas turkey is the only times we use our oven, which probably covers the oven being turned on about 4 times a year.
Now with the crazy high energy bills in the UK, I have been asked by many people to provide a way for them to quit the oven and reduce their energy bills.
After all, our energy bills as a family that works from home is a lot less than most households and its very easy to do.
This Quit The Oven is going to be a three part series that covers the basics in this episode as well as a part 2 showing my cheap grocery hauls and a 3rd part with my cheap as chips 7 day quit the oven meal plan as well as printables so that you can follow along at home.
Below you can download your free PDF showing you how to quit the oven along with loads of recipes and a cheap grocery list.
Is It Cheaper To Use An Air Fryer Or An Oven?
It is much cheaper to use an air fryer than an oven. Though its even cheaper if you were using an electric oven as they are the worst on your energy bills.
Even more important to consider in air fryer energy bills is that an air fryer is on for less time and doesn't need a preheat. For example in an air fryer pot roast recipe, it takes less than an hour to air fry vs almost 2 hours in the oven.
Part 1 – Your Energy Bills
Now before we dive into meal plans and such like, its important to understand the energy bills and how using kitchen gadgets can help you.
You may have seen some charts doing the rounds explaining how much cheaper the gadgets are to run.
Charts image
Well in a nutshell an electric oven costs a lot to run and will cost you £317 a year. Then compare this to the microwave at £29. So imagine instead if you used a mixture of air fryers, microwaves and ninja foodis and split that cost to make an average.
That would mean that using a mix of those would cost you £38.93 a year vs £317 a year.
That means by using your kitchen gadgets on a consistent basis you can be cutting your energy bills from cooking by 88%.
Yeah, let me say that again 88 PERCENT isn't that lifechanging. And even away from our current energy bills crisis I like saving money and this is a big saving.
And through these 3 podcast episodes I am going to show you how to do and to do is easily.
Part 2 – Asda Just Essentials
But the money savings don't end with using the air fryer, that is just the beginning. Because the best bit is using the Asda Just Essentials range to buy the bulk of your groceries to cook with in your gadgets.
Of course, the Asda Just Essentials doesn't have every product you want to buy, but it does have a LOT. It has loads of meat, fish, canned food, and everyday food like cheese and vegetable spread and OMG it amazes me what you get for your money, which we will be sharing with you in episode 2.
And as I can feed a family member for under £15 a week, then if you are currently spending too much on groceries then you can have another reduction here.
So have a listen and after listening to episode 1, tune in for episode 2 and 3 and we can help you get those bills down!
Did You Know We Have A Podcast?
We started the Magic With Gadgets podcast in the January of 2021 as a way to offer a different way to enjoy Recipe This. It focuses on cooking with kitchen gadgets. You can find out more about our podcast here.
With weekly episodes that will help you cook smart with kitchen gadgets. This is episode 31 of the first season and you have the choice between reading this post, listening to the podcast or both.
How To Listen To This Episode?
You can use the player above to listen to this episode of Magic With Gadgets. Alternatively search for Magic With Gadgets on your favourite podcast platform or click the links below:
What You'll Learn In This Episode?
How much our energy bills are
What kitchen gadgets will save you the most money
How to make the kitchen gadgets work for you
And much more
Subscribe & Review
Thank you for listening to the Magic With Gadgets Podcast. Have some feedback you would like to share? Want to be featured in a future episode? Want to help us spread the word?
Browse other episodes (access them all here)
Leave a comment below the blog post
Share with your friends on social media
Share your thoughts in our Facebook Group (you can sign up here)
Ask me a question or submit a guest request by filling out the form below
If our podcast has helped you, please leave a review on iTunes. Your reviews help spread the word and without reviews our podcast will not get seen. Plus, I love reading each and every one of them.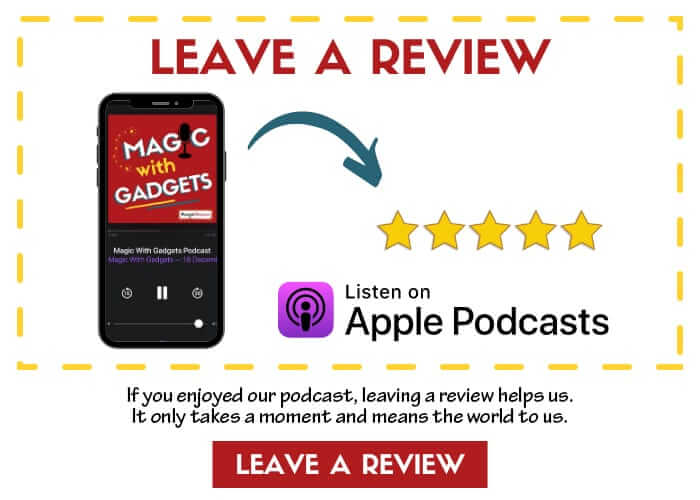 Can't listen now? Then pin it for later!