Air Fryer KFC Fakeaway Recipes
This Post Contains Affiliate Links. Click Here To Read Our Full Disclosure.
Air Fryer KFC Fakeaway. Have you ever wanted to cook your favourite KFC chicken in the air fryer and create a KFC fakeaway? Then let me introduce to my favourite KFC copycat recipes that we have tried and tested for you so that you can make them in your air fryer at home.
Also, before we dive into this list of air fryer KFC recipes, I recommend you check out our free air fryer mini course. It is ideal for air fryer beginners or those that want to get more confident with their air fryer. The free course runs for 5 days with a new lesson delivered each day to your inbox.
Or browse our site as we have 500+ air fryer recipes that are easy to recreate at home and we have been showing people how to use the air fryer since 2011.
Homemade KFC For The Air Fryer
Like most people I was originally introduced to the air fryer for its ability to cook amazing French fries with a LOT LESS oil. I loved that it also cooked a lot of other great food with less calories and in a much quicker time frame.
One of those foods that we started cooking early on in our air fryer days was fried chicken. I was amazed by how crispy the skin was and how it never failed no matter how many times I cooked it and how tired I was when cooking.
It wasn't long before the hubby and I was creating a KFC fakeaway at home and getting excited over the delicious fried chicken it made for us.
A couple of months ago, we had a family cook day in the air fryer. We made and updated all our favourite KFC food in the air fryer and got excited as we ate each of the different foods.
Today, we wanted to put them altogether in one place for you so that you can easily make your own KFC at home just like us.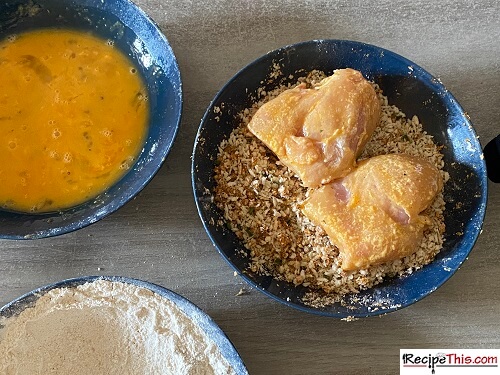 Can You Cook KFC In Air Fryer?
Yes, you sure can and you will love homemade KFC cooked in the air fryer.
You have a crisp on the fried chicken just like when you buy deep fried chicken from KFC, yet you are eating a KFC chicken fakeaway on a lot less calories and fat.
What Is A Fakeaway?
A "Fakeaway" is a British term that has been developed for making your own takeaways at home. As in its fake and not a real takeaway.
Often, they are associated with much healthier versions of your takeaway or sometimes just for saving money compared to how much you pay at your favourite takeout establishments.
Though for today we are talking about a KFC fakeaway in the air fryer.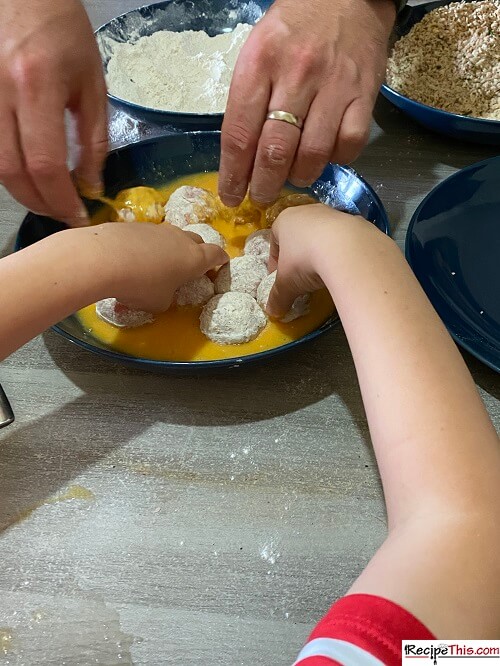 What About A Slimming World Fakeaway KFC?
The same concept and I recommend you also check out our unbreaded version in the recipe ideas below, as that is Syn Free for the Slimming World diet.
Also, if you are on SW even though many of the copycat KFC recipes use flour you can swap them for oat flour and when these recipes are split between four people, its not as high in syns as you would expect and much lower in calories than a traditional KFC.
For example, check out the calorie drop below:
Planning A Fakeaway KFC
I recommend that if you are planning to use our recipes to make a KFC chicken fakeaway that you do it in batches and make ahead whenever possible.
This will stop your food from going cold and will make sure you have everything ready at once.
Plan which of our fakeaway KFC recipes below you plan on making. Then think of portion sizes and how many people you are feeding.
Note that the same flour, the same eggs and the same breadcrumbs and the same KFC spice blend is used for each recipe. Therefore get it ready in advance and then just make what you need.
See what foods have the longest cook times and make those first. That way everything can be ready at a similar time.
If necessary, use the air fryer to reheat your KFC fakeaway back up.
Any leftovers (if not already reheated) can be added to the freezer once cool and then go towards your next KFC fakeaway.
You might not like all the KFC fakeaway recipes. Start by choosing three you really like and expand from there.
The KFC spice blend is delicious and can also be used on other recipes too.
Best Air Fryer Fakeaway KFC Recipes
Here are our air fryer KFC fakeaway recipes that I recommend you try in your air fryer. Note that you can make these regardless of whatever brand of air fryer that you own.
Though we created these KFC recipes ourselves using our Philips Air Fryer XL.
Air Fryer KFC Spice Blend – It all starts with the delicious secret herbs and spice blend that makes up your KFC chicken. You will love how easy this is to make at home and you can store it in your pantry for other meals.
Air Fryer KFC Popcorn Chicken – I love this for using up leftover chicken mince and making it into balls that resemble popcorn chicken. I could eat this every day.
Air Fryer KFC Chicken – Delicious pieces of chicken cooked in the air fryer. This is my favourite way to enjoy air fryer fried chicken and much cheaper than eating out.
Air Fryer Chicken Strips – I have to buy these every time I go to KFC and they are so easy to recreate at home using your air fryer. They can also be the base of many air fryer KFC recipes.
Air Fryer KFC Twister – The best thing to make with your air fryer KFC chicken strips and perfect for a more filling KFC fakeaway. You could make just these for supper for you and your family.
Air Fryer KFC Zinger Burgers – This is the best burger at KFC and so easy to make at home in your air fryer. You will also love the way Dominic puts together a KFC burger.
Air Fryer Naked Chicken Tenders – Go naked and make this for dinner as it is free of flour and breadcrumbs and perfect for Slimming World because it is 100% syn free.
Well, they are our favourite KFC fakeaway recipes for you to check out. But what about things to serve with your KFC chicken fakeaway?
That is when these air fryer recipes are a perfect extra:
Then when you have leftovers don't forget these:
Can't read it now? Then pin it for later!