How To Quick Release On Instant Pot?
This Post Contains Affiliate Links. Click Here To Read Our Full Disclosure.
Quick Release Instant Pot. Today we wanted to answer your essential questions about the instant pot quick release. What it is, how to do it, and most important of all, when you need to do a quick pressure release.
This instant pot quick pressure release guide is also featured in the Magic With Gadgets Podcast. Simply search for Magic With Gadgets on your preferred podcast player, then scroll to episode 4 of season 2 to access this awesome episode.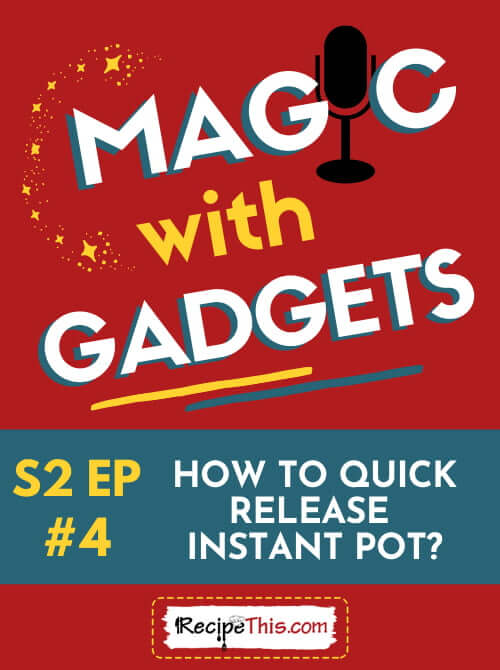 Instant Pot Quick Release
As an instant pot user of many years (I got my first instant pot in 2016) I cook the most with an instant pot quick release.
In fact, I only use natural pressure release on a small amount of instant pot recipes and the rest of the time its all about the instant pot quick release.
Though, I know many of you are concerned about the instant pot quick release mess.
Mainly because the old school method of stovetop pressure cooking would explode if the food was taken out before natural release was done.
But you don't have to worry about this with the instant pot, though of course some recipes do need a natural pressure release.
Today, I wanted to make things even easier for you and share with you:
What is quick release on instant pot?
When to quick release instant pot?
Natural release vs quick release.
How long does quick release take on instant pot?
How to do a quick release on instant pot?
And so much more.
Plus, as well as our free newsletter, we also have a free instant pot mini course. It is ideal for instant pot beginners or those that want to get more confident with their electric pressure cooker. The free course runs for 5 days with a new lesson delivered each day to your inbox.
What Is Quick Release On Instant Pot?
The quick release on the instant pot, is simply stopping the cooking process of the instant pot as soon as it beeps.
When the instant pot beeps you know its time for the food to be served and you want to be quick at doing so, as otherwise you might over cook your food.
When To Quick Release Instant Pot?
As most foods require a quick release of the instant pot, I don't want to list 200 different instant pot recipes here, as otherwise you will feel like you are being spammed.
But what I will share with you, is foods that if you don't do an instant pot quick pressure release immediately will be ruined.
Instant Pot Frozen Broccoli – This is because zero minutes is just enough for the broccoli. Any longer and your broccoli will turn to mush.
Instant Pot Soft Boiled Eggs – If you want to make instant pot dippy eggs and serve them with soldiers then you need them at that perfect time to crack the tops off and enjoy. One extra minute and your eggs will start to go hard boiled.
Instant Pot Butternut Squash – I find that a minute over and your butternut squash becomes mash.
There are of course some foods, like soup, that if you forget about the instant pot, it will survive if you are late doing your quick pressure release.
How Long Does Quick Release Take On Instant Pot?
The instant pot quick release time differs greatly depending on what food you are cooking.
If you have a full instant pot with food with a lot of liquid such as our instant pot stew and dumplings, then you can expect to have a wait. But for some steamed vegetables such as our instant pot steamed broccoli, then its just a couple of minutes.
Natural Release Vs Quick Release
If you are now wondering about natural release and how it differs from quick release, then I have another blog post and podcast episode that goes into full detail about natural release.
It's called What Is Natural Release On Instant Pot?
And it also includes step by step photos showing you the process.
How To Do A Quick Release On Instant Pot?
Here are the instant pot quick release instructions, well if you call them instructions as it so simple: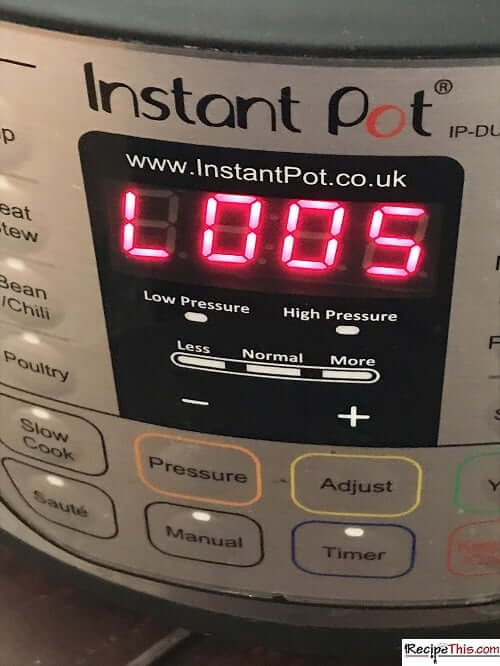 When the instant pot beeps it will look like this:
Then as shown below press the cancel button: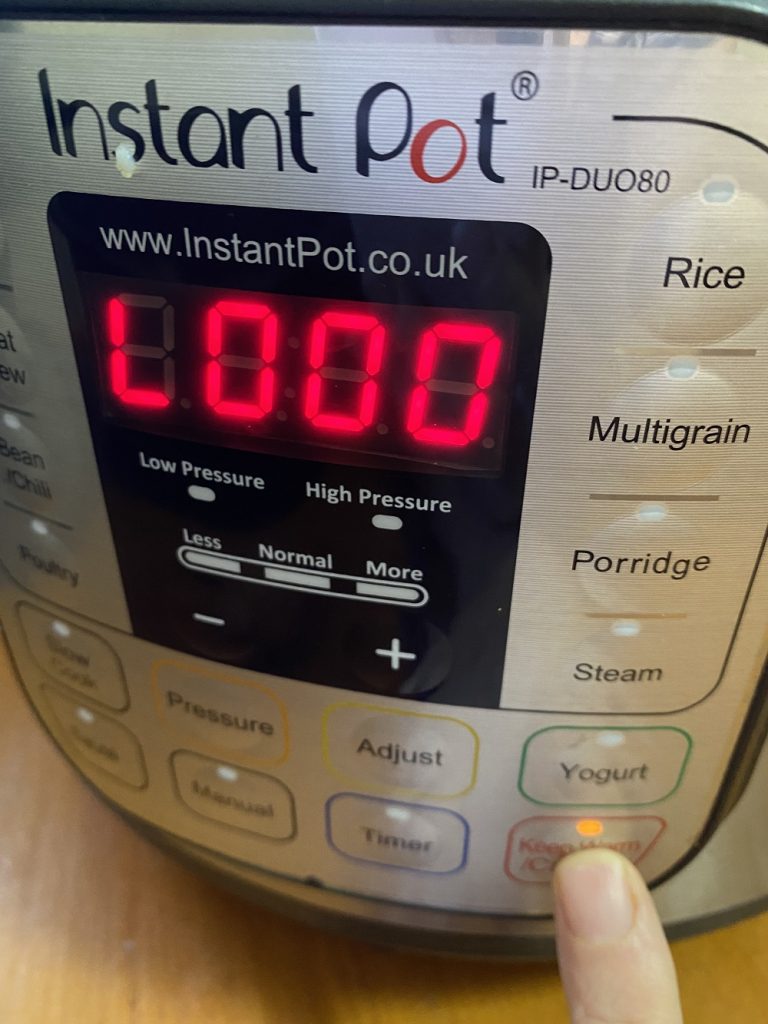 Then on the top of the instant pot move the valve from sealing to venting.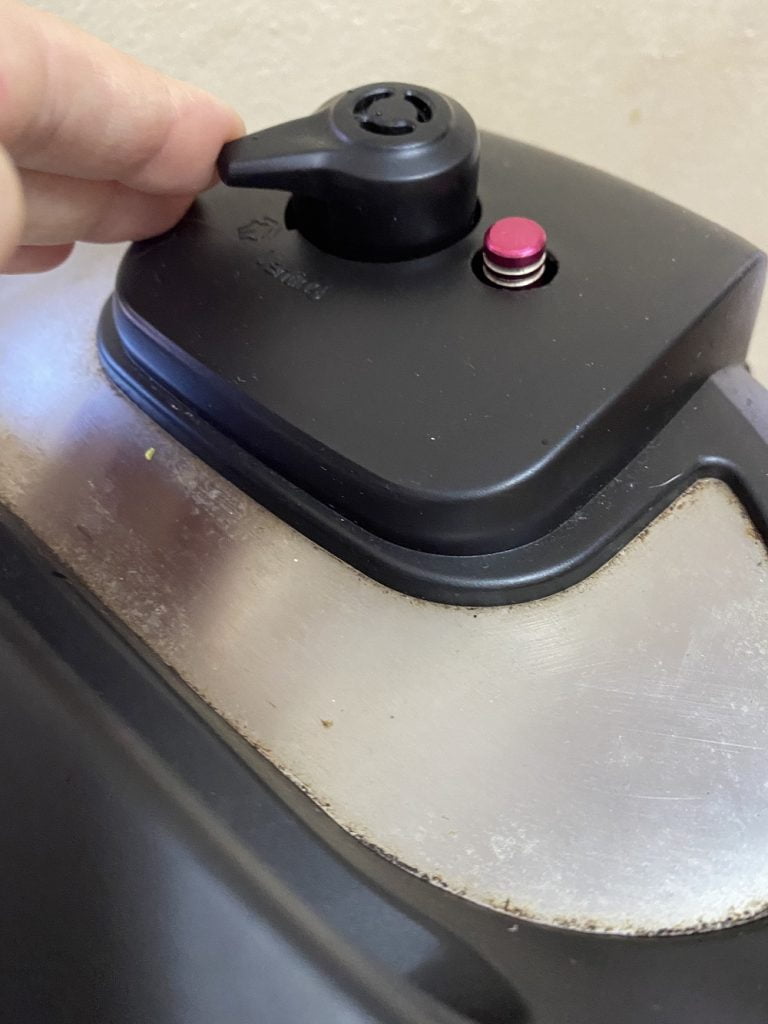 Then once the pressure has released, you are done, and you can take the lid off the instant pot and enjoy your food.
Did You Know We Have A Podcast?
We started the Magic With Gadgets podcast in the January of 2021 as a way to offer a different way to enjoy Recipe This. It focuses on cooking with kitchen gadgets. You can find out more about our podcast here.
With twice weekly episodes through September to December. This is episode 4 of the second season and you have the choice between reading this post, listening to the podcast or both.
If you would like to stay in the loop with our podcast, I recommend you subscribe below:
How To Listen To This Podcast Episode?
You can use the player above to listen to this episode of Magic With Gadgets. Alternatively search for Magic With Gadgets on your favourite podcast platform or click the links below:
Subscribe & Review
Thank you for listening to the Magic With Gadgets Podcast. Have some feedback you would like to share? Want to be featured in a future episode? Want to help us spread the word?
Browse other episodes (access them all here)
Leave a comment below the blog post
Share with your friends on social media
Share your thoughts in our Facebook Group (you can sign up here)
Ask me a question or submit a guest request by filling out the form below
If our podcast has helped you, please leave a review on iTunes. Your reviews help spread the word and without reviews our podcast will not get seen. Plus, I love reading each and every one of them.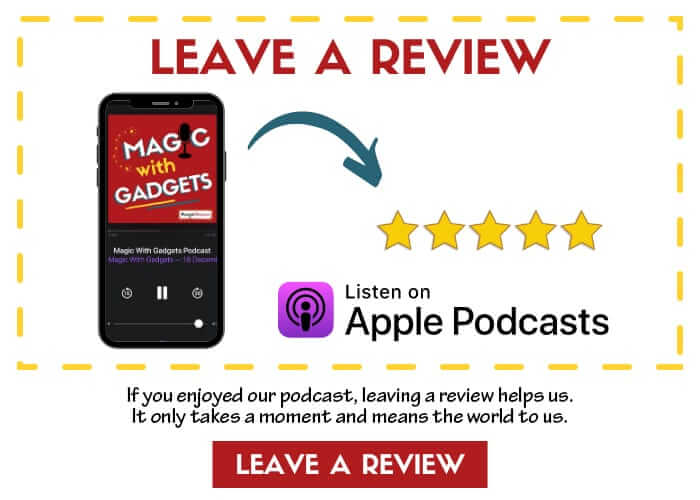 Can't listen now? Then pin it for later!