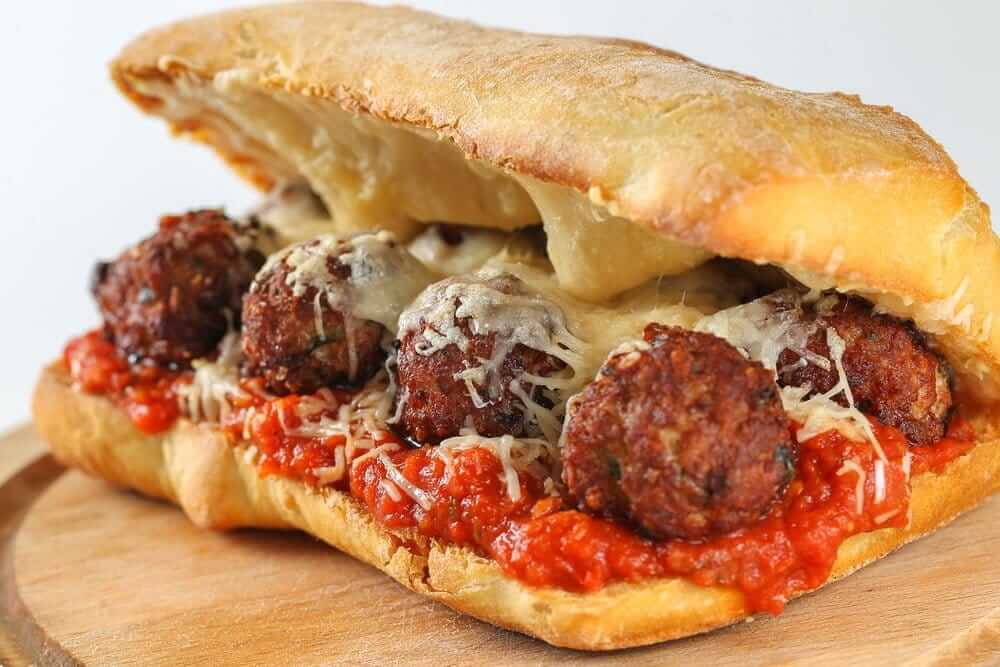 Welcome to my Subway Meatball Sub (healthy copycat version).
Before I share with you my Subway Meatball Sub recipe I want to tell you the story of the one and only time that I visited a Subway shop……
It was the summer of 2007 and there was a Sub takeaway to the side of the car park of our local Walmart. I went in with the plan to get us a Sub each as no of us had ever tried one and we were curious about all the hype surrounding the Subway Meatball Sub. I was also thirsty so planned to get a drink too. There was just one member of staff working and he was working really slow and having three customers in front of me I expected to be there about half an hour.
So I was in front view of the counter of food and the toppings you could use in the Subway Sub. I saw the cheese and it reminded me of that low quality cheese that looks incredibly processed and cheap that you tend to avoid. The meatballs looked really fatty and the tomato sauce was clear because of all the fat in it. The only thing that looked edible was the bread and the salad.
I bought a bottle of water and then left. And I have not been in a Subway since.
I may point out that at the time I was obese. I weighed in at 15 stone, had a BMI in the 30's and had about four takeaways a week. The rest of the week my food intake was processed foods. There was the ready meals from Iceland, the chicken nuggets from Walmart and all kinds of other things that I have not eaten for years.
So if the Subway bothered me as an Obese, unhealthy person god knows what I would make of it now I am a good few stone lighter and follow a fairly healthy lifestyle.
But you never know whether that Subway was a rogue one. It could have just been leftover food that needed replacing; a teen left in charge and didn't get quality or all kind of reasons.
But after leaving I have heard many times over the years now many processed foods go into a Sub or the fact of the high calorie intake as it is still takeaway food. That is why I love to make a Sub at home, it can be healthier but still taste great!
So here goes with my version of the Subway Meatball Sub…..
#Subway Meatball Sub (healthy #copycat version) via @recipe_this
Click To Tweet
Subway Meatball Sub (healthy copycat version)
Instructions
In a bowl make your meatballs. Add the seasoning, the onion, the mince, the breadcrumbs and the egg and mix well. Combine the mixture into meatballs and put to one side.

In a large pan (or pot) add your olive oil and warm up your pan with a medium heat. Place your meatballs in the pan and cook them on all sides so that they can have a good bit of colour to them.

Add your tomato sauce to the pan and cover the pan with a lid and cook on a medium heat for about 12 minutes. While the lid is on place the bread over the pan lid for about 5 minutes so that it can warm up nicely for you.

After the 12 minutes have passed take the lid off and check one of meatballs to make sure they are cooked through. You can do this by chopping it in half and making sure it is browned in the middle and it hot in the centre.

To make your meatball sub use a big spoon to take some tomato sauce out and create a layer of it in your bread, then add four meatballs in each sub, then a good layer of cheddar cheese. Put to one side for a minute or two for the cheese to melt and then serve.

Serve with some tomato sauce on the side for dunking!
Recipe Notes
I always go with whatever bread I have in or whatever our local bread lady has on offer. You could use a traditional baguette or go with something more traditional like a ciabatta.
You can get my
homemade tomato sauce recipe here.