Air Fryer Vs Air Fryer Oven
This Post Contains Affiliate Links. Click Here To Read Our Full Disclosure.
Air Fryer Vs Air Fryer Oven. Today I have put together all my notes and everything I have learned so far, as we have upgraded from our Philips Air Fryer XL and invested in a Power Air Fryer Oven Pro. The idea is to give you the best Air Fryer Vs Air Fryer Oven comparison guide for when you buy your air fryer.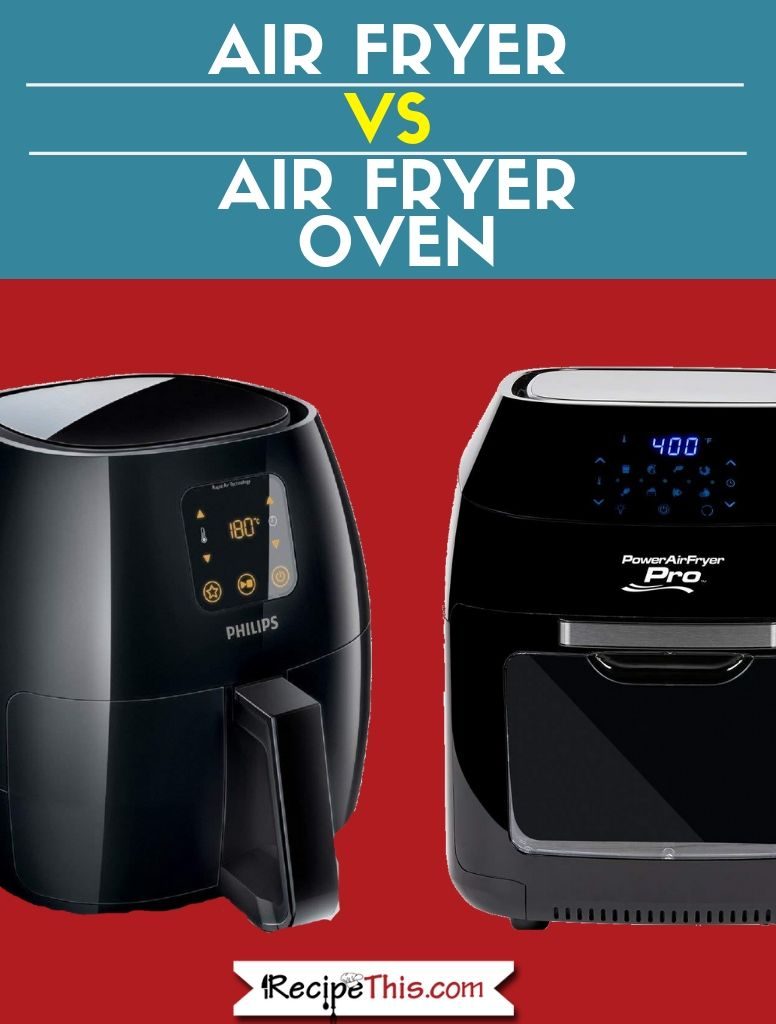 Air Fryer Vs Air Fryer Oven
I remember like it was yesterday, seeing an advert in a magazine for an air fryer and wanting one. I loved the idea of an air fryer. I was imagining all these different favourite unhealthy foods that I could cook in the air fryer.
Or instead of boring oven chips that never had any crisp to them, I could make crispy amazing Air Fryer Oven Chips instead.
It was going to be amazing.
What I didn't know back then was how versatile my new Air Fryer was going to become, or that I would meet many people around the world that would share in my love for the Air Fryer.
But we're now starting a new journey. The journey of the Philips Air Fryer XL is still ongoing but now we are adding the Power Air Fryer Oven Pro to our kitchen gadgets range.
BUT when you get an air fryer it's a hard choice to make. Do you go down the route of a classic Philips Air Fryer or do you try out the Power Air Fryer Oven?
Well let me share with you our first hand experiences with both and then you can decide what is right for you.
Side note: Since we got our Air Fryer XL there has been an XXL that has become more popular and if we needed a new Philips one, we would get the XXL so for this comparison we will be suggesting the purchase of the Philips Air Fryer XXL instead of the XL. Also, the XL is hard to get hold of now and is often out of stock.
Air Fryer Vs Air Fryer Oven Price Comparison
Both the Philips Air Fryer XXL and the Power Air Fryer Oven carry a medium to high price tag. But you clearly get what you pay for. You're buying an air fryer that will still do the job 2,3 or even 4 years from now so think of your air fryer purchase as an investment.
I did look online and found that the average price for the Philips Air Fryer XXL was $243.00. Compared to a price tag of about $190 for the Power Air Fryer Oven Pro.
But I recommend you check the prices for both the Air Fryer Oven and the Philips Air Fryer on Amazon for up to date prices as Amazon is often cheaper than elsewhere and often have sales on.
Philips Air Fryer
The Philips Air Fryer is the classic air fryer. It is the original. It is the first Air Fryer. Because of its longevity, it is a great quality air fryer and you will see that many air fryers are made in a similar way to Philips.
They will often have the same shape, the same capacity, the same settings and many other similar features.
You can start off with the basic analogue and expand from there and any of them will do the trick. The cheap end is the analogue to the digital largest ones.
Here are a few options:
They are also a fantastic starting point to air frying too. You simply place your food into the air fryer and the air fryer does the work for you. The great way to have dump and start food.
Power Air Fryer Oven
The Power Air Fryer Oven Pro is the leader in the world of air fryer ovens and each time I use it I am more and more in love. I feel like breaking out into a love poem and how I love it more today than yesterday but less than tomorrow. It truly is that good.
The biggest difference is that the Air Fryer Oven, well compared to the Philips XXL is the size thing. Instead of one medium sized basket you have a lot more to work with.
The Air Fryer Oven Changes To:
3 shelves like an oven
Add the rotisserie rod
Add the kebab skewers
Use the rotating basket
Get the chip pan out
Then you are leaving basket territory alone and you feel like you are going into a new adventure of air frying.
It is also similar size to a microwave, and many compare it to a microwave oven. I think of it as a convection oven mixed with a microwave, with a few extras thrown in.
With one of these genius Air Fryer Ovens available to buy I wonder how long before the microwave is forgotten about.
Benefits Of Air Fryer Vs Air Fryer Oven
As you can see above, my air fryers sit side by side in my kitchen. Photographed above is my Philips Air Fryer XL and my Power Air Fryer Oven. I was thinking about pros and cons and such like as they sat together while they cooked, and these was my genuine thoughts:
Philips Air Fryer
Lack of accessories. This for me is the biggest negative of the Philips Air Fryer. Not only does it cost a small fortune to buy, but you then need to buy accessories.
Shorty. The Philips Air Fryer is a little shorter and perfect for if you have a small kitchen. Mine fits perfectly under a little shelf in my kitchen.
Flipping. You need to flip your food once in many recipes. This is also a great opportunity to check how your food is cooking and so that your food cooks on all sides.
Even Cooking. Compared to the Air Fryer Oven it is easier for your food to cook evenly in the Philips Air Fryer. That is because you're often using shelves in the Air Fryer Oven and they cook at different levels on each shelf.
Power Air Fryer Oven
That beep is loud and annoying. Don't cook with your air fryer oven if you have a hangover, or in our case had a teen moaning at you for the last hour.
Side Air. Unlike the Philips Air Fryer where the air escapes from the top, in the Power Air Fryer Oven it comes through the sides. This gets it hotter a LOT sooner and its easier to burn yourself.
10% Rule. Because it gets so hot it also cooks food quicker compared to the Philips Air Fryer. One of my readers did a great job of summarising it and mentioned that 10% less cooking time is the order of the day and his is RIGHT.
Accessories Galore. There are plenty of extras included when you buy an Air Fryer Oven. Such as the basket and handle for cooking French fries to the rotisserie set up for making Air Fryer Rotisserie Chicken.
Oven Feel. When you get an air fryer oven it feels like having an oven compared to the Philips Air Fryer feeling like a deep fat fryer. This means that its easier to learn how to use an Air Fryer Oven as you can relate perfectly to using your oven.
Dribble Problem. I use a Pyrex dish about 1 inch high on the very bottom to catch the juices and such, as that little bottom tray doesn't hold much.
Cooking Multiples. If you're using the 3 trays at once, note that the top tray will cook the fastest and the lowest the slowest. Its hard to cook all 3 trays and get everything well cooked. Instead reduce the trays to 2 and then swap the trays around during cooking. Or plan it based on one lot of food requiring less time.
Variety. There is so many different things you can cook in the Air Fryer Oven you could even dry your herbs in it or make dried flower arrangements. Though when you first get an Air Fryer Oven excitement takes over and you just want to make all these amazing new things and make them all RIGHT NOW.
Further Reading:
Final Thoughts
It is a hard one isn't it? The Air Fryer vs Air Fryer Oven is the biggest decision you will make when you get into air fryer cooking. From feedback from my readers and the Recipe This community, most customers start on the Philips Air Fryer and then upgrade to the Air Fryer Oven.
But you may find that depending on what your style of cooking is, that you might want to go straight to the top and get an Air Fryer Oven.
In my opinion, I love both. I would save both in a fire and I would cook with both forever and ever. If I could only buy one it would probably be the Air Fryer Oven just because it suits my style of cooking.
But it is entirely down to personal preference.
Its decision time – are you team Air Fryer or team Air Fryer Oven?
Where To Buy Your Philips Air Fryer?
I recommend purchasing the Philips Air Fryer through Amazon. Depending on where you live, there might be the option of free delivery too. I also recommend trying out Ebay as they often have some fantastic Air Fryer deals. I also have a guide showing you how to buy an air fryer on Ebay.
Where To Buy The Power Air Fryer Oven?
You can click here and buy the Power Air Fryer Oven on Amazon. When you click you can also check the latest price too. I also recommend having a read through the Amazon reviews to see what the current customers think of it.
Can't read it now? Then pin it for later!
Join The RecipeThis.com Community:
Facebook Group | Pinterest | Twitter | YouTube
Plus, don't forget to subscribe below to join our email newsletter with updates of our latest recipes, latest freebies, our cooking stories, plus much more: