Welcome to my ultimate potato gratin in the Air Fryer.
After spending many of my teenage years as a vegetarian I have become a huge fan of the simple potato gratin. It is quick to make, makes a good family dinner and can be made on limited pots.
As just like most people I hate washing up and all the tidying up that happens after you've cooked your dinner.
In this potato gratin recipe in the Air Fryer you are using the bottom tray of the Air Fryer and a ramekin for the finished dish so it is a lot less messy than you would think.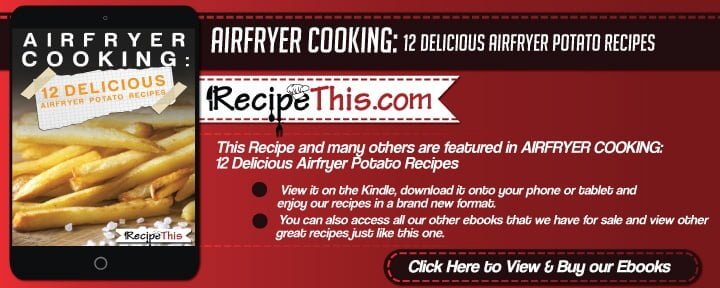 Kids also love this and it can be created and then frozen for later meals and then you can get it out of the freezer and then place it in the Air Fryer. Though if you are planning on feeding it to the kids then maybe reduce the amount of cheese otherwise they may well have nightmares!!!
And us adults love it too and thankfully our Philips Air Fryer is big enough to be able to fit four ramekins in = one for each of us.
Oh and finally (before you grab the recipe) this is very good for keeping your portion sizes in check 🙂
Super Easy Potato Gratin In The #AirFryer from @recipe_this
Click To Tweet
Super Easy Potato Gratin In The Air Fryer
Instructions
Make the potatoes into real thin slices with their skin still on and place them in the Air Fryer on 180c and cook them for 10 minutes.

While they are cooking, prepare the sauce. Mix together two eggs, coconut cream and the flour until they are of a thick consistency.

Take the potatoes out of the Air Fryer (once they are crispy) and line the bottom of four ramekins.

Cover with the cream mixture, sprinkle with the cheese and cook for a further 10 minutes on 200c.

Serve!
Recipe Notes
The thing about a potato gratin is that it is very versatile so you can change it to suit your own preferences. We like ours with lots of cheese and cream but others may prefer a tomato sauce base.