0036: What To Eat In February With Your Kitchen Gadgets?
This Post Contains Affiliate Links. Click Here To Read Our Full Disclosure.
February Foods In Season. In episode 036 of the Magic With Gadgets Podcast we are talking about what we are cooking in February, what's in season and which kitchen gadget recipes to get excited about this month.
These foods in season for February are also featured in the Magic With Gadgets Podcast. Simply search for Magic With Gadgets on your preferred podcast player, then scroll to episode 36 of season 1 to access this awesome episode.
Hello February!
I always think of February the most for Valentine's Day and for the superbowl, but in the foodie world I love it because it's the halfway point between delicious Christmas turkeys and delicious Easter lamb.
Another highlight of February is February half term, where we get a week off with the kids and get to do some fun stuff. February last year we spent it at Center Parcs, and it was great fun riding around The Lake District.
In February, I also find myself cooking a lot of the winter food, worried that winter season will be gone soon and I will have to kiss goodbye to my favourite stews and casseroles and other winter warmer food.
What Should I Stockpile In February?
February just be renamed chicken month when it comes to my stockpiling.
I notice there are the best deals on whole chickens, chicken thighs and chicken drumsticks in February. What I will do is buy them in bulk and load them into our chest freezer and then we have an excellent supply of chicken that will last us ages.
Plus, so many of the amazing kitchen gadget recipes involve chicken and it cooks so well.
You can also do the same again with cod, which is at its best in February due to the cold weather. The cod can be used for breading in the air fryer and you can save it and then use it for fish nuggets, fish cakes, fish and chips and so much more.
Top 10 February Foods In Season
I love February foods for the in between. It's the end of winter season, yet its not quite the spring season. This gives you a fantastic mix of food that is in season and you can create some delicious food with it.
Let's start with beets. Also known as beetroot, many are afraid of it because it makes our hands red. But OMG its delicious and it doesn't have to be used to make instant pot picked beets, as my favourite use for it is air fryer roasted beetroot.
You can cut the beetroot into wedges and then air fry it like other root vegetables and then once cooked it makes a delicious side dish for dinner.
Then my next favourite February root veggie is the parsnip. It is in season for most of winter and I love the big fat chunky ones because you get a lot for each parsnip and then you can use it on a few different recipes.
Though if I had to choose one it would be air fryer parsnip fries. They can be cooked on their own or you can do a medley of veggie fries with some other vegetables.
Sprouts are also still in season in February and if you have not tried them yet give air fryer frozen Brussel sprouts a go. You can add to the mix some chopped bacon or toss them in your favourite marinade.
Cauliflower is another veggie that is still in season in February and one of my favourite veggies from childhood. My mum always made the best cauliflower cheese, and I would often binge on gratins especially being a vegetarian as a kid. Now I make a quick instant pot cauliflower cheese, which is easy prep, flourless, but still tastes amazing.
Cabbage is finally in season. But did you know the best way to enjoy it? Cooked with butter in the instant pot. Instant pot steamed cabbage is amazing, and OMG I could eat this every day all year round for my lunch.
The cabbage pressure cooks with the butter, then you can toss it in a little extra butter before serving.
Butternut Squash might surprise you for being in season in February, but it's everywhere and great for using in loads of different recipes. We love soup maker butternut squash soup the most, but also love air fryer butternut squash cubes which is like the best roasted veggies ever. Then let's not forget about using some butternut squash for a hidden veggie cheese sauce.
Or go lazy and cook a whole butternut squash in the instant pot. So much faster compared to the oven.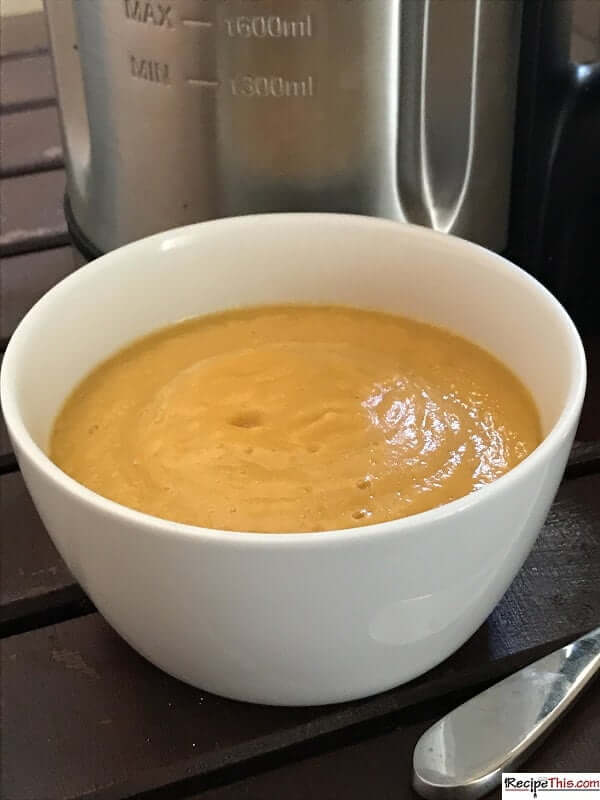 Then with Valentine's Day being on the 14th February, a special mention has to go to cookies in the air fryer.
You can make a small batch of chocolate chip cookies to share and cooked in the air fryer, air fryer chocolate chip cookies are so easy.
Or my favourite main for Valentine's Day is some instant pot beef cheeks ragu.
In the seafood department cod is in season and so is quite a lot of other white fish fillets. It freezes very well, so if you want to save some for later, now is a good time to buy in bulk.
Then for the best ways to cook cod, my top choice would be cod in the air fryer, cooked simple and then enjoyed for lunch.
You can also use the cod to make air fryer homemade fish cakes, air fryer fish and chips and also for a slow cooker fish pie.
For the best meat in February, chicken is in season. This is the time when you get really big chicken breasts, and you can dump them in the freezer for cooking with later. We also recommend doing the same with whole chickens and also chicken thighs and drumsticks.
We recommend air fryer frozen whole chicken for quickly taking the chicken from the freezer to the air fryer and having it on the table for dinner.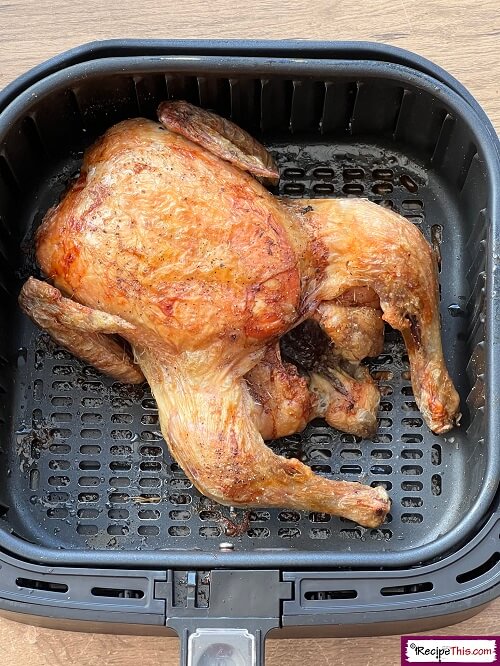 It's the month of apples and pears and they are perfect for the air fryer and other kitchen gadgets. Just think apple crumble, apple crisp, apple cobbler, as well as an air fryer apple pie.
You can also air fry your apple chunks and then transform it into an air fryer apple turnover.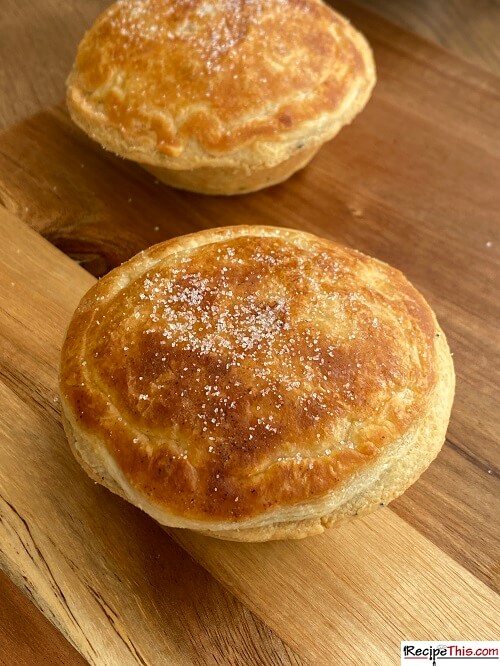 What To Dehydrate In February?
Because apples and pears and beets are in season, these are perfect for the dehydrator. You can make air fryer dehydrated apples, dehydrated pears and of course dehydrated beetroot slices.
Did You Know We Have A Podcast?
We started the Magic With Gadgets podcast in the January of 2021 as a way to offer a different way to enjoy Recipe This. It focuses on cooking with kitchen gadgets. You can find out more about our podcast here.
With regular episodes that will help you cook smart with kitchen gadgets. This is episode 36 of the first season and you have the choice between reading this post, listening to the podcast or both.
If you would like to stay in the loop with our podcast, I recommend you subscribe below:
How To Listen To This Episode?
You can use the player above to listen to this episode of Magic With Gadgets. Alternatively search for Magic With Gadgets on your favourite podcast platform or click the links below:
Subscribe & Review
Thank you for listening to the Magic With Gadgets Podcast. Have some feedback you would like to share? Want to be featured in a future episode? Want to help us spread the word?
Browse other episodes (access them all here)
Leave a comment below the blog post
Share with your friends on social media
Share your thoughts in our Facebook Group (you can sign up here)
Ask me a question or submit a guest request by filling out the form below
If our podcast has helped you, please leave a review on iTunes. Your reviews help spread the word and without reviews our podcast will not get seen. Plus, I love reading each and every one of them.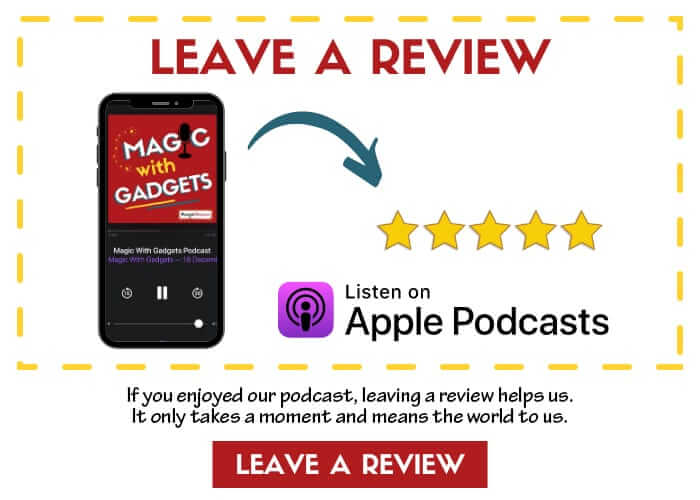 Can't listen now? Then pin it for later!