What Are The 20 Herbs Used The Most?
This Post Contains Affiliate Links. Click Here To Read Our Full Disclosure.
What are the herbs used the most! I have had a lot of requests recently for a podcast episode about the main herbs and spices we use and what recipes we use them in.
This herbs and spice Q&A is also featured in the Magic With Gadgets Podcast. Simply search for Magic With Gadgets on your preferred podcast player, then scroll to episode 33 of season 2 to access this awesome episode.
Cooking With Herbs & Spices
I have a kitchen cupboard that is jam packed with herbs and spices.
Including a big selection of my favourite M&S Herbs.
I also have another section in my pantry that is loaded up with extra herbs and spices jars for when the others run out.
Then I have some shelving with some of my bigger herbs and spices mixes
But these pictures are likely to be overwhelming to someone that is cooking for themselves for the first time ever or that doesn't know what herbs and spices to add to their food, beyond the usual salt and pepper.
I have a herbs and spices addiction but there has been times when I have been forced to tone it down to the bare minimum.
One example is when we travelled around Europe and had such a small area for kitchen supplies.
What I did was mix together seasonings I use the most and then limit myself to about another 5 seasonings.
But I have a better idea, an idea that took a while to plan out for you. We went through the entire recipe collection at Recipe This (we have more than 1000 recipes) and wrote down how many times each of the herbs and spices would feature.
That way we could create the perfect top 20 herbs and spices for you to use at home. That way you don't have to buy our collection but have a collection of the most used, saving you money along the way. We have also included the numbers for you of each time these herbs have been used.
Top 20 Most Used Herbs & Spices?
Salt & Pepper – Lets start with salt and pepper, shall we? No surprise that it has been featured 689 times in our recipes. We always use sea salt though ass it has better health benefits and flavours food in the gadgets brilliantly.
Garlic – Blame 13 years that I lived in the Algarve, it got me even more obsessed with garlic. I notice with many of our recipes, I start with onion and garlic. I added it up and we feature garlic in 350 recipes. Though we do mix it up between fresh garlic, frozen chopped garlic. Garlic puree and garlic powder. My personal favourite though is to batch air fryer roasted garlic and keep some in a jar and then use this when recipes call for garlic.
Parsley – Next on the list is parsley. Dried parsley is brilliant for quickly adding some herbs to your favourite dishes and works with a lot of different recipes. If you are new to flavouring your food you can start with parsley. Plus, there is a lot of our recipes you can use as 174 featureparsley.
Oregano – Just behind parsley, dried oregano has featured in our recipes 170 times. You can also pair together oregano, and parsley.
Thyme – We cook with this a lot and its brilliant for mixing up the flavours. We especially use thyme in stews and casseroles or for a different flavour on potatoes. Featured 136 times, it is a firm favourite.
Paprika – I also love to add some paprika to recipes. It creates a fantastic flavour to your food and also for when cooking in the air fryer it adds some great colour too. We mainly use sweet paprika and have featured paprika 101 times.
Basil – We love basil and find that when cooking chicken dishes, you can mix a bit of parsley, basil, and thyme for a delicious flavour. Or basil is just fantastic in a cheese sauce you are making or with some air fryer tomatoes. We have featured basil (mainly dried) 94 times in our recipes.
Mixed Herbs – Probably the easiest starting point for a herbs and spices cupboard. You can use mixed herbs, bouquet garni or Italian seasoning as the mixes are very similar and use it as a replacement. If you would normally add a mixture of herbs for dinner, then swap for this and its less effort and makes it easier for you. These mixed herbs have been featured 72 times.
Coriander – I love coriander and it adds a great flavour to food. You might also know coriander by its American name of cilantro. We prefer the curly coriander, but you can swap it for what you have available.
Now let's stop and reflect on what we have mentioned already. These are our top 10 most used herbs and spices and if you are on a budget and want a starting point then get those above. You might already have some of the above already in your pantry.
Cumin – I love to add some cumin to recipes, and it works well whenever you are cooking Asian food in your kitchen gadgets. I don't have loads of Indian spices, but I always make sure there is cumin to hand and it's been featured in 50 of our recipes.
Rosemary – Then of course next on the list is rosemary. The best friend of air fryer roast lamb and also amazing for your roast potatoes too. We feature rosemary 47 times on Recipe This.
Turmeric – It will surprise you that turmeric features a whopping 34 times. Isn't that amazing? I love the taste and the smell of turmeric and have had a thing for it, since I first started cooking back in 2000.
Cinnamon, Mixed Spice & Ginger – These lovely, sweet seasonings that are fantastic for Christmas gingerbread, as well carrot cake for Easter has each featured 31 times. But there is an easier way in baking. Just like mixed herbs there is a backup plan. Instead, you can swap these 3 for pumpkin spice. (this is the one we buy).
Chives – I hated the chives that were sold in Portugal, they were awful and didn't even smell that much like chives. That is why chives have only been featured 29 times. Though now we are back in the UK we have access to better chives, and they are starting to get featured more and more.
Cayenne Pepper – What I love about cayenne, is that its easy to use as a backup spice whenever you need one. Use it instead of piri piri, instead of red chilli flakes or even in your Nandos copycat chicken. We feature cayenne 27 times.
Garam Masala – I also make sure I have a good supply of Garam Masala in the kitchen cupboard for whenever I am making some Indian food. I do love the taste and as Dominic hates it, if I am just preparing some veggies in the air fryer for me, I will add some. Garam Masala has been featured 24 times.
Chinese 5 Spice – I use Chinese 5 Spice in a lot and like with garam masala, its brilliant to add a Chinese flavour to your cooking. We have featured Chinese 5 spice in 21 recipes such as our air fryer salt and pepper chips.
And there you have it, those are 20 best herbs and spices that we recommend you stock up on. All of these are seasonings we use all the time.
Of course, we buy dried because it is easier but you can also dry your own if you have an air fryer with a dehydrate, like we have done.
And of course, on the Podcast we will be going into great detail of all the herbs and spices and where we buy them from.
Did You Know We Have A Podcast?
We started the Magic With Gadgets podcast in the January of 2021 as a way to offer a different way to enjoy Recipe This. It focuses on cooking with kitchen gadgets. You can find out more about our podcast here.
This is episode 33 of the second season and you have the choice between reading this post, listening to the podcast or both.
If you would like to stay in the loop with our podcast, I recommend you subscribe below:
How To Listen To This Podcast Episode?
You can use the player above to listen to this episode of Magic With Gadgets. Alternatively search for Magic With Gadgets on your favourite podcast platform or click the links below:
Subscribe & Review
Thank you for listening to the Magic With Gadgets Podcast. Have some feedback you would like to share? Want to be featured in a future episode? Want to help us spread the word?
Browse other episodes (access them all here)
Leave a comment below the blog post
Share with your friends on social media
Share your thoughts in our Facebook Group (you can sign up here)
Ask me a question or submit a guest request by filling out the form below
If our podcast has helped you, please leave a review on iTunes. Your reviews help spread the word and without reviews our podcast will not get seen. Plus, I love reading each and every one of them.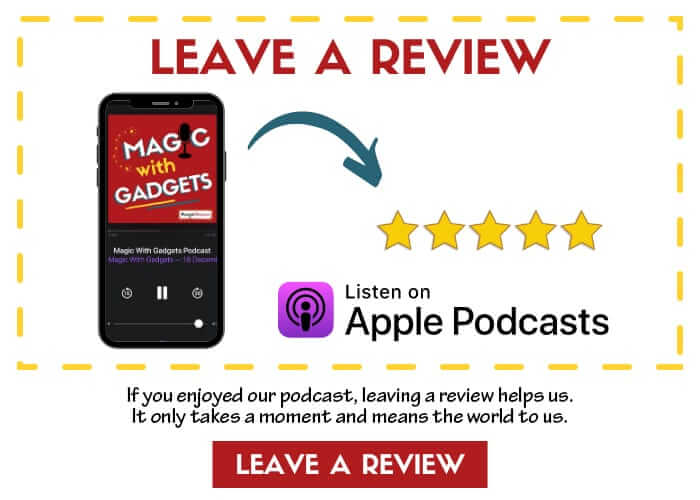 Can't listen now? Then pin it for later!