What Is An Instant Pot? Today on the podcast, I wanted to talk about one of my favourite topics, what is an instant pot and what is an instant pot good for.
This instant pot Q&A is also featured in the Magic With Gadgets Podcast. Simply search for Magic With Gadgets on your preferred podcast player, then scroll to episode 19 of season 2 to access this awesome episode.
What's The Big Deal With Instant Pot?
When I purchased my first ever instant pot back in 2016, I was full of excitement for what was described at the time as the biggest kitchen gadget trend since the arrival of the microwave.
A kitchen gadget that would produce amazing one pot meals, could make popcorn, could be taken to hotel rooms to save on room service and best of all make old school steamed puddings.
But for most people the hype was because it would replace many kitchen gadgets in one, in a similar way to what the air fryer could do.
It would replace the soup maker, steamer and rice cooker as well as being your go to for making one pot dinners.
But so many people are yet to get an instant pot and still want to know what is a instant pot.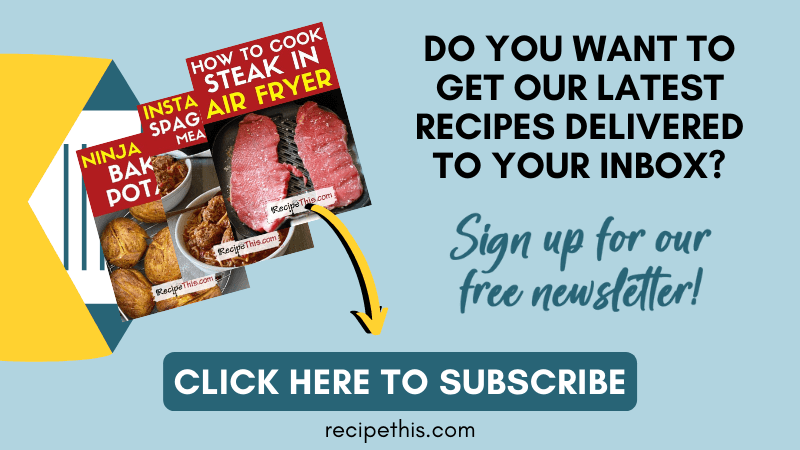 What Is An Instant Pot?
The simple way of explaining it, is to say that the instant pot is an electric pressure cooker. Or if you live in Australia you would describe it as a multi cooker.
In a nutshell an instant pot is a machine that is an electric pressure cooker, slow cooker and sautes all in one.
There are many brands of electric pressure cookers that do this, but none as popular as the instant pot.
Or its like saying instant pot to pressure cookers is what the Crockpot is to slow cookers.
The most famous thing about the instant pot is its presets. There are several preset buttons on the instant pot to make life easier.
What Is An Instapot?
An Instapot is another name for the instant pot. Kind of like a nickname that has been given to it.
I notice that many people in the US will always call it an instapot and never an instant pot.
Just like how they shorten doughnuts to donuts.
What Is The Difference Between A Pressure Cooker & A Instapot?
The instapot is a type of electric pressure cooker. Whilst a pressure cooker can mean both stovetop and electric pressure cookers.
Only the modern pressure cookers are electrical, so make sure when you get a pressure cooker, you choose instant pot, or a similar brand such as Ninja Foodi.
Otherwise you could end up with a manual stovetop pressure cooker and these are not as easy to use as the instant pot and don't have the same functions.
What Is An Instant Pot Good For?
I could write 5000 words about what an instant pot is good for and still only just touch the surface of the great benefits of the instant pot and how it has changed the way that I cook.
Firstly, everything cooks in one pot and meals that you would usually do on the stovetop with several pans, are all done in one place.
This makes washing up a breeze for recipes such as instant pot shepherd's pie, instant pot bangers and mash and instant pot meatloaf and mashed potatoes.
Add to this that the cook time is so much lower using the instant pot compared to the oven. Our instant pot whole chicken has a 35 minute cook time including natural pressure release vs 1 hour 40 minutes if cooked in the oven. Then of course the chicken is more tender and just falls apart as you dive in.
It is also fantastic for meal prep. When I meal prep some air fryer lentil burgers, I will use the instant pot to quickly cook the instant pot green lentils and some extra root veggies to be loaded into them.
I also love the instant pot for taking me out of my comfort zone and having me cook things, that I would never have made if I didn't have an instant pot. Such as instant pot chickpeas, dried beans, lentils and of course cheesecake.
What Comes With An Instant Pot?
When you open your instant pot pressure cooker box you will be greeted with a few things:
Spare sealing rings – it amazes me how long a sealing ring lasts in the instant pot, but its great to have a backup one for that time when it goes, and you can't get another one fast enough.
Trivet – This is useful in a lot of instant pot recipes. We use our trivet to rest steamer baskets on and for baking instant pot baked potatoes. Because we have bought a few instant pots over the years and some other electric pressure cookers, we have ended up with a drawer full of them. Which is good for us because we can choose the right one to use in our instant pot.
Manual – This is fantastic for getting a greater understanding of the instant pot and knowing what it does and doesn't do. I love a read of this as it really helps make instant pot cooking simple.
Silicone – You get two silicone spoons for using in the instant pot. I believe one is meant for rice, but I find that they are useful for a lot of cooking. Plus, with them being silicone they wont damage the instant pots inner pot.
Cup – You also get a measuring cup too which I love for quickly measuring out liquid for the instant pot. I keep mine in my top drawer in the kitchen for easy access.
Steamer – This is the one complaint that doesn't come with the instant pot. But if you get the Mealthy brand of electric pressure cookers you do get one.
This is the instant pot we have and do note what's included does vary between different electric pressure cookers and different models.
What Can You Cook In An Instant Pot?
We all have different needs and different tastes, so I can only go by what I personally cook in my instant pot pressure cooker.
For breakfast it is often instant pot breakfast hash which is amazing and loaded up with chorizo and cheese, or instant pot soft boiled eggs. Or if feeding a crowd, I highly recommend instant pot steel cut oats or reading our instant pot porridge setting guide.
Then for lunch the family favourites include instant pot vegetable soup with frozen vegetables, instant pot salmon and broccoli (while the kids are at school!) or best of all instant pot frozen hamburgers.
Or for dinner we LOVE instant pot spaghetti and frozen meatballs or keep it simple with our Ninja Foodi Spaghetti Bolognese.Beyond pasta we love instant pot cottage pie or instant pot spam fried rice.
Or for snacks why not make instant pot popcorn or enjoy instant pot rice pudding for dessert.
Did You Know We Have A Podcast?
We started the Magic With Gadgets podcast in the January of 2021 as a way to offer a different way to enjoy Recipe This. It focuses on cooking with kitchen gadgets. You can find out more about our podcast here.
With twice weekly episodes through September to December. This is episode 19 of the second season and you have the choice between reading this post, listening to the podcast or both.
If you would like to stay in the loop with our podcast, I recommend you subscribe below:
How To Listen To This Podcast Episode?
You can use the player above to listen to this episode of Magic With Gadgets. Alternatively search for Magic With Gadgets on your favourite podcast platform or click the links below:
Subscribe & Review
Thank you for listening to the Magic With Gadgets Podcast. Have some feedback you would like to share? Want to be featured in a future episode? Want to help us spread the word?
Browse other episodes (access them all here)
Leave a comment below the blog post
Share with your friends on social media
Share your thoughts in our Facebook Group (you can sign up here)
Ask me a question or submit a guest request by filling out the form below
If our podcast has helped you, please leave a review on iTunes. Your reviews help spread the word and without reviews our podcast will not get seen. Plus, I love reading each and every one of them.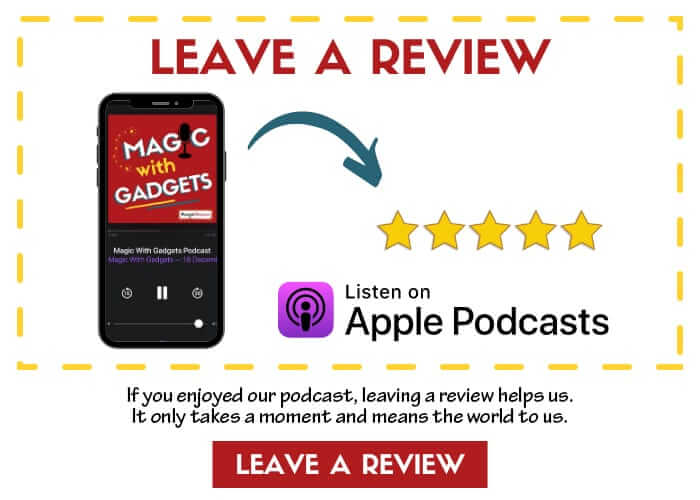 Can't listen now? Then pin it for later!