This Post Contains Affiliate Links. Click Here To Read Our Full Disclosure.
Are Air Fryers Worth It? Today on the podcast, I wanted to talk about are air fryers worth the money or is it just a trend for those that want chips with less calories.
This air fryer Q&A is also featured in the Magic With Gadgets Podcast. Simply search for Magic With Gadgets on your preferred podcast player, then scroll to episode 22 of season 2 to access this awesome episode.
Is An Air Fryer Worth It?
When I bought my first air fryer way back in 2011, it was this original Philips air fryer and still to this day, it has changed the way that I cook meals and snacks.
I originally bought it to enjoy my favourite chips (Fries if you live in the US) and created some of my favourite fries recipes. Such as slimming world chips, oil free fries, cajun fries, and the list went on and on.
In my opinion, the air fryer is worth it, just for the fries, that is what it was sold on and that was the marketing campaign 10 years ago.
Reduce the fats in foods by 85% with an air fryer, and even though the hubby wasn't convinced as much as me straight away, we soon both fell head over heels in love with the air fryer.
I would say that an air fryer is totally worth it and that its not just about a low calorie way to enjoy your favourite chips.
You can cook an air fryer whole chicken, air fryer chickpeas, air fryer roast beef, air fryer leg of lamb, air fryer roast potatoes, air fryer chocolate cake, air fryer doughnuts and so much more using an air fryer.
Plus, if you search Recipe This we have 500+ air fryer recipes and that just shows you the variety of food you can air fry.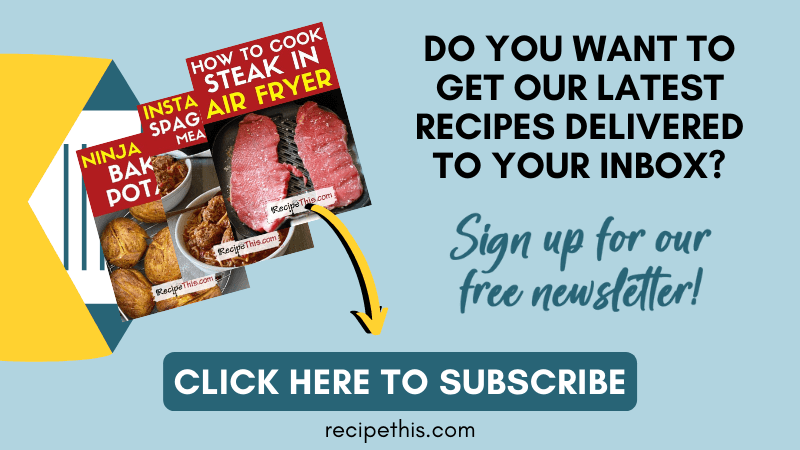 Are Air Fryers Worth The Money?
Yes, air fryers are most certainly worth the money. They are kind of like a television and how many years you can get out of your TV, before you need to replace it.
Or like the modern TV buyer, you will often want to upgrade before it breaks because that newer model has got your attention.
My first air fryer (this one) did more than five years before it started to look a big old and dodgy. It would have easily done another two years, but we wanted this newer and bigger one for cooking an air fryer whole chicken with stuffing.
Or you can do the maths so that you can double check that an air fryer is worth buying for you.
For example, an avid air fryer user is likely to use it twice a day and over 5 years that would mean that for each air fryer you would use it 3650 times. If you bought an air fryer for $150, that would work out at $0.04 a time.
Wow 4 cents for using your air fryer.
Then take into account a drop in your electric bill for using an air fryer and you could be looking at your air fryer costing you ZERO because of the saving from your electric and your gas oven and gas stove.
Is An Actifry Worth The Money?
Not in my opinion, no.
Most air fryer users that I know started with the actifry and then changed to a better air fryer, complaining that it was not very good.
There are even some Actifry's that are preset and can only cook at one temperature. This would ruin reheating steak in air fryer or reheat fries in air fryer as they need to reheat at a lower temperature. You also wouldn't be able to cook air fryer hard boiled eggs or use it to prove bread like we do in our air fryer dinner rolls.
But whilst I don't think the Actifry is worth buying, I do think this Philips air fryer is worth it and this Cosori air fryer.
Did You Know We Have A Podcast?
We started the Magic With Gadgets podcast in the January of 2021 as a way to offer a different way to enjoy Recipe This. It focuses on cooking with kitchen gadgets. You can find out more about our podcast here.
With twice weekly episodes through September to December. This is episode 22 of the second season and you have the choice between reading this post, listening to the podcast or both.
If you would like to stay in the loop with our podcast, I recommend you subscribe below:
How To Listen To This Podcast Episode?
You can use the player above to listen to this episode of Magic With Gadgets. Alternatively search for Magic With Gadgets on your favourite podcast platform or click the links below:
Subscribe & Review
Thank you for listening to the Magic With Gadgets Podcast. Have some feedback you would like to share? Want to be featured in a future episode? Want to help us spread the word?
Browse other episodes (access them all here)
Leave a comment below the blog post
Share with your friends on social media
Share your thoughts in our Facebook Group (you can sign up here)
Ask me a question or submit a guest request by filling out the form below
If our podcast has helped you, please leave a review on iTunes. Your reviews help spread the word and without reviews our podcast will not get seen. Plus, I love reading each and every one of them.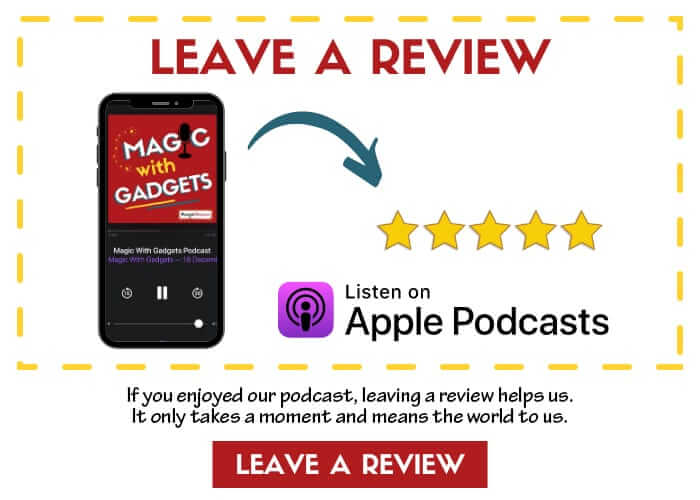 Can't listen now? Then pin it for later!