0041: What To Eat In July With Your Kitchen Gadgets?
This Post Contains Affiliate Links. Click Here To Read Our Full Disclosure.
July Foods In Season. In episode 041 of the Magic With Gadgets Podcast we are talking about what we are cooking in July, what's in season and which kitchen gadget recipes to get excited about this month.
These foods in season for July are also featured in the Magic With Gadgets Podcast. Simply search for Magic With Gadgets on your preferred podcast player, then scroll to episode 41 of season 1 to access this awesome episode.
Hello July!
Yeah, July is here!!!!
When I think about July, I think about the summer we travelled around Europe in a tent and took the instant pot with us. The instant pot was our lifesaver when it came to meals and snacks, and we even used it to boil the water for making Dom's coffee for breakfast.
July is also amazing for the air fryer and using it for your summer picnics and also for the sides that you serve at your summer barbecue.
Then of course, these kitchen gadgets are ideal for those sweet treats too.
What Should I Stockpile In July?
In July I am looking at stockpiling the watermelon. I can then slowly eat it over the remainder of the summer, plus I also love dehydrated watermelon.
Before you think isn't water the point of watermelon, then hear me out for a moment.
When you remove the water from watermelon you have this lovely sweet fruit that is just like a sweet treat and perfect for the kids to have in their snack boxes whilst out on a road trip.
Top 10 July Foods In Season
July is summer food heaven and it's hard to limit it to just 10 foods to enjoy in July.
Let's start with apricots and peaches. They are now in season, and you can either cook with apricots or with peaches and make similar recipes.
I love to make a slow cooker peach cobbler, air fryer grilled peaches and best of all some cute little air fryer peach cobblers in ramekins.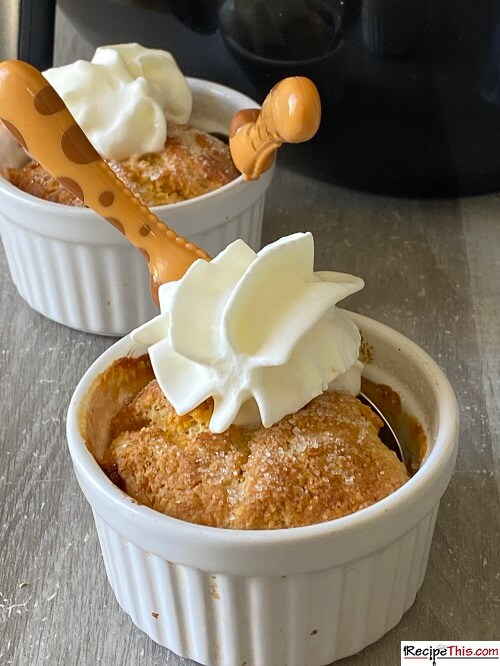 Then my next favourite July food is blueberries. Then following on from the same theme we love to make blueberry crumble pots using them in the air fryer in ramekins. We feature them in our new air fryer cookbook and they were so good I had the leftovers on the shoot.
Beyond the crumble we also love air fryer dehydrated blueberries and air fryer blueberry muffins.
Cherries is another favourite of the berry family in July and they can also be cooked with (once pitted) in a similar way that other berries can. You can add them to crumbles, cobblers, use them in fruity summer salads or our favourite option is air fryer dehydrated cherries.
Though in the cookbook we will be showing you how to make a cherry pie, which is dedicated to a reader of ours that passed away last Christmas.
Courgette is also still in season. Or if you are an Aussie or an American you may call it zucchini or even summer squash.
Its delicious as air fryer zoodles, or how about making some zucchini Bolognese boats?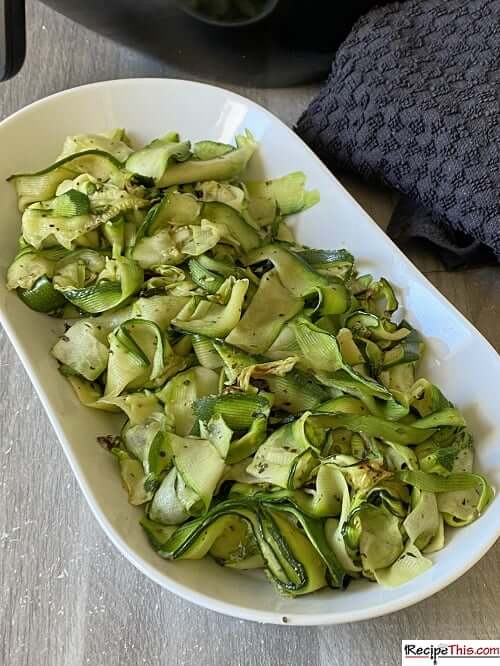 Tomatoes are still in season. I love tomatoes and it's my favourite food, at any time of the year. I can sit there and get through a full portion of cherry tomatoes on my own. I am also the same drinking tomato juice.
I also love the tomatoes for salads, and you can also cook air fryer grilled tomatoes for your breakfast, or why not try our air fryer cherry tomato salad?
Avocado, Corn & Peppers are in season at the same time. These are three of my favourite foods and it reminds me of summer and making lots of summer salads with them.
You can air fry corn and peppers together in the air fryer and then add them to the salad with some cubed avocado.
I recommend you try our southwestern salad and our air fryer cobb salad. Both are yummy and perfect for getting into the summer season.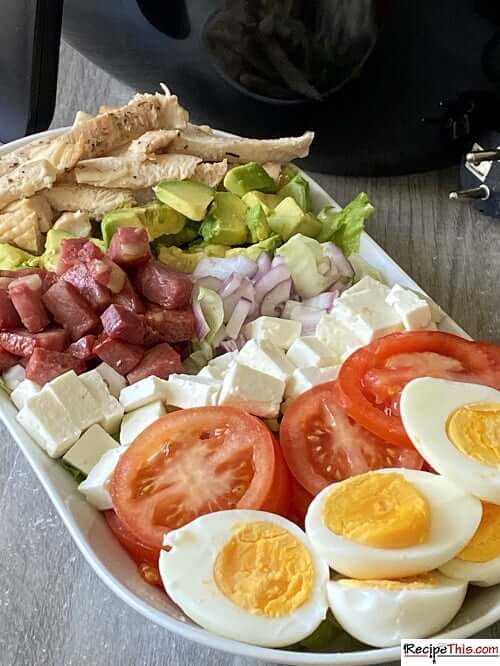 Hello new potatoes it's nice to see that you are back! New potatoes or baby potatoes or salad potatoes as you might call them are ideal for the air fryer.
They go crispy in the same way a baked potato does but of course are much quicker to cook.
We will often make air fryer baby potatoes whilst on holiday and when we have taken the air fryer with us for an easy side dish.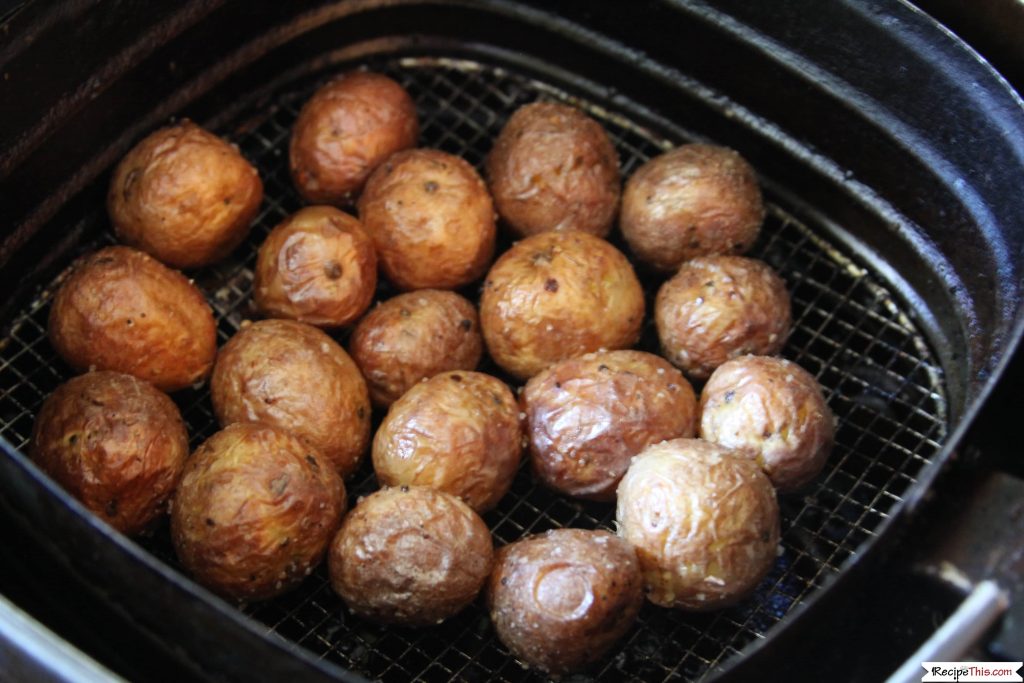 For the best meat in July, beef is in season and isn't that an excuse for steak or burgers.
Dom loves a burger and makes the most delicious stuffed cheeseburgers in the air fryer.
He also makes delicious air fryer sirloin steak, air fryer fillet steak and let's not forget about combining for air fryer steak and chips.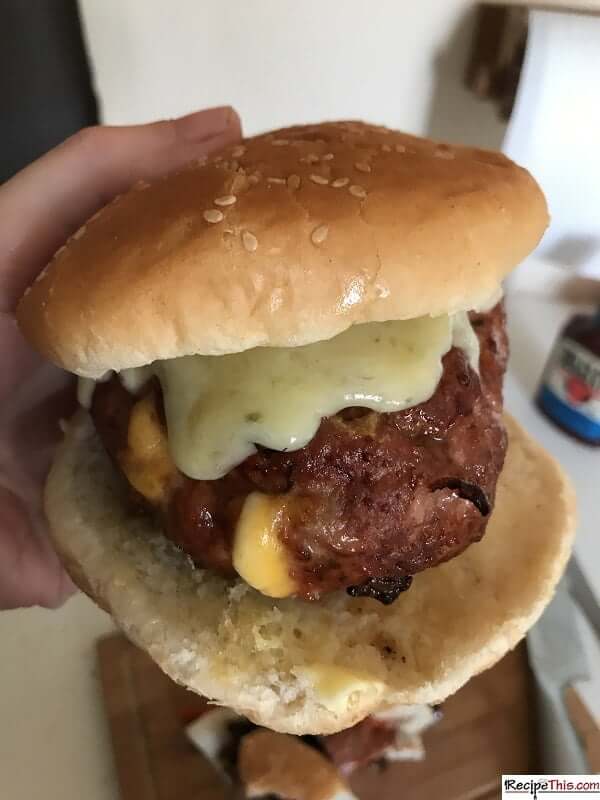 What To Dehydrate In July?
The options for dehydrating this month, just don't stop. You have dried herbs, berries, beetroot, and let's not forget about dehydrated cucumber chips. Though my favourite is the dehydrated raspberries.
Did You Know We Have A Podcast?
We started the Magic With Gadgets podcast in the January of 2021 as a way to offer a different way to enjoy Recipe This. It focuses on cooking with kitchen gadgets. You can find out more about our podcast here.
With regular episodes that will help you cook smart with kitchen gadgets. This is episode 41 of the first season and you have the choice between reading this post, listening to the podcast or both.
If you would like to stay in the loop with our podcast, I recommend you subscribe below:
How To Listen To This Episode?
You can use the player above to listen to this episode of Magic With Gadgets. Alternatively search for Magic With Gadgets on your favourite podcast platform or click the links below:
Subscribe & Review
Thank you for listening to the Magic With Gadgets Podcast. Have some feedback you would like to share? Want to be featured in a future episode? Want to help us spread the word?
Browse other episodes (access them all here)
Leave a comment below the blog post
Share with your friends on social media
Share your thoughts in our Facebook Group (you can sign up here)
Ask me a question or submit a guest request by filling out the form below
If our podcast has helped you, please leave a review on iTunes. Your reviews help spread the word and without reviews our podcast will not get seen. Plus, I love reading each and every one of them.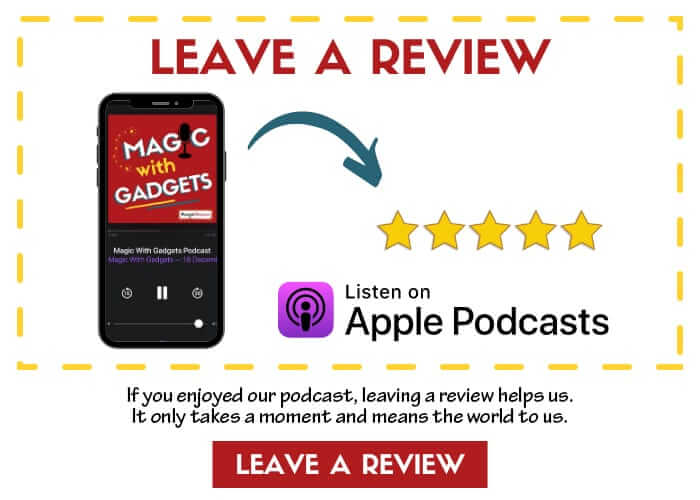 Can't listen now? Then pin it for later!