Weight Watchers Air Fryer Recipes
This Post Contains Affiliate Links. Click Here To Read Our Full Disclosure.
Weight Watchers Air Fryer Recipes. Introducing you to our full collection of air fryer recipes that are perfect for Weight Watchers members that follow either the blue, purple or green plans.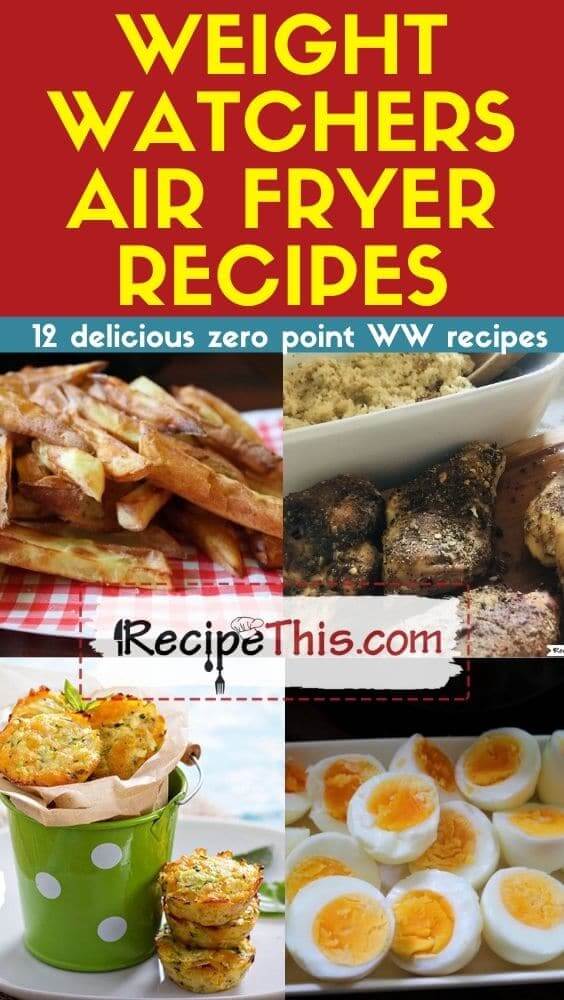 Weight Watchers Air Fryer Recipes
Where has the time gone? 11 months ago, I promised to be back with a round up of all our weight watchers air fryer recipes. Well, I am finally back, going through our air fryer recipe archives to find you suitable air fryer recipes to follow.
You see I have had many requests for ww air fryer recipes and that is because out of 400+ air fryer recipes, it can be hard to navigate with lots of air fryer cake, air fryer bread and plenty of other heavy carb food.
But today is the day and I am so pleased with how many weight watchers air fryer recipes we have. Ideal for my own weight watchers meal planning.
Also, if you have an instant pot we also have:
Are Air Fryers Good For Weight Watchers?
Absolutely! The air fryer was originally created to allow people to cook their favourite food with a lot less oil, or in some cases no oil at all. This means that for people that follow Weight Watchers, Slimming World, and other low calorie diets it is a dream come true.

Air Fryer & Weight Watchers
I have noticed over the years (I have owned air fryers for 10 years) that more and more people are buying air fryers to use on Weight Watchers. But if you are new to the air fryer game, you might not be aware of the amazing air fryer weight watchers recipes.
If you didn't know, the air fryer is fantastic for cooking chicken breast, pork chops, roasted meats, grilling fish, roasting vegetables, roasting potatoes and lets not forget about its ability to make breakfasts too.
There is literally an air fryer recipe for everyone to enjoy.
Though of course today the air fryer and weight watchers is all about recipes that 100% fall under:
WW Green Plan
WW Blue Plan
WW Purple Plan
If you are not familiar with the green, blue and purple plans, then here is a recap as well as a free printable foods list that you can download.
Weight Watchers Green Plan – Made up of fruit and vegetables. It reminds me of the foods that you consume in the first 3 days of the cabbage soup diet. You could use these foods to create your own cabbage soup meets WW diet plan.
Weight Watchers Blue Plan – Made up of 200 foods that included fruit, veggies, pulses, beans, fat free dairy, seafood, lean poultry, tofu, and a few other healthy foods.
Weight Watchers Purple Plan – You get everything that is on the green and blue plans, plus you can have healthy grains and potatoes. Ideal for if you love to pair your dinner with brown rice of sweet potatoes.
Though it is always assumed that whichever plan you choose you won't overeat. Eat when you are hungry and stop when you are full is the motto in the Milner house and we recommend you follow it too.
Weight Watchers Air Fryer Resources
As well as subscribing to Recipe This for your free WW printables we have some other resources that we recommend for taking on Weight Watchers with the help of the Air Fryer.
Philips Air Fryer XL – We recommend the Philips Air Fryer XL. It's the best air fryer and ideal for healthy weight watchers recipes. It is also a good size for when you are cooking family dinners in the air fryer.
Philips Air Fryer Accessories – Check out our air fryer accessories list too that is tailored for the Philips Air Fryer. It includes lots of accessories that we regular use when cooking WW air fryer recipes.
WW Success Toolkit – My friend Sara at The Holy Mess has this awesome file full of PDFs that you can download. It includes lots of resources for starting out on your WW journey. There are WW recipe ecookbooks, printables, meal ideas and so much more. You can get WW Success Toolkit here.
Weight Watchers Air Fryer Recipes
Here we are with 12 zero point Weight Watchers Air Fryer Recipes. I have sorted them into categories of WW green, WW blue and WW purple recipes. Though of course if you follow purple you can also eat blue and green recipes.
Green Weight Watchers Air Fryer Recipes
I don't have that many recipes that fall under the green weight watchers plan, but that doesn't mean I don't have any at all!
Air Fryer Pumpkin – My most cooked air fryer ww recipe. Pumpkin is loaded into the air fryer, cooked and tossed in your favourite seasoning. Because pumpkin is high in water, it doesn't need any oil to air fry.
Air Fryer Peppers – Another one to add to your list is mixed peppers. Green, red, yellow, orange peppers are all yummy in the air fryer. Cook them without oil and add fajitas for veggie fajitas.
Air Fryer Cherry Tomatoes – I enjoy this more in the summer. You can simply warm up halved cherry tomatoes with some seasoning. They are yummy and also ideal for a salad.
Blue Weight Watchers Air Fryer Recipes
I love the blue weight watchers plan because I can enjoy air fryer chicken breast, air fryer chickpeas, prawns and of course salmon. Plus, all the recipes mentioned in the green section.
Air Fryer Frozen Chicken Breast – Learn how to cook a frozen chicken breast in the air fryer. Then swap the maple syrup in this recipe for lemon juice and you have perfectly cooked chicken breasts for ww.
Air Fryer Tuna Steak – Season some tuna steak with Italian seasonings, add cherry tomatoes and cook in the air fryer together. Inspired by my favourite Gordon Ramsay recipe this is an easy everyday lunch idea.
Air Fryer Chickpeas – My four years olds favourite healthy snack. You load chickpeas into the air fryer tossed in your favourite seasoning, air fry and enjoy. A great alternative to crisps and works good on salads and one pot dinners too. Or even have them over soup as a crouton alternative.
Air Fryer Egg Cups – Welcome to my most eaten air fryer breakfast ever. Like mini frittatas these little cups are yummy. You can add whatever ingredients you have in and make them even better by replacing milk with fat free yoghurt.
Air Fryer Hard Boiled Eggs – A quick guide showing you how to cook perfect hard boiled eggs in the air fryer. Ideal for a quick way to do eggs while on WW.
Air Fryer Frozen Salmon Patties – Buy or make some of your own salmon patties and load them into the air fryer basket. They are ideal for a quick lunch or dinner with a salad. You can also do similar with chicken burgers made from chicken breast or make your own at home.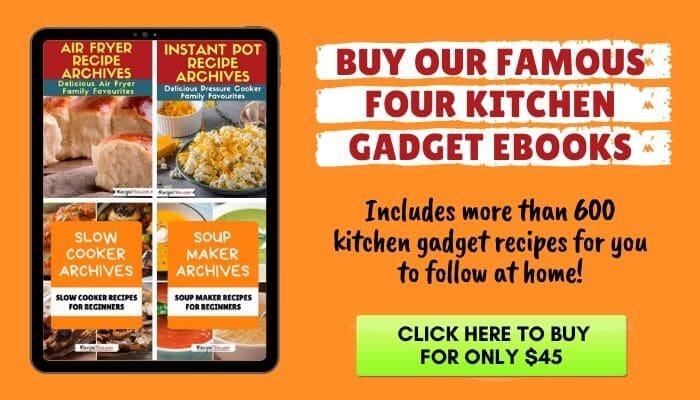 Purple Weight Watchers Air Fryer Recipes
Here are a couple of recipes for the purple weight watchers plan. Though do note, the recipes above are also suitable for purple.
Air Fryer Jerk Chicken & Couscous – This is perfect for using up spare couscous, flavouring it with veggies and then serving it with some jerk chicken breast. You can mix and match this with other favourite dried seasonings.
Air Fryer Oil Free Fries – This is an interesting concept and shows you how to make homemade fries in the air fryer but without any oil.
We also have many other air fryer recipes over in our air fryer category. Though these 12 air fryer recipes above are zero point foods on either green, blue, or the purple plan.
Can't read it now? Then pin it for later!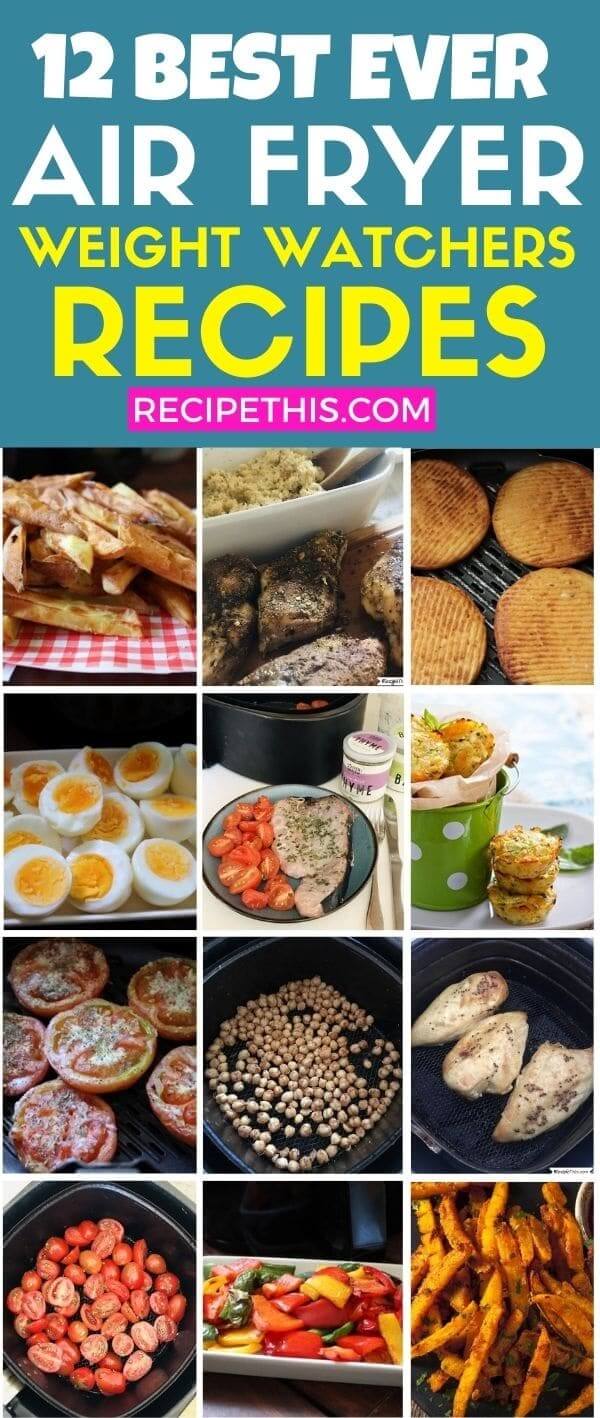 Join The RecipeThis.com Community:
Facebook Group | Pinterest | Twitter | YouTube 
Plus, don't forget to subscribe below to join our email newsletter with updates of our latest recipes, latest freebies, our cooking stories, plus much more: