Weight Watchers Blue Plan Instant Pot Recipes
This Post Contains Affiliate Links. Click Here To Read Our Full Disclosure.
Weight Watchers Blue Plan Instant Pot Recipes. Introducing you to our full list of delicious & easy instant pot blue plan zero point recipes that are suitable for Weight Watchers Members that follow the brand new blue plan.
Weight Watchers Blue Plan Instant Pot Recipes
Last week I shared with you our Weight Watchers Green Plan Instant Pot Recipes and today is the turn for the ultimate list of weight watchers blue plan instant pot recipes.
Especially, geared for people that follow the WW blue plan and want weight watchers recipes that are 100% blue.
Out of the Weight Watchers green, blue and purple plans, I am most impressed with the blue plan.
That is because many people (myself included) suffer a lot from bloating.
Potatoes and grains are my biggest problem food and beans is fine if I have it in moderation.
Yet if I follow the blue plan on WW I can enjoy a good mix of foods without getting depressed that my weight loss has slowed down.
What Is Weight Watchers Blue Plan?
Firstly, I am sure you are wondering what on earth the blue plan on Weight Watchers is all about, so let me give you the shortened version.
On WW there are 3 popular plans that were launched in the November of 2019. The green plan, the blue plan and the purple plan.
The green plan gives you 100 free foods, the blue plan gives you 200 and the purple plan gives you 300.
They are all healthy foods that depending on the plan you choose you can have as many as you like without recording them.
Though it is assumed that none would be eaten to excess and that you would eat when you are hungry and stop when you are full.
While the WW green plan focuses on 100 fruits and vegetables (get a free green plan printable here), the blue plan gives you 100 more foods that focus on everyday cooking.
This includes beans, pulses, lean poultry, eggs, fish and seafood, fat free dairy and tofu. Though it is covered in more detail if you scroll down.

Weight Watchers Blue Plan Zero Point Foods
Here is the big list of Weight Watchers Blue Plan Zero Point Foods below and as you can see it includes a lot of foods that help you stick to a balanced diet and avoids ones that are likely to cause weight gain.
Or click on the banner below for a quick free printable of all the free blue zero point foods on WW. It also includes access to our newsletter which also includes free printables for green and purple plans and lots more useful instant pot resources.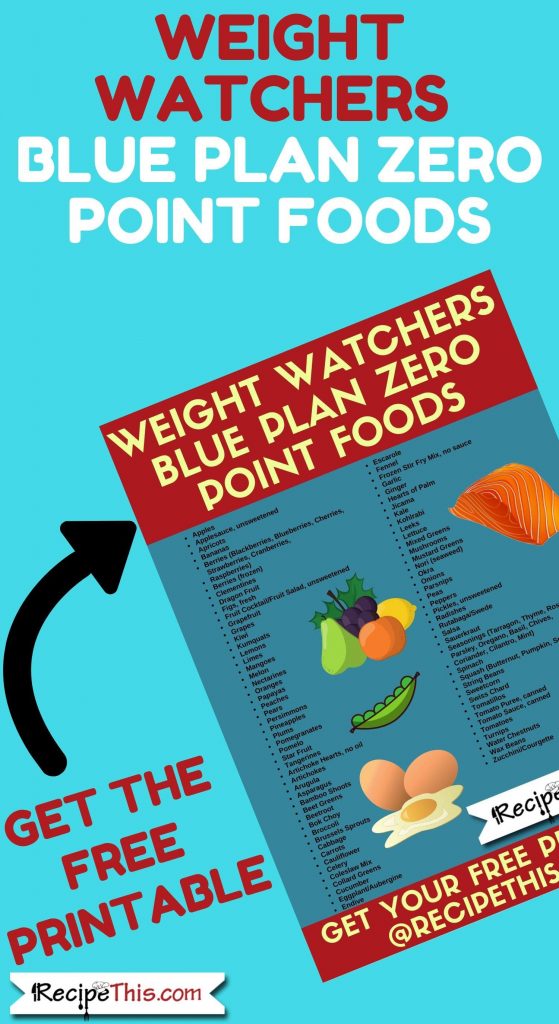 WW Blue Plan Zero Point Fruits
Apples
Applesauce, unsweetened
Apricots
Bananas
Berries (Blackberries, Blueberries, Cherries, Strawberries, Cranberries, Raspberries)
Berries (frozen)
Clementines
Dragon Fruit
Figs, fresh
Fruit Cocktail/Fruit Salad, unsweetened
Grapefruit
Grapes
Kiwi
Kumquats
Lemons
Limes
Mangoes
Melon
Nectarines
Oranges
Papayas
Peaches
Pears
Persimmons
Pineapples
Plums
Pomegranates
Pomelo
Star Fruit
Tangerines
WW Blue Plan Zero Point Vegetables
Artichoke Hearts, fat free,
Artichokes
Arugula
Asparagus
Bamboo Shoots
Beet Greens
Beetroot
Bok Choy
Broccoli
Brussels Sprouts
Cabbage
Carrots
Cauliflower
Celery
Coleslaw Mix
Collard Greens
Cucumber
Eggplant/Aubergine
Endive
Escarole
Fennel
Frozen Stir Fry Mix, no sauce
Garlic
Ginger
Hearts of Palm
Jicama
Kale
Kohlrabi
Leeks
Lettuce
Mixed Greens
Mushrooms
Mustard Greens
Nori (seaweed)
Okra
Onions
Parsnips
Peas
Peppers
Pickles, unsweetened
Radishes
Rutabaga/Swede
Salsa
Sauerkraut
Seasonings (Tarragon, Thyme, Rosemary, Parsley, Oregano, Basil, Chives, Coriander, Cilantro, Mint)
Spinach
Squash (Butternut, Pumpkin, Spaghetti, Acorn)
String Beans
Sweetcorn
Swiss Chard
Tomatillos
Tomato Puree, canned
Tomato Sauce, canned
Tomatoes
Turnips
Water Chestnuts
Wax Beans
Zucchini/Courgette
WW Blue Plan Zero Point Beans & Pulses
Adzuki Beans
Alfalfa Sprouts
Bean Sprouts
Black Beans
Cannellini Beans
Chickpeas
Edamame
Fava Beans
Great Northern Beans
Hominy
Kidney Beans
Lentils
Lima Beans
Lupini Beans
Navy Beans
Pinto Beans
Refried Beans, canned, fat-free
Split Peas
Soy Beans
WW Blue Plan Zero Point Poultry
Ground Chicken Breast
Ground Turkey, 98% fat free,
Ground Turkey Breast
Skinless Chicken Breast
Skinless Turkey Breast
WW Blue Plan Zero Point Seafood
Abalone
Anchovies, in water
Arctic Char
Bluefish
Branzino
Butterfish
Canned Tuna, in water
Carp
Catfish
Caviar
Clams
Cod
Crab
Crayfish
Cuttlefish
Eel
Fish Roe
Flounder
Grouper
Haddock
Halibut
Herring
Lobster
Mahi Mahi
Monkfish
Mussels
Octopus
Oysters
Perch
Pike
Pollock
Pompano
Salmon
Sardines, canned in water or sauce
Sashimi
Scallops
Seabass
Sea Urchin
Shrimp/Prawns
Smelt
Snapper
Sole
Squid
Steelhead Trout
Striped Bass
Sturgeon
Swordfish
Tilapia
Trout
Tuna
Turbot
Wahoo
Whitefish
WW Blue Plan Zero Point Eggs
Egg Substitute
Egg Whites
Egg Yolks
Eggs
WW Blue Plan Zero Point Dairy
Greek Yogurt, plain, fat free,
Plain Yogurt, fat free,
Quark, Plain, up to 1% fat
Soy Yogurt, plain
WW Blue Plan Zero Point Tofu
Firm Tofu
Silken Tofu
Smoked Tofu
Soft Tofu
Tempeh
WOW what a list isn't it? If you are anything like me you have skimmed through it and imagined having to give up some of your favourite foods.
But remember, you don't have to give up anything, these are just the foods you can eat without having to weigh or measure.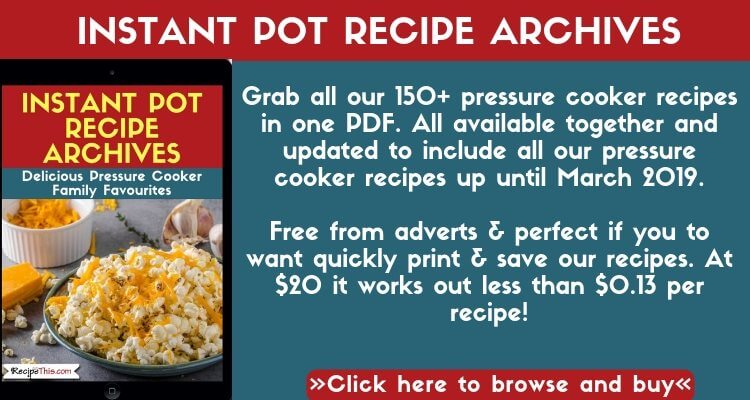 WW Blue Plan Zero Point Foods Free Printable
We have also made a great free printable of Weight Watchers Blue Plan Foods and you can download it by clicking here. It is in the members area of Recipe This along with a lot of other freebies.
Or alternatively enter your email address below for quick access:
Weight Watchers Blue Plan Resources
As well as subscribing to Recipe This for your free blue plan printable we have some other resources that we recommend for taking on Weight Watchers with the help of the Instant Pot.
Instant Pot 8 Quart – We recommend the larger instant pot for Weight Watchers meals because it is great for a big batch of lentil stew, cooking dried beans or making a big batch of frozen chicken breast for meal prep.
Instant Pot Accessories – Check out our Instant Pot Accessories post as it is loaded with ideas of what accessories to use with your instant pot. I love having a spare inner pot the most, followed by lots of steamer baskets for steaming my vegetables.
WW Success Toolkit – My friend Sara has this awesome file full of PDFs that you can download. It includes lots of resources for starting out on your WW journey. There are WW recipe ecookbooks, printables, meal ideas and so much more. You can get WW Success Toolkit here.
Instant Pot For Weight Loss Course – Another great online course this in depth Instant Pot course focuses on losing weight on WW and its written by 2 ladies that have lost a HUGE amount of weight between them. Also fantastic for beginners to the Instant Pot. Click here to find out more about it.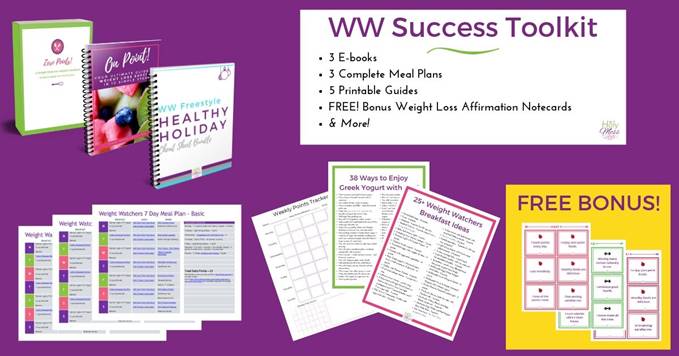 WW Blue Plan Instant Pot Recipes
Here is a list of all the blue plan WW recipes we recommend you cook in your instant pot.
We are a HUGE fan of cooking wholesome meals in the instant pot, as well as side dishes and here are several ideas to get you started with the Weight Watchers Blue Plan.
Top 10 Weight Watchers Blue Plan Recipes
Let's start with my ultimate top 10 Weight Watchers Blue Plan Recipes. These are recipes I cook a LOT in my instant pot and are perfect for getting you started with the blue plan.
Instant Pot Broccoli – If there is one vegetable, I cook a LOT in the instant pot it is broccoli and it is perfect for pairing with air fryer chicken for a quick WW lunch or dinner.
Instant Pot Butternut Squash – My favourite way to cook butternut squash. Load halved butternut squash into the instant pot and steam. Then serve with Bolognese on top.
Instant Pot Brussel Sprouts – Brussel sprouts in the instant pot are amazing. Never boil sprouts again when you taste how good they are steamed. I love them with chicken breast and sweet potato for dinner.
Instant Pot Cauliflower – Use this method for cooking cauliflower in the instant pot and then use it for cauliflower pizza crust and other fake cauliflower dishes.
Instant Pot Tomato Soup – Make a green zero point homemade tomato soup in the instant pot. Loaded with flavour and perfect for a slimming lunch.
Instant Pot Vegetable Curry – If you love curry then try out this instant pot vegetable curry. Loaded with a huge amount of vegetables and perfect for a diet friendly vegetable kick. I also batch freeze this vegetable curry for later.
Instant Pot Vegan Split Pea Soup – Want to learn how to make an easy split pea soup in the instant pot? Then follow this, so comforting and it makes a lot for your money!
Instant Pot Mushroom Soup – This isn't just a mushroom soup but a great cream of anything replacement. All those times you want to follow a recipe and it calls for a can of soup, use this and you can keep your recipes healthier.
Instant Pot No Peel Hard Boiled Eggs – This is how you need to be cooking your eggs in the instant pot. It is easy, there is no peeling and they will be your favourite instant pot egg recipe from now on.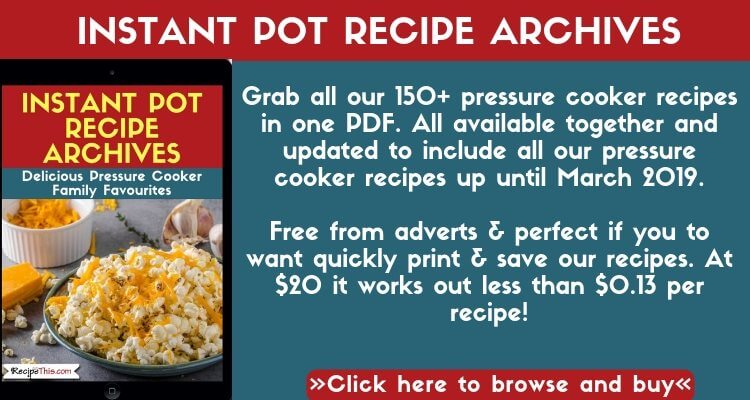 More Weight Watchers Blue Plan Veggie Recipes
Here are a few more ideas for cooking vegetables in the instant pot that are both green plan, blue plan and purple plan friendly:
Weight Watchers Blue Plan Chicken Recipes
Here are my all time favourite WW blue plan chicken recipes to cook in your instant pot. They all feature chicken breast and we even have several curries that are loaded with vegetables.
More Weight Watchers Blue Plan Recipes
But we didn't stop there. Here are a few other WW blue plan instant pot recipes that are well worth a mention:
Get The Instant Pot Weight Loss Course
Plus, don't forget to grab yourself the Instant Pot Weight Loss Course. It is an easy to follow course with simple modules. Not only are there modules dedicated to weight loss on WW but also the basics of using your instant pot pressure cooker.
Once you see it up close you will be AMAZED by how useful it is.
You can download your copy here.
Can't read it now? Then pin it for later!
Join The RecipeThis.com Community:
Facebook Group | Pinterest | Twitter | YouTube
Plus, don't forget to subscribe below to join our email newsletter with updates of our latest recipes, latest freebies, our cooking stories, plus much more: